Top places to visit and activities to do in Zadar. Explore Zadar and enjoy the Dalmatian culture with this list of things to do in Zadar.
Zadar is one of the most charming cities in Dalmatia and throughout Croatia. If you are thinking of staying in Zadar, get ready to live a wonderful experience full of history and good sensations. Taking into account that it is a city that can be walked on foot, Zadar has an incredible amount of activities and places to visit so it can get difficult to choose. To help you a bit we present you here a list about what to do in Zadar!
Explore the history of the city and region:
Zadar is full of ancient remains that are very well preserved and can be visited in one day. They are also not only monuments to see but also exhibitions inside them and even concerts, so prepare all your senses for this trip through the capital of North Dalmatia.
St Donatus Church
St Donatus Church is one of the most iconic buildings of all Zadar and the symbol of the city. This pre-Romanesque church has a distinctive circular shape typical of the byzantine architecture and due to its great acoustic, during summer you are able to enjoy classical music concerts and other events.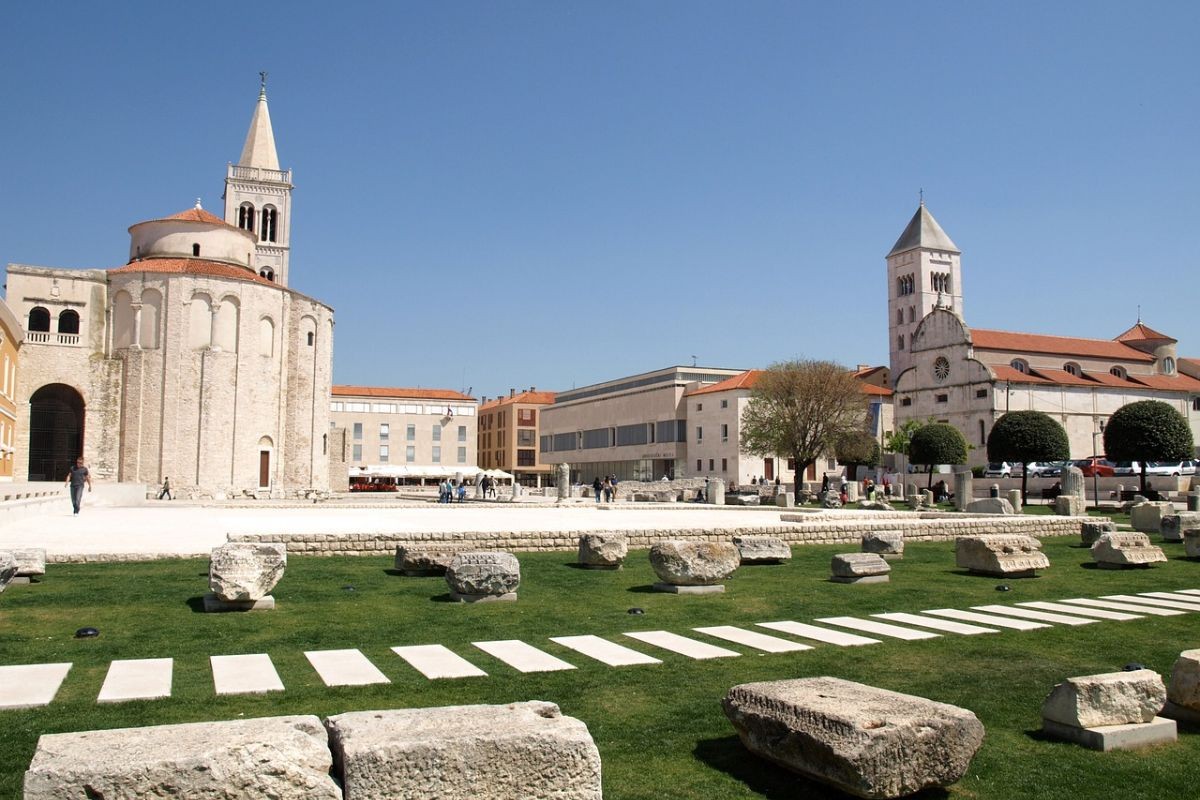 The Roman Forum
The Roman Forum is located just next to the St Donatus Church and by its time, it was a place for trading and exchanging goods as a marketplace, but over the years its function varied. It went from being a place dedicated to commerce to a place where people gathered to discuss and debate. These Roman ruins are formed by various columns and stands that contain images of Roman deities and there are also pillars where condemned people were punished and humiliated publicly.
Another interesting place to visit is located here, in the Forum, and it's the Archaeological Museum of Zadar. In this museum, you will learn about Zadar's history from the very beginning and there is a great section about Roman times.
St Anastasia Cathedral
St Anastasia Cathedral is the biggest cathedral in all Dalmatia and inside you will find a permanent exhibition of Religious Art where the most valued pieces of the city are exhibited. Built in a Romanesque style the Cathedral and all the episcopal area has been submitted to UNESCO's world heritage list.
The Zadar National Museum
The Zadar National Museum is a great choice if you want to know more about the history, nature and culture of the city and region. A great collection of scientific documents and objects are presented here and also some conferences and workshops are held here from time to time.
Remains of the ancient Republic of Venice
While walking through the city you will see fortifications all around that are remains of the ancient Republic of Venice and there are also several entrances to the city, but the most impressive one is the Land Gate. It was once a main entrance of the city and it rises by the Foša harbour as a big triumphal arch decorated with a winged lion and the patron of the city.
The Five Wells Square
Close to the medieval City Walls you can find The Five Wells Square. As you will see it's just a square with five wells aligned but you should know that without these wells Zadar would probably have never been the same city. These wells were built by the Venetian people and helped the citizens get drinking water while Zadar was under the Turkish siege.
Relax and enjoy the good vibes of Zadar:
As you walk among its walls you will notice this city has certain magic as the modern and ancient life converges beautifully. Let us give you a little sample of what the modern face of the city can offer you.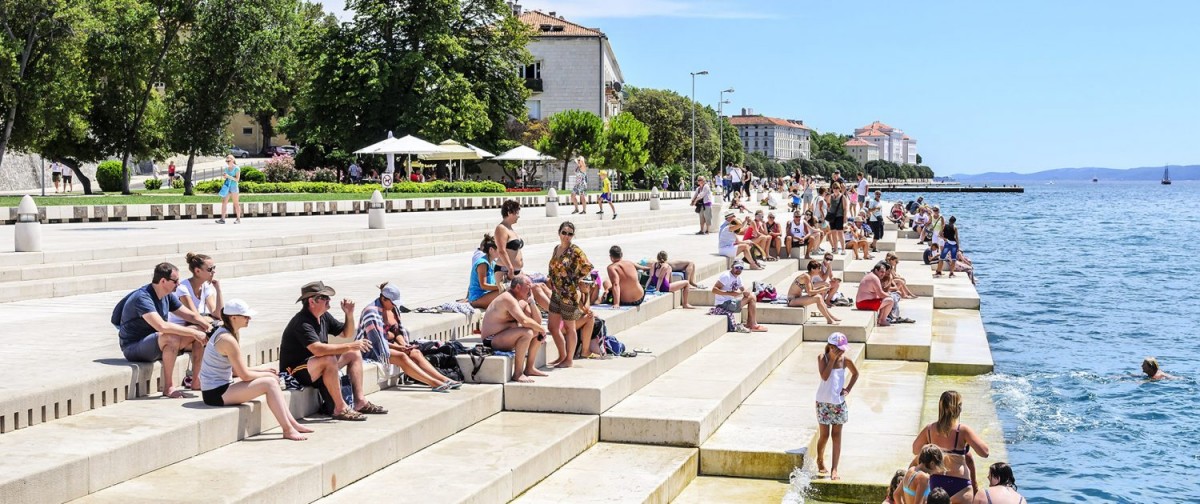 The Sea Organ
The Sea Organ is one of the best-known elements of the city. Situated at the seafront, this amazing monument may look as some simple marble steps by the promenade but when you get closer you will start hearing an odd but somehow mesmerizing sound. This is caused because of the wind and waves that are captured by the instrument creating a unique melody. Try to sit in one of the steps and enjoy the sunset while listening to the waves song, you will enjoy the ocean as never done before.
Greeting To The Sun
Greeting to the sun is next to The Sea Organ and you should get here by sunset as you may see one of the most beautiful sunsets in the world. This installation is a combination of photo-voltage modules that absorbs the solar energy during the day and releases it later to enlighten the promenade and give us a light show at sunset.
As told before, Zadar is a city that will amaze your senses so enjoy this performance and listen to the Sea Organ while watching the lights of the Greeting to the sun and you will have an incredible experience.
Zadar's Nightlife
If after this you want to enjoy Zadar's nightlife or just have a drink and relax, The Garden Lounge is probably the best choice. It's located on the top of the city so from there you will have a great view of the city walls and the harbour. There are beds and sofas to lay on and relax during the daytime and later when it gets darker they turn on the music to liven up the mood. Drinking a cocktail or a refreshment here is a great choice and there are also food menus so your needs will be covered.
The Museum of Illusion of Zadar
If you are still looking for some social entertainment and you got enough history for today there is a singular museum you won't regret visiting, The Museum of Illusion.
This is a place everyone likes but families especially will enjoy it the most as it is a great place to have fun with children. This small museum will trick your mind with optical illusions and a lot of fun is waiting for you here, and after this experience, you won't trust your eyes any more.
Taste the Maraschino liqueur
There is a typical liqueur you shouldn't miss while you are staying in Zadar, The Maraschino liqueur. It's believed to be a sign of economic wisdom and they make it from the Marasca cherries which grow around Dalmatia. It's quite a delicacy and it is said to be adored by people like Napoleon or Hitchcock so give it a try!
Visit Zadar surroundings: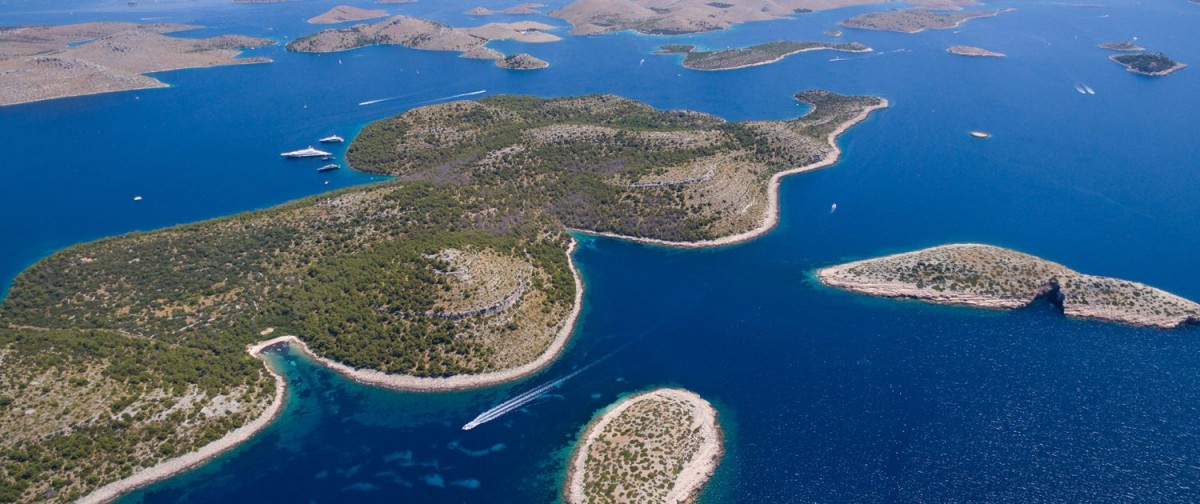 National Parks and the nearby Islands
If after walking all around the city you still have some time left you may want to visit some of the most known places in the surroundings. You have a huge amount of choices here, you can visit the Krka National park or the Plitvice Lakes and you can even visit the surrounding islands. Enjoying the Dalmatian Coast is a must and Dugi Otok, Kornati National Park or Pag island are some of the most popular spots around so you should undoubtedly visit them if you can. If you have time for a day trip like this check our guide here!
As you know now, Zadar is a small city with a lot to offer so get prepared to have a great experience and if you are looking for accommodation don't forget that Adriatic Luxury Villas is always at your disposal. Thank you for reading, we wish you a wonderful stay!