Do you not only want to relax during your holiday, but also be active? If possible directly at your accommodation? Then a villa with gym is the ideal option for you! In our blog we have selected the best villas with gym in Croatia for you. Here you can maintain your fitness even on vacation!
We tend to associate holidays with relaxing, resting, lying in the sun. But why not be active as well? Especially if you train regularly, you want to keep fit and continue training on vacation. However, you often don't feel like looking for a gym in your holiday destination. All the better that there are some villas in Croatia with a private fitness area just for you. Here you can train in peace, alone, whenever you feel like it.
Check out our rich offer of luxury villas with private gym and treat yourself to an active vacation in beautiful Croatia!
Now on to our top villas in Croatia with gym, which offer everything a gym junkie's heart desires!
Our Selection of the Best Villas with Gym
Whether outdoors, on the upper floor with a magnificent sea view or on the ground floor of the villa, these villas with their gyms offer all possibilities to make your training and workouts during your vacation unforgettable and special.
Villa Palazzo Vimbula – Five Star Residence in Dubrovnik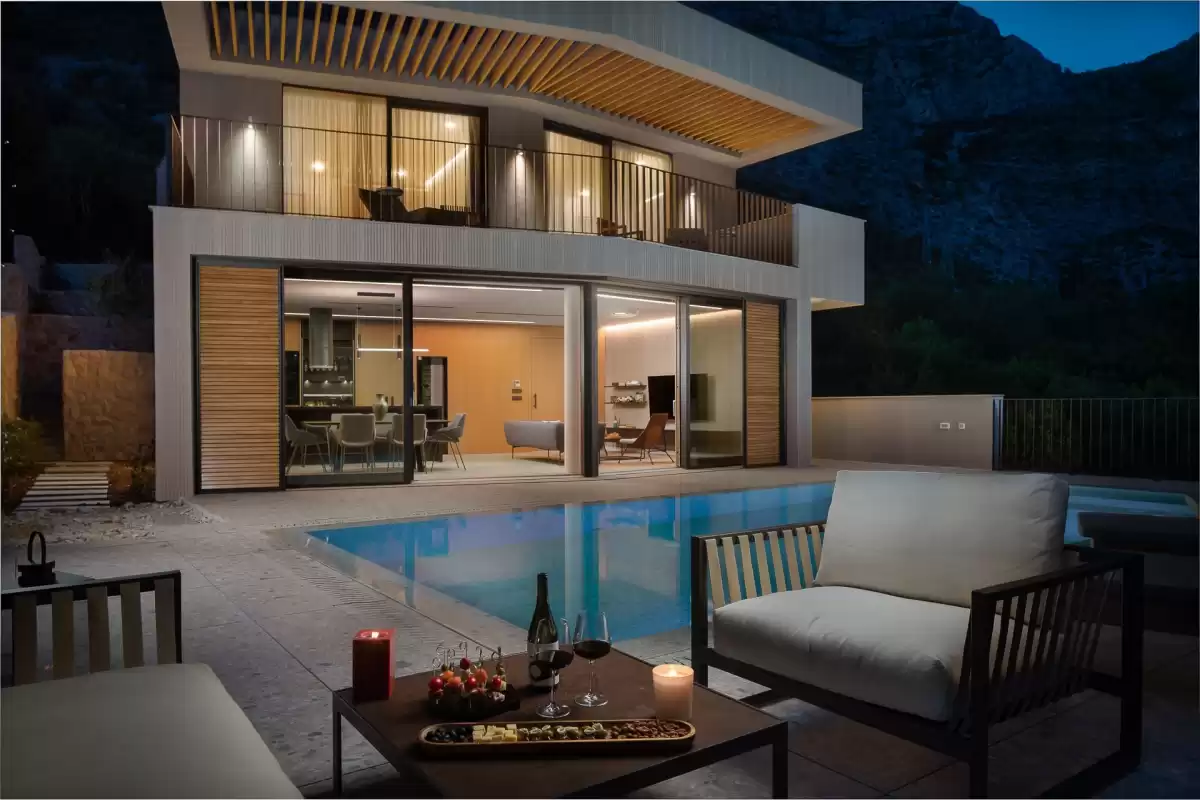 We start our offer of villas with gym with luxurious villa Palazzo Vimbula in Dubrovnik. Here in the modernly furnished villa, 8 guests can make themselves comfortable in three spacious bedrooms.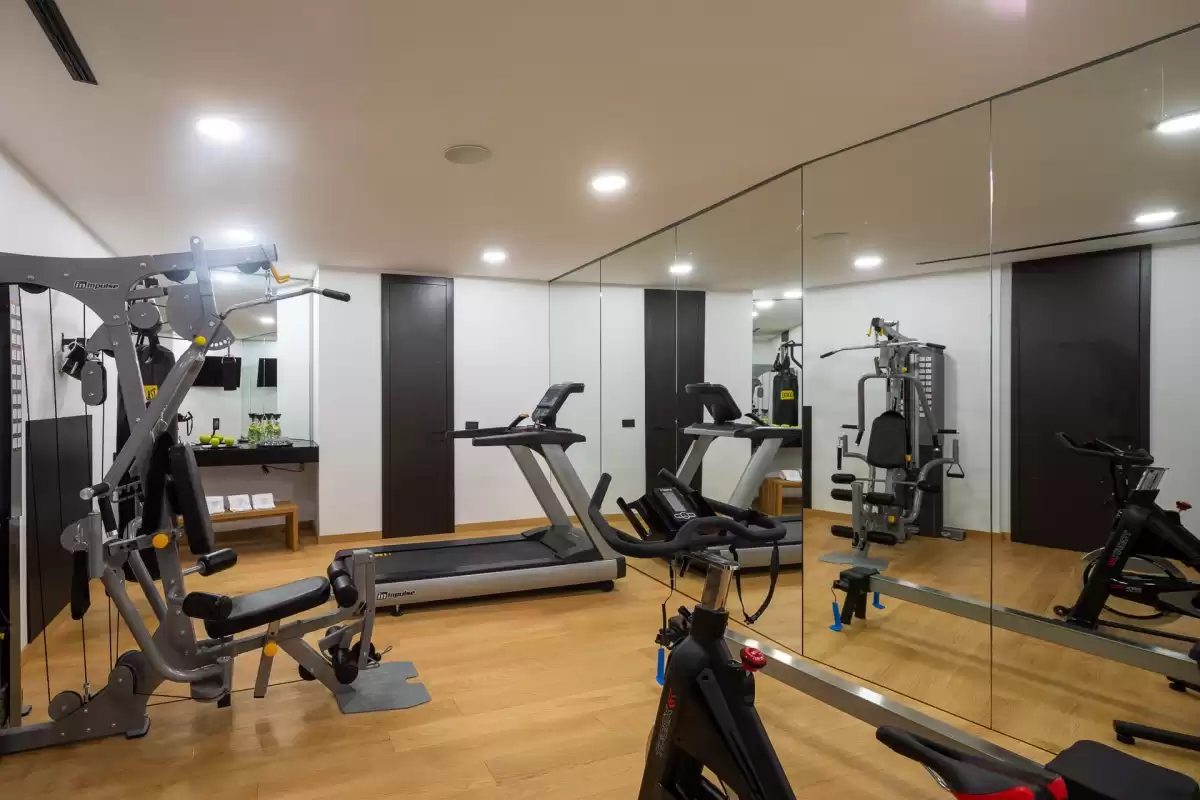 In addition to the modern fitness area with huge mirrors, the Villa Palazzo Vimbula offers a captivating sea view, a heated pool, a sauna and last but not least a jacuzzi. This gives you the opportunity to relax in the sauna and jacuzzi right after a strenuous workout.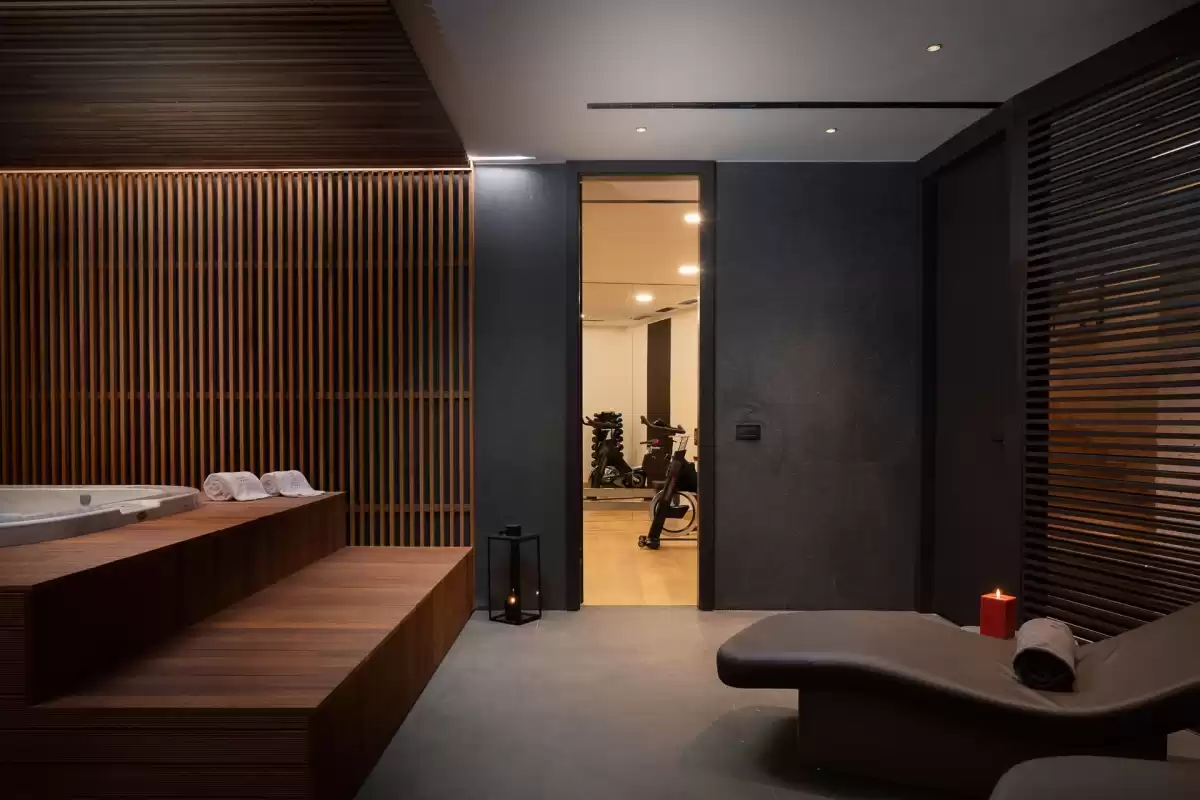 In any case, surrounded by lush greenery, this villa offers you everything you need for your dream vacation!
Villa Casa Del Mare – Luxurious Villa near Dubrovnik
Villa Casa Del Mare will indeed make your workout unforgettable! Here, the fitness area offers a sea view that leaves you breathless. The modern equipped gym in bright colours awakens your motivation immediately.
In this villa all your requirements for glamour, opulence, extravagance and luxury are fulfilled. There is enough space for 10 guests in five large bedrooms. Located right on the beach, this villa allows you to enjoy a private beach.
You can use the stunning infinity pool to relax.
Villa Diocletian's Palace – Aristocratic Ambience on Brac Island
Villa Diocletian's Palace on the island of Brač also fulfils every single wish of your dream vacation! You can completely relax in this rustic beauty, but you can also be physically active in the private gym. Here you can enjoy a view of the Mediterranean greenery of the island of Brač during your fitness session. This luxurious villa can accommodate 12 guests comfortably.
In addition to the fitness area, a wellness area with sauna and jacuzzi awaits you here. You also have at your disposal the wonderful heated pool, from which you can enjoy an enchanting view of the sparkling Adriatic Sea, since this villa is located directly on the beach.
Villa Mila – The Beauty on the Island Brac
In this fascinating villa Mila on the island of Brač, 12 guests can also make themselves comfortable. Here you can experience pure luxury in a blend of modern with a signature of classic!
The fitness area is modern and offers you some equipment for your training. There is also a sauna and a beyond gorgeous infinity pool at your disposal.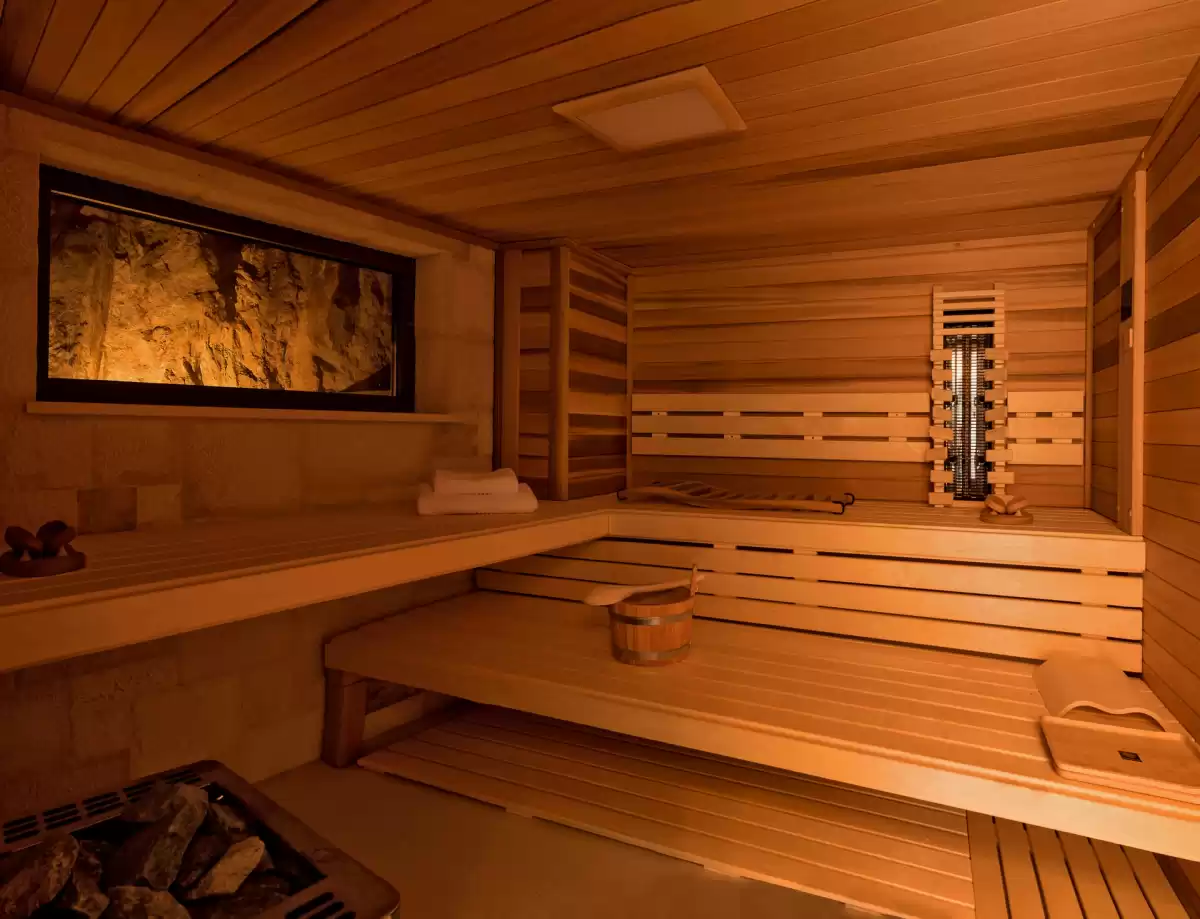 Lying right on the beach, in this villa you can enjoy a great sea view of the sparkling Adriatic Sea and also spend your time on the private beach.
Villa Uvala – Enchantingly Beautiful Villa on Hvar
On the unique island of Hvar, there is also unique Villa Uvala. In this villa there is enough space for 10 guests in five large, bright bedrooms.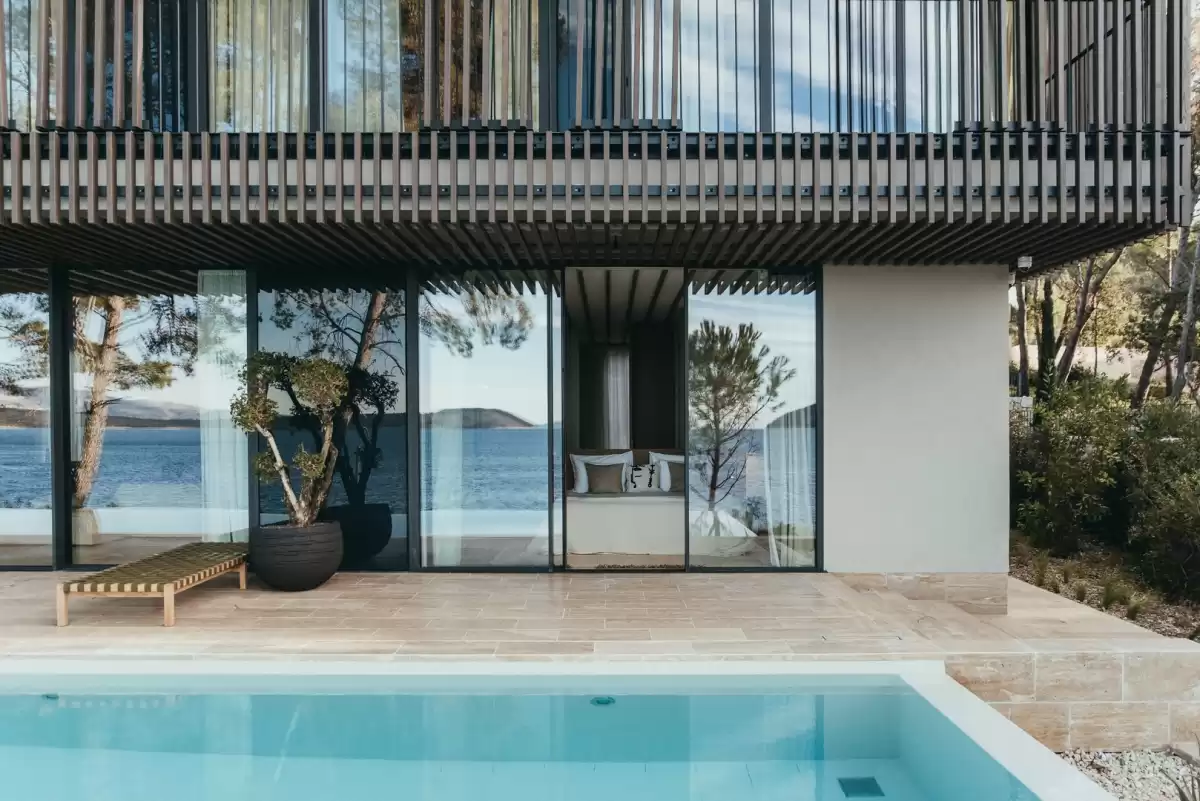 The fitness area of this villa is really unique. Modernly furnished with wooden elements, you will certainly experience one of your best training experiences here. Even the sports equipment features wooden details. During your workout you can enjoy a beautiful view of the countryside.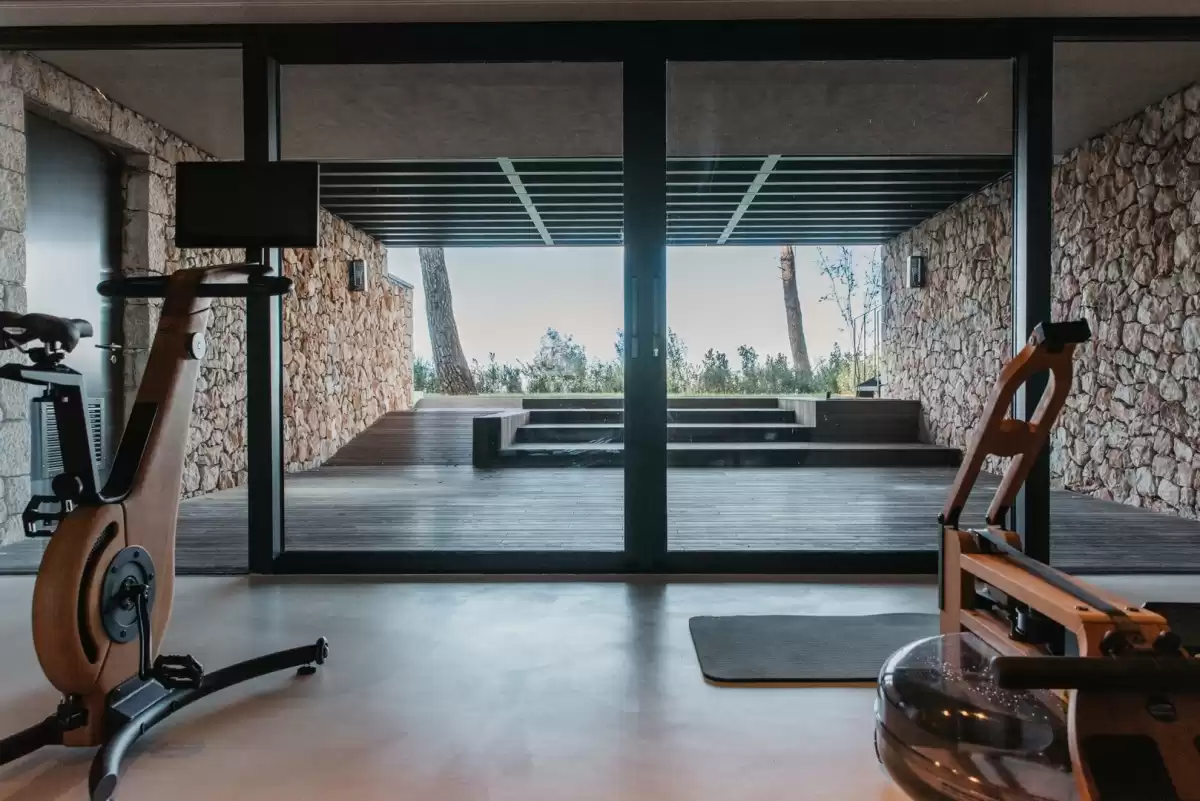 Villa Uvala also offers a wellness area with jacuzzi and sauna. Furthermore, a great infinity pool awaits you in the outdoor area. This villa is also located directly on the beach and thus offers an enchanting sea view.
Villa Petra Pag – Elegant Villa on Island Pag
Villa Petra Pag is truly paradise for gym fans. Here you can use the fitness area on the terrace covered with huge panes of glass. Of course, you also have a wonderful view here. The sauna is located directly in this gym area. Furthermore, a jacuzzi tub is available in the garden of this villa.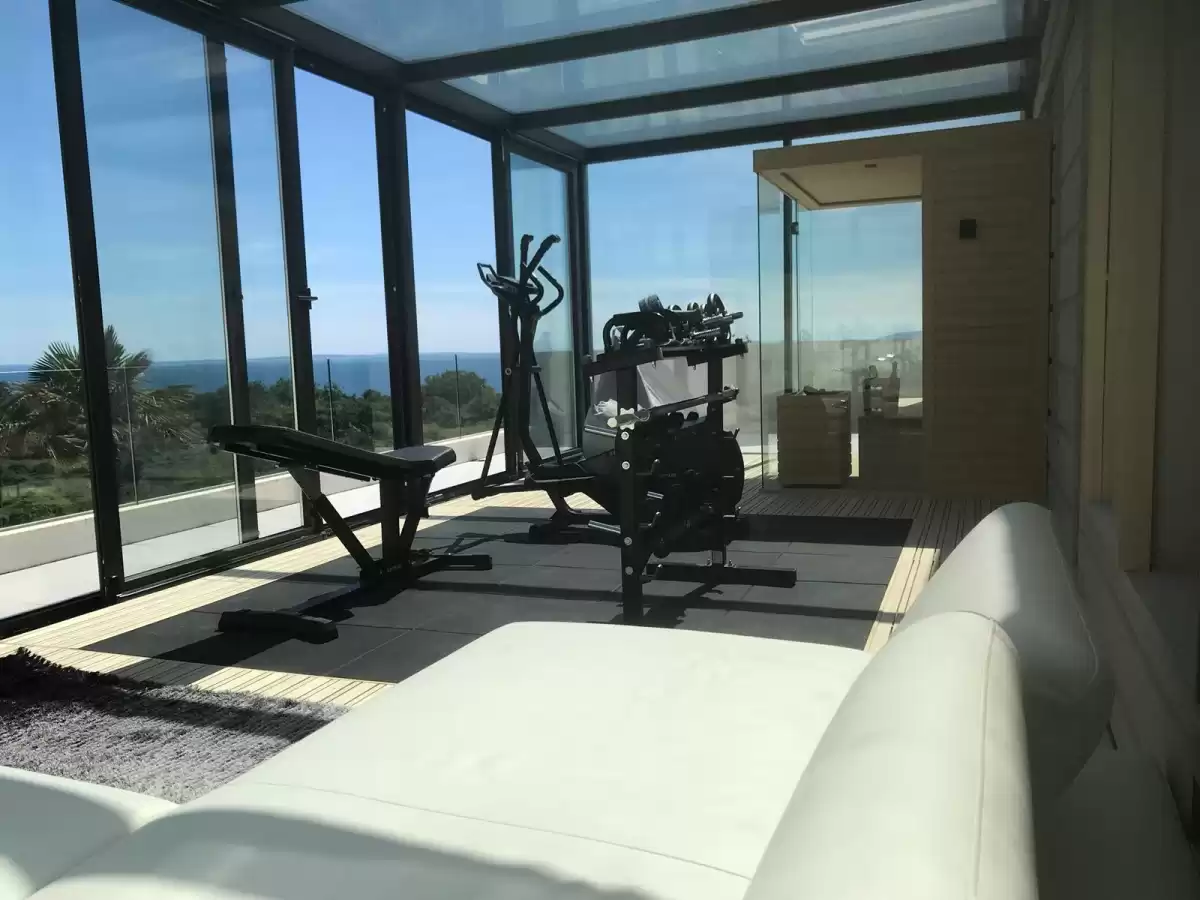 The garden also features a spacious heated pool. During your stay in this extraordinary and modern villa you can take in the marvellous sea view. There is room for 9 guests in three large modern bedrooms.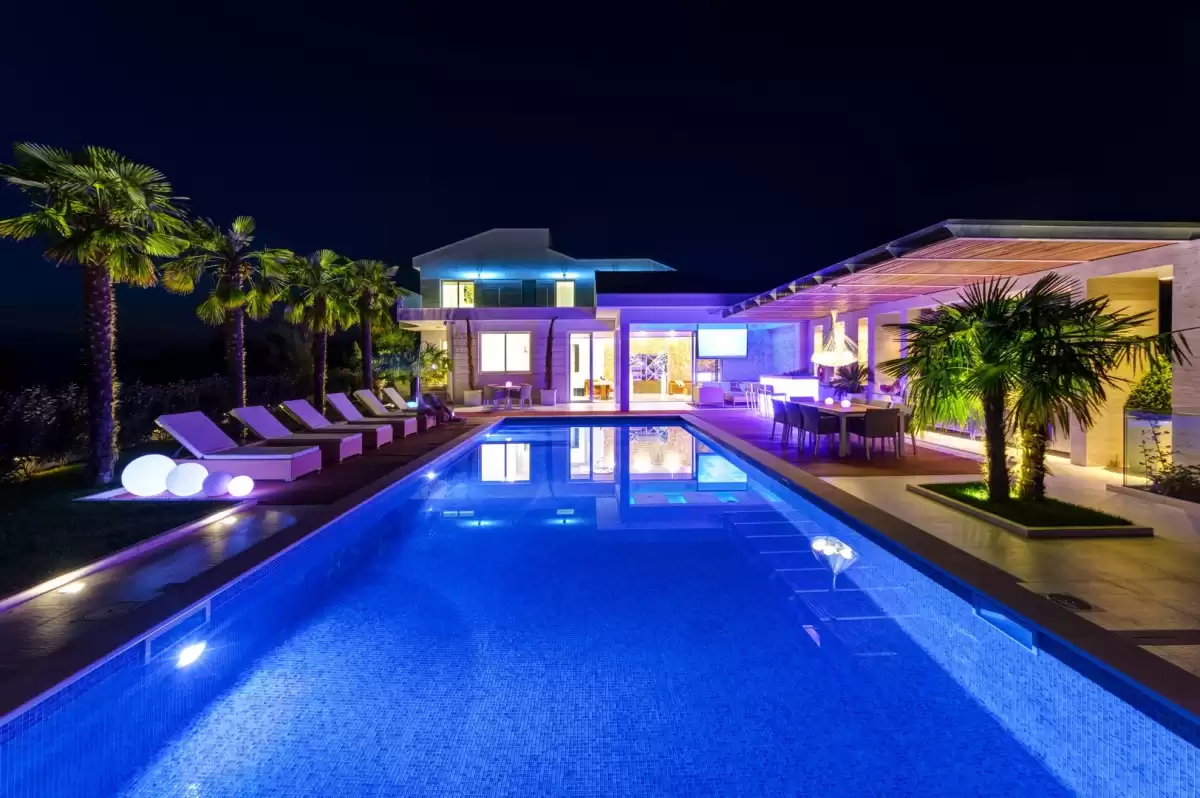 Villa Natura I – Stunning Villa near Opatija
The bright and friendly fitness room of the charming Villa Natura I immediately awakens your motivation for recreational activity. In this modern fitness room, a large glass patio door separates you from the outside area of the villa, so you can enjoy a wonderful view during your workout.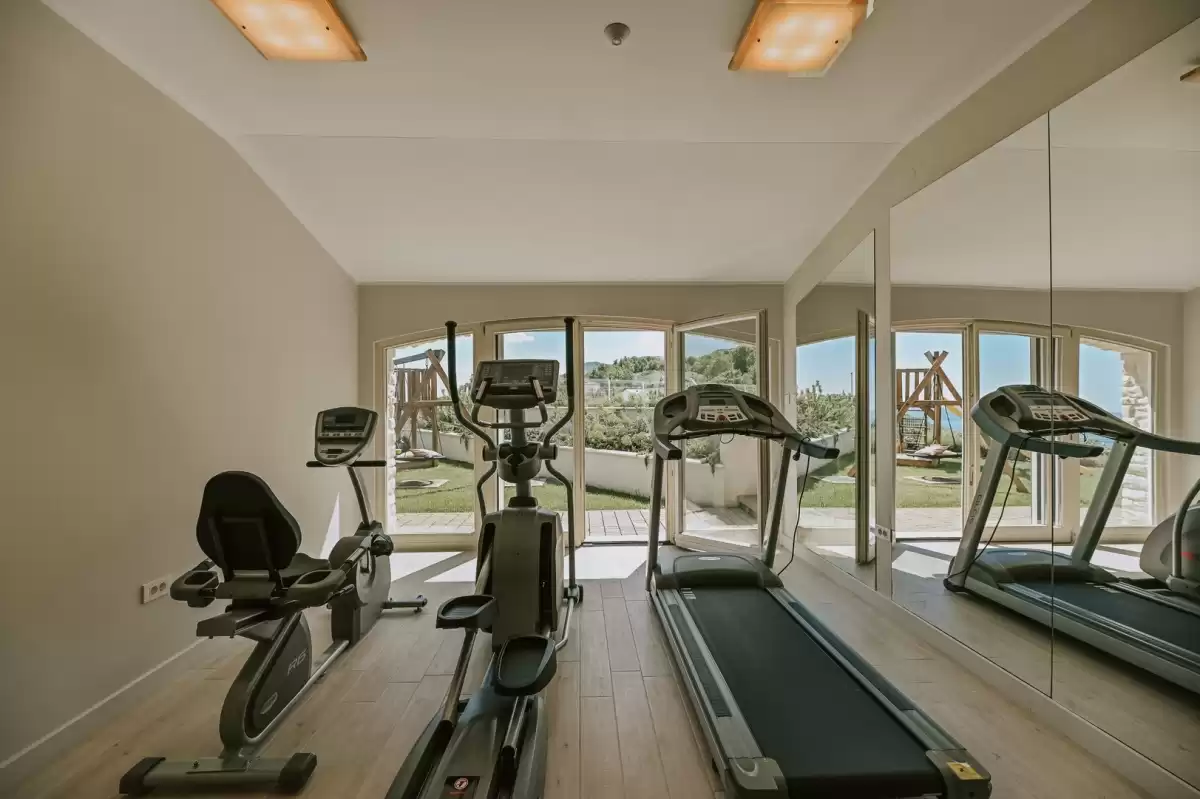 The 10 guests, who can make themselves comfortable here, have an inviting wellness area with sauna and jacuzzi at their disposal. A large heated pool awaits you outside. The Villa Natura I is in a great location and offering a truly fascinating sea view.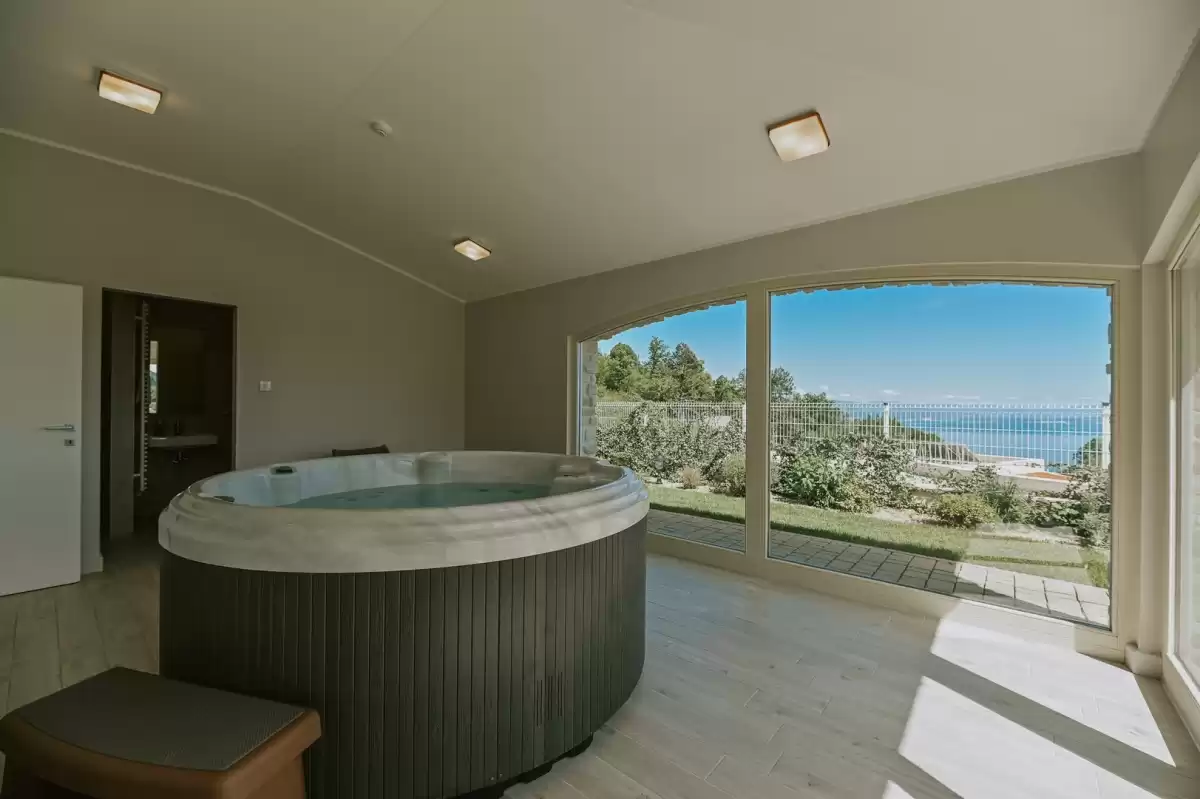 Villa CaMa – Beautiful Villa near Zadar
The wonderful Villa CaMa with spectacular sea views features a modern fitness area together with an inviting wellness area. A massage table is available in the fitness room. A jacuzzi tub is located on the roofed terrace and from here you can enjoy an unforgettable view.
The infinity pool of Villa CaMa leaves you breathless. The highlight of this villa is definitely the beautiful private beach. Here your dreams of a relaxing and active vacation in wonderful ambience will come true!
Villa Dumina – Rustic Beauty near Zadar
This rustic beauty in Sukošan Villa Dumina can welcome 12 guests in 5 spacious bedrooms. In this rustic oasis you can experience the true idyll of Dalmatia. Villa Dumina offers you a 50m2 large pool surrounded by many loungers on which you can completely relax and enjoy the sun after refreshing in the pool.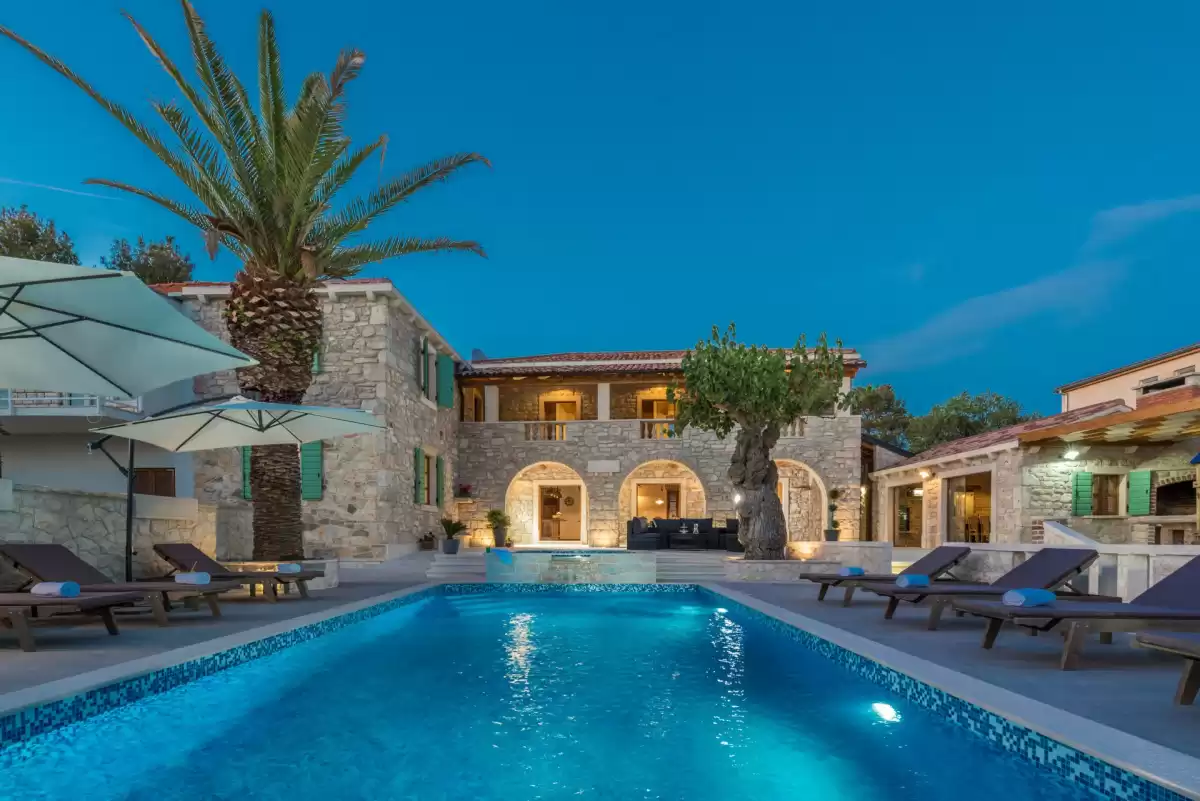 The fitness area of this villa is modernly furnished and features a cosy wellness area as well. This means that you can relax in the sauna right after your workout. Located on the top floor, this fitness and wellness area features skylights offering beautiful sky views.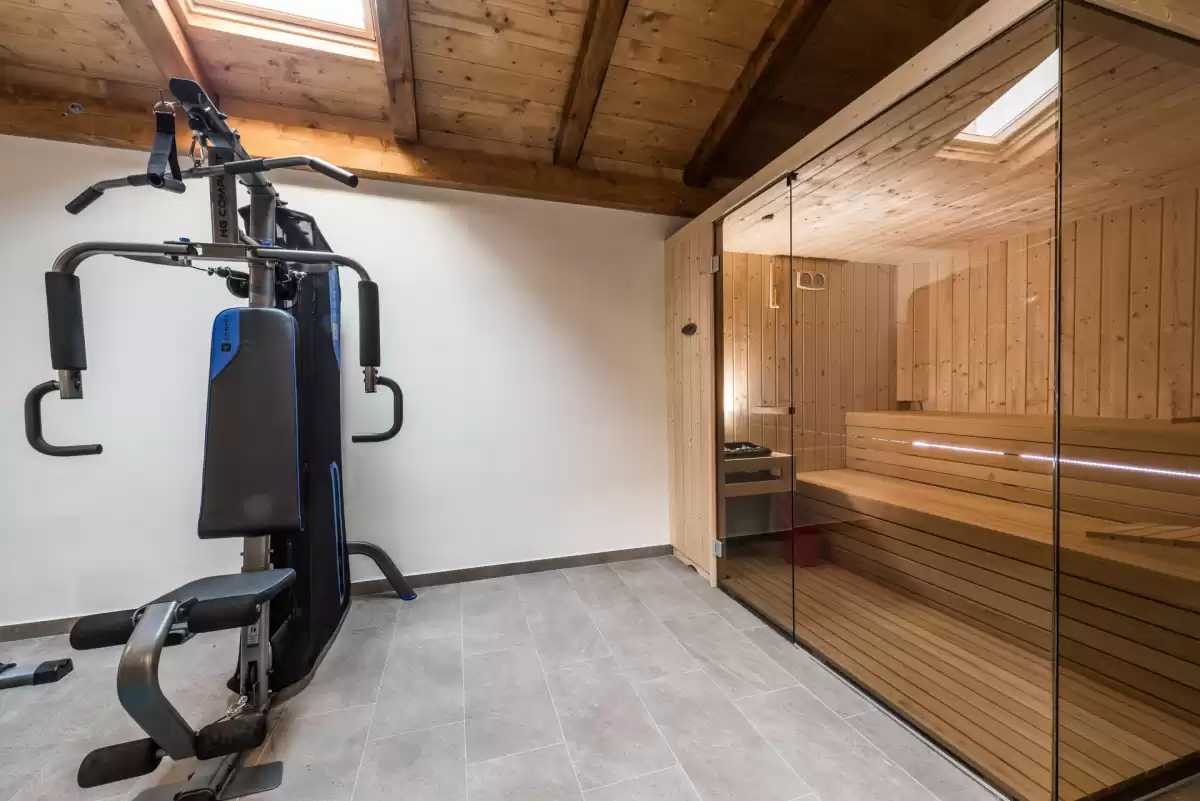 Villa Andre – Opulent Villa near Split
The stunning Villa Andre near Split will delight you with its modern design with a touch of true luxury!
If you are looking for a modern, luxurious villa in the Split area, then Villa Andre is the ideal place for you! In this contemporary villa you will find everything you need for a dream vacation.
The gym of villa Andre features quite a lot of equipment, from cardio to strength training, here you can do it all. The gym area offers you a great view from the large patio door. The highlight is the sauna and jacuzzi, which are also located in this room. Thus, after a strenuous workout, you can go straight to relaxation. The infinity pool of this villa is simply stunning!
Villa Opus – Pure Luxury on Island Korcula
Are you dreaming of a holiday filled with pure luxury? This dream can come true in the unique Villa Opus! This contemporary and elegant villa on the island of Korčula exudes luxury. Located directly on the beach, you will have access to the private beach. Large glass windows allow you to enjoy unsurpassable sea views from every corner of this marvellous home.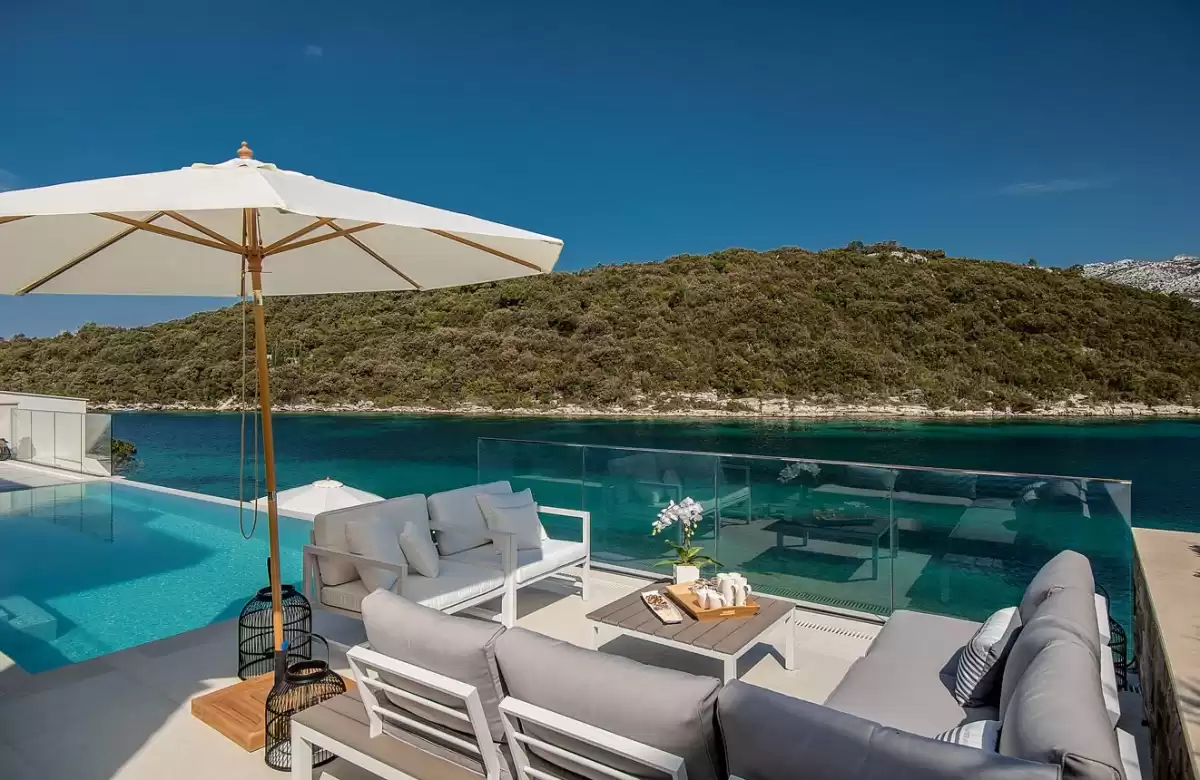 Of course, this type of villa features a gorgeous infinity pool as well. The fitness area is equipped with top-notch equipment, with a sauna directly beside it. Through the balcony door you can enjoy a great view.
Villa Extravaganza – Luxurious Oasis in the Area of Split
The Villa Extravaganza is, as the name itself suggests, nothing less than extravagant. In this luxury oasis, 8 guests can make themselves comfortable in four bedrooms. Since this exceptional villa is located directly on the beach, you can enjoy the stunning panoramic sea view every day. A great infinity pool awaits you outside, where you can relax and refresh yourself.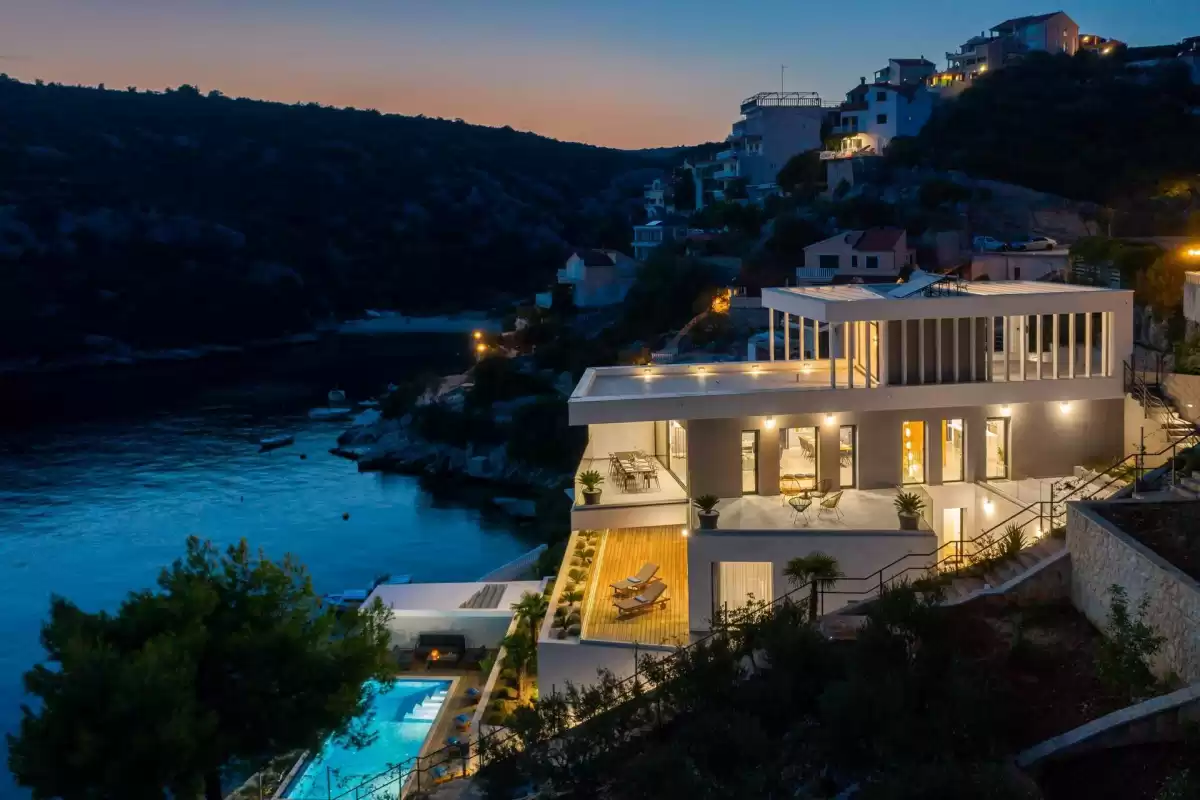 The fitness room features great equipment and the modern, bright interior will immediately motivate you to exercise. After a workout, you can relax in the sauna, which is also located in the fitness room.
Villa 4 Islands – Modern Villa near Split
Do you like all of the featured villas, but prefer an outdoor workout? No problem! For you we have the Villa 4 Islands near Split. The fitness area of this remarkable villa is located in the garden, features some cool equipment. Here you can enjoy the Mediterranean, fresh air and a charming sea view during your training!
In addition, the Villa 4 Islands offers a beautiful infinity pool, as well as a sauna and a jacuzzi tub. Thus, there is no lack of relaxation opportunities.
We have now come to the end of our selection of villas with gym for your fitness vacation in Croatia. There are plenty of villas along the Croatian coast that will fulfil your dream of a relaxing yet active holiday. Whichever villa you choose, you will not fall behind with your fitness routine!
However, these were not all of our villas. Feel welcome to browse our full range of villas. With us you will find your perfect place under the Croatian sun!
If you have any further questions, we are happy to help!
Thank you for reading!