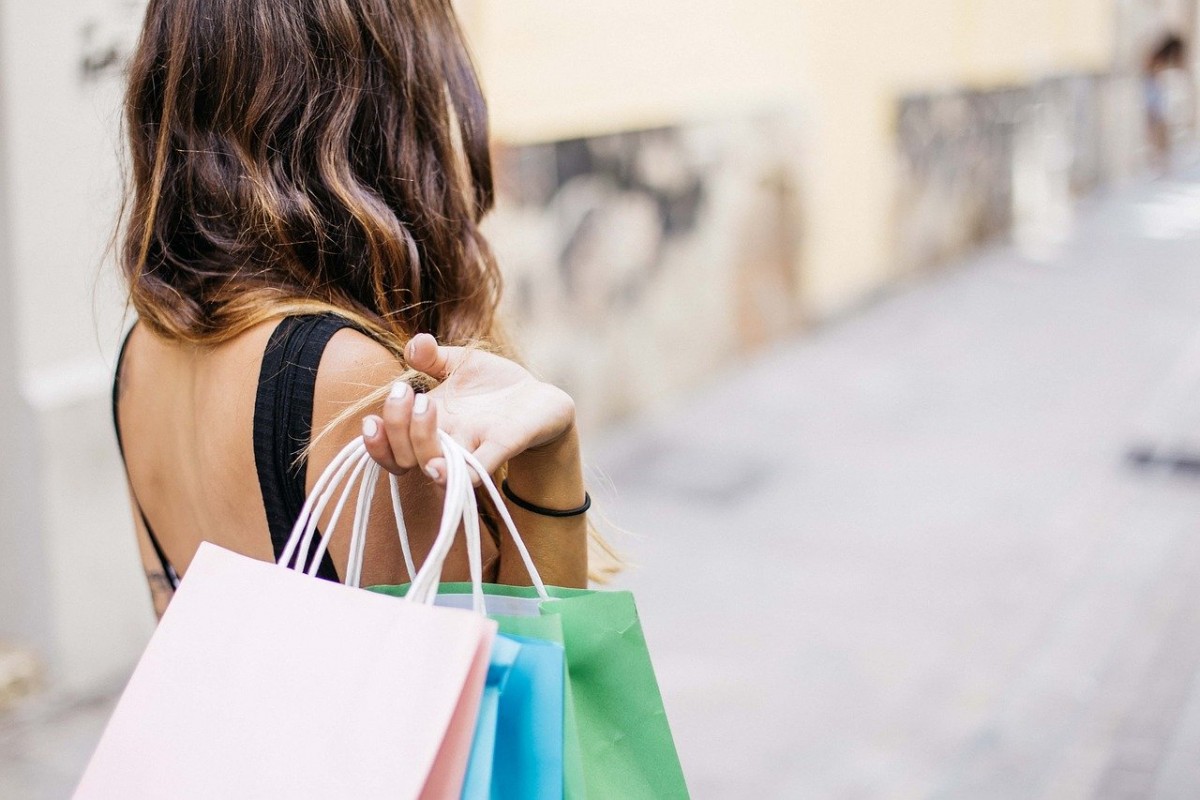 Wondering what souvenirs to bring home with you from your vacation in Dalmatia? In this post, you will find out what are the most original souvenirs from Dalmatia and pick up ideas for the best souvenir shopping in Croatia.
If you have decided to spend your vacation in Dalmatia, at some point you are going to ask yourself what souvenirs would make the best choice to bring home with you? In this post, we will introduce you to a palette of Croatian souvenirs of all kind; from authentic liqueurs and locally made goods to delicious treats and items significant to the Croatian cultural heritage. Whether you're looking for a present for the youngest, a bottle of alcoholic drink for a friend, or just a simple reminder of your vacation for yourself, we are bringing you our picks of the most original souvenirs from Croatia.
Maraschino liqueur
Maraschino liqueur is an authentic drink of the Zadar region. The recipe was put together back in the 16th century by the pharmacists of the Dominican monastery in Zadar. The bitter-sweet Maraschino flavour is obtained from the essence of the Marasca sour cherries, typical for Dalmatian region. Both ripe fruits and young leaves are being used for the distillation. This liqueur of distinctive aroma was considered as a mighty elixir of life and was consumed only by the privileged citizens. It was particularly reputable in Venice, Vienna, Paris, London, Berlin, Petrograd and Constantinople.
Maraschino was a favourite drink of French conqueror Napoleon Bonaparte, who enjoyed it after lunch or dinner. A world-famous lover, Casanova, wrote about it using superlatives, in his Memoirs. It was mentioned by Honore de Balzac, the originator of realism, in his novel. Maraschino was also served on the Titanic's first and last voyage on the night when the ship hit the iceberg. Alfred Hitchcock was sipping Maraschino while watching a Zadar sunset, and describing it as the most beautiful sunset in the world.
A traditional square-shaped bottle of Maraschino liqueur, with its short bottleneck, has been listed on the list of authentic Croatian souvenirs by the Croatian National Tourist Board since 1999., so make sure you don't arrive back home from your vacation in Dalmatia without it. You can find it in almost any supermarket in Zadar county, and if you are looking for a more gift-suitable packaging you can stop by a Maraska Store or visit their online shop.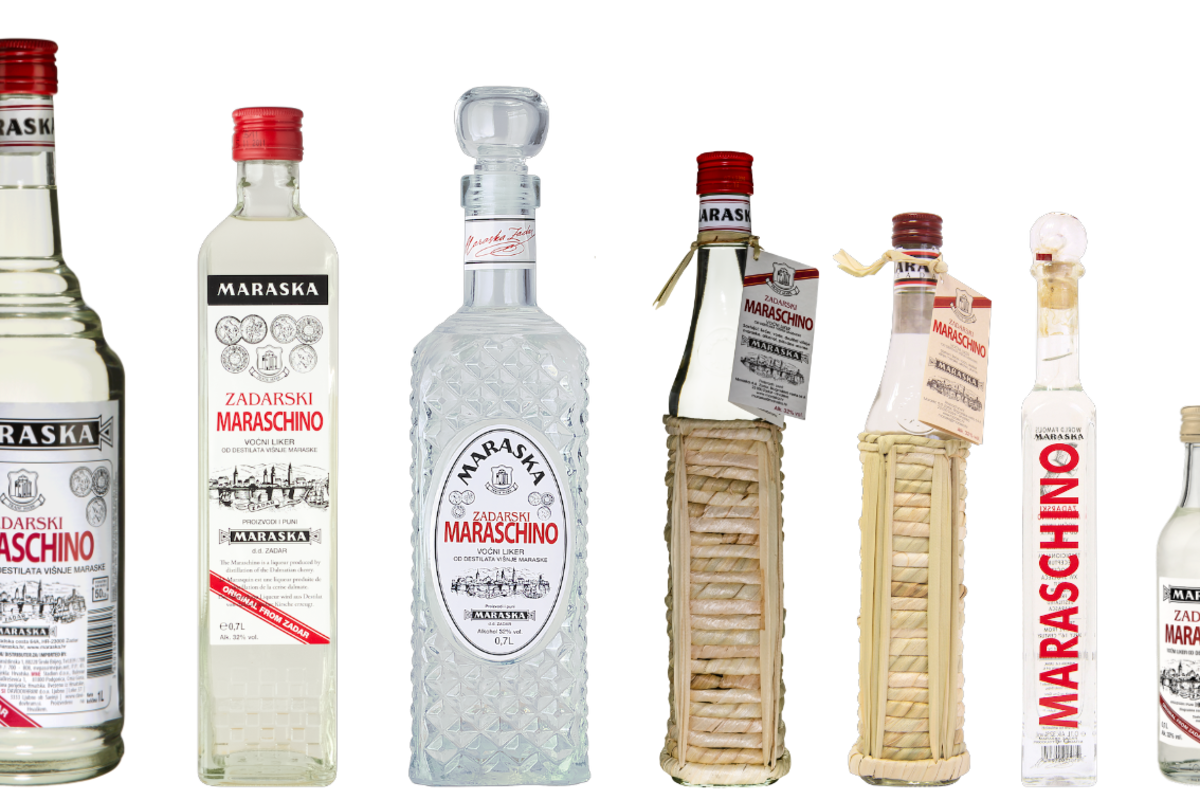 Zadar truffle
Zadar county is a very fruitful truffle growing area, but this fact was not known for a long period of time. Only ten years ago, family Matak started the first truffle hunt in Zadar county, together with their first Lagotto Romagnolo, the most famous truffle seeker dog breed. This dog is being trained for a truffle hunt from the day of their birth when their mother's breasts are being lubricated by truffle scent, so the puppies can get familiar with it.
Plenty of black truffles varieties were found in the Zadar area, as well as a smaller amount of white truffle types. Even the most respected and most expensive black truffle variety - Perigrod (Tuber Melanosporum) was found in this area. This type of black truffle was never discovered anywhere else in Croatia. The hunt became successful so the family today owns four Lagotto Romagnolo dogs, and Zadar truffle is slowly becoming a brand.
At this point, Zadar truffle is not only popular among Zadar restaurants and souvenir shops, but is also recognised by chefs in culinary circles of Japan. Family Matak product palette consists of several truffle-mixture spreads, truffle scented olive oils, canned truffles, truffle chocolate pralines, and a special new truffle liqueur is in the process of creation. You can choose from all of those to gladden your loved ones with a token of appreciation from your vacation in Croatia.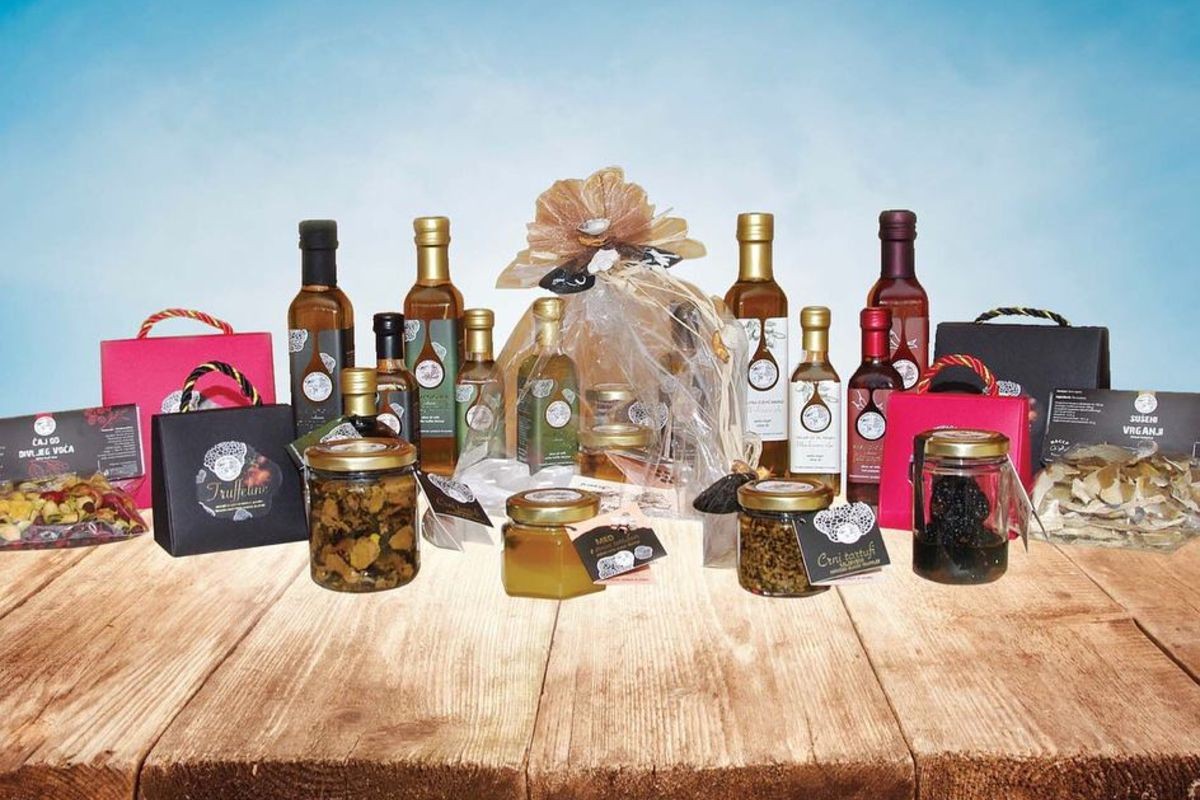 Flower of salt from Nin
1500 years-long tradition of salt producing in a small town Nin, near Zadar, is a result of the perfect compound of Adriatic sea, sun and Bora wind from the Velebit mountain. This saltwork is very famous by their admirable Flower of Salt.
This completely ecological, biodynamical and hand-harvested salt is specially used as a finishing flavour and garnish, that intensifies and refines the taste of every delicacy. Besides its gourmet use as an essential, natural culinary spice, the Flower of Salt is a high-quality dietary supplement from the aspect of health and nutrition. As a product of metabolism of algae and specific microorganisms, the Flower of Salt consist of a rich mixture of 75 minerals, essential for optimal functioning of the human body, with excellent usability and absorption.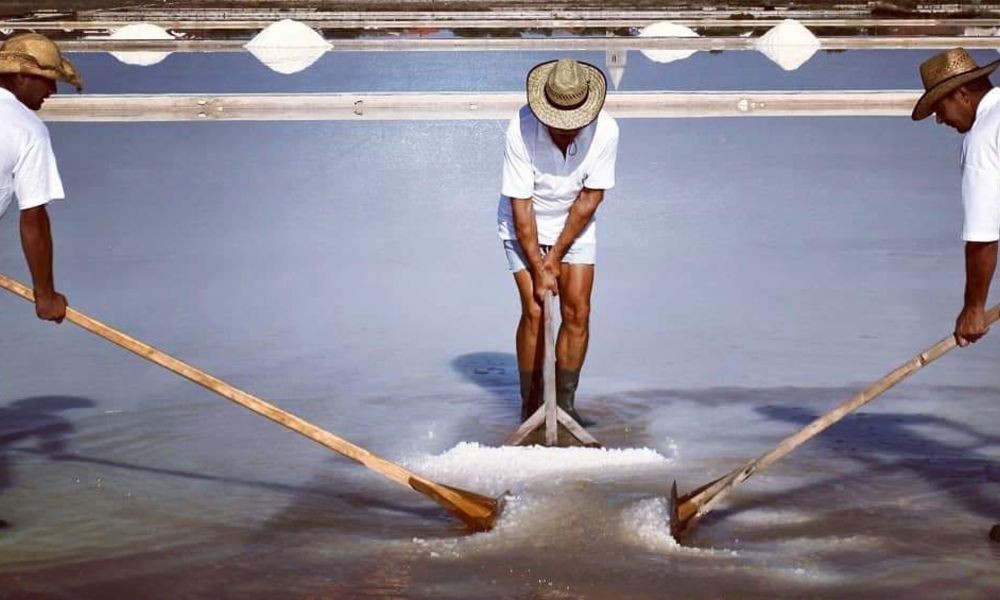 While the regular salt precipitates out on the bottom of the salt pan, the flower of salt remains floating on the surface, forming a delicate crust of fine crystals united with the sea. Due to the delicacy of the crystals, Flower of Salt requires to be gently harvested by hand, using traditional methods and tools like wooden micron sieves.
Don't forget to look up for the Flower of Salt during your vacation in Croatia, because Saltwork in Nin offers a wide range of products including it. Besides the regular jar or jute bag with Flower of Salt, you can try out its combination with black truffle or cayenne pepper. Even those with a sweet tooth won't get disappointed, because the Saltwark in Nin produces different kinds of chocolates and cookies with the Flower of Salt, as well as ice-creams and energy bars containing this valuable ingredient.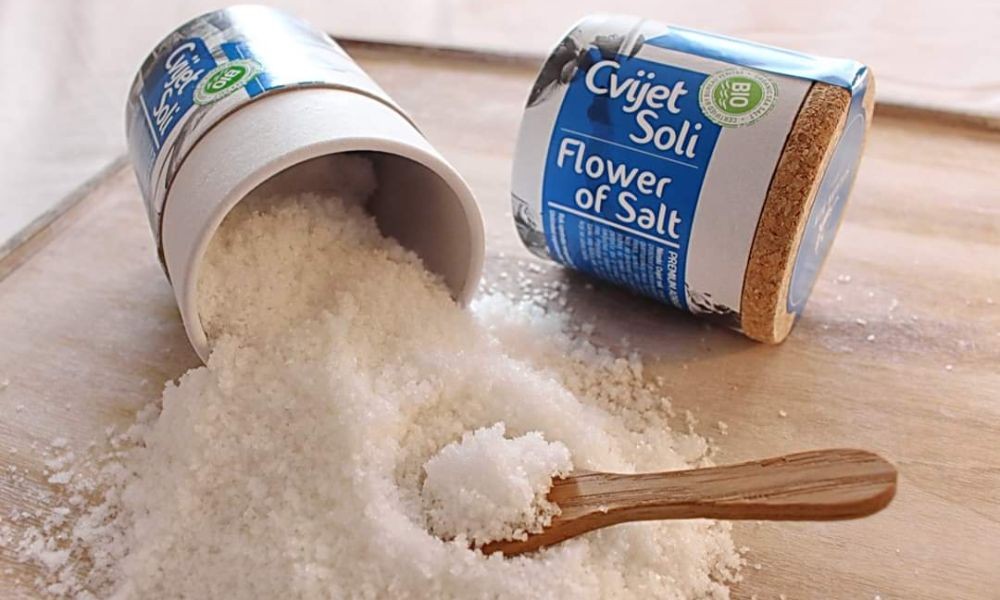 Oriđiđi handmade soaps
These days more and more people are turning to natural cosmetics, and we are sure that you have at least one friend who would love to receive a gift from your vacation in Dalmatia in a form of an original handcrafted plant-based soap.
Oriđiđi soaps are handmade on a small Island of Iž, by a young woman who passionately collects different herbs, merging them into unique and sophisticated combinations of divinely scented bars. The entire manufacture process of these synthetic-free soaps is Earth-friendly, from the ingredients selection to the wrapping and decorating materials. Oriđiđi soaps appearance is very fetching, due to the fact that at a glance, you can identify most of the specific soap ingredients, since they are visible at a soap-bar surface.
Oriđiđi soaps are amusingly representing themselves as the soaps that prevent a bad language, eliminate frying odour, decreases bank debts, improve poor eyesight, and help with many other unwanted indications. Joke aside, Oriđiđi soaps are nature-inspired, gentle to your skin, non-drying product, and in touch with water produce delicate foam and release a tempting fragrance. Oriđiđi recently presented a new 100% Natural Coconut Body Butter, so you can indulge in pampering your skin in a most salubrious way. You can order them via Oriđiđi FB page.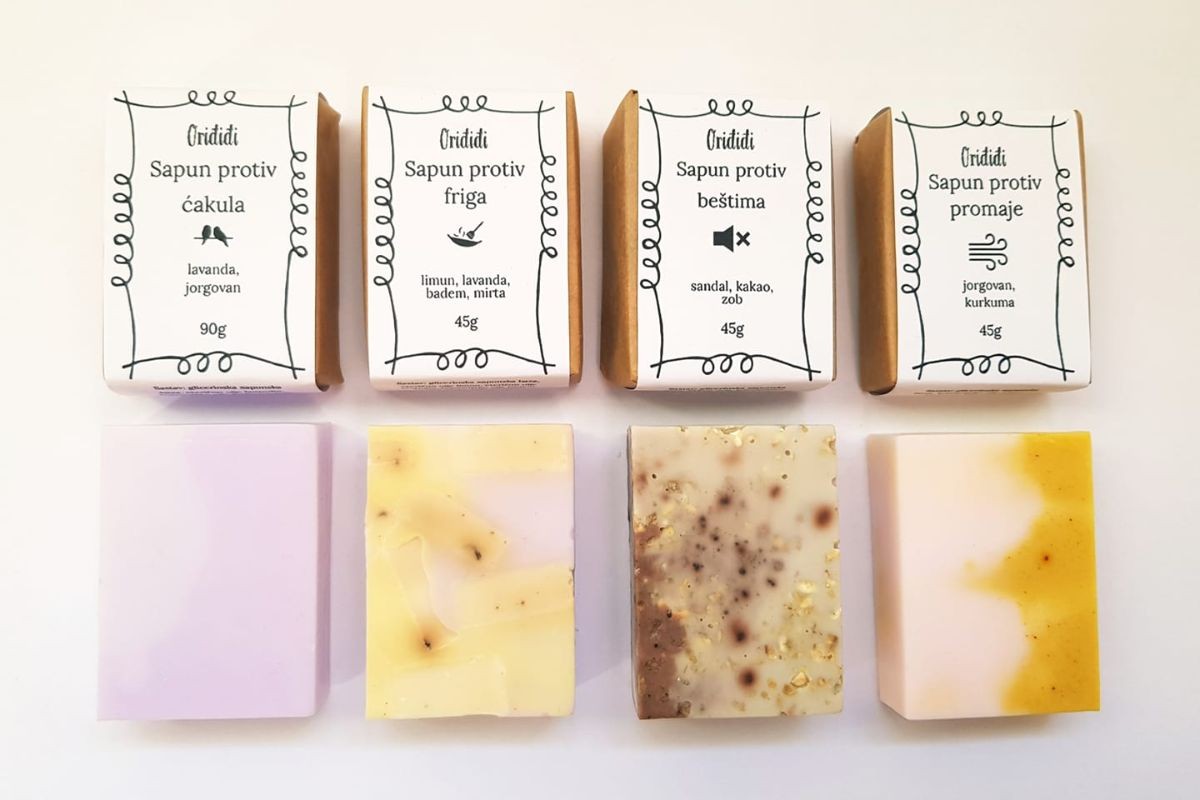 Olive oil
Homer, in his Iliad and Odyssey, referred to olive oil as the Mediterranean liquid gold. Spartans used to spread it all over themselves in order to look better and feel stronger.
Today it is the base of every gourmet's kitchen. Croatian olive oil is one of the best in the world, but Croatian producers mainly produce limited quantities of olive oil for the world market, so take the opportunity during your vacation in Croatia, and take some home with you.
The Island of Pag is home to the 1,600 years old olive tree, the oldest olive tree in the world. In Dalmatia, you will be surprised how many households grow olive trees and produce olive oil. Most of them do it just for their own needs, and maybe a couple of bottles extra, for selling if someone asks.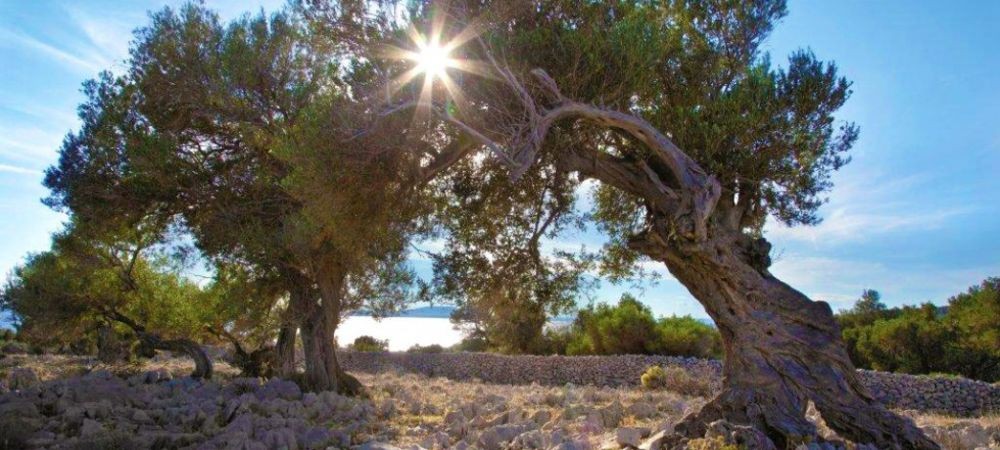 We highly recommend you not to buy olive oil in the supermarket, but from a local producer, trough a recommendation. Just ask a local person, he/she can definitely connect you with someone, or you can simply contact us. Maybe it won't have a fancy label, but it will taste heavenly pure.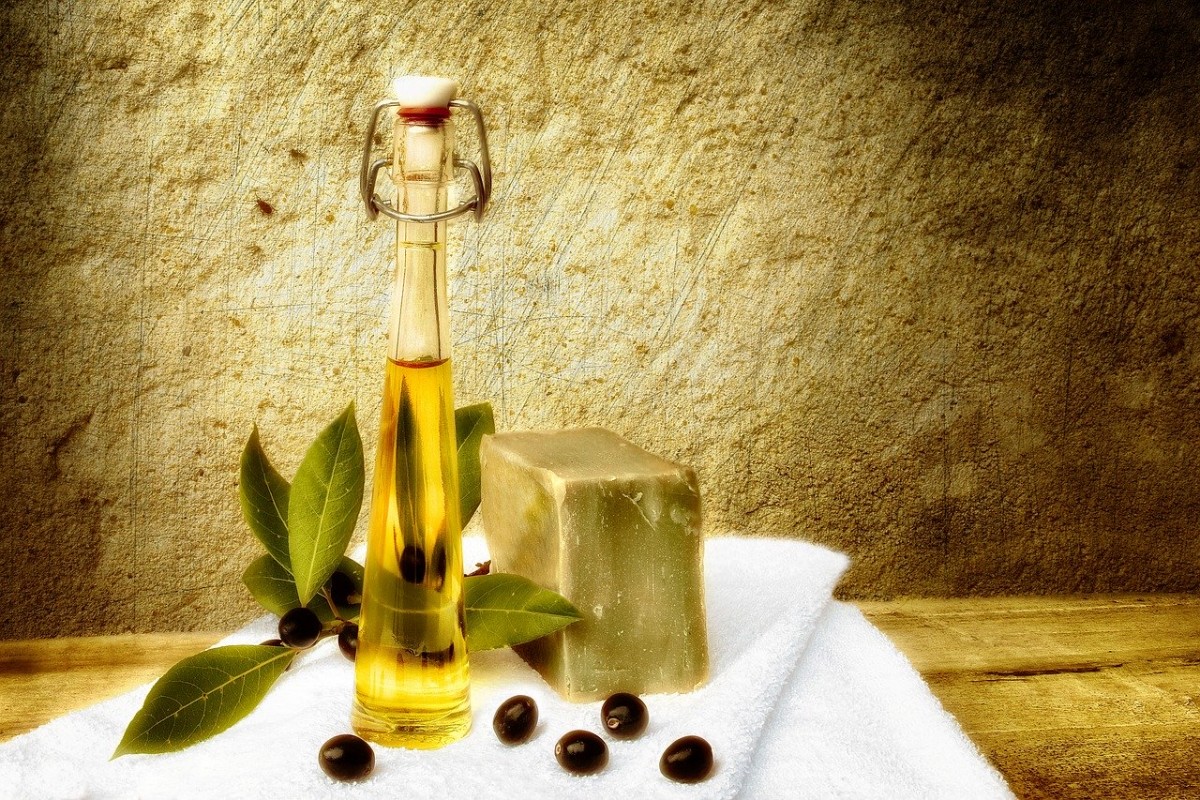 Rab's cake
The legend says that this authentic cake form Island of Rab was first prepared by Benedictine nuns in 1177 for Pope Alexander III, who accompanied by ten galleys, decided to seek shelter in order to prevent a shipwreck due to a windstorm, near the island.
There is no such thing like the exact recipe for this cake. The original recipe has been calligraphed in the archive in the monastery of St. Andrew, but even there you won't find measurements. And that is the real beauty of it. The good Rab's cake can only be made by someone who has already made it more than a hundred times. Only that person can truly feel ingredients in between their fingers and sense the moment to add more or reduce the amount of grounded almonds, depending on a time of the year and percentage of humidity in the air. Lace thin batter and decorative waves that demand a filigree skils, make a process of creation of Rab's cake quite challenging, but also an artistic experience.
Rab's cake is the most original souvenir from the island and we guarantee that you will fall in love at first bite, and won't hesitate to buy more to bring home with you from your vacation in Croatia.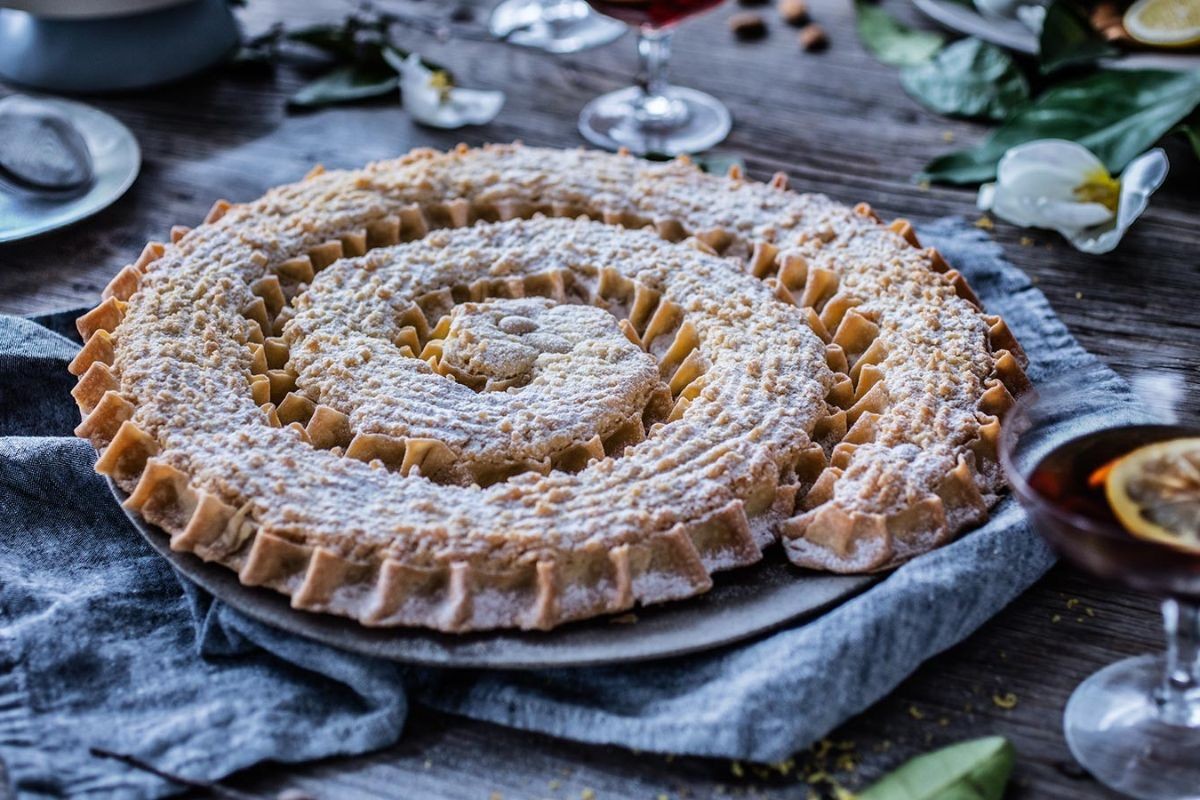 Lavender products
This fragrant purple Mediterranean herb is being used in these areas for 2500 years already. A lavender bush is a long blossom decoration to any garden and its flowers have multiple uses. Dried flowers are used as a defence against for wardrobe moths and a mosquito repellent, while lavender oil use has demonstrated benefits in medicinal conditions such as wounds, fungal infections, anxiety and hair loss.
The main Croatian lavender growing region is the Island of Hvar, and in its villages, Grablje and Brusje, the biggest lavender fields in Croatia are situated.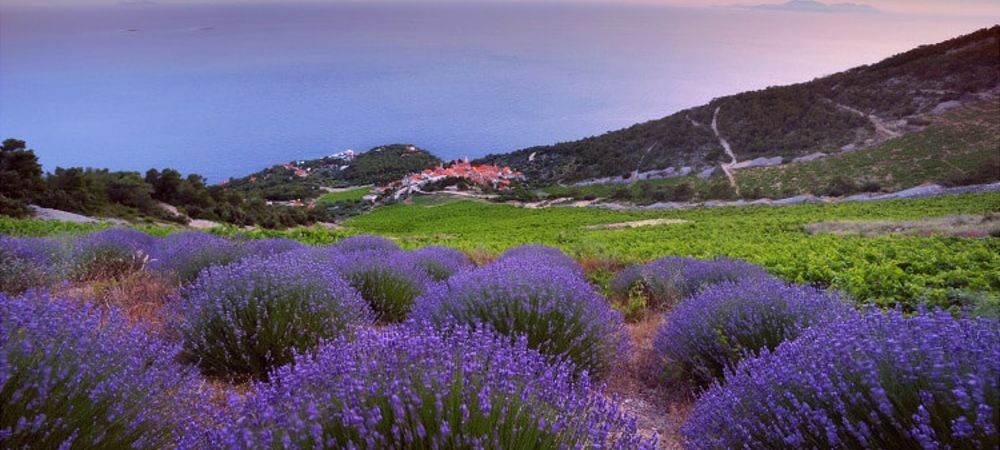 In these days, you can find various range of creative locally made lavender products, sold on the markets. The most common product is decorative hand-painted canvas bags, filled with dry lavender flowers and soaked in lavender oil, perfect for keeping your clothes fresh in your luggage while travelling, or in your drawer at home to remind you of your vacation in Dalmatia while getting dressed. You can also buy lavender essential oil and add it in your aromatic lamp to mesmerize your senses. It is possible to choose from a variety of soaps, and different kinds of lavender toiletries, as well as lavender-filled travel pillows, and if you are lucky - a lavender liqueur.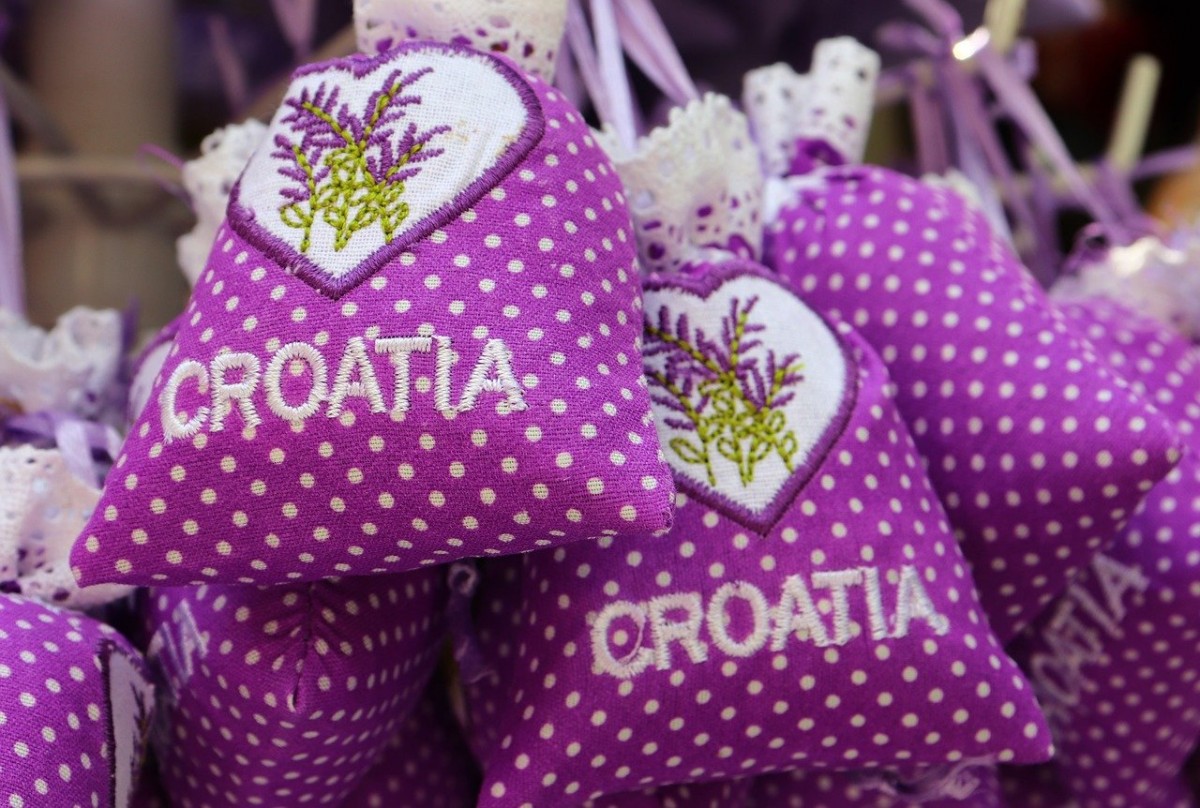 Marble from the Island of Brač
The white marble from Brač is world-famous for its brightness and durability. White House in Washington, Diocletian palace in Split, the building of UN in New York, House of Parliament in Budapest, and many others are partially built out this marble. Brač marble exploitation started with Romans, who recognised it thousands of years ago.
The stonemason school in Pučišća on Brač is a great example of mastery and craftsmanship, that already for generations passes the extraordinary skills, knowledge, love and pride for this craft to talented young boys and girls.
Today you can buy many different kinds of marble souvenir produced on the Island of Brač; from decorative marble vases, bowls and mortars to candle holders and wall clocks. For those with aeroplane baggage restrictions, who are thinking at this moment how heavy that marble must be, don't worry, there are plenty of smaller marble options to bring home with you from your vacation in Dalmatia. There is a wide offer of sophisticated-looking marble jewellery, such as earrings, bracelets, rings and necklaces. Marble rosaries are also very popular, as well as magnets, keychain, wine corks, and many other creative marble souvenirs, of all kinds and proportions.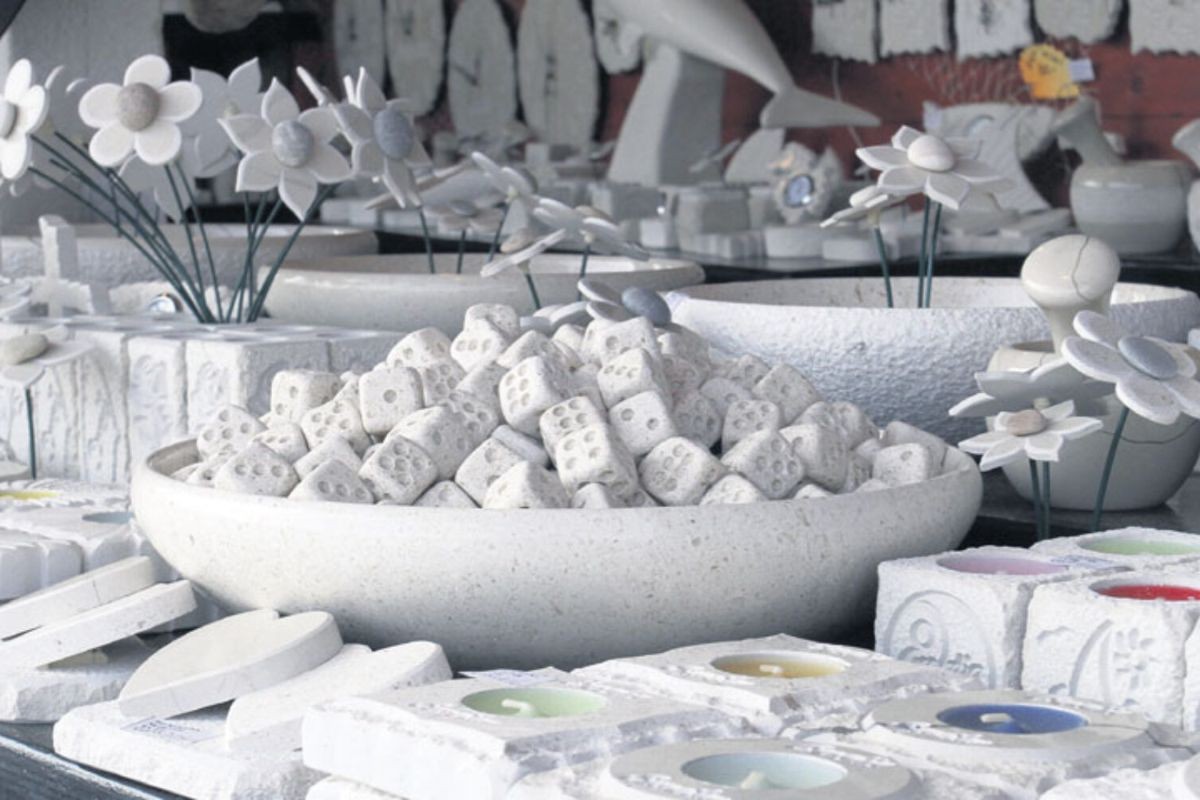 We hope this post was helpful and you will manage to pick up some ideas for your souvenir shopping.
Thank you for reading, and please, feel free to contact Adriatic Luxury Villas if you have any questions.