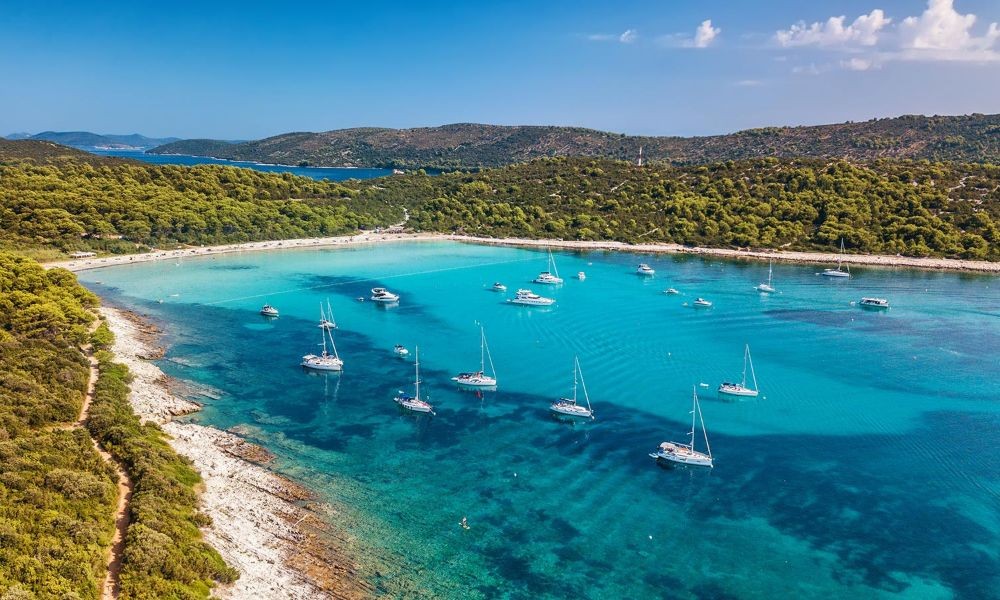 The best sandy beaches in Zadar Region and surroundings are waiting for you! These wonderful beaches are perfect to enjoy the Adriatic coastline and make your vacation unforgettable.
It's no secret that Croatia's coastline has some of the most breathtaking beaches in the region, and we are sure it is one of the prime reasons you've decided to visit us this summer. The land of sun and sea, the pure blue water sometimes interspersed with shades of emerald green, the breathtaking landscapes, and the invigorating nature are some excellent reasons to visit Croatia, especially Zadar. While it's hard to miss the right beach spot while in Zadar region, we would recommend dipping your toes into one out of numerous sandy beaches around the area. Let us take you through a pleasant walk through sandy beaches in Zadar's surroundings!
Queen's Beach, Nin
You will find one of the most stunning beaches of the region in the town of Nin, northwest of Zadar. A 3km long sandy beach perfect for a family day with kids justifies its name: a part of the beach forms a shallow lagoon making it the ideal and safe spot for the kids to swim in and for water sports. Queen's beach will spoil you with its silky sand, calm water currents, and spacious spots to admire the beauty of the Adriatic. A curious thing to notice at Queen's beach is people are sometimes covered in mud. It is believed that the mud from this very beach is medicinal and can heal numerous health conditions. Don't forget to try it out! Other than the almost surreal nature and healing mud, at Queen's beach, you will find bars, showers, playgrounds, and all other amenities for a heavenly-like beach day.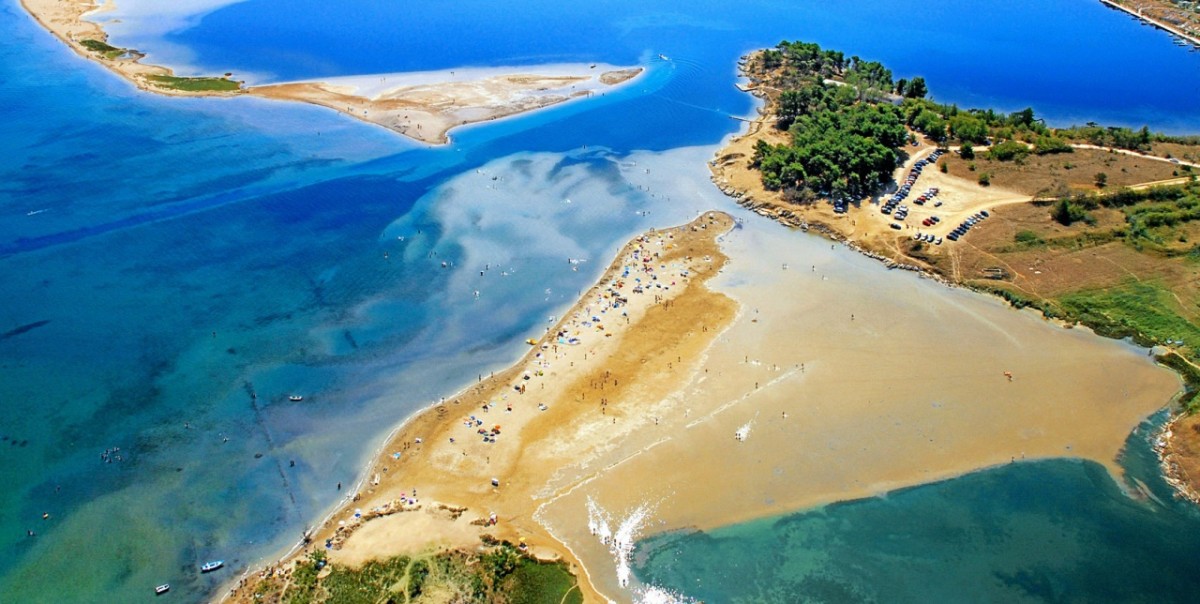 Sabunike Beach, Privlaka
A bit north from Nin, you can easily find Sabunike beach. Secluded from the crowds, Sabunike beach is your place to go if you seek isolation and want to enjoy the wonders of the Adriatic coastline uninterrupted. Aside from offering immense peace and serenity, Sabunike beach is a great place to try surfing and kite surfing, as the winds and the currents are favourable. And if you simply decide to enjoy a beach day in peace, you will still have a great experience: Sabunike beach is a great spot to enjoy the view of the Velebit mountain range.
Sakarun Beach, Dugi Otok
Frequently mentioned and posted on social media, Sakarun or Saharun beach really is one of the most fantastic sandy beaches in all of Croatia. It is located on the island of Dugi Otok, which literally translates as Long Island, explaining its long, sandy and shallow water lagoons. Sakarun beach is surrounded by a forest of pine trees, so if you become tired of its shallow calm waters, you will find the perfect shade to rest and cool off.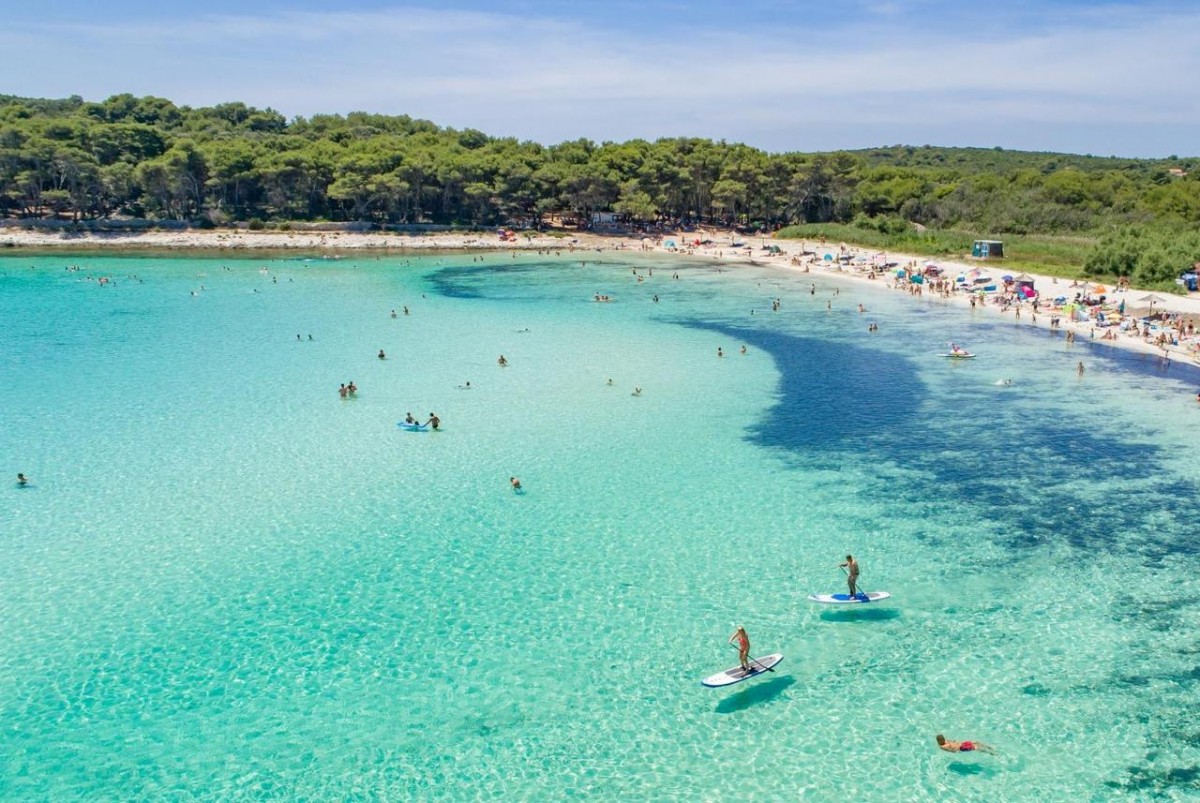 There is not just one reason to visit this beach: you can have a relaxing family day, and afterwards gaze at the night sky while partying with your people. It will be an unforgettable experience either way! Getting to Sakarun or Saharun beach is easy: you have plenty of ferries going regularly from Zadar.
Zaton Beach, Zaton
A couple of kilometres southwest of Nin and northwest of Zadar Zaton is nestled, a small coastal town with a holiday resort that has a magnificent sandy beach. The beach at Zaton Holiday Resort has a part with pebble stones, so the kids will have plenty of options apart from smooth sand for building sandcastles. As a part of a holiday resort, Zaton beach has all the facilities you can ask for: showers, rentable umbrellas, sports activities, bars, and restaurants. So, go ahead and indulge in it.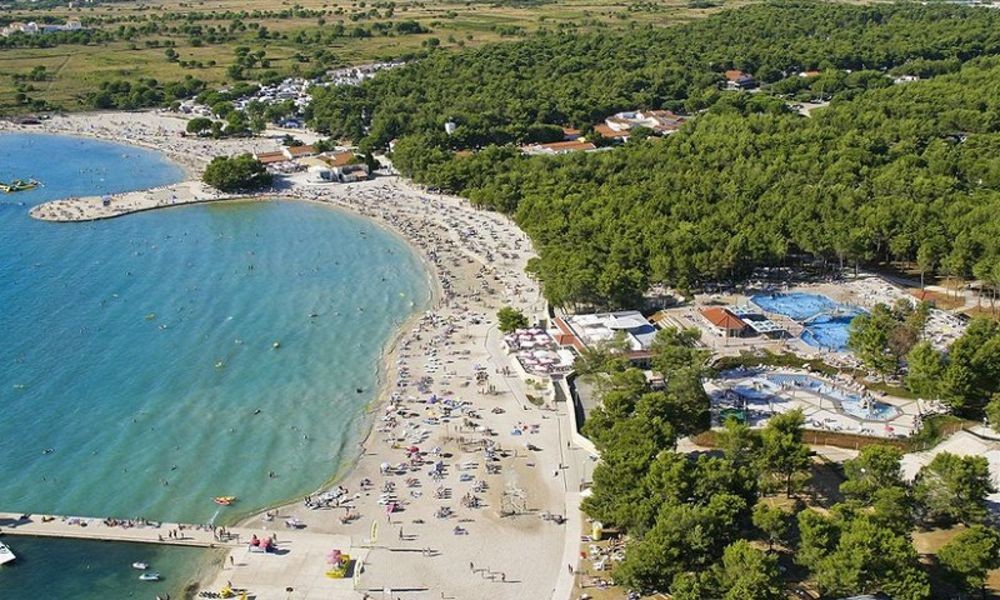 Pine Beach Pakoštane
Southeast of Zadar, in Pakoštane, you will find Pine beach as a part of the Pine Beach Touristic resort. With a very self-explanatory name, Pine beach in Pakoštane will spoil you with its soft sandy waters and pines providing shades. The beach itself spreads over 1km of coastline, but it is the sandy parts you want to enjoy. Enjoyable both for children and adults, the beach offers shallow waters, but also a few watersports like windsurfing, kayaking, beach volley etc. If you need some me-time, the beach has a few hidden cliffs and spots that can quickly become your hiding and sunbathing spot for the day. Treat yourself with a day at Pine Beach. Don´t second-guess it!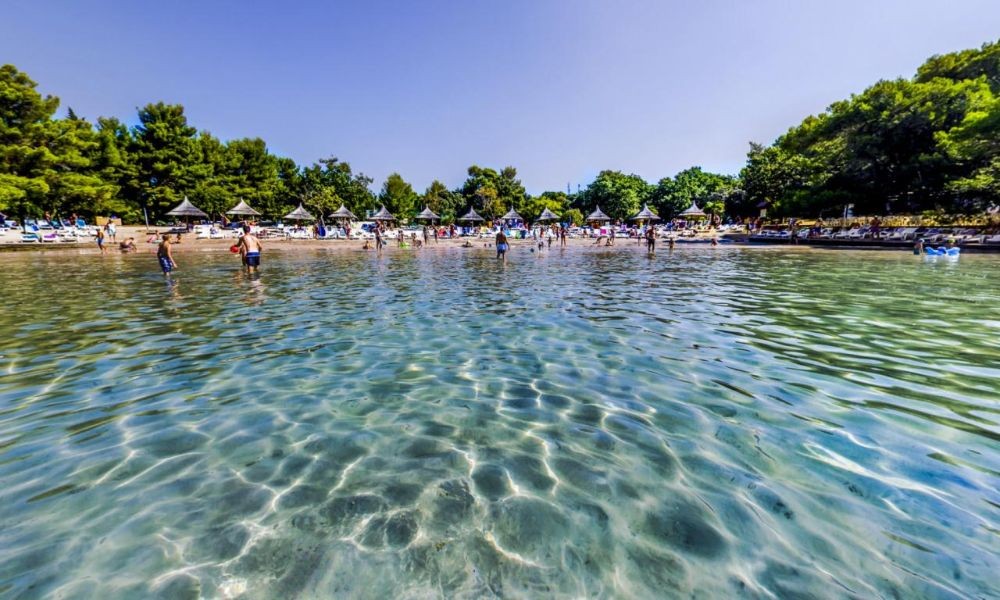 Slanica Beach, Murter
We have left Slanica beach as the last sandy beach on this list, but with good reason. A little bit further from all other previously mentioned beaches, Slanica Beach at Murter is considered to be paradise on earth. Due to its shallow and clear waters, it is one of the most popular and impressive beaches in the region. Once you get tired of sunbathing and the kids are ready to take a break from enjoying the water, you can enjoy the shade of the pine trees at the beach or drink a coffee or make a lunch break at one of the numerous bars and restaurants.
Although considered a rare gem in Croatia, we have managed to create a list of the best sandy beaches close to Zadar region. Suitable for any kind of summer holiday, these beaches are the ones your kids definitely won't forget. So, if you are staying in Zadar, you should visit at least a few beaches from this list. For the best accommodation and travel tips in the Zadar region reach out to us. Adriatic Luxury Villas is always at your disposal. Have a blast while in Croatia!