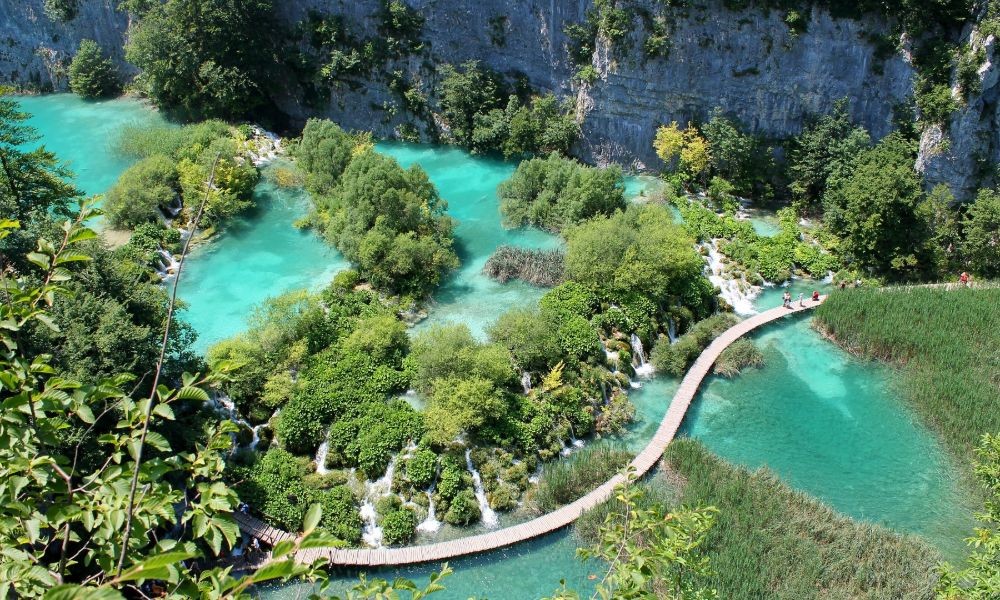 Must-see places near Zadar for nature lovers. Explore Zadar county and enjoy its natural wonders.
Zadar is a city on the Adriatic coast of Croatia that boasts the outstanding location and a perfect microclimate. Zadar is a great starting point for numerous one-day trips and makes a perfect base for all nature lovers and people who seek active holidays.
Zadar residents consider themselves being blessed for living in the city in between the mountain and the sea, with five national parks and three parks of nature in proximate vicinity, furthermore the archipelago of nothing less than 300 islands and islets. Mostly, while travelling, there is not enough time to see and do it all, so we prepared an overview of all beauty wonders in Zadar surroundings to make it easier for you to choose.
Plitvice Lakes National Park
Even though Plitvice Lakes National Park is further from Zadar then others on this list, we still decided to put it on the first place of this list due to its popularity. Plitvice Lakes are the biggest and the oldest national park in Croatia and they make a highlight of every trip to Croatia. This national park has been listed as a World Heritage Site by UNESCO and has a reputation as one of the most beautiful European landmarks.
We are talking about mountain forest landscape with 16 cascade lakes, pouring one into the next while creating magnificent waterfalls. Regarding its geological characteristic, the lake system is divided into upper and lower lakes. The national park suggests seven different routes and four hiking trails and it is open for visitors a whole year long.
The lakes are well known for their amazing colours, which alternate constantly in all shades of blue and grey throughout the year. The shades depend on the quantity of minerals and organisms in the water, as well as, of course, the angle of the sun.
Plitvice Lakes are beautiful in every season. In spring and summer, floral rug and lush meadows will enchant all of your senses. Autumn brings a patchwork of warm colours mirroring in the lakes. Visiting Plitvice Lakes in the winter is a true ice fairytale, where time has stopped. The treetops are ornamented with snowflakes while waterfalls and lakes are frozen.
GETTING TO PLITVICE LAKES NATIONAL PARK: The best way is to reach Plitvice Lakes by taking the state road DC1 from Zadar in the direction of Zagreb. Plitvice Lakes are 118 kilometres north from Zadar, and it will take you approximately 90 minutes to get there. DC1 passes through the eastern part of the park and offers two main entrances to the national park. Entrances are three kilometres apart and if you decide to come by a personal car it is good to know that both of them provide visitors parking (for a fee).
If you decide to come by bus, the bus station is in the near vicinity of the entrance, but have in mind that the bus is a bit slower then a personal car so the ride will last 45-60 minutes longer. Check the bus timeline here.
You can also choose one of many whole-day tours from Zadar which include round trip, guided tour, boat cruise on the lake, etc.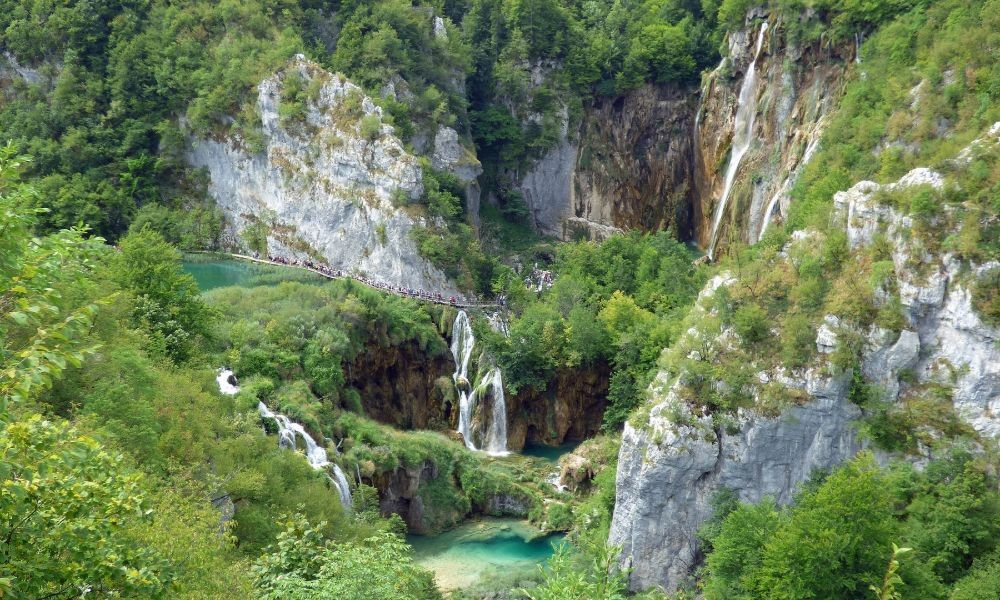 Krka National Park
The smaller version of Plitvice Lakes is situated 75 kilometres southern from Zadar. This national park is named after a river Krka and it includes the two-thirds of the river.
This national park offers so many features to their visitors and definitely deserves a separate blog-post to introduce you with all of them, but here we will point out only some. The top attractions of this second busiest national park in Croatia are its seven crashing waterfalls, a tiny island Visovac, ethno-villages and educational hiking trails.
The reason why visitor fancy this park more than Plitvice Lakes is the fact that in here you are actually allowed to plunge into the water. The longest and the most famous waterfall, Skradinski buk includes a lagoon that is open for swimmers (unlike at the Plitvice Lakes) so don't miss to refresh and rejoice in its water.
Visovac is a miniature island with a 500 years old medieval monastery that holds a number of well-preserved artefacts as well as the library. Beautiful cypress trees are surrounding and hiding the monastery, assuring Visovac a postcard look.
Visitors may find interesting the ethno-villages inside the park, preserving the memory of the traditional ways of making a living with watermills, old kitchen, stales, etc.
GETTING TO KRKA WATERFALLS NATIONAL PARK: The fastest way to reach Krka waterfalls from Zadar (50 minutes drive, altogether) is connecting to the highway at Zadar 2 entrance (you may take Zadar 1, as well) in the direction of Šibenik/Split. The best is to leave the highway at the Skradin exit because it is closest to each one of five entrances to the park. That means when you leave the highway you will have several paths to choose from, but for the first-timers, we recommend to go to Skradin marina and take a boat ride to Skradinski buk.
Buses operate regularly from Zadar to Skradin and the ride can be 45-90 min long.
As well, you can choose from many one whole day tours from Zadar to National Park Krka with a return trip, tour guide, boat ride, and a light lunch included.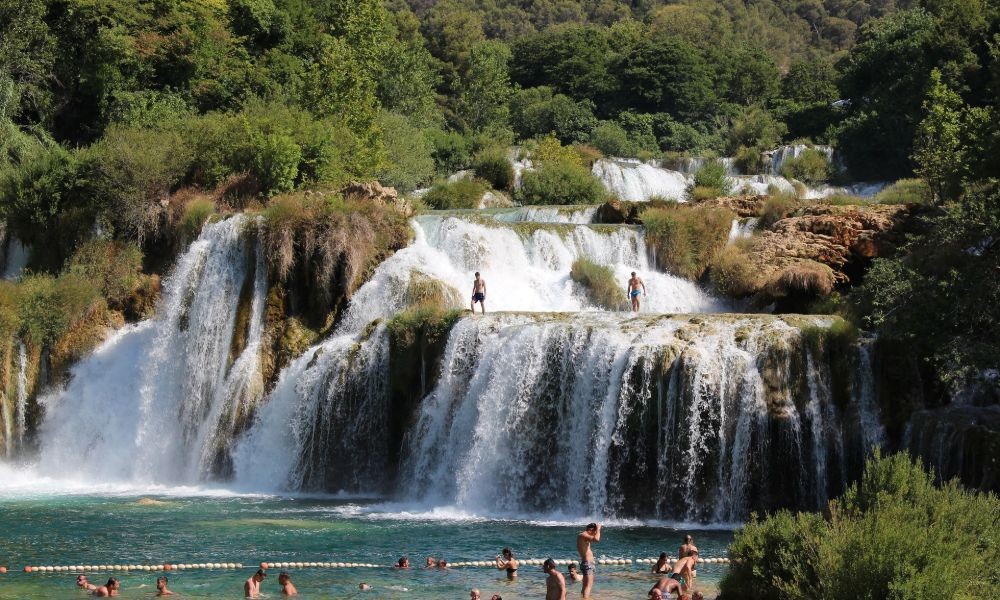 Paklenica National Park
Our journey through the natural wonders of Zadar county brought us to the mighty mountain of Velebit. Rising steeply from the sea, Velebit mountain is the part of Dinaric Alps and it is Croatian largest mountain range.
Paklenica National Park consists of two rocky canyons on the Velebit mountain that are dolomite-limestone type. This is a rock climber's paradise. One-third of all visitors in the park are climbers from all over the world. As soon as you enter the park you will notice them everywhere on the walls of rocks that encircle you. They are attracted to Paklenica because of availability of climbs for all levels of experience, as well as the climbing positions that are only a couple of metres from the entrance to the national park. This means reaching your desired climbing point doesn't require enormous hikes like they elsewhere mostly do.
But Paklenica offers some beautiful hiking trails, too. Hiking through Velika Paklenica canyon will take you from bare rock steep serpentines that will make you gasp for the breath to lush meadows that are inviting to roll over in their soft and green lawns while admiring impressive mountain peaks rising around you.
On your way to a mountain hut where you can grab lunch, you can take a sidetrack and visit a cave named Manita peć, as well as the man-made tunnel system built by Yugoslavian leader Tito during the Cold war.
And to conclude, listen up for an inside's tip: after arriving to the mountain hut (cca. 2h), where you can eat and sleep, we recommend pushing yourself to extra 8 minutes of a climb and visiting Ramića dvori restaurant for a complimentary "rakija" and the best view in the park. In here you can just grab a coffee or a beer, but you can also enjoy a freshly prepared lunch, as well as spend the night. And let's not forget the owner's performances of singing and dancing with harmonica.
GETTING TO PAKLENICA NATIONAL PARK: National Park Paklenica is 50 km from Zadar and you can get there by taking a state road "Jadranska magistrala" or highway. If you choose highway you may take both Zadar 1 or Zadar 2 entrance in direction of Zagreb but be sure to exit the highway in Maslenica. Afterwards, just follow Starigrad directions. When you arrive in Starigrad, we recommend turning right when you see Velika (big) Paklenica sign, instead of going to Mala (small) Paklenica.
You can also take a bus from Zadar bus station to Starigrad or an organised tour from Zadar.
Telašćica Nature Park
Telašćica is a bay located on the southern part of Dugi otok island. Due to its significance, remarkable beauty and rich vegetation, this bay, together with 13 surrounding island and six islands inside of it, was announced as a nature park in 1988.
Telašćica unites the uttermost contrasts. Calm and quiet beaches, and laid shore on the one side and wild, immerse cliffs on the other side. Aleppo pine and holm oak forest on the one side and bare rock surfaces on the other.
There are three fundamental phenomena to see in this area: the bay with numerous beaches, that is known as the safest in the Adriatic, in all weather conditions, 161 m high scary, soaring cliffs and the salty lake Mir which means peace.
In Telašćica you will find Roman ruins as well as pre-Roman churchs. As a matter of activities that you can get into, we would like to mention diving near the cliffs and hiking around the bay and the lake.
GETTING TO TELAŠĆICA NATURE PARK: The easiest way to get here is by boat. The area of the park can be reached by own or rented boat (admission is charged by the size of the boat, per day) or by one of the numerous private boats or tourist agencies in Zadar, who organize excursions to the park area.
If coming from the mainland, it is easiest to come from Sali, which is the closest village to the Park. You can reach Sali by taking a catamaran or a boat from Zadar and then by car (18 min drive) or even by foot to Telascica (1:50 h hike).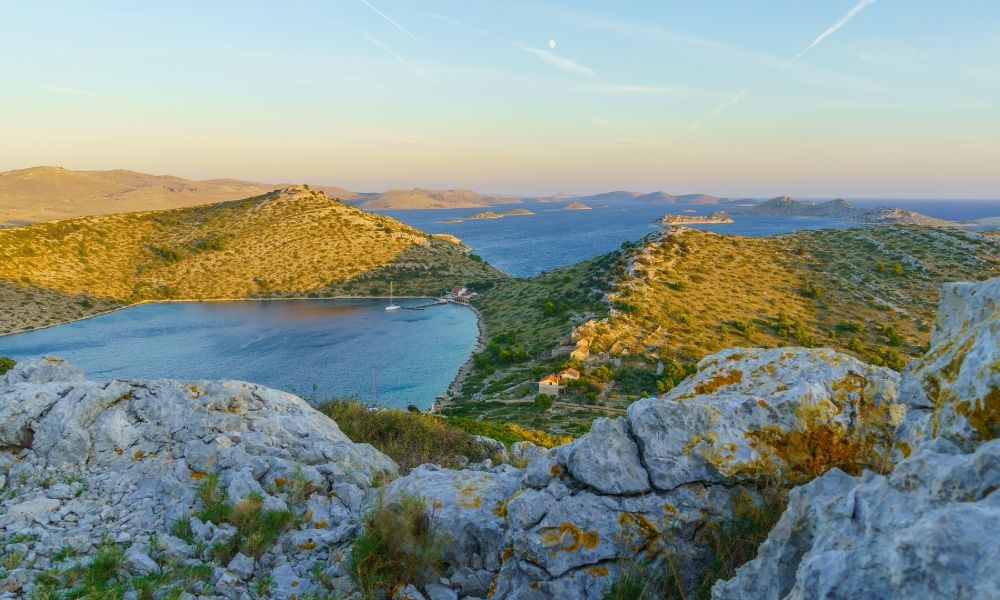 Lake Vrana Nature Park
With 251 bird species, of which many are protected, endangered and very rare, lake Vrana will entice you to an interesting and for many of us new activity - bird watching. If you haven't tried it yet, go ahead and rent the binoculars in the park. Furthermore, you can kayak and search for bird nests in reeds and a tall sedge, or simply enjoy the calm water surface.
When visiting Vrana lake, we recommend climbing the hill name Kamenjak up above the lake (you can arrive by car right at the viewpoint) for a magnificent and breathtaking view of the archipelago including Kornati islands. On a clear day, it is even possible to see Italian Apennines and Croatian furthest islands.
GETTING TO VRANA LAKE NATURE PARK: Reaching lake Vrana from Zadar is a 45-minute drive, whether you use state road or a highway. For highway, take Zadar 2 entrance in direction of Split/Šibenik and exit at Benkovac.
You can take a bus From Zadar main station to Prosika. Also, it is possible to join an organised bike tour from Zadar to lake Vrana with lunch included.
Zrmanja waterfalls
Last, but not the least, we want to tell you about a place that is not so popular among the tourists and the biggest part of them don't even hear about it during their trip to Croatia. This is probably because Zrmanja waterfalls are neither national or nature park and due to that mostly doesn't make it to the "what to see and do" lists. And that is actually the best part of it.
Since it is not well known in tourists circles and it is not an official park, the atmosphere here is much more relaxed and natural. There is no entrance fee, there is no forbidden areas or restriction of any kinds (we count on your accountability, awareness and ethics) and most important - there is no crowd. Muškovci is the name of a beautiful small place on Zrmanja waterfalls, where you can refresh yourself even during hottest summer days.
This place is a true, wild fun park, both for kids and adults. You can swim, you can snorkel, jump from the bridge or from the top of the waterfalls, you can slide into the water, swing around on liana or rent a canoe and go rafting. Besides a couple of delicious restaurants with amazing, authentic food and low prices, you can even enjoy a beach bar with sun lounges and parasols.
This place is our getaway when cities and beaches become overcrowded and too hot during the summer months and we want to relax in a shade of lush greenery, listen to waterfalls humming and cool ourself in refreshing Zrmanja river.
GETTING TO ZRMANJA WATERFALLS: From Zadar, Zrmanja waterfalls are 45-minute drive taking the state road. Firstly you have to take Jadranska magistrala in direction of Zagreb, and then when you pass the Meslenica bridge turn right (not on the first turn that goes to Maslenica village, but on the second turn) to D54 road in direction of Zaton Obrovački. When you reach Zaton Obrovački, right next to restaurant Anita, turn left and continue to Muškovci. After you reach Muškovci, just continue a little bit further and you will find Zrmanja waterfalls.
You can also take a bus from Zadar main station to Muškovci.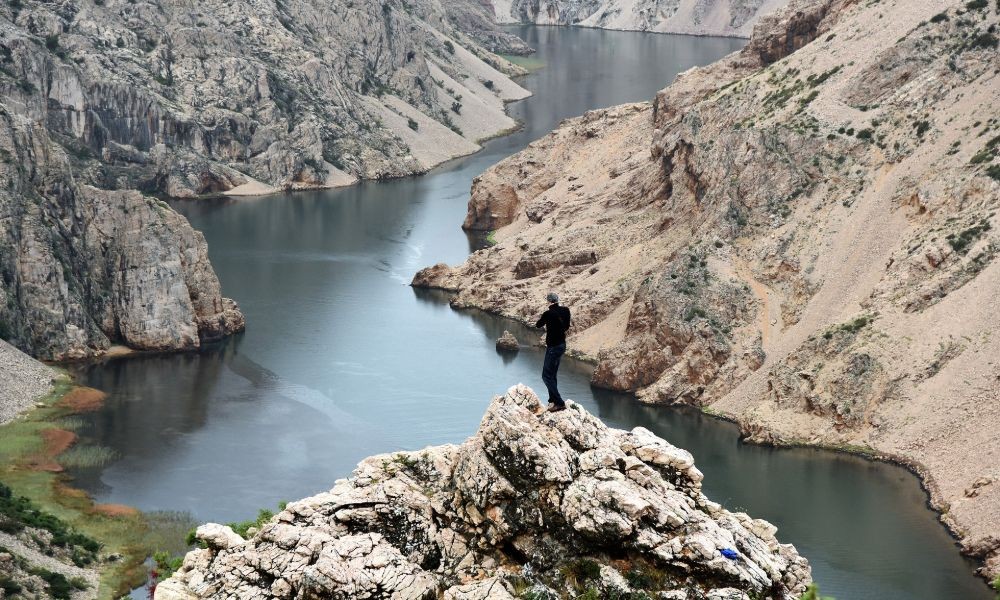 If you are visiting Zadar area, and you are looking for accommodation, check our offer here.
For any questions or doubts about this topic feel free to contact us, we are here to help.
Thank you for reading!