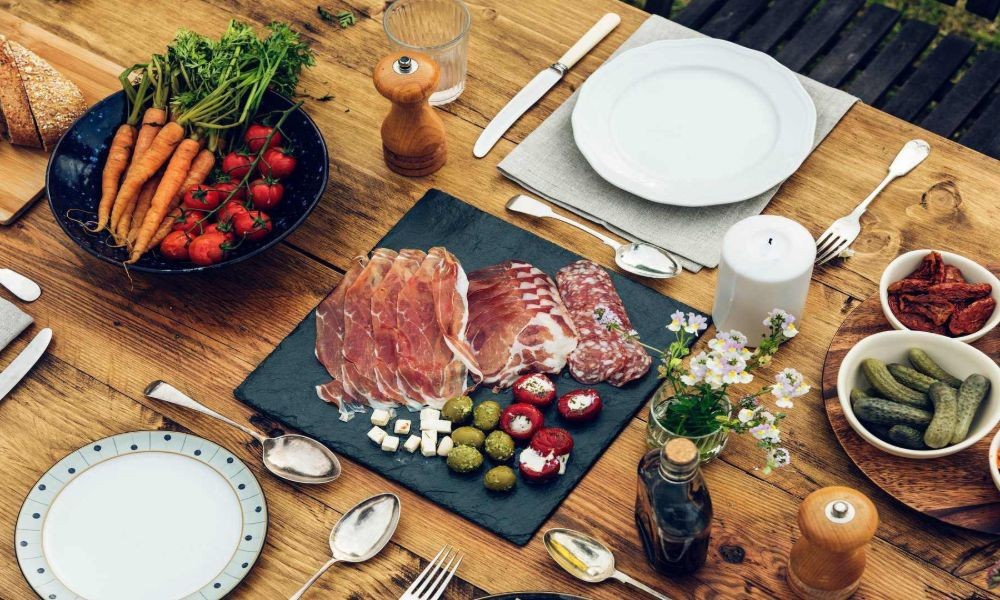 Get your five senses ready and prepare to experience the most tasteful Croatian cuisine with the list of the best dishes to eat in Croatia
Being the geographical intersection of many countries throughout history, Croatia's diverse cultural influences reflect on the national cuisine that's a fusion of continental and Mediterranean. Here, you can find whatever your taste buds like best: Italian, Hungarian, Greek, and even Turkish traces of cuisine influence. Depending on the region you visit, you can savour a wide variety of dishes that won't leave you unimpressed. Here's a list of ten dishes you must try while visiting Croatia. The hard part? Choosing which culinary delights to taste first.
Peka delicious dish
Slow-cooked under a bell-shaped lid, Peka is usually made of veal, lamb, or chicken meat crowned with potatoes and other vegetables. Sometimes, Peka is made with octopus instead of meat. This typical Dalmatian dish is always cooked under the embers in a fireplace. Although you have to wait for hours till it's prepared, you will quickly understand why it is one of the top country specialities.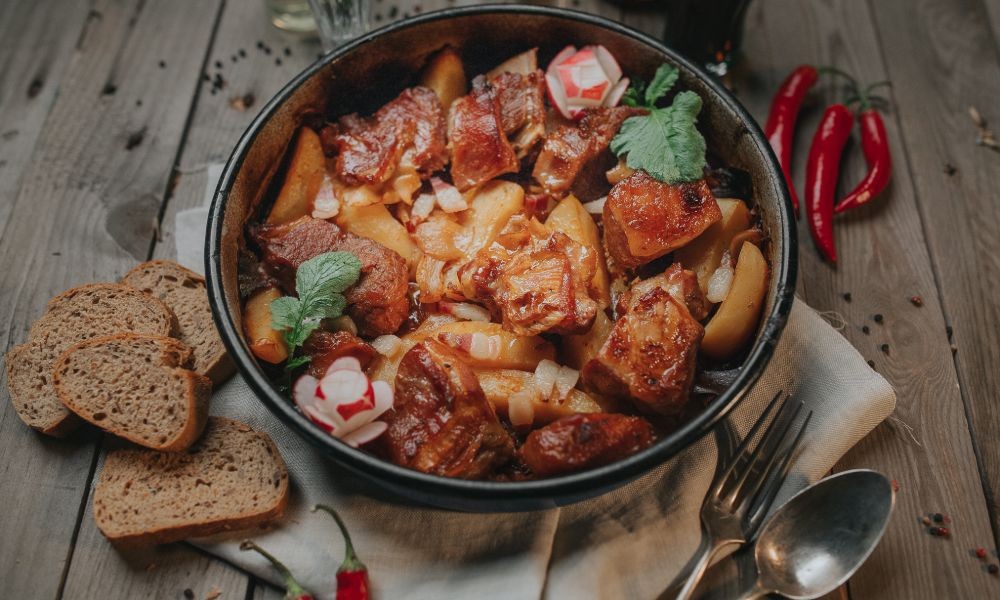 Ćevapi - a typical meat dish in the Balkan region
Usually, a mix of pork and beef, this kind of skinless seasoned sausages can be found all around Croatia and the Balkan region. Traditionally, it's served with cut onions, ajvar (a traditional condiment made from bell peppers and eggplants), or kajmak (typical Balkan sauce that tastes similar like sour cream) on a flatbread called lepinja. The only dilemma? How many of them can you eat at once?
Roasted Lamb
The roasted lamb or "lamb on a spit" is a simple yet delicious way of cooking lamb. The whole lamb is grilled on a spit and roasted for hours. Roasted lamb is a typical speciality on islands of Cres, Pag, and Brač, so we highly recommend trying it if you're visiting. Driving on local island roads will reveal the abundance of road luncheonettes that offer a roasted lamb. You will recognize them by their typical sign in front of the restaurant offering it.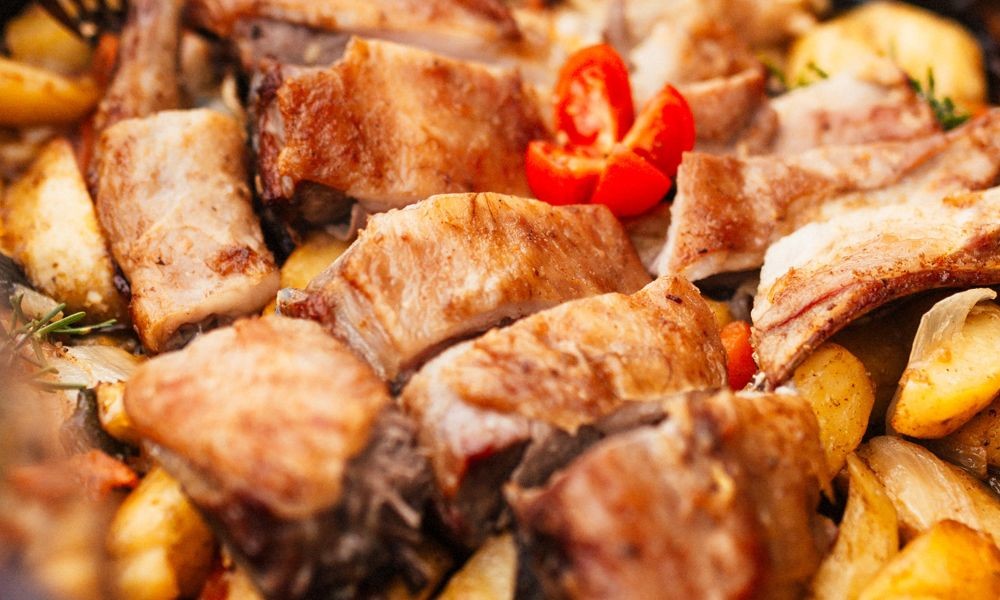 Pašticada typical Dalmatian dish
Pašticada is a slow-cooked stewed beef dish. Flavoured with red wine and blended with vegetable sauce, the meat preparation is quite long as it has to be marinated and slowly simmered with the vegetables. The final outcome is a really soft beef stew served with homemade gnocchi.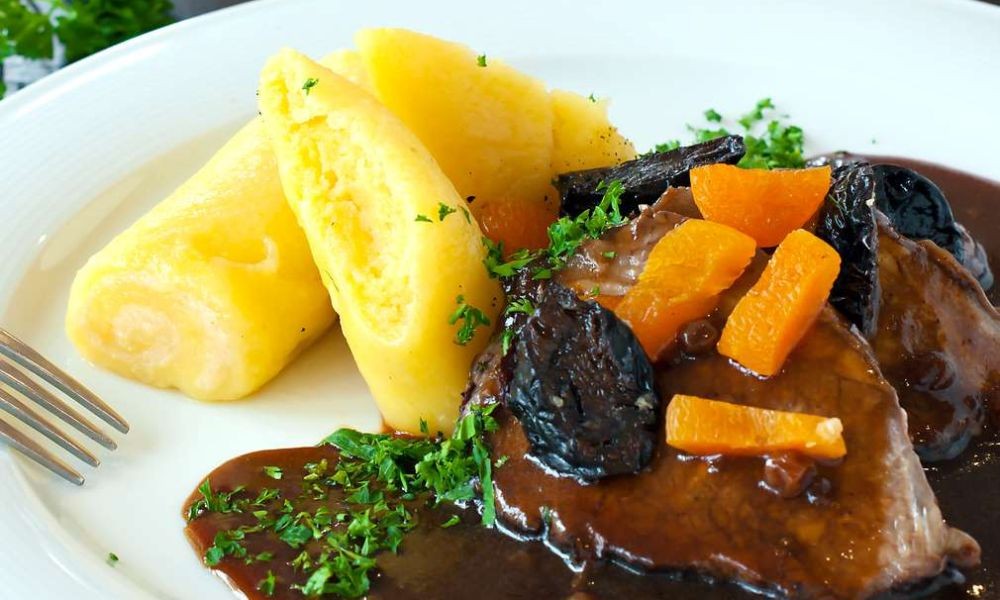 Pasta with Truffles, typical Istrian dish
The Istrian forests around the northwestern area of Motovun are known for their abundance of truffles. This underground mushroom is recognized as a top delight, not only regionally, but worldwide. It is usually combined with a creamy sauce and served with the traditional handmade Istrian pasta called Fuži. Although you can try truffles throughout Croatia, you will find it that in Istria, they blend well with pizza, meat, and hamburgers. Sometimes they even make a fusion with sweet desserts.
Štrukli typical for Zagorje region
This traditional Croatian delicacy is prevalent mostly in the Zagreb area and the northern region of Hrvatsko Zagorje. Composed of dough and regularly filled with cheese, it can also be made with lots of different fillings, cooked or baked. Traditionally it is eaten while still hot, so it's the perfect treat for cold winter days. Štrukli should be on your Croatian's cuisine bucket list as it has been included in the list of Croatia's Intangible Cultural Heritage.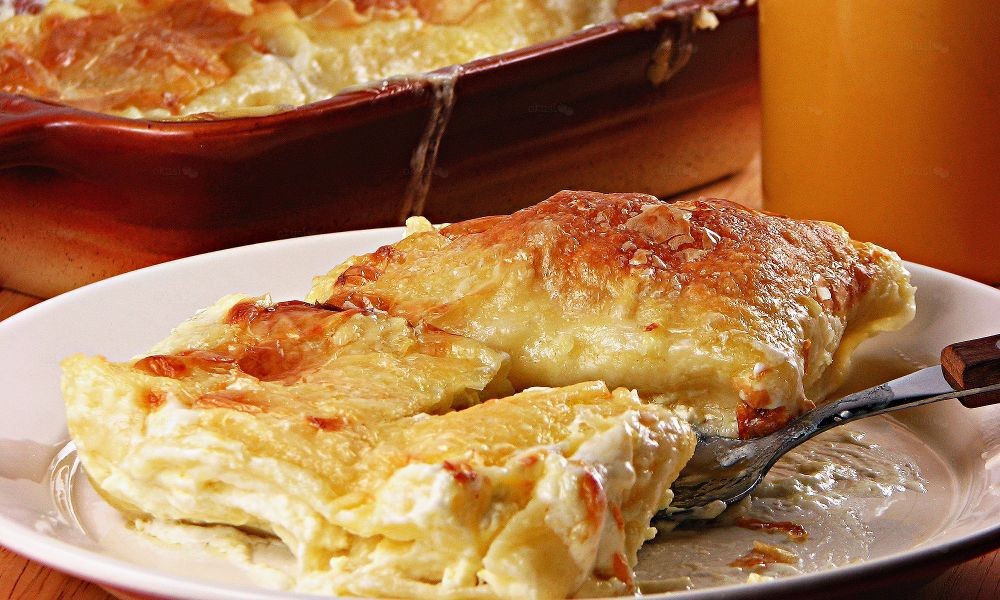 Brudet - the Dalmatian dish with seafood
This incredibly tasty fish stew is typical for the coastal regions of Croatia, and it has lots of types and versions. It is made combining different kinds of fish, squids, tomato, onion, herbs, wine, and usually served with polenta. Travelling different islands of Dalmatia, you will find it that each corner has a modified version of Brudet - be sure to try at least a few.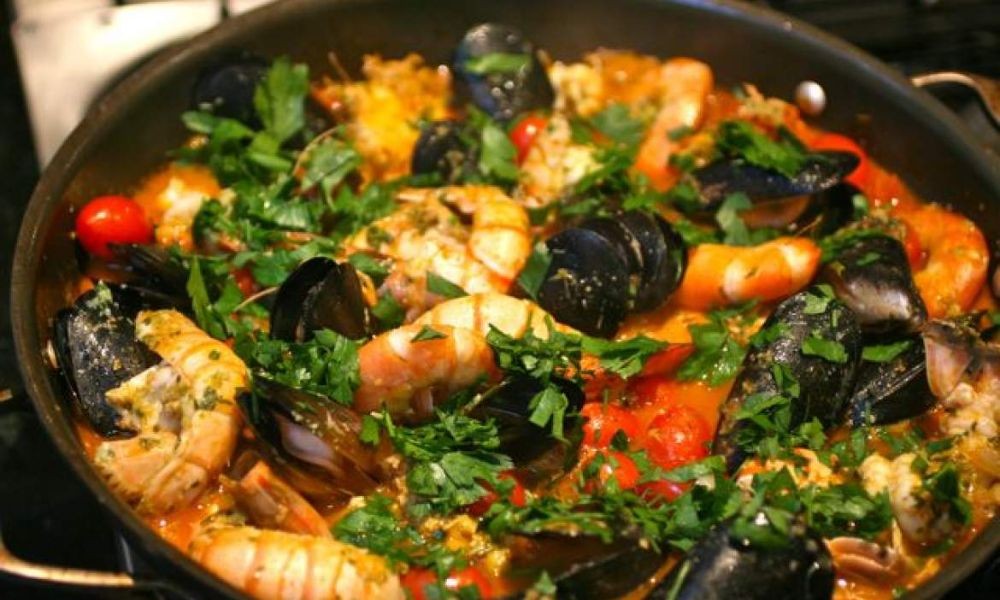 Kulen, typical Slavonian salami
The cured meat of Slavonia, Kulen, is a type of spicy flavoured sausage made of minced pork. Smoked for months and air-dried, it has a great aroma and taste. Try it with some cheese and wine, and you will get some of the most exquisite flavours of Croatian cuisine.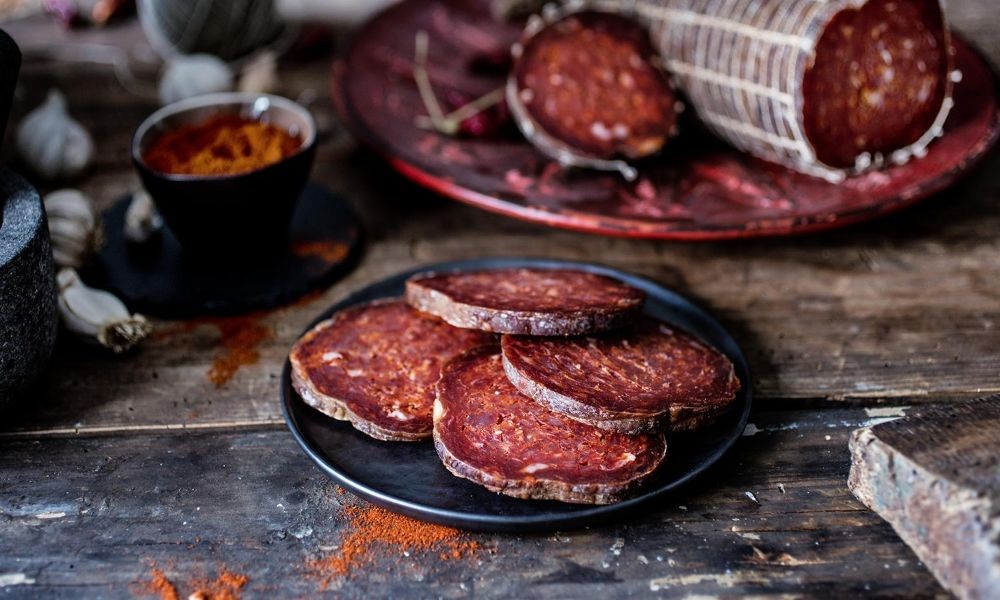 Buzara, typical Dalmatian dish
If you are visiting Dalmatia, you haven't really tuned into the local life without trying the tasty heavenly buzara. Although it's actually a pretty simple dish made with mussels and shrimps, it will surely make you feel the flavour and aroma of the Mediterranean Sea. This fish stew is usually cooked with garlic, olive oil, wine spiced with fresh Mediterranean herbs, and lots of parsley.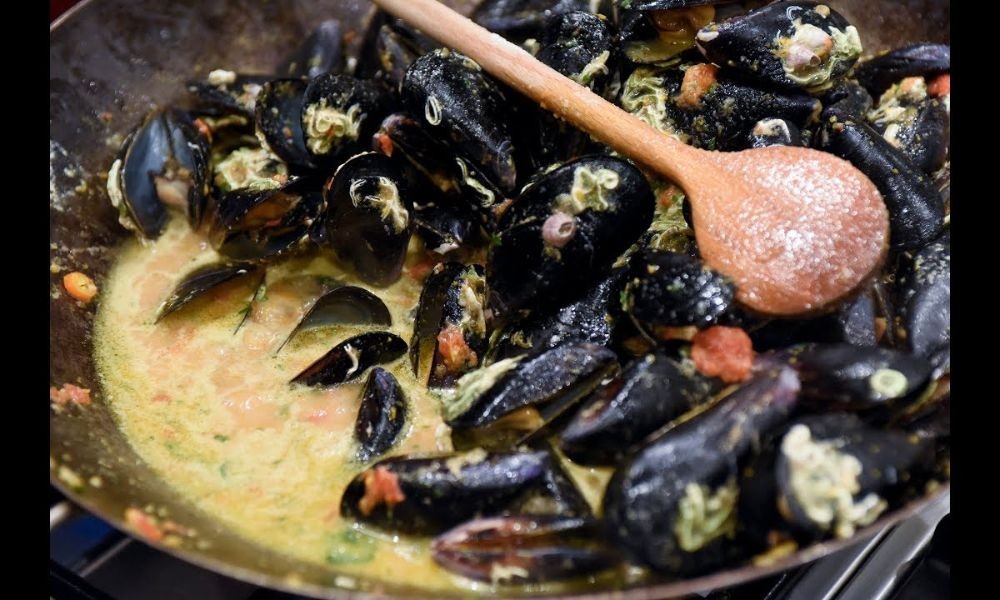 Fritule, the typical winter delicacy in Croatia
Fritule is a typical festive pastry in the shape of small and fluffy doughnuts. Fritule is made of egg yolks, yoghurt, rum, and some citrus like orange or lemon peels, usually topped with powdered sugar or fondant chocolate. You will find fritule everywhere in Croatia during Christmas so don't hesitate and try some. But careful, they are really addictive!
Tasty dishes in Croatia
If by now you are not craving at least 5 dishes from this list, can you really call yourself a foodie at all? Reconsider! Croatia is a country with diverse and exciting cuisine, so indulge in everything once you visit. In Adriatic Luxury Villas, we offer you the best accommodation and services. Still, we are also here to help you and guide you through this beautiful country. So, if you want to know more about Croatia, keep reading about it in our Blogs, and don't hesitate to ask anything!
Adriatic Luxury Villas is always at your disposal, find your best villas in Croatia and enjoy your stay!