Can you imagine a home office looking out at the dreamlike Mediterranean ambience of Croatia? Maybe with a sea view, private pool and a pleasant working atmosphere? Have we piqued your interest? Read on and discover our range of fantastic villas with a pool in Croatia for your perfect home office in Croatia.
The year 2020 was not only characterized by the global COVID-19 pandemic, but also by a new model of working – remote working. And this trend is being continued in the year 2021. With the majority of people working from home, the coordination of working from one's home office and having a beautiful family life seems to be a struggle. As the physical presence in the company is nowadays more of a health risk than ever before, most employers offer their employees the opportunity to relocate their home office anywhere their want including a holiday destination. This, in turn, has increased the interest to spend a few months in a holiday country and use a beautiful holiday home with a private pool as a home office. Read this blog and discover the most breathtaking luxury villas with a private pool in Croatia that will transform your experience of remote working into a combination of work and vacation.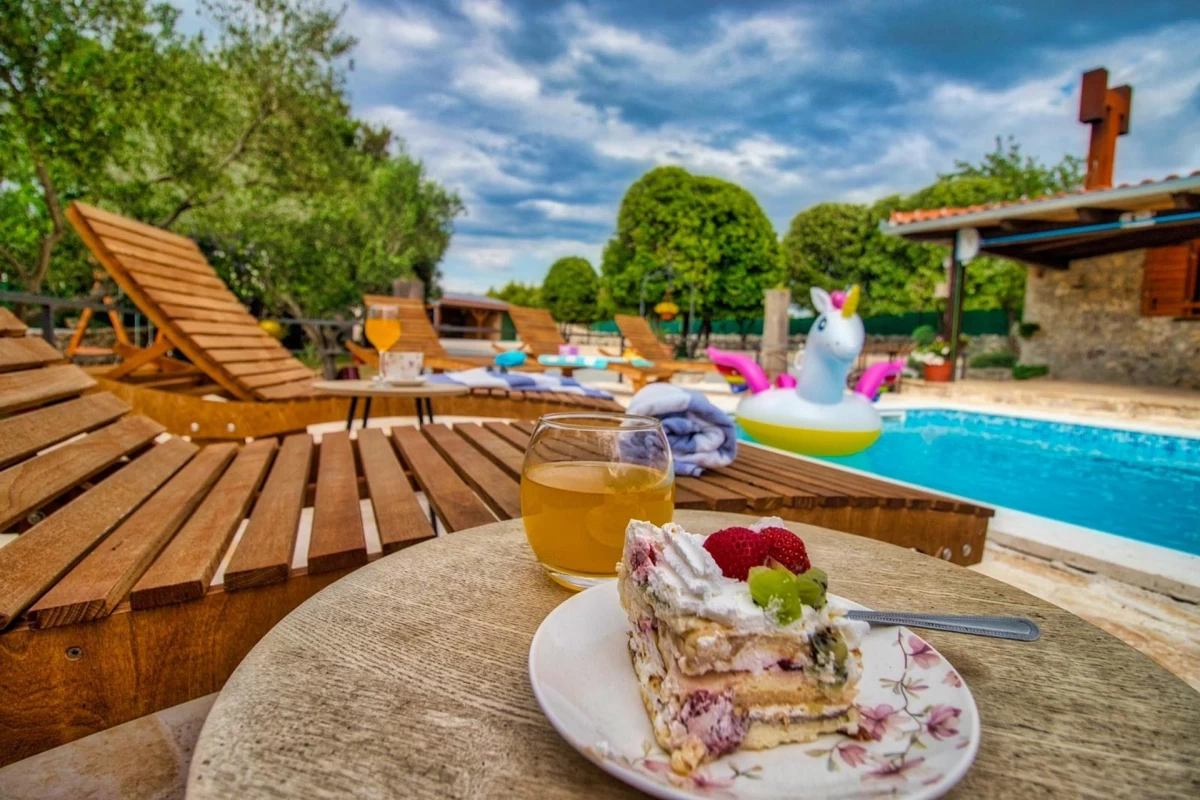 The entire county of Croatia is one of the most wonderful holiday destinations in the world. However, there is just something magical about having a home office at the coast of the Adriatic Sea with a view of the sparkling turquoise water. Since the beginning of 2021, Croatia has been offering a special visa for digital nomads in order to attract remote works and longer stays in Croatia. Croatia is ideal as a home office, as you can combine your holiday on the Adriatic Sea with work and bring your stay in Croatia to the next level in a peaceful and quiet dreamy luxury villa in Croatia. Furthermore, Croatia is a relatively safe country regarding the COVID-19 pandemic as you can easily avoid large crowd since the country is not overpopulated. In addition, you can completely isolate yourself in your holiday home in order to be productive at your work while also having everything you need in the villa for an unforgettable holiday in Croatia.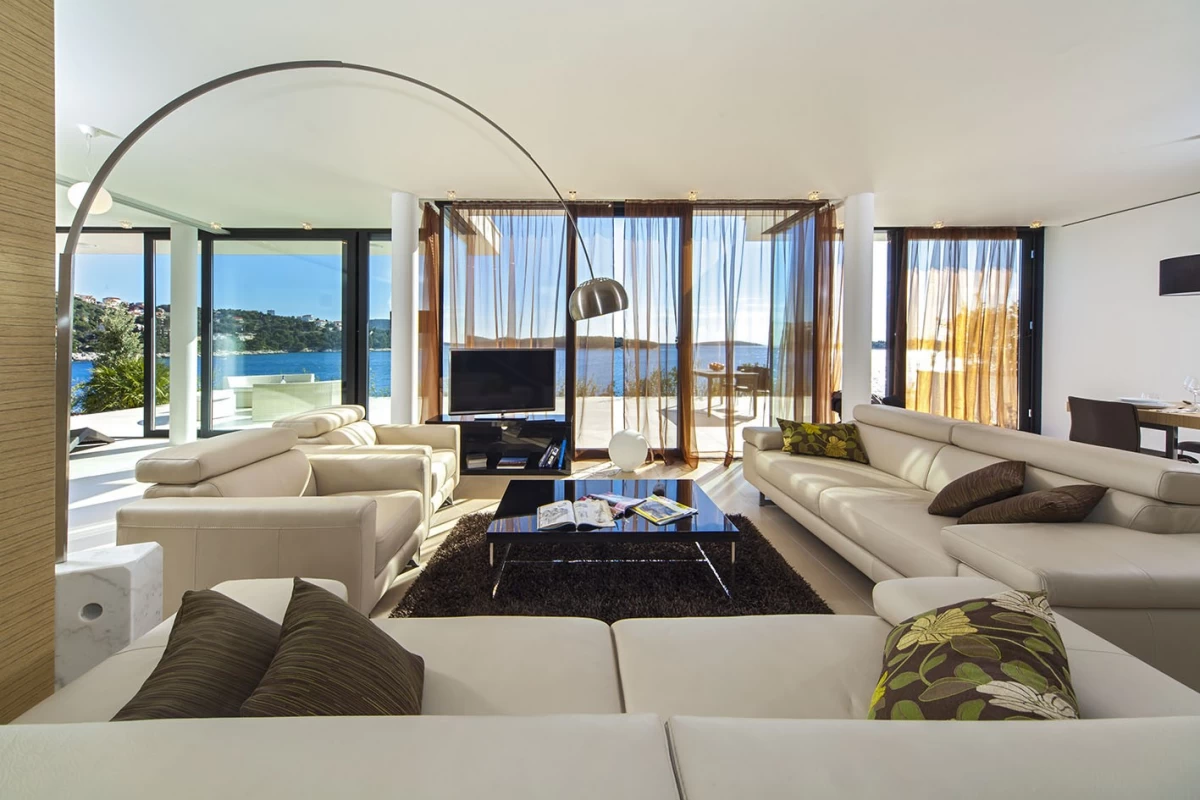 Taking into account all the epidemiological measures, Adriatic Luxury Villas offers you the service of getting everything you need upon arrival so that a full refrigerator awaits you when you arrive at your holiday home. The only thing you have to do is create a shopping list of groceries you need upon arrival and we will make sure that the freshest products are waiting for you.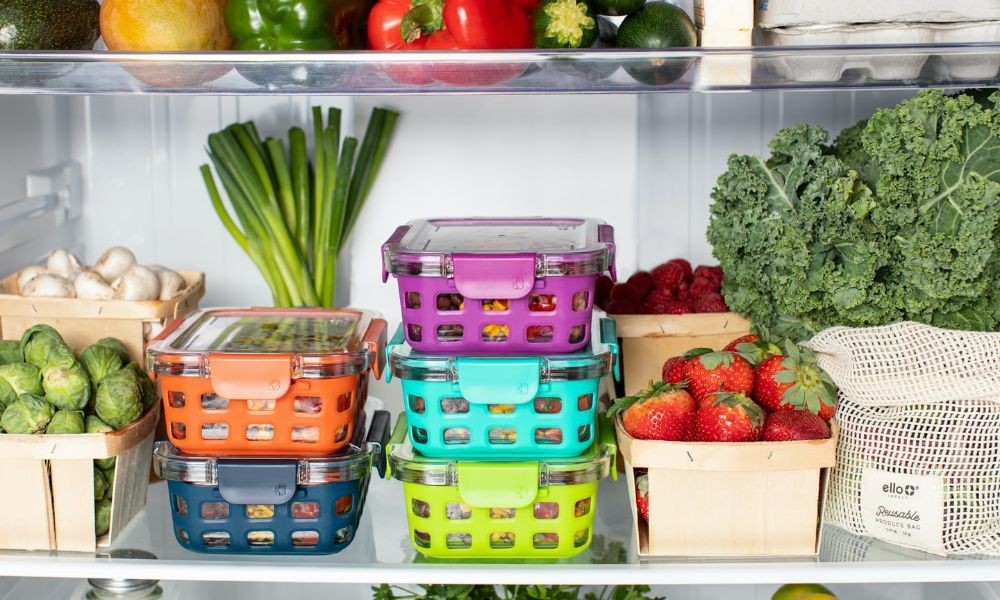 Traditional Villa Kuca Dida Grge with Stone Elements
Villa Kuca Dida Grge on the island of Murter in Dalmatia is without a doubt one of the perfect holiday homes with a pool to serve as a home office in Croatia. The holiday home stands out with its traditional style and impresses with beautiful stone elements both indoors and outdoors. The villa is equipped with everything you could need while on your vacation and at work. Just like all other holiday homes, Villa Kuca Dida Grge offers you high-speed internet for your home office in Croatia. After work is done, you can relax in the heated pool or soak up the sun on the terrace. The villa is suitable for 5 people, so your loved ones can enjoy the beauty of Croatia with you and escape the stress while you experience life in a traditional Dalmatian house.
Family-Friendly Villa Suncica with a Sea View
Welcome to Villa Suncica near Zadar, the perfect holiday home to bring your home office and family life into harmony. The four bedrooms offer space for the whole family while several places within the villa can function as your home office. Perhaps you would like to be on fresh air while doing your work? Then bring your laptop to the gorgeous terrace with a Jacuzzi and a view of the pool or transform the balcony on the first floor into your home office and look at the gorgeous Adriatic Sea. A beautiful nature is too distracting to you? No problem! Power up your laptop in the modern living room and be as productive as never before. No matter your preferences, work is getting done in Villa Suncica. And after a productive day you can reward yourself for your hard work by relaxing in the pool or in the Jacuzzi while your children are having fun in the courtyard with lots of greenery. In Villa Suncica you will find everything you need for your home office in Croatia and the rest of the family will certainly get their money's worth.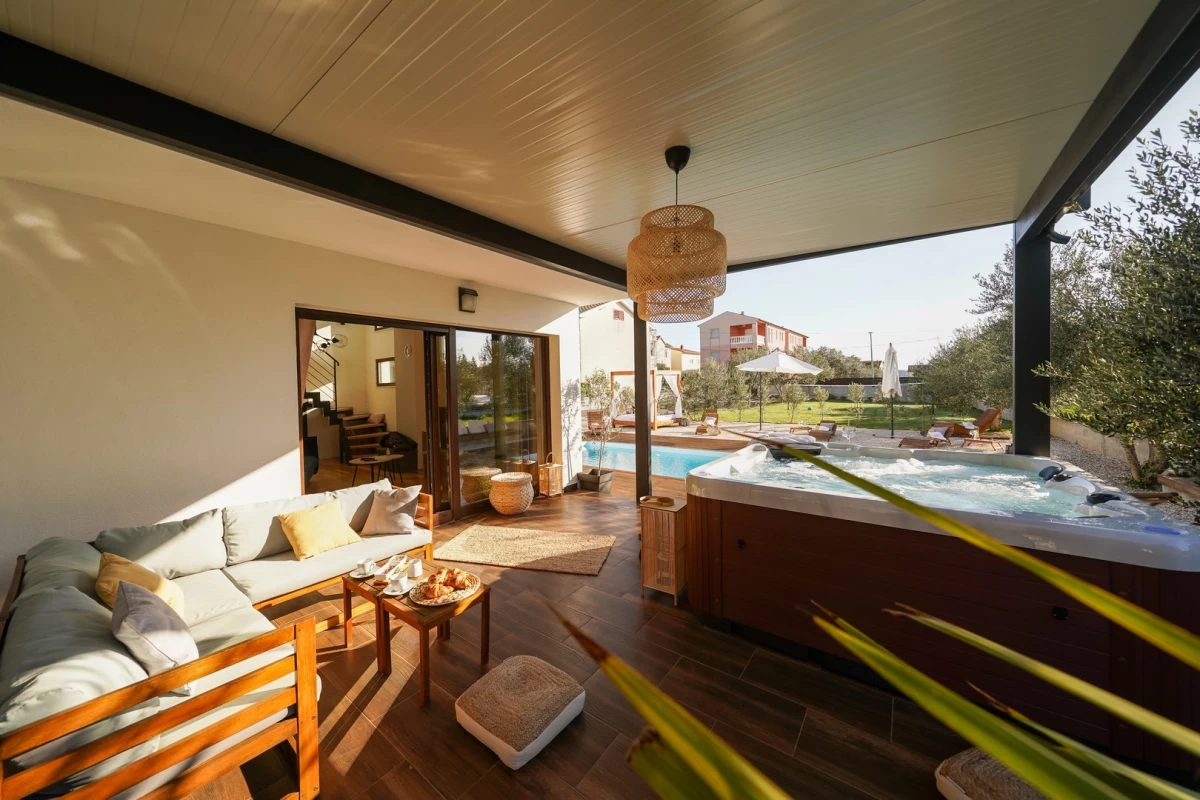 Rustic Villa Planita with Jacuzzi & Roof Terrace
Imagine the following scenario: you are sipping your hot cup of coffee and preparing for a productive day in a home office on a dreamy roof terrace with a fantastic view of the sea while the Croatian morning sun is warming up your skin. Well this image can become a reality in our beautiful Villa Planita near Zadar. Enjoy the view of the Adriatic Sea in this rustic and charming holiday home and surround yourself with the flair of Dalmatia interwoven in its delightful holiday villas. After work hours, relax in the roof top Jacuzzi, spend time with your loved ones in the industrial style living room and make the most out of your remote working experience, because the charm of this villa will envelop you and make your home office in Croatia a unique experience. Villa Planita brilliantly combines its rustic design with modern touches and gadgets bringing you the best of both worlds and making sure that there are no connection problems during your online Zoom meetings.
Modern Villa Royal Green 2 with a Heated Pool in Midst of Nature
Do you want a modern home office which still has a bit of nature going on? Then the Villa Royal Green 2 in the vicinity of Zadar is the right choice for your home office in Croatia. The villa is located in a small quiet place near Zadar in the middle of nature and impresses with its modern design. In addition to the large heated pool, this luxurious villa offers you further advantages for a home office and relaxing hours in Croatia, including the cozy roofed terrace, modern furnishings and gadgets and accommodation for 6 guests. Furthermore, Villa Royal Green is part of complex of four semi-detached villas. The Royal Green Villas complex is ideal for a company outing or remote working of a large group of employees as they offer enough space so that everyone has their own home office and privacy.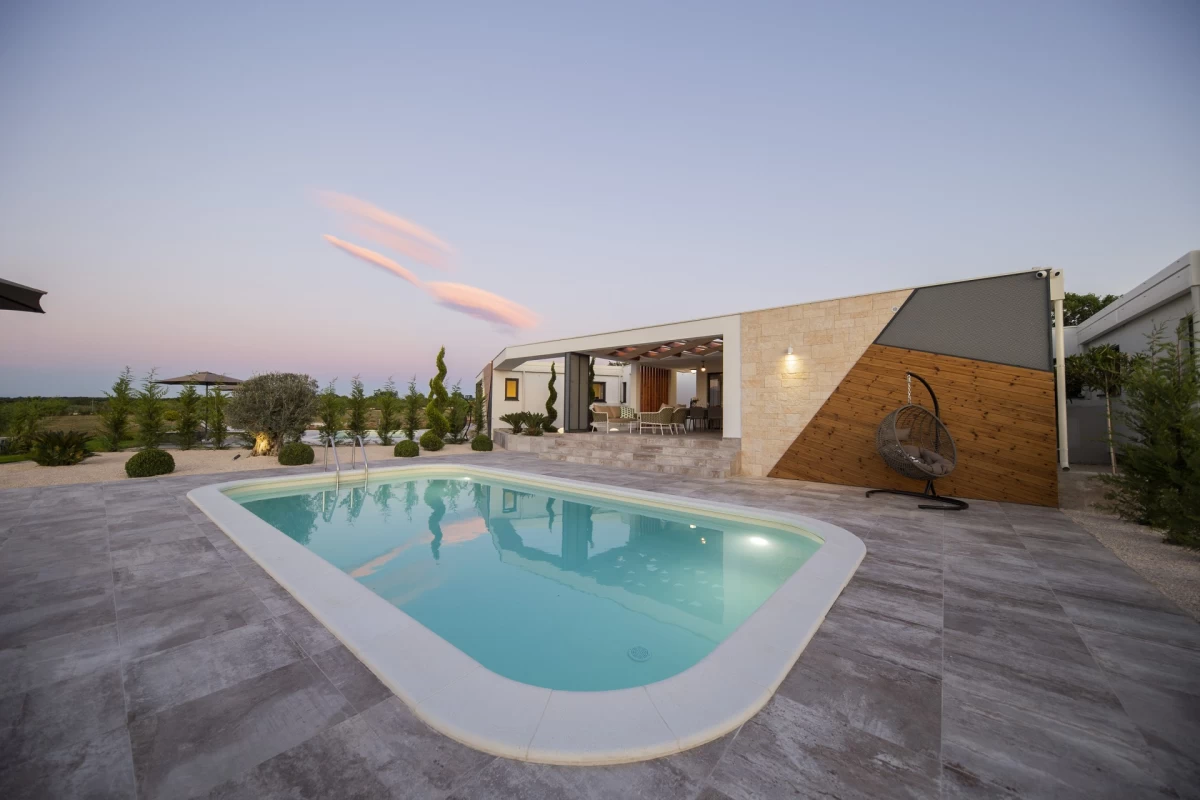 Peaceful Stone Villa Bacak with a Unique Outdoor Area
Choose Villa Bacak in the Zadar region as your home office in Croatia and enjoy the peace and quiet of the coast of Croatia! This traditional villa with a pool will delight you with its chic stone elements and Dalmatian furnishing with a touch of modernity in the gym and the bathrooms. However, the biggest selling point of Villa Bacak is the enormous outdoor area with a pool, numerous sun loungers and a bar, which can hardly be surpassed in terms of charm. There are other entertainment options as well, such as table tennis and table football. In this unique villa with a pool, you will have everything you need for your home office, from a peaceful and pleasant atmosphere to numerous workplaces. Once you have done your daily tasks, you can enjoy your time with your loved ones in the fantastic courtyard of Villa Bacak with a gorgeous Mediterranean garden.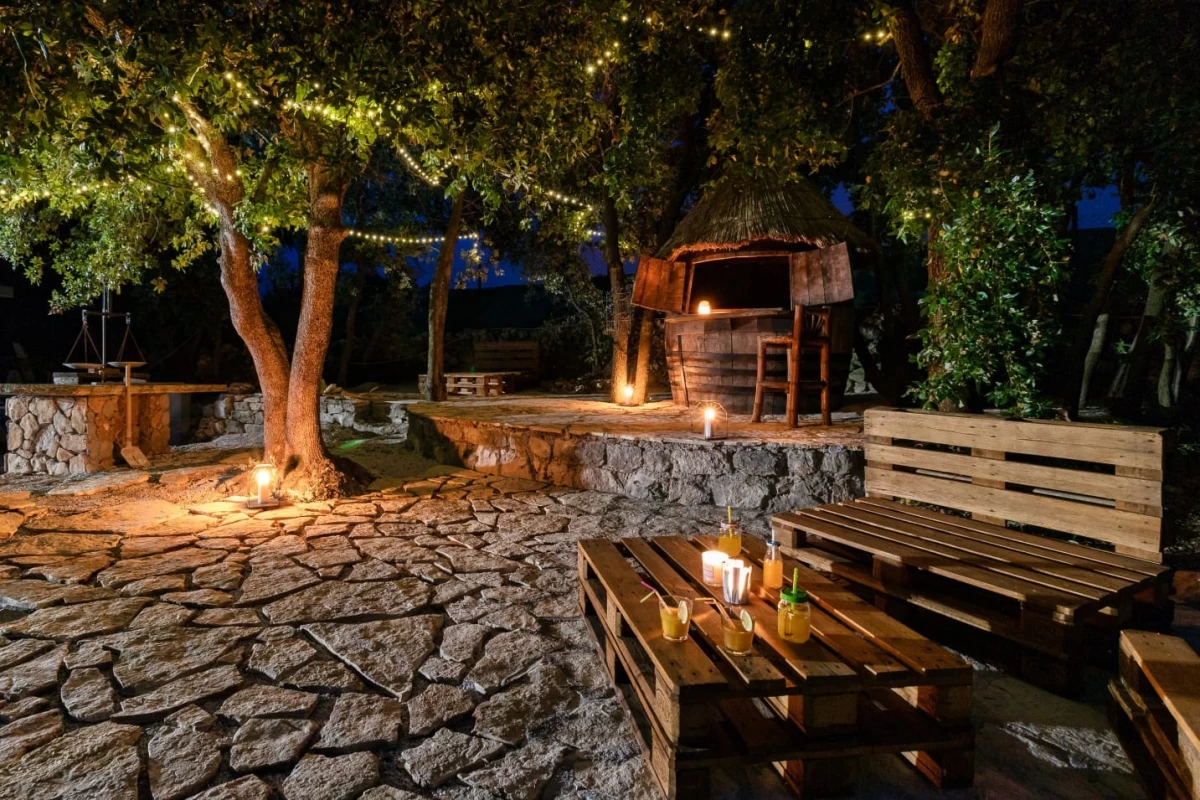 Spacious & Modern Villa La Perla with a Rooftop Pool
Should you be looking for a suitable luxury villa with a private pool for your home office where the entire team can find enough space to work and relax, then Villa La Perla near Zadar is an option to consider. Villa La Perla offers accommodation to a total of 20 people and consists of four fully functioning apartments, so that you have a lot of privacy despite the large number of people. Due to its modern furnishings and equipment, Villa La Perla is practically made to be a home office in Croatia. The kitchens in all four apartments are fully and modernly equipped and entertainment is provided with the gorgeous rooftop pool with a view of the sea. Due to its size everyone in Villa La Perla will find a quiet and suitable place to work and be productive in while being able to relax by the pool. Villa La Perla offers you a place for productive work, privacy, relaxation and modernity on the coast of Croatia.
Fantastic Villa Jerini with a Pool & a Sauna
First duty, then pleasure – this proverb is to be taken literally in Villa Jerini on the island of Krk in the Kvarner Bay, because this unique holiday property made of stone offers you a quiet place for you home office in Croatia with a wide variety of wellness amenities for absolute relaxation. Villa Jerini offers its guests a beautiful private pool, a Jacuzzi and a sauna. The special thing about Villa Jerini is the outdoor area which is entirely made of stone, plus the fact that the Jacuzzi can also be used on rainy days thanks to the glass wall with a wonderful view of the outdoor area. The interior or this holiday home impresses with its rustic and traditional furnishing and inviting cozy atmosphere. Villa Jerini will definitely turn your home office in Croatia into something special while your stress will vanish into this air.
Pure Luxury in Villa Golden Rays VI with an Indoor Pool
Sibenik is definitely a dream location for a home office in Croatia. Villa Golden Rays VI will not only take you breath away with its pure luxury in its furnishings and equipment, but also with its private beach and location directly at the sea, which makes the view from the two beautiful terraces an experience, to say the least. The indoor area of this villa is not to sneeze at either as it brings outdoor elements indoors in the green atrium. Villa Golden Rays VI belongs to a complex of seven villas all of which have access to a shared infinity pool while also having their own private pool. Villa Golden Rays VI in particular features a private heated indoor pool which turns into a quasi-outdoor pool through its glass wall that can be opened. Furthermore, this luxurious vacation property offers numerous rooms and places to be productive and relax while the heavy usage of glass elements makes you feel as close to the nature of Croatia as never before. A bonus is the fact that this villa is pet-friendly.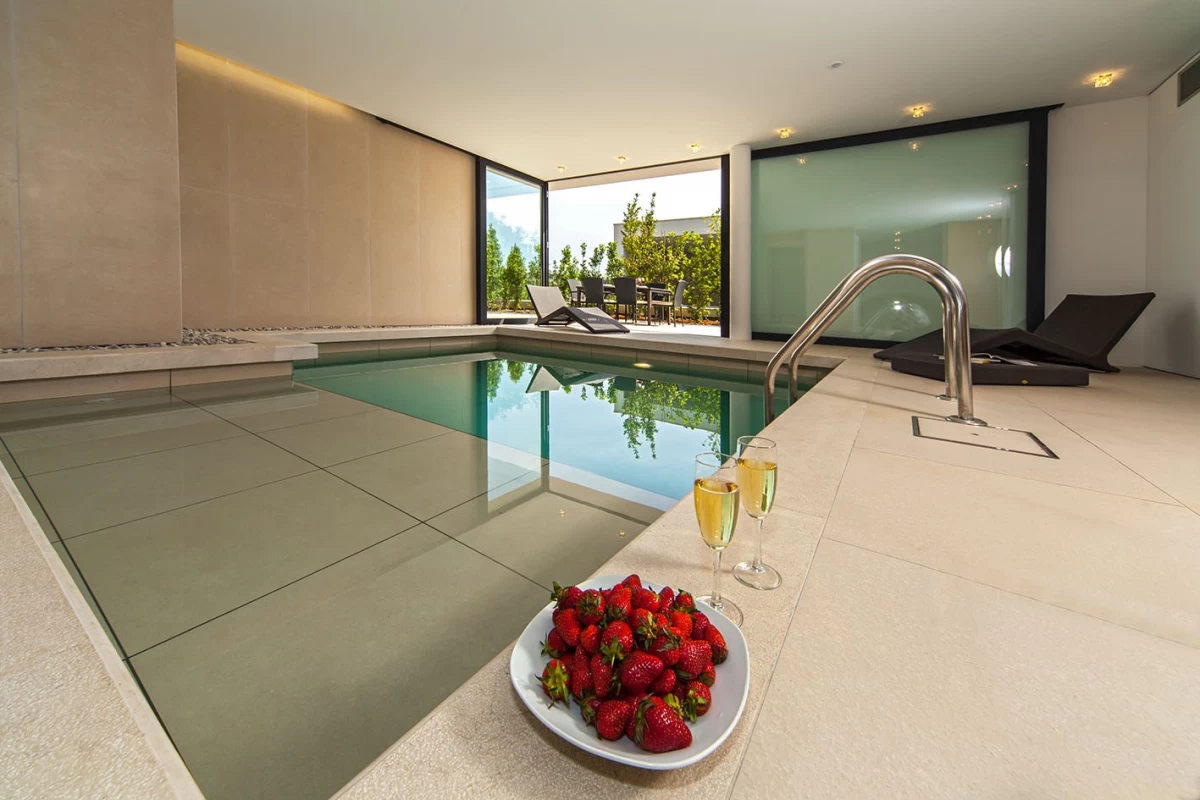 In this blog we have introduced you to our top selection of luxurious holiday homes with a pool in Croatia, which will be perfect as your home office. In such a villa, the stressful everyday life in the home office becomes an unforgettable and relaxing experience which will help you create the perfect balance between work and relaxation.
If you are interested in other luxurious holiday homes with a pool in Croatia, regardless of whether you are looking for a place for your home office or planning your next vacation in Croatia, please take a look at our wide range of luxury villas in Croatia and find the villa of your dreams. From properties on one of the beautiful islands of Croatia or on the mainland in Istria and Dalmatia, we have it all. At Adriatic Luxury Villas there is something for everyone´s taste.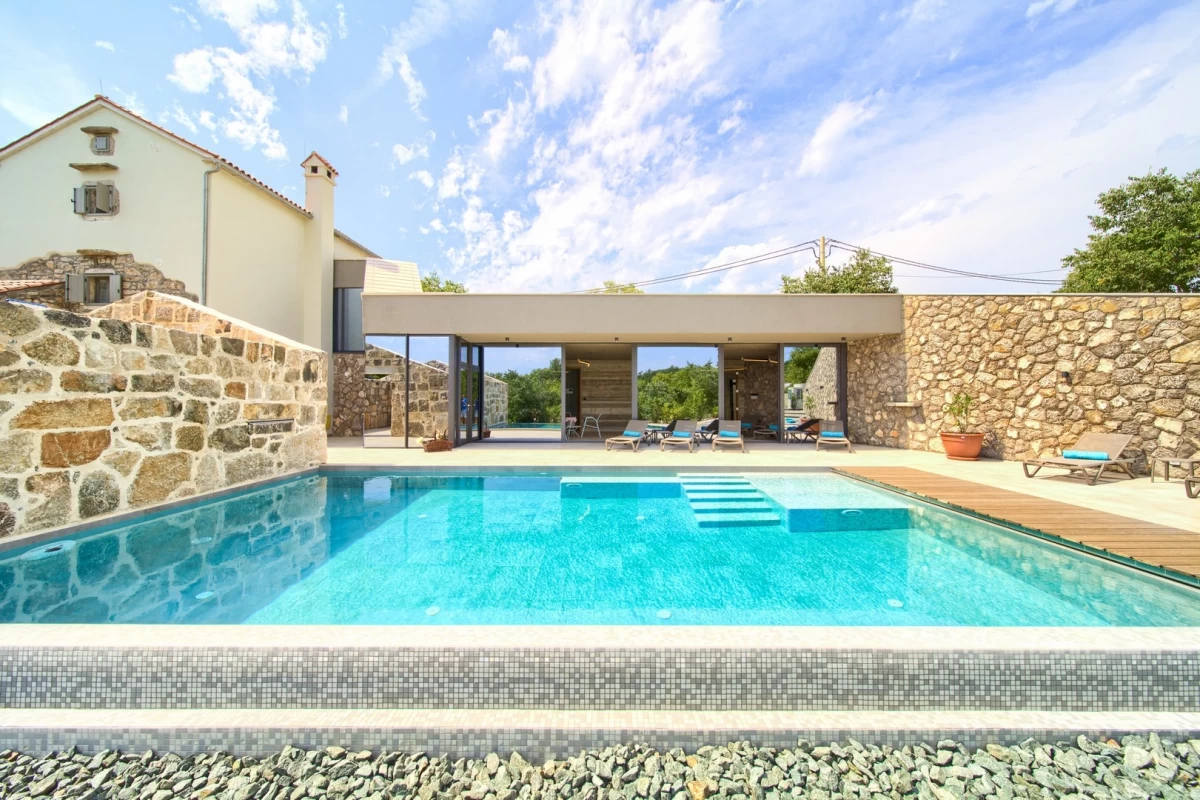 If you have any further questions, please do not hesitate to contact us. Adriatic Luxury Villas will be happy to assist you.
Thank you for reading and good luck working from home!