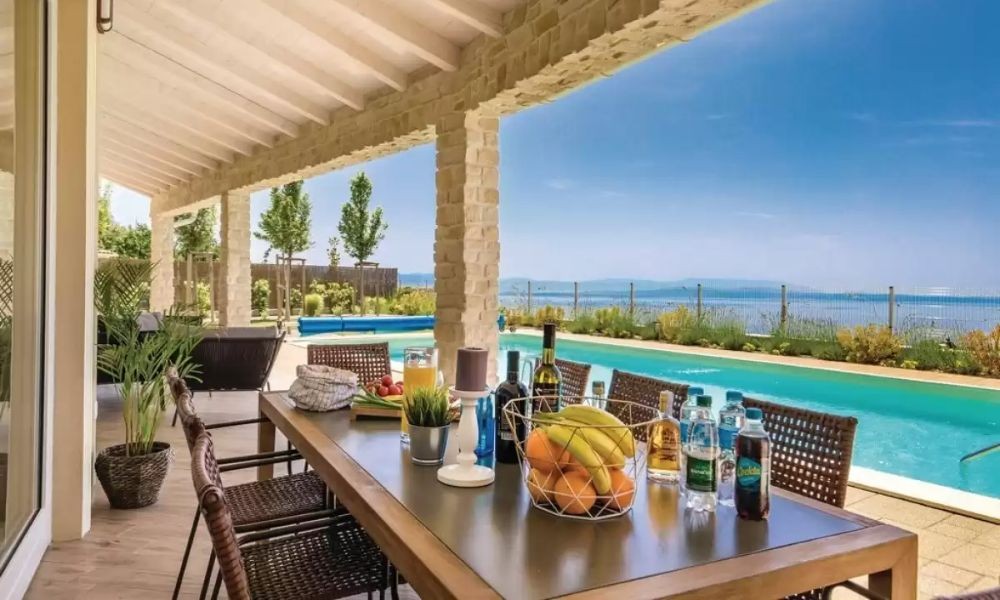 Spending your vacation in Croatia in a dreamlike villa on the Adriatic Sea, makes you not want to leave at all and stay there forever. Well, forever is a long time, but what about a longer stay in a villa in Croatia? Find out everything you need to know about renting a villa in Croatia for a longer stay.
Summer is coming to an end and with it the vacation time. You return home and surround yourself with the dreary autumn weather. The thoughts of your last dream vacation in Croatia quickly come to mind: a beautiful villa, the sea right in front of your nose, Mediterranean climate and countless amenities in the luxurious holiday homes. Imagine if you could enjoy all of this at least for a longer time! Read the following blog and find out everything about a longer stay in a villa in Croatia and take a look at our exclusive offers.
Advantages of a longer stay in Croatia
There are numerous reasons why it is worth staying and working in Croatia for an extended period of time. Croatia is becoming an increasingly popular holiday destination from year to year and there is so much to discover that one thinks that a whole life would not be enough, but a longer stay would be a start. Imagine exploring the nature of Croatia and visiting all its historical cities and monuments in peace and quiet, all of this out of season.
Furthermore, the lower cost of living in Croatia invites you for a longer stay, because although you are in the EU, the standard of living and thus the costs are not the same as in other European countries. Croatia is therefore an affordable country, but still offers you enough security for you and your children. The decisive factor is of course the Mediterranean climate in Croatia. Forget sub-zero temperatures and snowy days, you only have to live with bura, the cold north wind, but even then, the Adriatic presents its wild yet beautiful side.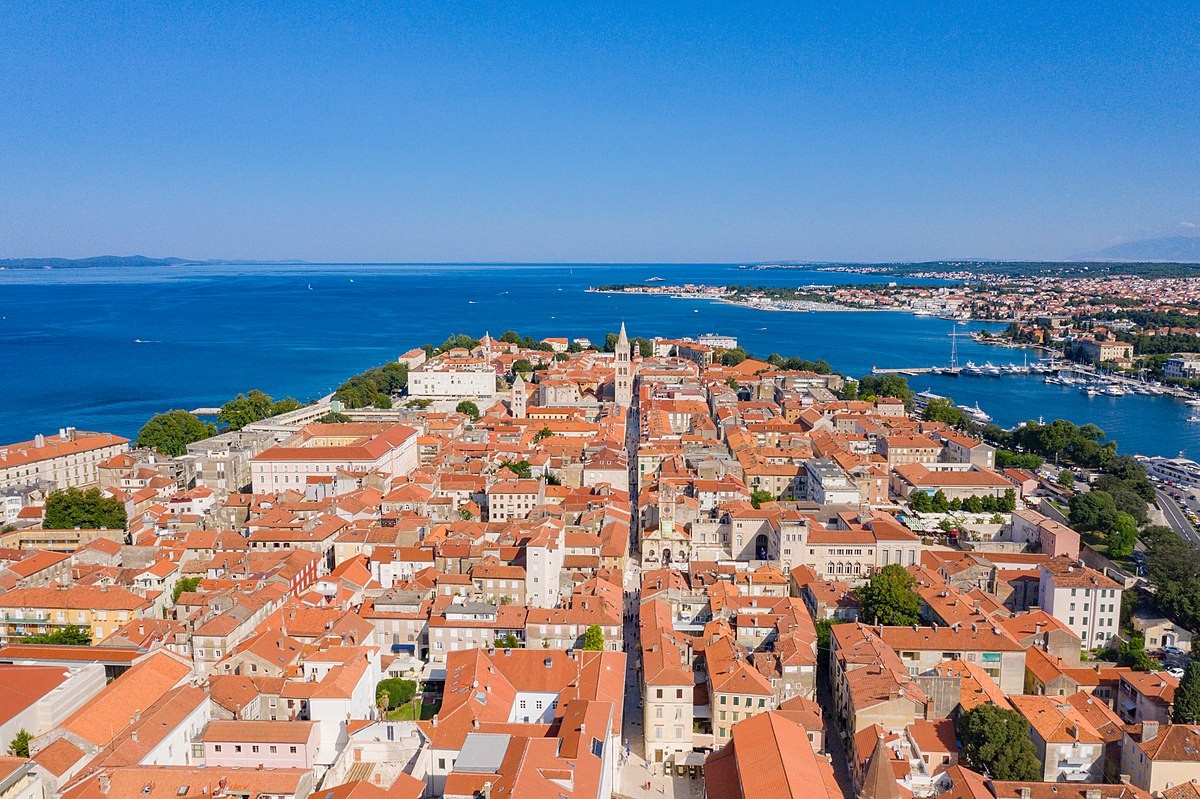 What are the advantages of renting a villa for a longer period of time?
A prerequisite for a longer stay in Croatia is of course the ability to flexibly relocate your workplace to another location. The corona crisis has shown that this is possible and so you can make excellent use of the banishment from the office and organize a longer stay in Croatia, because what could be nicer than sitting on a wonderful terrace in Croatia and taking phone calls and emails? There are therefore a few villas on the coast that are perfect for home office in Croatia.
A longer stay is also a unique option for digital nomads. Digital nomads have the advantage of being able to do their work from anywhere in the world, provided they have their laptop with them and the internet works. Thanks to the visa especially for digital nomads, Croatia is an excellent destination for this group of people and the villas are equipped with everything you need to work.
Find out more about the digital nomads, their everyday life and how to get a visa for Croatia.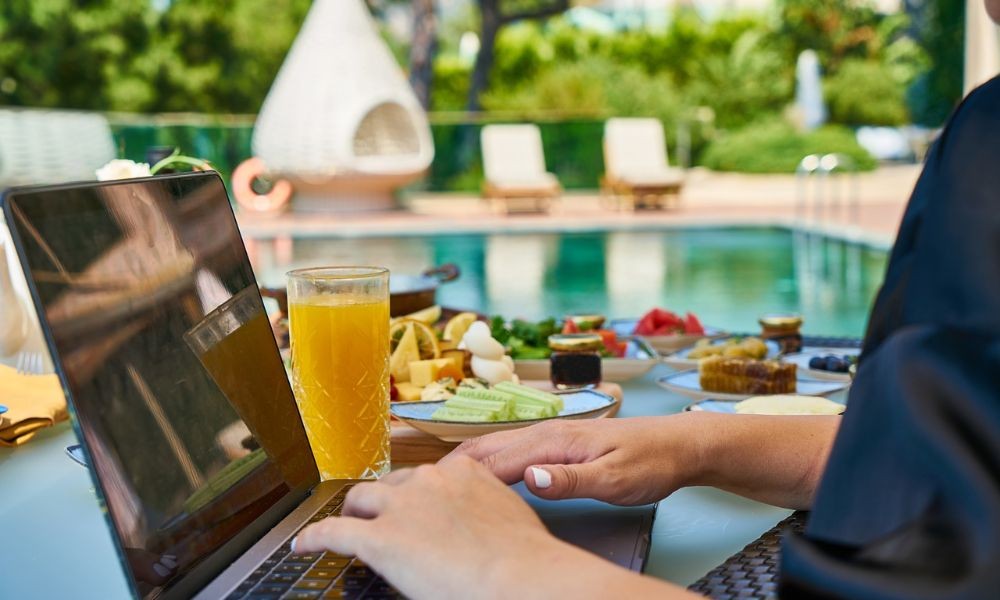 A longer stay in a villa in Croatia offers you everything you need for life, a certain level of luxury and beyond that, Croatia itself. Take the time and discover the country and its people in peace. Get to know the culture and make new friends without giving up your everyday life at home. Create new memories in a completely new chapter in your life by spending an extended period in a villa in Croatia.
The most beautiful villas for a longer stay in Croatia
If we are already showing you the advantages of a longer stay in a villa in Croatia, it is of course inevitable to present you with some villas that are made for such a longer stay. The following villas offer everything you need and something more to make your stay as comfortable and luxurious as possible.
Cozy Villa Natura near Opatija
Our first villa is Villa Natura near the beautiful town of Opatija in the Kvarner Bay. There are a total of 5 villas that are of the same standard, but each one of them is unique in its own way. The villas can accommodate 8 to 10 guests and each has its own private pool. But what makes Villa Natura a suitable villa for a longer stay? The cosiness, because in the Villa Natura you feel right at home due to the inviting interior filled with charming little details.
The villa is very spacious and therefore offers enough space for the whole family as well as enough privacy to work. Villa Natura also offers everything you can imagine for your leisure time: a fitness room, a playground, a sauna and a jacuzzi. It is also pet-friendly, so you don't have to miss your four-legged friend whilst being away for a longer stay. And to be able to take a look at the Adriatic Sea in Croatia when you wake up is really priceless.
Charming villa Mirabella near Zadar
Our delightful Villa Mirabella with room for 6 people is located in the Dalmatian hinterland near the municipality of Zemunik. This villa is ideal for a longer stay, as it is very comfortably furnished and has been created with families in mind. Thanks to its location, Villa Mirabella offers you an infinite amount of privacy and tranquillity, so that your vacation never has to end. One of the bedrooms is specially furnished with a loft bed just for children while the fun continues outside in the playground.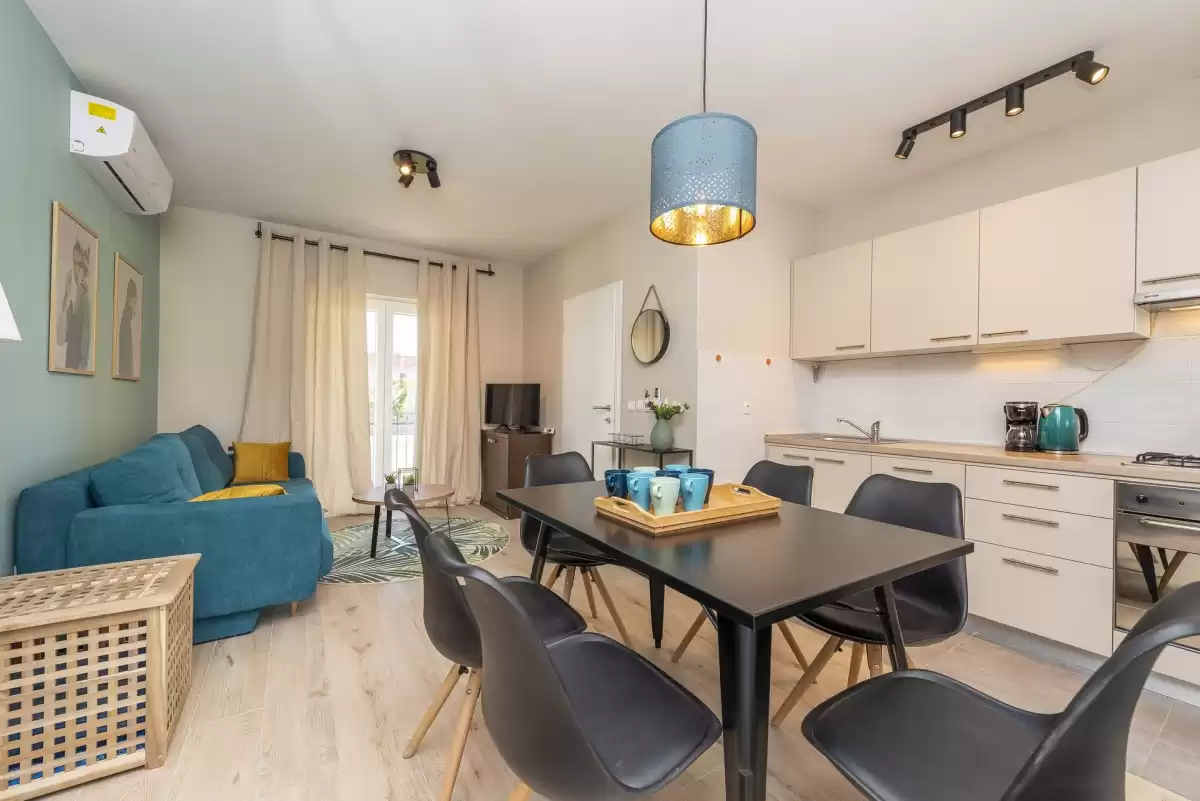 While you can calmly pursue your work in the Villa Mirabella, your loved ones can have a go at the amenities of the villa, such as table tennis, a PlayStation and of course the pool. At dinner, the whole family can come together on the cosy terrace and share their daily experiences. The special thing about Villa Mirabella is the garden. Fresh and untreated fruits and vegetables grow there which you can use to prepare meals for the whole family!
Modern villa BlackWood near Zadar
If you like it more modern and extravagant, you will definitely feel at home in Villa BlackWood near Zadar. As the name suggests, the colour black plays a key role in furnishing of the villa. The villa is decorated in black and grey tones, which, in combination with wooden elements, bring an air comfort to the individual rooms. The style of the furnishings is simple yet utterly modern with a continued flow in the outdoor area of ​​the villa.
The villa can accommodate up to 6 guests and offers you all the luxurious amenities you need for a longer stay in a villa in Croatia: a gym, a pool, a game console as well as other entertainment options. Due to its remote location in the hinterland of Dalmatia, Villa BlackWood guarantees you enough privacy to relax, but also to work. To end a lovely day at Villa BlackWood, you can relax on the villa's balcony, enjoy the tranquillity and a delicious dinner prepared in the state-of-the-art kitchen.
Have we spiked your interest in a longer stay in one of the villas? Feel free to ask our agents and find out more about the conditions of a longer stay in one the above-mentioned villas or any another villa. Don't limit your vacation to just a few days or weeks per year, but turn your everyday life into a vacation by renting a villa in Croatia for a longer stay.
Summer is just over and you are already dreaming of your next vacation in Croatia? Then take a look at our wide range of luxurious holiday homes with a private pool in Croatia. You can find our villas all along the Adriatic Sea in Croatia. Our offer includes modern and traditional villas, whether directly by the sea or secluded in the middle of Mediterranean nature. This way, you will surely find your dream villa for your next vacation!
If you have any further questions, please do not hesitate to contact us. We are happy to be at your disposal at any time.
Thank you for reading & have a nice stay in Croatia! 😊