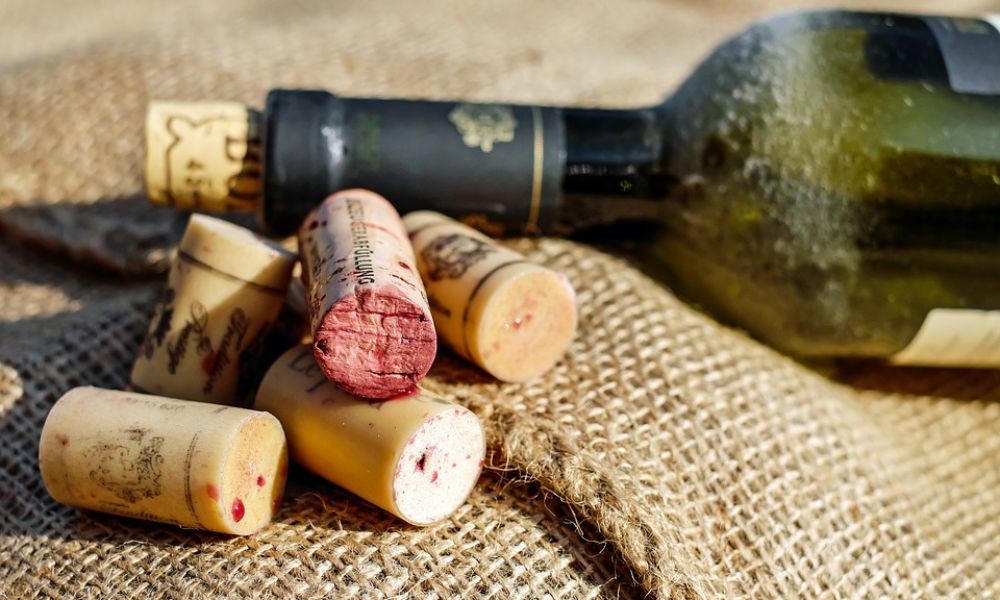 Is there anything that can´t be cultivated in Istria? Well, maybe avocado and papaya aren´t at home here, but the Istrian land has given its soul to many agricultural activities, including fragrant twigs and gorgeous vine leaves decorated with irresistible greenish and purple berries.
Istrian wine is inseparable from the Istrian man. We are talking about the poetry of taste and smell, about the fertile land bathed in sun and sea, about the tradition and the 2000-year-old history when the Roman emperor Marcus Aurelius first brought the vine to this peninsula.
"In wine there is truth" they say and believe us when we say that there is nothing but truth in our blog. We have listed eight top golden and red drops of the best Istrian winemakers.
Collis Trinitas Wine, a fantasy of fruity aroma
By climbing to the top of Collis hill, from where there is a clear view of Rovinj and its islands, one can witness the vastness of the vineyards from which comes one of the best Istrian red wines called Collis Trinitas. It is a blend of Merlot, Teran and Cabernet Sauvignon – a perfect combination that has undergone 25 days of maceration and a year in barriques. Trinitas is an often awardwinning wine with rich flavor. Forest fruits, cherries, sour cherries and vanilla predominate, which leaves a long-lasting and unforgettable taste in the mouth.
Roxanich Superistrian Cuvee Wine, a refined essence of taste and scent
There are several elements that need to be achieved in order to get the wine´s taste to be superior, and the Rožanić family managed to do just that! This wine is shaped by its terroir-climatic and microclimatic conditions and the type and characteristics of the soil on the basis of which the grapes develop their unique character, because the taste and experience of wine can never be identified solely by the list of varieties on the label. This red wine is a blend of Cabernet Sauvignon, Merlot and Borgonja, and the use of wooden barrels has resulted in a complex wine with a sleek consistency ready for consumption and enjoyment.
Kozlović Santa Lucia wine, wine with an indigenous character
The key success of the Kozlović winery are the indigenous Istrian varieties and the improvement of the production processes and knowledge. Their Santa Lucia is an Istrian Malvasia that combines all the potential of this variety in its fullness of taste. It is a white wine that can be aged for a decade. Their 2016 vintage brings a change in style. Striving for a fresher expression, the color is now bright pale gold. It has a rather expressive aroma intertwined with a touch of ripe and dried apricots, lime and grapefruit, while its taste is characterized by dryness with moderate freshness of fruitiness and salinity that are combined in a long aftertaste.
Franc Arman Sauvignon Blanc Wine, playfulness of exotic flavors and scents
In the cellar of the Franc Arman winery, there is a synergy of tradition, innovation and originality. It is there that the award-winning wines are stored with a whole spectrum of flavors and aromas on the palette of red and white wine experience. Sauvignon Blanc is a white wine with a very pronounced, yet elegant and non-aggressive aroma. Characteristic herbal-fruity aromas predominate, while the taste is dominated by tropical fruits, mangoes, passion fruit and citrus with an herbal twinge. This is a fresh wine of medium fullness of taste that leaves a taste in the mouth and a memory in the mind that is remembered for a long time.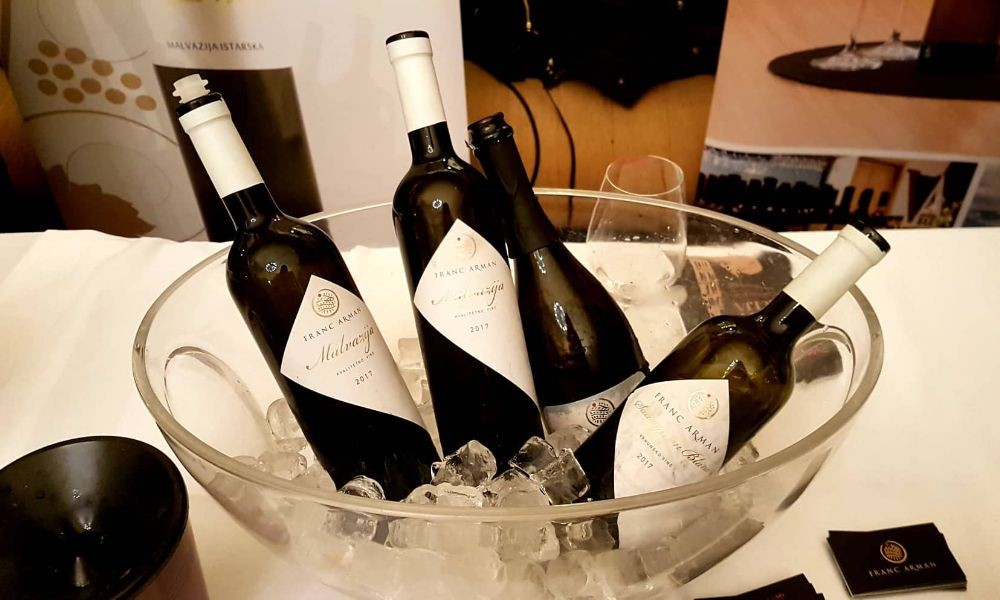 Matošević Grimalda Wine, invaluable boldness of red drops
In the northernmost part of the Mediterranean, rich vineyards have found their home, bathed in fertile land, sun and sea, and give a top wine interwoven with tradition, identity and everyday life. Grimalda is a red wine, a blend of Merlot and Teran, and the grapes that give their best flavors are very complex due to low yields up to 1 kg per vine. Before serving, this wine is aged in French oak barrels for up to 15 months, and then in a stainless-steel container and in a bottle. It pays to wait for this unusual accentuated freshness and minerality of the Bordeaux style and a very long aftertaste in the mouth.
Trapan Uroboros Wine, the specification of fruitiness
In the Trapan wine empire, top experts play with tastes and improvise in order to create a wine to their liking. This is how Uroboros Malvasia was created with a speacial story. Uroboros is the Greek symbol of a snake biting its own tail, which represents a closed developmental sysle, and thus eternal repetition. This white wine is characterized by an excellent balance of variety and wood, and its consistency allows it to retain the strength and freshness of the golden-yellow sheen with a greenish tone. In this flavor you will recognize the delicate note of toasted almonds that turn into sage-chamomile-floral hints.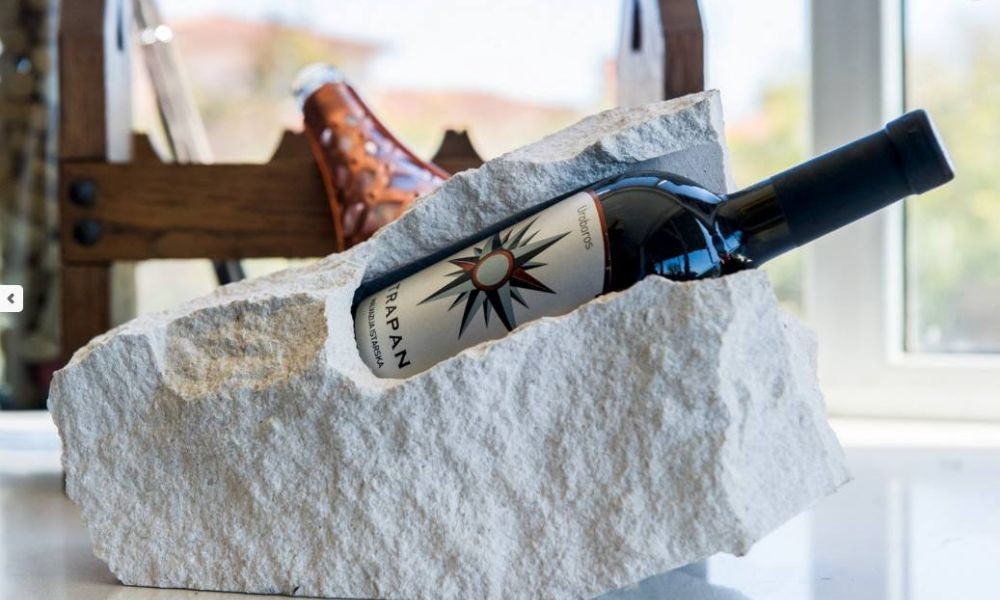 Malvasia Amphora Kabola Wine, the harmony of aftertaste
All the charms of the Momjan region are summed up in the drops of Kabola wine, and they get a special note after they have matured and been properly mixed in oak barrels or amphorae. This Malvasia took on a whole new dimension and showed its nobility through prolonged fermentation in amphorae. It is characterized by an excellent straw yellow color with golden edges, crystal clearness and a thick white wine consistency. You will recognize the note of quince compote followed by noted of dried ferns, star anise and vanilla, and the tones of aromatic herbs will certainly not leave you indifferent.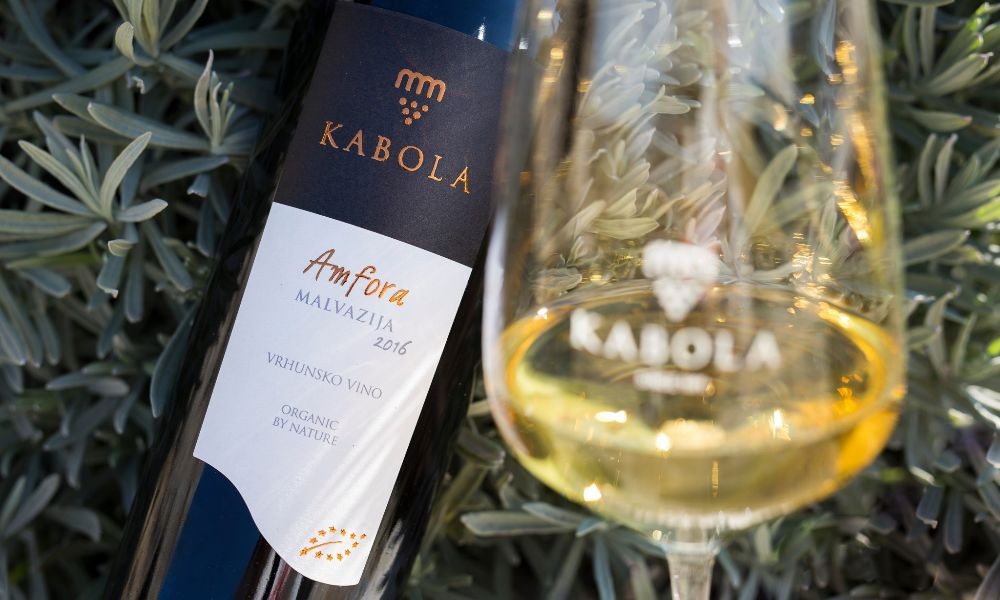 Pilato Pinot White Wine, a rounded taste of the harmony of living wine
They say that wine is the soul of winemakers poured into a heavenly nectar, and since Pinot Blanc is one of the best Croatian white wines, it is clear to us what kind of winemakers we are talking about. This wine has extraordinary characteristics, a delicate light-yellow color with a greenish tinge, while the aroma is very pronounced and refined, imbued with fruit, which is dominated by the aroma of ripe apples and pears with pleasant floral notes. It leaves an impression of pleasant freshness, it is rounded, soft and fruity. The harmony of the taste emphasizes a kind of tension, the feeling of living wine that blends well with the taste buds and occupies all the senses by discovering new flavors.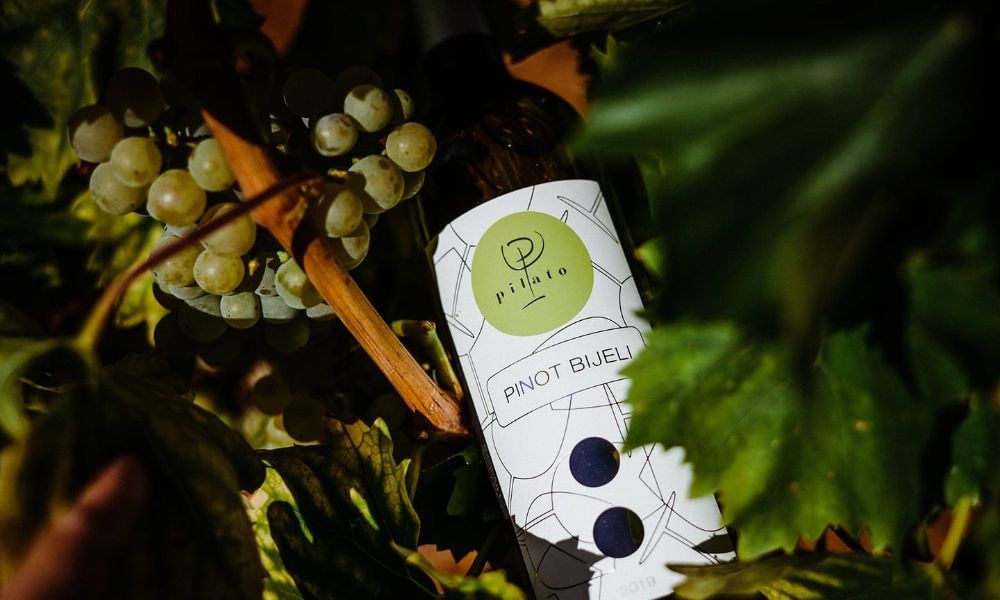 You have surely already tried some of these world-class wines, but let this blog serve as a reminder of Istria and the wine paradise where you can spend the most beautiful moments of your vacation. Staying in an exclusive villa in Istria will contribute to an unforgettable experience, and after your vacation, take original souvenirs with you and enjoy these Croatian flavors wherever the road takes you.
In case you have any additional questions, do not hesitate to contact us. Adriatic Luxury Villas is always at your disposal!