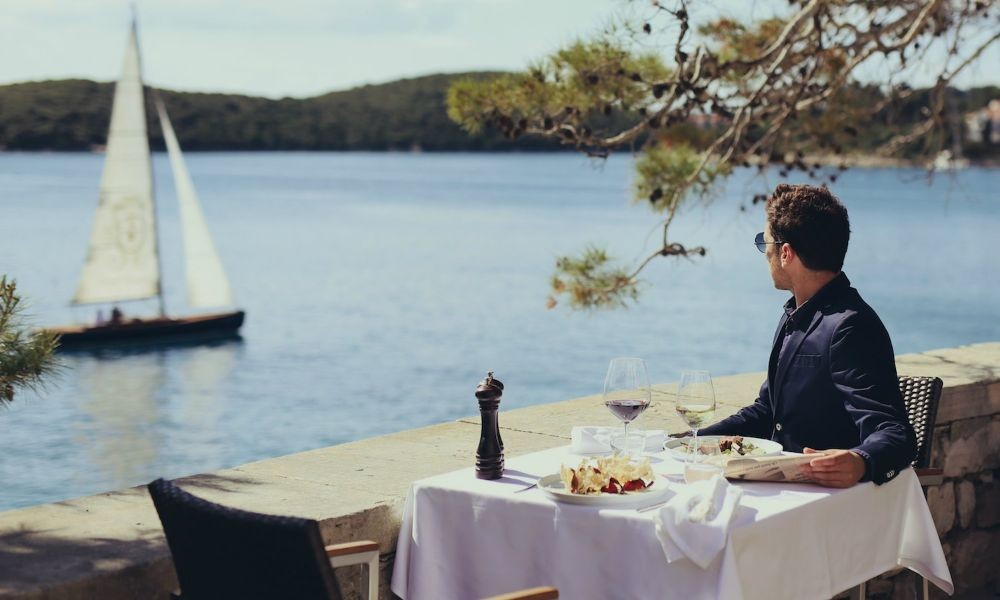 Are you on the quest of finding the best gourmand restaurants in Croatia? Look no further. We are presenting to you all the restaurants in Croatia which have been awarded with a MICHELIN star – an award only given to restaurants with dishes of the highest quality.
The MICHELIN Star is the most prestigious award given out by the renowned MICHELIN Guide which every restaurant dreams of receiving, but very few succeed. It is a global symbol of fine dining where the cuisine is of the highest quality, while the interior design and professional staff contribute to the entire luxurious gastronomic experience. Croatia can be proud of the fact that 69 restaurants across the country found their place in this prestigious red guide, of which 10 were awarded with the Bib Gourmand award, while 7 received the MICHELIN star, which signifies that those restaurants are the crème-de-la-crème of gastronomy. Today's blog will be dedicated to the 7 restaurants that received the most praise from the fourth edition MICHELIN Guide Croatia 2020. However, you can expect a blog on the 10 bib gourmand restaurants in Croatia, where you can enjoy a delicious meal at the best price possible, very soon!
Restaurant Pelegrini in Šibenik, a three-year-in-a-row winner of the MICHELIN star
You might have heard of Restaurant Pelegrini in Šibenik, since it is one of the best restaurants in Croatian and one that can stand shoulder to shoulder with some of the best restaurants in the world. The restaurant has been awarded with a MICHELIN star for the third year in a row and has received nothing but praise from major food critics. All of this is the result of hard work of the owner and head chef of Restaurant Pelegrini Rudolf Štefan whose extensive research of food & wine knows no bounds. Even though the staff at Pelegrini is extremely young, each and every one of them has received education at some of the most prestigious restaurants in Europe which is why they will give you an informed piece of advice should you need it. This combined with the traditional, yet elegant interior design and its location at the city's heart with a view of the Cathedral of St. James make for an unforgettable gastronomic experience.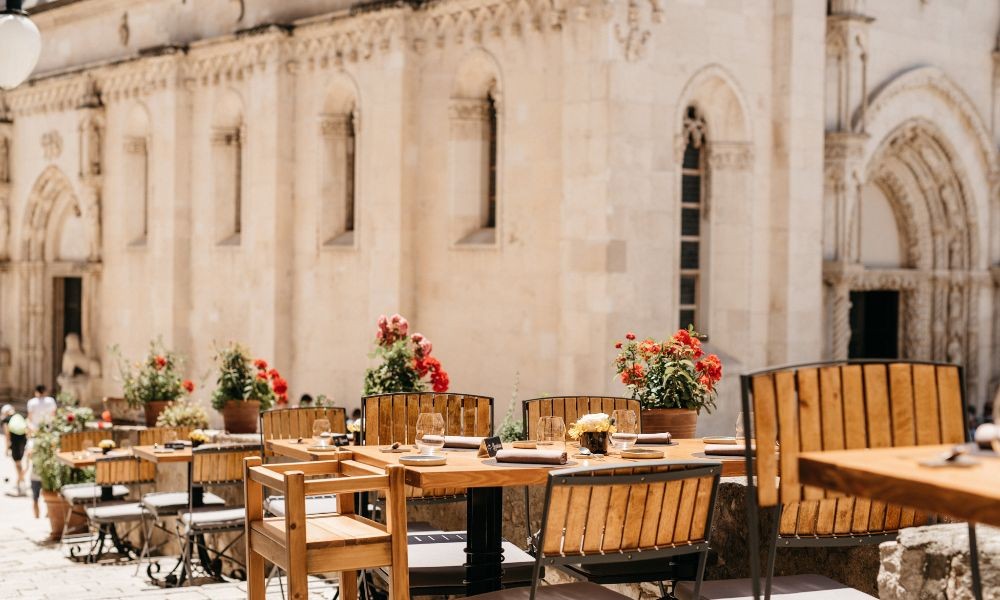 While you will certainly not make a mistake ordering any dish of the Pelegrini menu, the MICHELIN Guide Croatia highlights three specialities: the veal roll ćevapčić, Pelegrini's Peka which is made of veal under the bell, fish and lardo and the dessert Floating Island made of prošek and crispy caramel. If you are interested in finding other amazing restaurants in Šibenik, be sure to check out our blog on the best restaurants in Šibenik, 2020.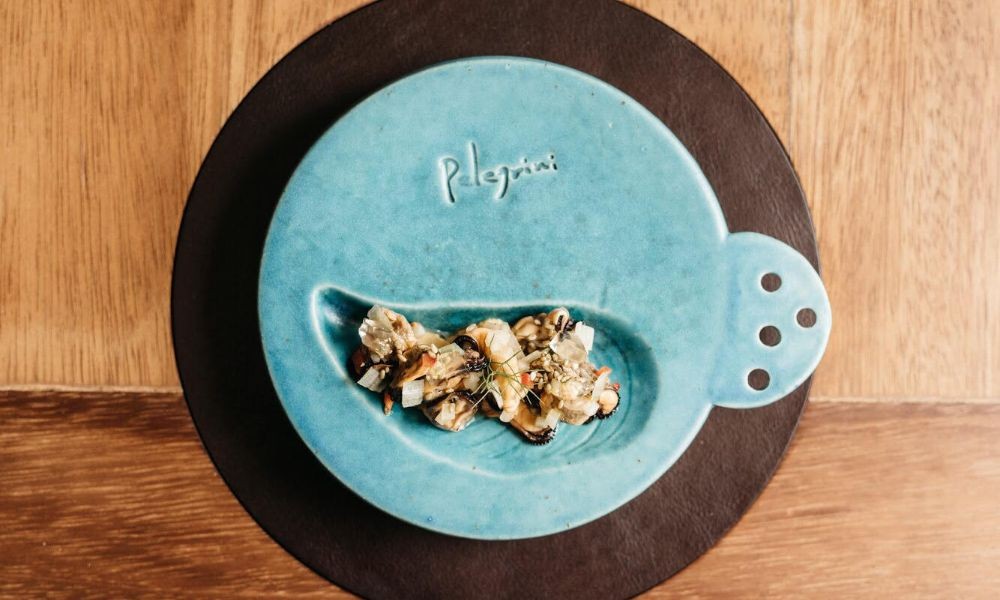 Restaurant 360 in Dubrovnik, the place of delicious cuisine and a 360° city view
Restaurant 360 is a place of magic and romance which has, perhaps, the most impressive and breath-taking location of any restaurant in Croatia. Its terrace is located in the Old Town of Dubrovnik right on the medieval walls and fortress of St. John, from which you will have a gorgeous sea view of Dubrovnik's port. The design of Restaurant 360 impressed the MICHELIN Guide Croatia 2020 quite a bit indicated by the fact that the guide awarded it with three red "fork and spoon" awards stating that it is one of MICHELIN's most delightful places.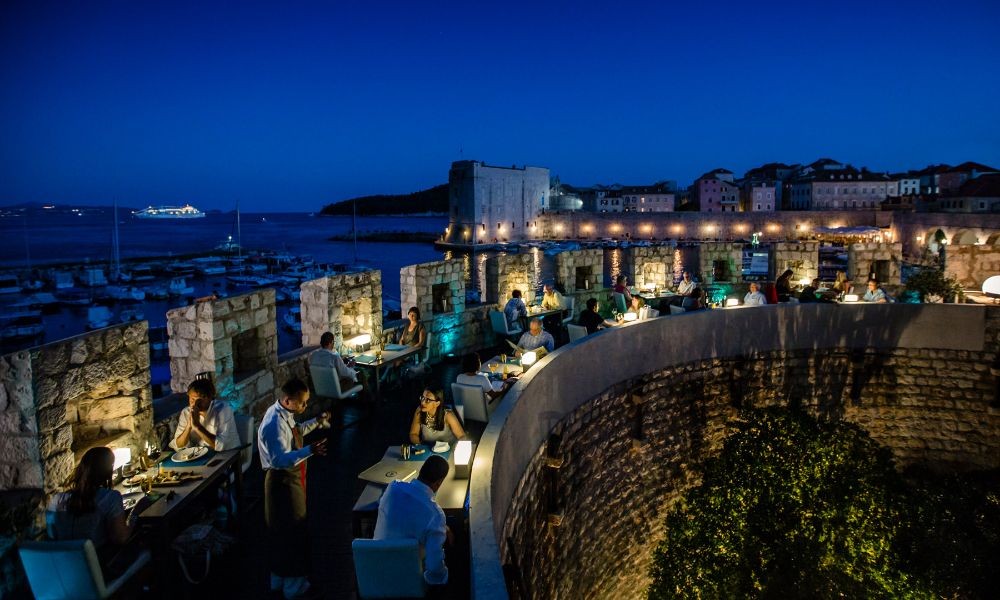 While I could spend ages describing the sheer beauty of Restaurant 360 and its view, I should probably present you with its Mediterranean cuisine which is equally impressive. Restaurant 360 is a fine dinning restaurant which serves dinner exclusively. Guests will be able to choose between two 5-courses Tasting Menus and A la Carte Menu which is an abbreviated version. The chef Marijo Curić, who worked alongside some of the best chefs in the world such as Marcus Wereing, Claude Bosi and Phili Howard to name a few, uses popular Dalmatian dishes and gives a modern touch based on the old French school. The dished recommended by MICHELIN Guide are the foie gras terrine with homemade brioche and quince sauce, the roasted sea bass with cuttlefish and sea fennel salad, spinach and Swiss chard sauce and the mango with white chocolate and champagne mousse as the dessert option.
Restaurant Boškinac in Novalja on Pag, fine dining in greenery
Boškinac is a new restaurant on the MICHELIN Star list located on the beautiful island of Pag in Novalja which is home of the Zrće Beach known under the nickname "Croatian Ibiza". Therefore, if you are looking to have a crazy party experience on the Croatian coastline and are looking for where to eat an excellent meal, Restaurant Boškinac is your best choice. Boškinac is a four-star stone hotel in a traditional Dalmatian style situated in the midst of lush Mediterranean greenery. While some might consider the lack of sea view a shame, the majestic garden, the greenery stretching as far as they eye can reach and the gorgeous pool more than make up for it.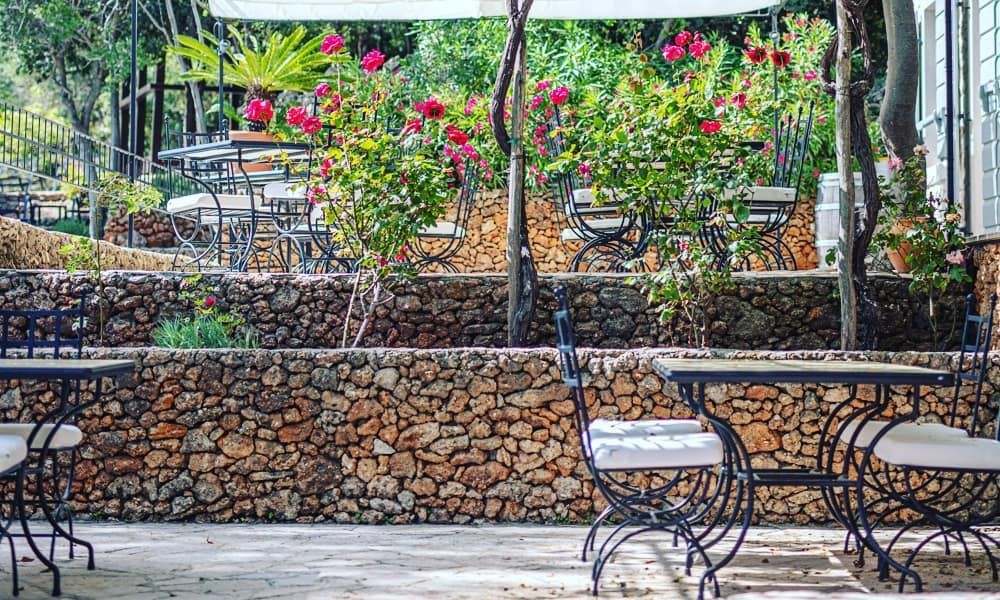 The gastronomic offer of Restaurant Boškinac consists of traditional island Mediterranean cuisine with a modern twist. On the menu, guests will be able to choose from a wide selection of fish and lamb dishes, prosciutto, cheeses and wines of the Boškinac cellar which will perfectly complement each dish. The Pag lamb is one of Croatia's most renowned delicacies, so it is no wonder that it found its way on the new MICHELIN Guide's recommendation list. In addition to the lamb of Pag, MICHELIN Guide also recommends the carpaccio of white fish, trout caviar, seaweed, dried octopus dashi and lemon cream, as well as the cane from Novalja field made of burned cane, blackberry coulis, honey tuile, dehydrated kale and bee pollen.
Restaurant Noel in Zagreb, where local ingredients are showcased in a contemporary approach
Let's take a break from the Dalmatian cuisine and head over to continental Croatia. Zagreb, the capital of Croatia, to be exact. In 2016, the Restaurant Noel opened its doors in the old part of Zagreb and already in 2020 it received its first MICHELIN star. While the restaurants mentioned thus far mostly utilised the traditional Dalmatian aesthetic in its design, Restaurant Noel features a highly fashionable and contemporary approach to its interior design. The crème and brown furniture with golden accents ooze elegance, while the pops of magenta give the restaurant a bit of character and chicness.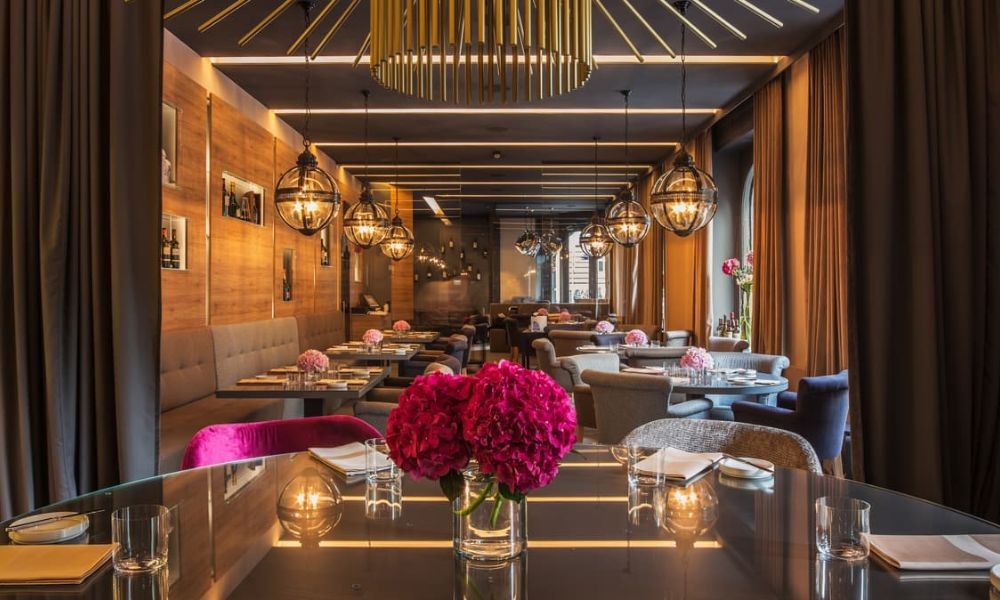 Restaurant Noel's cuisine is modern in character and offers four menus to guests to choose from: Menu À La Carte, 4 Courses, 7 Courses, A La Carte Lunch and Lunch. Each of the menus creates a unique gastronomic experience that is guaranteed to impress even the most demanding food & wine critic. In case you are having trouble deciding which delicious dish to try first, the new MICHELIN Guide recommends try the almond risotto with lobster, lobster butter and seaweed, the Adriatic fish with black garlic, baked celery and bone marrow and the peach, while chocolate, goat's cheese and laurel dessert.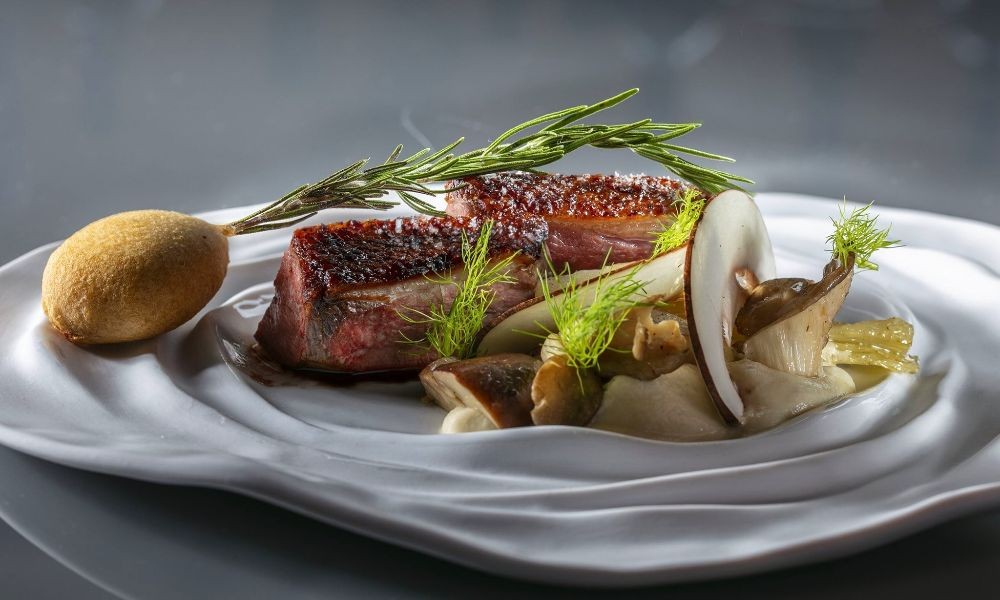 Restaurant Draga di Lovrana in Lovran, presenting the Mediterranean taste with Italian and French twists
We are taking our gastronomic journey to the peninsula known as Terra Magica – Istria. Perched on a hilltop and nestled in the beautiful greenery of Istria with an amazing panoramic view of the sea is the Hotel Draga di Lovrana whose restaurant with a rich gastronomic offer was awarded with a MICHELIN Star Croatia. If the weather allows, you will be able to dine on the shaded terrace from which you will be able to enjoy the mountainous Istrian landscape painted in various shades of green which after a while gets replaced by the blue shades of the Adriatic Sea.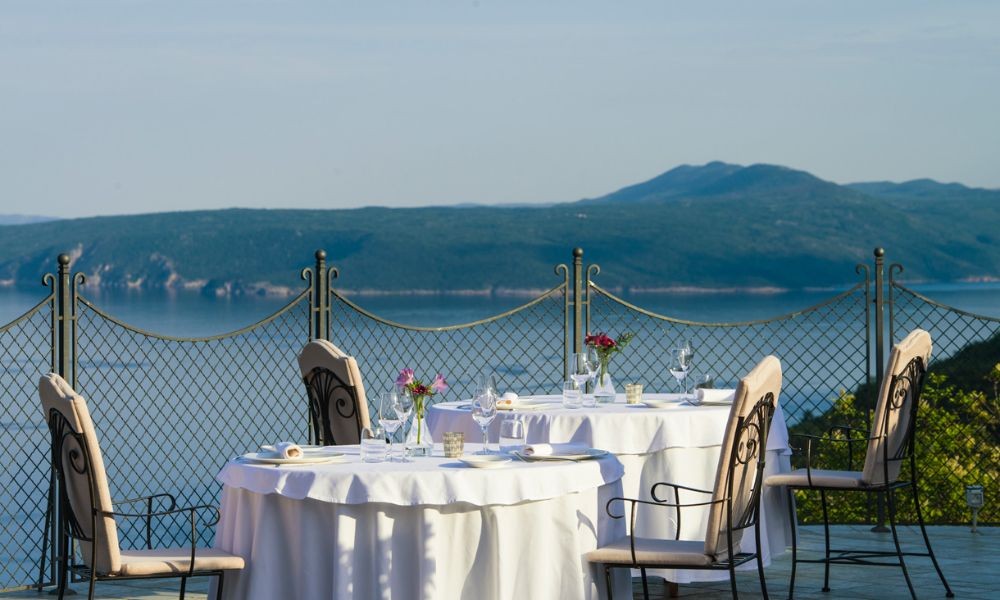 Just like Restaurant Noel, Resturant Draga di Lovrana feature a modern cuisine where locally produced ingredients come together into Mediterranean dishes of the up-most quality which are flavoured by French and Italian twists for a modern and creative gastronomic experience. When it comes to recommendations, MICHELIN Guide highlights the beef tenderloin with anchovy, cow's cheese, pear, capers and arugula, sunchoke with Dijon mustard and algaes and fennel root with almonds, lime and pink pepper.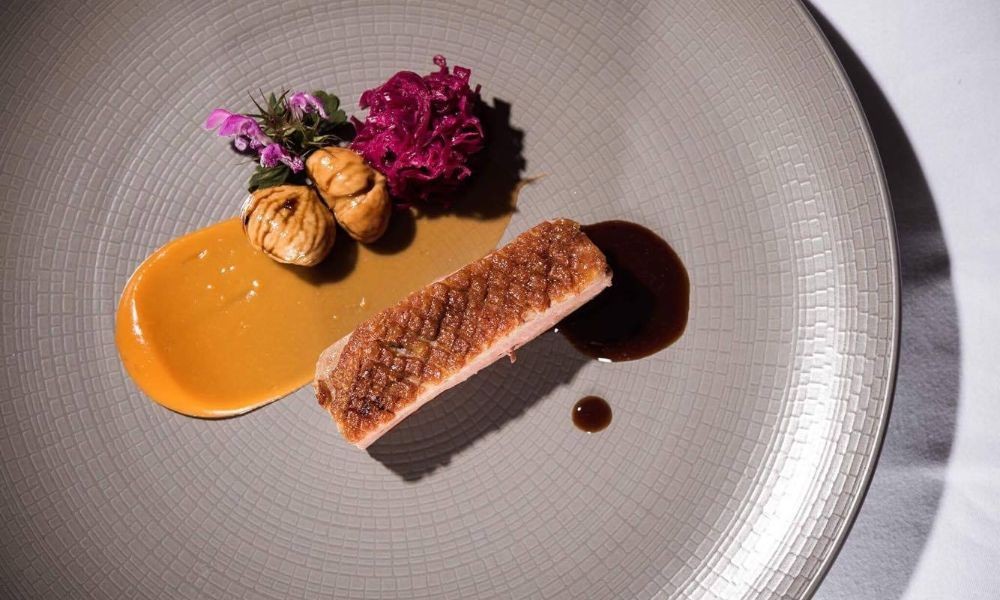 Restaurant Monte in Rovinj, haute cuisine with a theatrical presentation
We will stay in Istria for a short while. However, we are moving from the east to the west coast of Istria to the historic town of Rovinj. You might know Rovinj for being the home of the Saint' Eufemia Church and now you know Rovinj for having a MICHELIN star restaurant – Restaurant Monte. This gastronomic gem is hidden in a stone building in which you will be able to enjoy your fine meal while being surrounded by green branches, creating an enchanting garden while having a view of the Saint' Eufemia Church.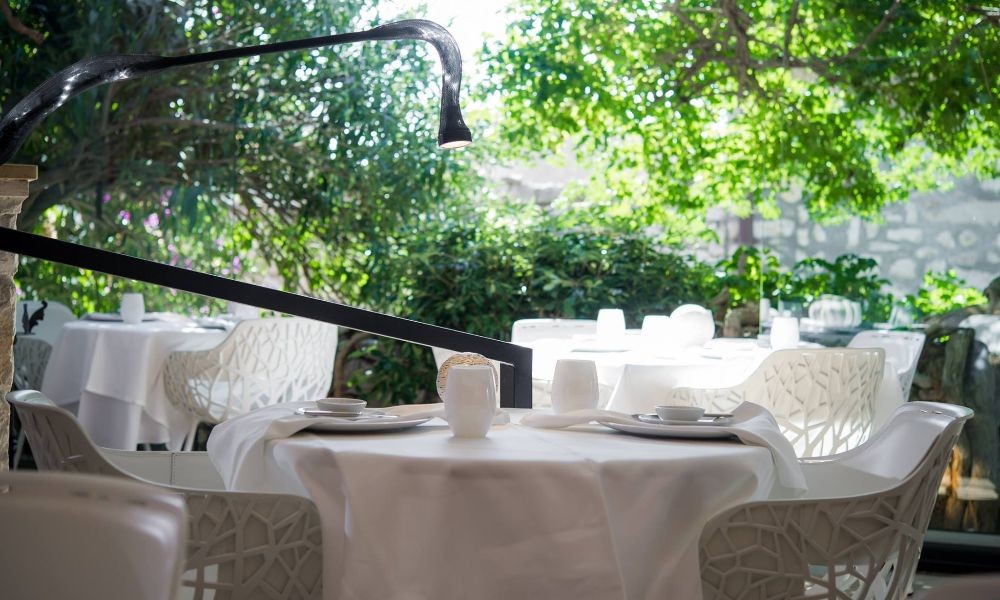 The cuisine of Restaurant Monte is described as creative, while its chef Danijel Dekic blew the MICHELIN Guide inspectors away with his unique approach to fine dining. His presentation of food is described as being theatrical while his cooking approach features new and contemporary techniques which will delight any food lover. The restaurant features three tasting menus, the red, green and blue one, with 6 courses in each plus and intro and a finale, a children's menu and the option of creating your own menu by combining any of the dishes found in the three tasting menus. Especial praise was given to the sea bass with cuttlefish, king prawn, algae and cauliflower, suckling pig with pork rind, lentils and onion marmalade and to the dessert pear metamorphosis.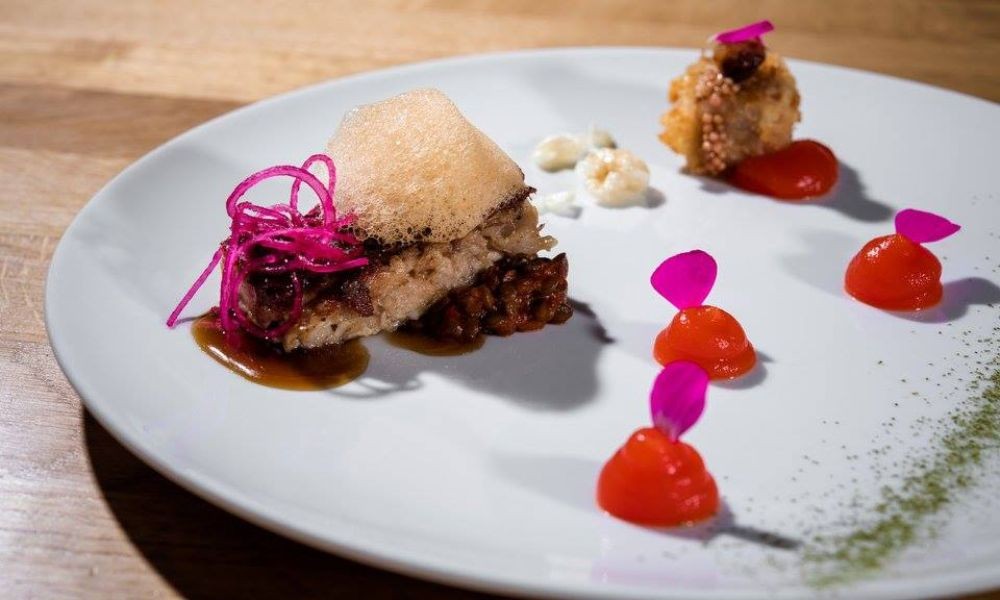 LD Restaurant in Korčula, where the Silk Road begins…
We started our gastronomic journey in Dalmatia and we are ending it in Dalmatia on the beautiful island of Korčula with another new restaurant in the red guide. LD Restaurant is located in the Lešić Dimitri Palace at the heart of Old Town Korčula. The complex was designed by an Asian-Croatian team of interior designers and architects drawing inspiration from Marco Polo, the famous resident of Korčula, who is believed to have started his travels along the Silk Road from this gorgeous island. Therefore, LD Restaurant is for fine dining in an aristocratic ambience and a beautiful view of the sea.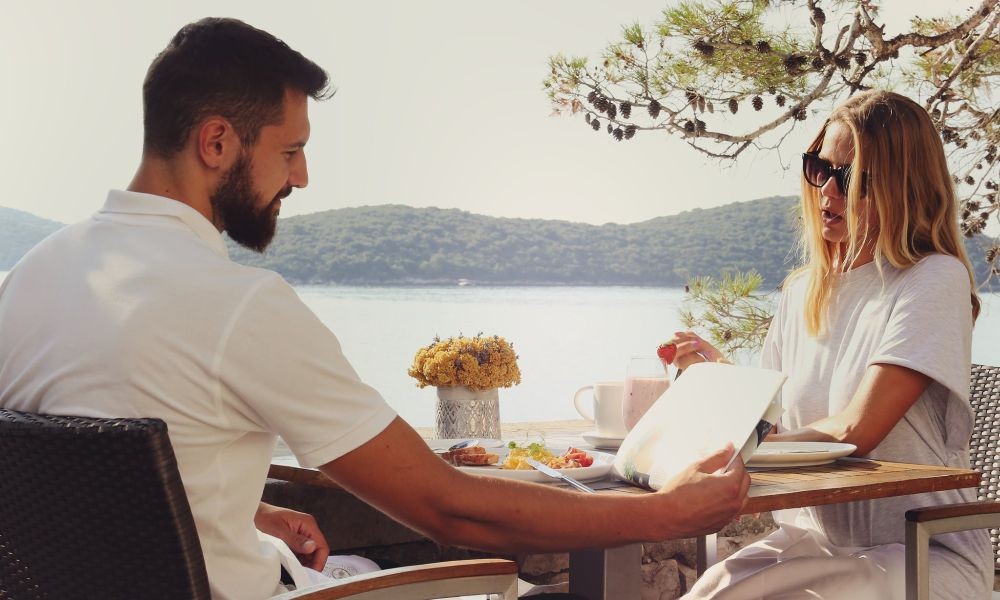 The cuisine of LD Restaurant is Mediterranean in nature with a modern twist which makes use of the indigenous seasonal ingredients of Korčula. The fourth edition MICHELIN Guide Croatia warns not to miss out on the sea bass, the bluefin tuna sashimi with guacamole, corn panna cotta, cherries and cucumbers, the rack of lamb with ricotta, lamb jus, shallots, ricotta and green peas puree and the chocolate caramel with toasted almonds, sea salt, orange and whipped cream.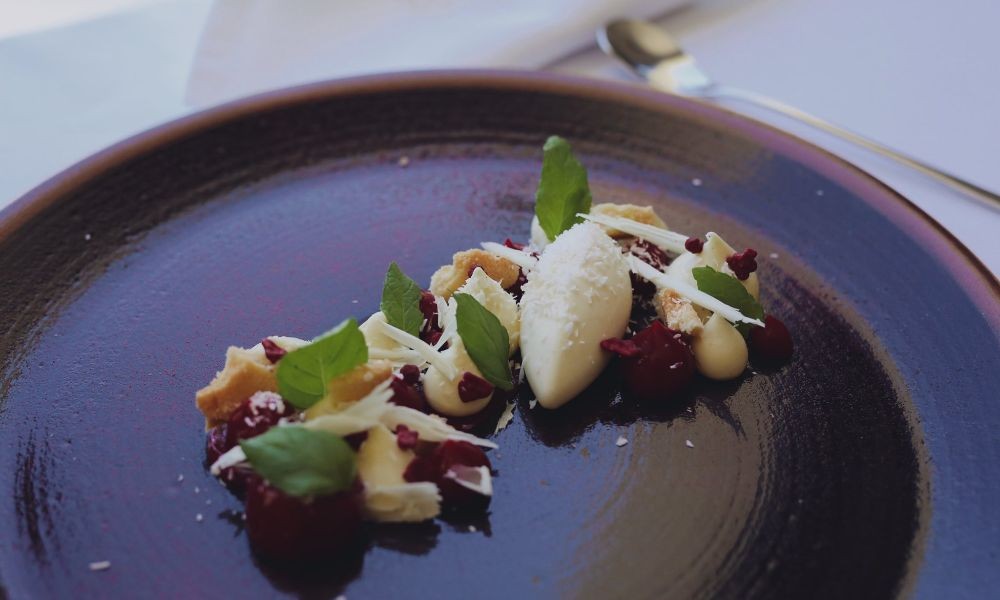 Now you have learned all about the gourmand restaurants in Croatia whose cuisine and interior design were recognized as the best places for fine dining and were give the prestigious MICHELIN Star Croatia award. Hopefully, this will help you make an informed decision on where to go next for your dream holiday in Croatia in your everlasting quest of tasting one of the best cuisines in the world.
If you are looking for a luxurious villa which will complete your holiday experience in Croatia, make sure to check out our wide and varied assortment of carefully selected luxury villas in Croatia.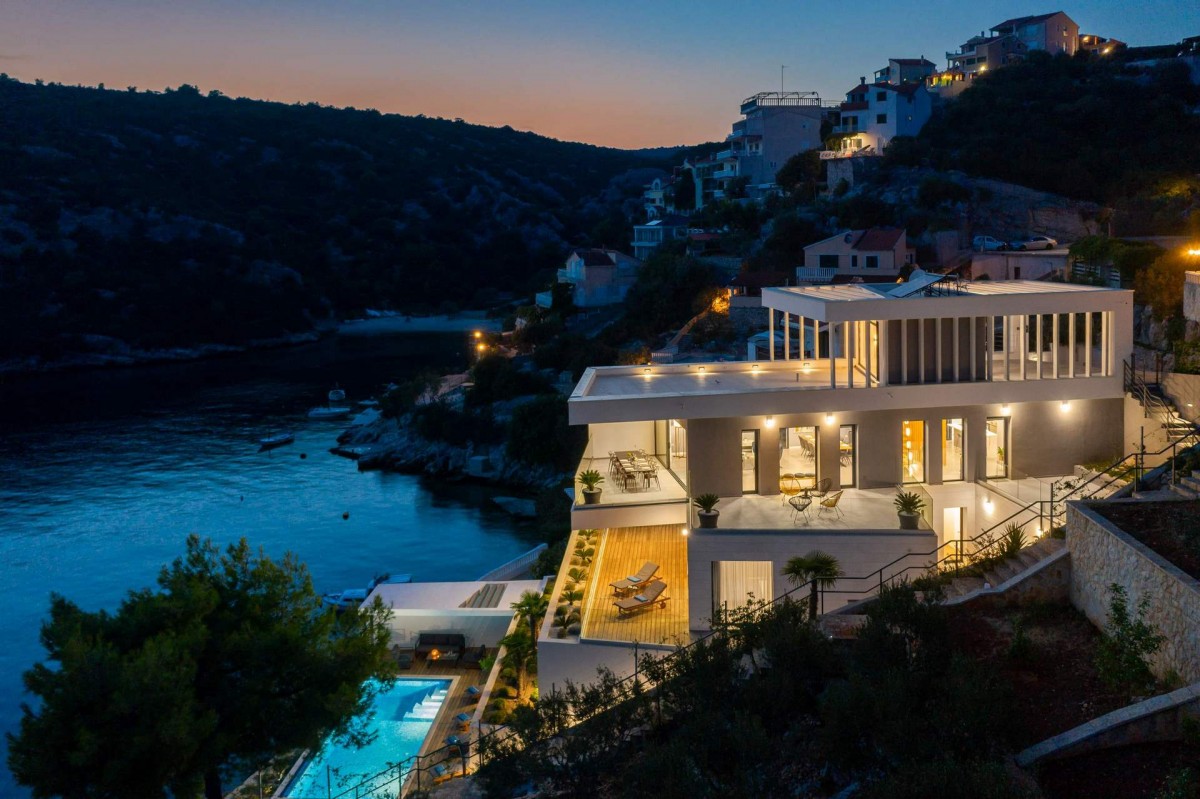 We wish you a relaxing and safe vacation! For any questions, Adriatic Luxury Villas is always at your disposal!