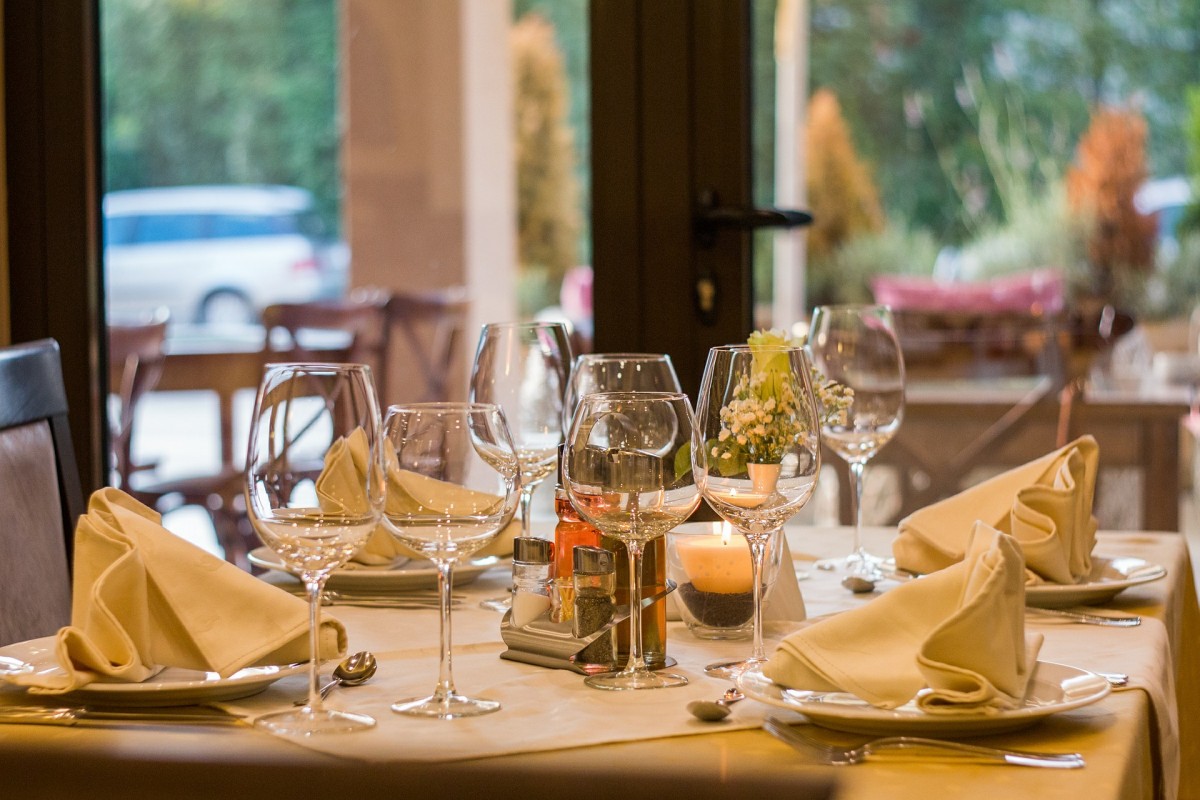 Delight your taste buds in these best restaurants in Šibenik and taste the Adriatic Sea. Experience the local Dalmatian lifestyle by enjoying authentic dishes made from fresh organic ingredients in one of the most beautiful Dalmatian ambiences in the region.
Looking for good restaurants in Šibenik? Here are our recommendations!
Are you a world traveler who believes that an integral part of experiencing a foreign culture is to try the local cuisine? Or maybe a gourmet whose refined taste is looking for new high-quality dishes? If the answer is yes, you are in the right place. We present the list of the best restaurants in Šibenik, where you can try unique local dishes and original secret recipes passed down from generation to generation. Some of these restaurants are also on the list of the professional French restaurant recommendation Gault Millau.
Prosciutto, Skradin risotto, seafood delicacies, meat dishes, delicious desserts and high quality wines are just some of the most famous Dalmatian products of this region. Visit these restaurants in Šibenik and get up close and personal with Dalmatian culture.
Pelegrini - Restaurant in the Old Town of Šibenik
We decided to start this blog off with a bang with the restaurant restaurant Pelegrini. Finding its place on the list of the best restaurants in the region each year, Pelegrini does not need introduction in the food connoisseur circles. Pelegrini in located in the Old Town of Šibenik and offers a table on two terraces – one in the heart of Šibenik overlooking the square of the Cathedral St. James, and another more intimate one on the side of the object. The restaurant prides itself on basing its cuisine on gastronomic heritage, seasonal local ingredients and small producers.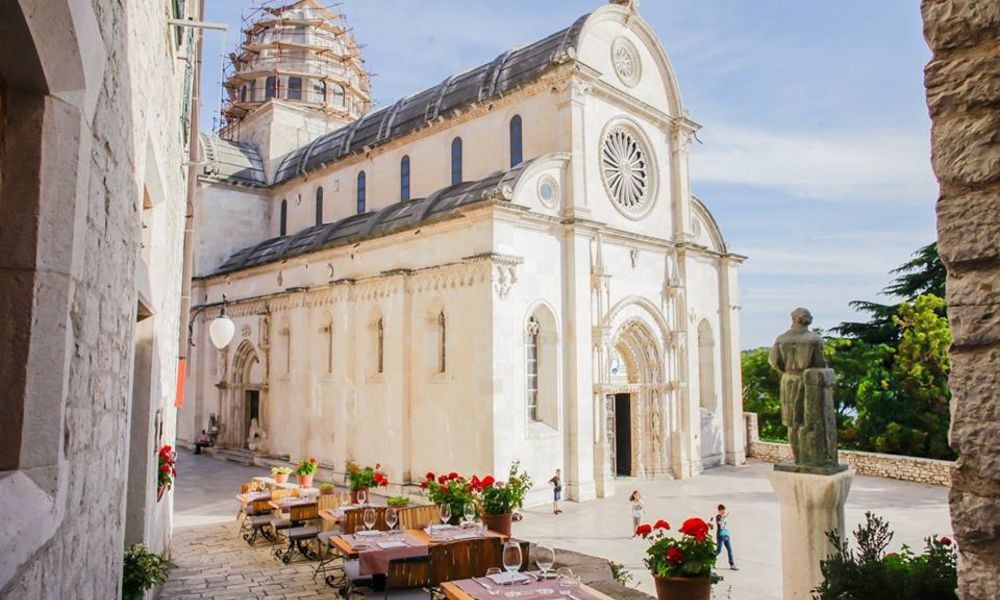 Rudi Štefan, the owner and chef of Pelegrini, will amaze you with his food combinations and wine pairings. The entire staff is extremely knowledgeable, despite being young, since they have to undergo an internship at some of the world's most famous restaurants. Therefore, you can expect an answer or an advice to any food-related question you might have. With its amazing food repertoire of traditional and modern delicacies, as well as top-notch service, Pelegrini can without a doubt stand shoulder to shoulder to some of the best restaurants in the world.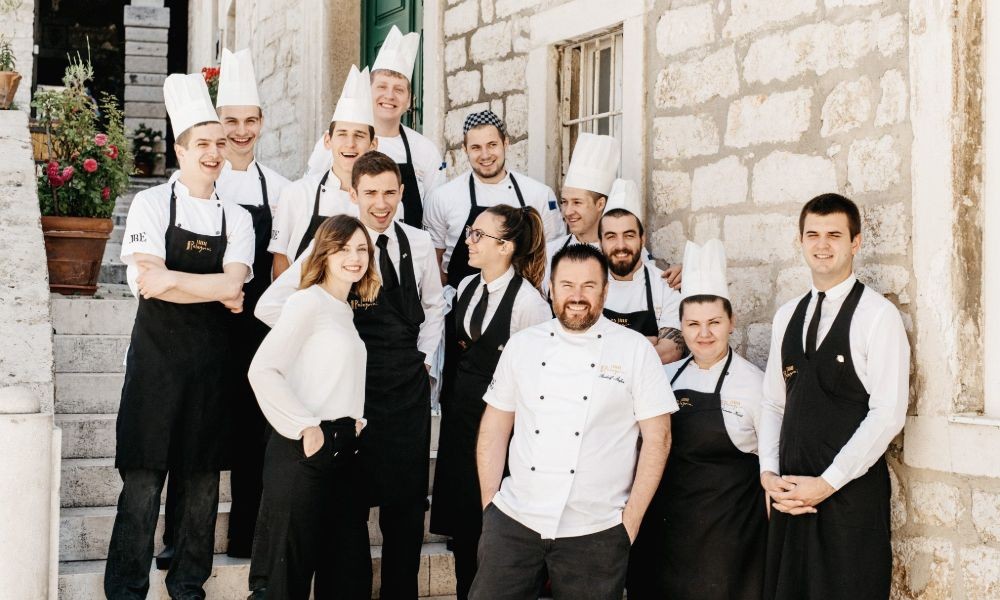 Pjat - The Dalmatian Plate
The restaurant Pjat (the Dalmatian word for plate) is a fairly new restaurant located on the waterfront of the city Šibenik. Popular by tourists and locals alike, the restaurant's motto reads "from the field to the table". The young chef Stipe Šušnjara prepares a variety of traditional Dalmatian dishes only from fresh ingredient grown on his own organic farm, which is why Pjat deserves without a doubt a place on the list of the best Šibenik Restaurants. The restaurant is open all year round, so you will be able to enjoy the gastronomic offer of the restaurant Pjat whenever you decide to plan your holiday in Croatia.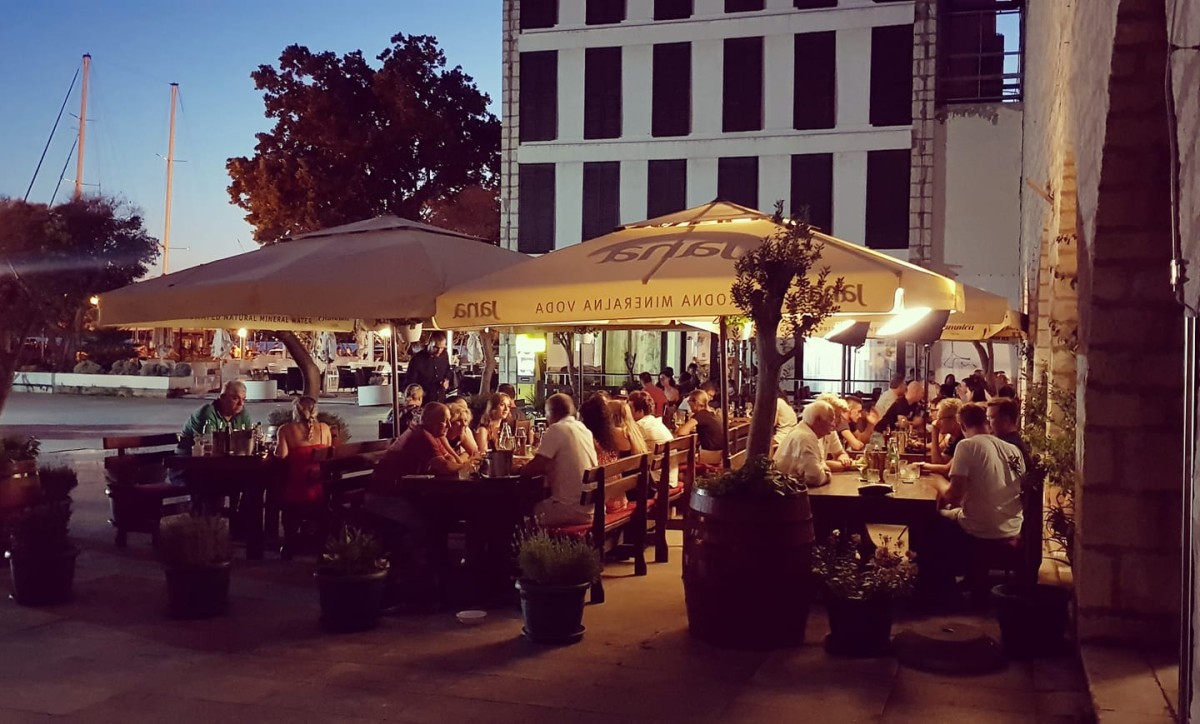 Galbiani - Restaurant and Wine Bar
The Restaurant & Wine Bar Galbiani in the centre of Šibenik offers a variety of Mediterranean seafood dishes such as the Adriatic Black cuttle-fish risotto and Šibenik "Fuze" with truffle sauce, as well as some interesting combinations of seafood and meat such as Paella "Galbiani" made with chicken, veal, scamp and shellfish. However, the uniqueness of Restaurant & Wine Bar Galbiani lies in its location – it is situated on the roof terrace of the new Museum Civita Sacra. The Restaurant & Wine Bar Galbiani's absolutely breath-taking one-of-a-kind view of Šibenik won its rightful place on the list of the Top Restaurants in Šibenik.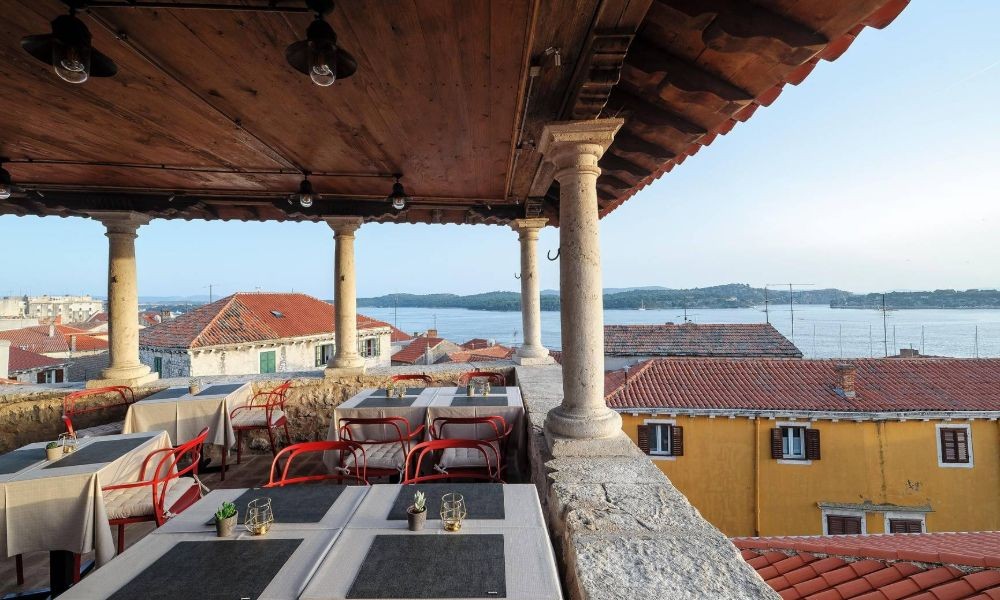 Konoba Tomaseo - Tavern with Sea View
Konoba Tomaseo is located on Šibenik's waterfront and offers a fantastic view of the Adriatic Sea. In addition to an entire repertoire of traditional Dalmatian dishes, Konoba Tomaseo will satisfy you sweet cravings, since it also serves delicious desserts, of which The Floating Island (known by the names of paradižot or šnenokle in Croatia) was especially praised by Gault Millau. Konoba Tomaseo will be an excellent choice for smokers, since it is one of the rare restaurants that has a separate area, where you will be able to enjoy a nice cigarette after an amazing gourmet meal, without disturbing anyone.
SHE bio bistro & bar - Gault Millau Šibenik Restaurants, 2020
SHE bio bistro & bar is a literal heaven on earth for vegans, vegetarians, and anyone who loves eating healthy. The restaurant promotes a conscious type of gastronomy by using only local, organic, non-industrial ingredients, which is why the menu is ever-changing. Once the season of a particular ingredient is gone, so are the meals which contain that ingredient. This philosophy is applied to the offer of drinks as well, which includes various smoothies, cold and hot teas, coffee with milk of your choosing, cocktails, local wines, freshly squeezed sessional fruit juice and many others. With more and more people becoming environmentally conscious, SHE bio bistro & bar, which found its place on Top 8 Gault Millau Restaurants in Šibenik,2020, will certainly be a favorite for many.
Konoba Marenda - Traditional Dalmatian Restaurant
If you were to look up "traditional Dalmatian restaurant" in a dictionary, there would be a picture of Konoba Marenda right next to its definition. Konoba Marenda is a legendary restaurant in Šibenik located in a stone house in the historical center of Šibenik. Its simple traditional design creates a romantic ambience and depicts a time long gone. Gault Millau praises the small tavern for its traditional approach to cooking, where you will be able to eat dishes prepared the way they were by our grandmas and grandpas. What is more, Konoba Marenda is a more affordable option on the list of Top 8 Gault Millau Restaurants in Šibenik, 2020.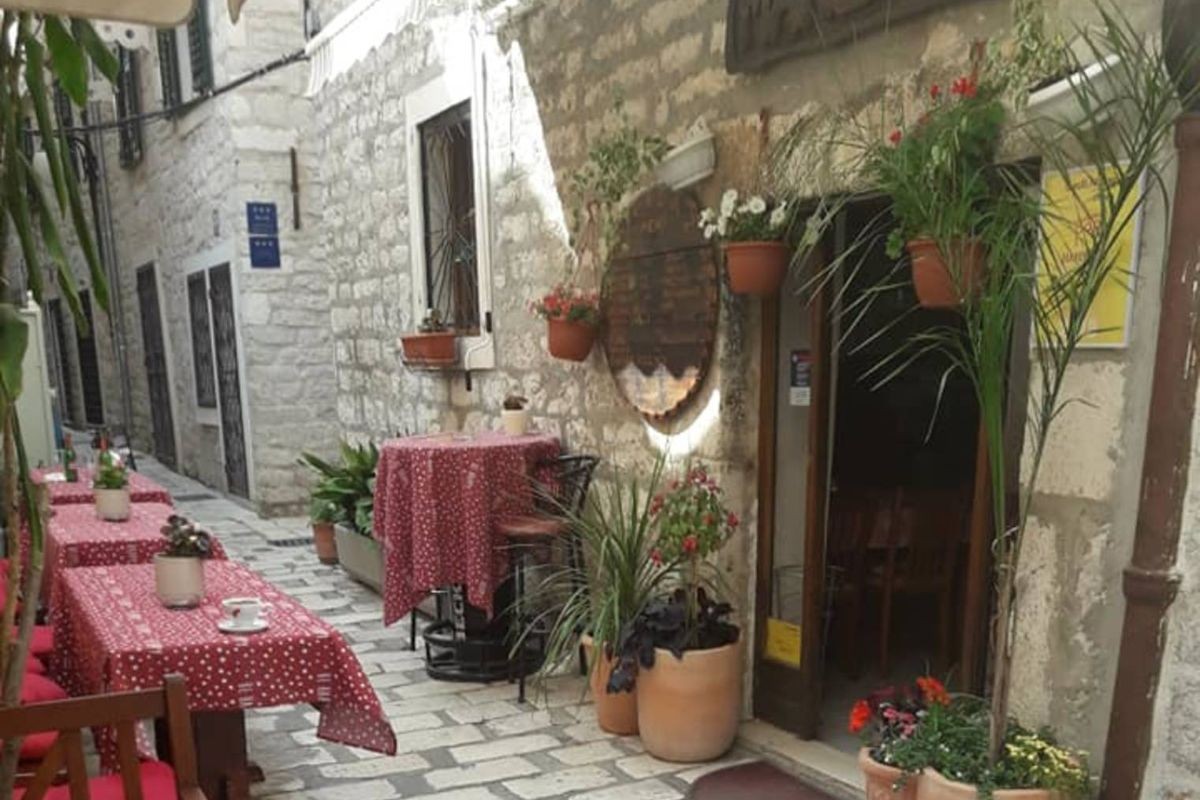 Moderato Cantabile - The Pastry Shop
Moderato Cantabile is definitely the sweetest option on the list of Top Restaurants in Šibenik. You probably already know that Croats love their coffee any time of the day, which is why Moderato cantabile pastry shop is a favorite among the local and tourist crowd. Located in the stunning Villa Pasini, which was one of the first houses with electric energy in Šibenik. Moderato cantabile offers a variety of cakes, tarts and pastries, as well as different types of coffees, cappuccinos and teas. Furthermore, you will be able to order any type of cake if you or your loved ones happen to have your birthdays during your vacation in Dalmatia. There is just one teeny tiny problem with Moderato cantabile – it's impossible to eat just one slice of cake!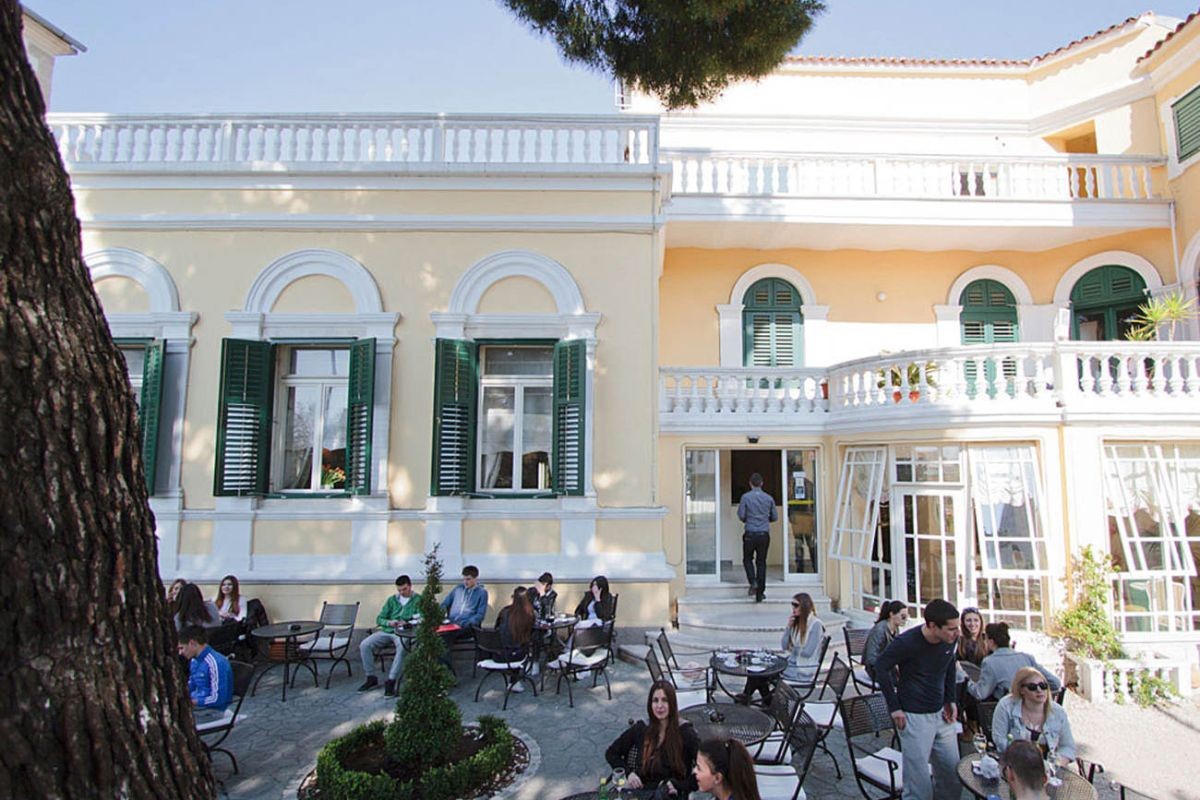 Konoba Nostalgija - Looking for the Tradition of Dalmatia
The tavern "Konoba Nostalgija" must definitely be added to our list of the best restaurants in Šibenik. It is a cozy restaurant with very attentive staff and very good food. The food menu of the tavern seems a bit scarce, but this is intentional, as the possibility of making a bad choice is very limited. In the Konoba Nostalgija home-made soups are offered every day to start with. This is usually followed by main courses with seafood. All dishes are served very stylishly on the plate.
Tinel - In the inner Courtyard of the Old Town
Are you in the old town of Šibenik and want to enjoy your meal in a quiet place nearby? Then you are in the right place at the Restaurant Tinel! Tinel is a secluded little courtyard restaurant. It offers a very quiet environment. Here you can taste charming Mediterranean dishes. Above all, you can try all kinds of octopus here. The octopus goulash is the highlight of the menu. Of course, you can also choose meat dishes here.
Konoba Dalmatino Šibenik - Charming Ambience
In the tavern "Konoba Dalmatino Šibenik" you will immediately notice the typical Dalmatian ambience. It is a place where you will immediately feel very comfortable. It is characteristic of this tavern that the portions are huge and the prices are very reasonable. All dishes are freshly prepared here, so you can expect a longer waiting time, but the waiting is worth it!
Peperoncino - Everything from the Grill
Attention grill fans! The Peperoncino has great seafood and grilled meat dishes. Most of the dishes here are prepared directly on the grill. The interior offers a great mix of rustic and modern. You can also find very good burgers here. The service is very nice and attentive.
Bronzin - Good Risottos and More
The Bronzin restaurant has to be on our list of the best restaurants in Šibenik! Here you can try delicious risottos with seafood, delicious steaks and many other fish and meat dishes from traditional Croatian cuisine. The wine list also offers a wide range.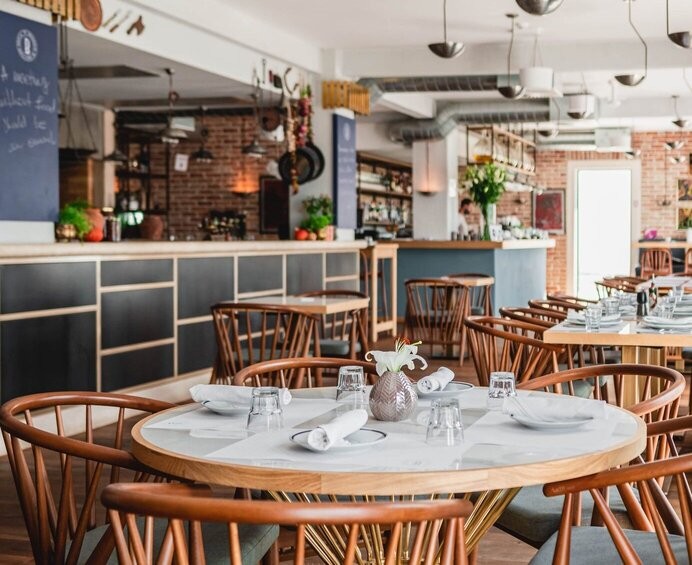 Konoba Gorica - Romantic Tavern
The tavern "Konoba Gorica" deserves its place on our list too! This tavern is quite small so we recommend that you make a reservation in advance. The reservation will be worth it. It's a cute and very cozy place and is perfect for a romantic dinner. Here you can try great fish dishes and the highlight of the menu is the stuffed octopus.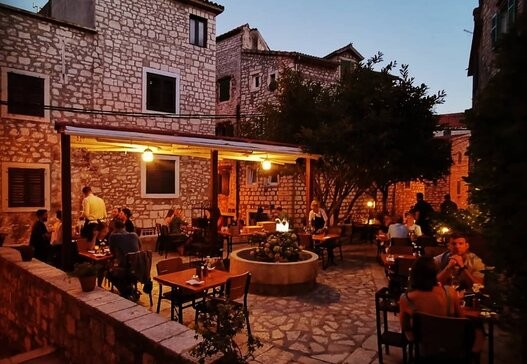 Marenda 2 – Dinner with Mrs. Ankica
We end the list of the Top Restaurants in Šibenik with another traditional Dalmatian restaurant – Marenda 2- where you will have the pleasure of meeting the absolutely lovely Mrs. Ankica. Mrs. Ankica is the cook and the server in Marenda 2, who is going to reveal some of the most amazing secrets, which the narrow streets of Šibenik hide. The menu changes with the season, as more vegetables are served during hot summer months, while dished made with dried meat get their moment to shine in the winter. Marenda 2 is one of the few remaining places, where the old soul of Šibenik still continues to live, so make sure to visit and learn about the intangible history of this beautiful city.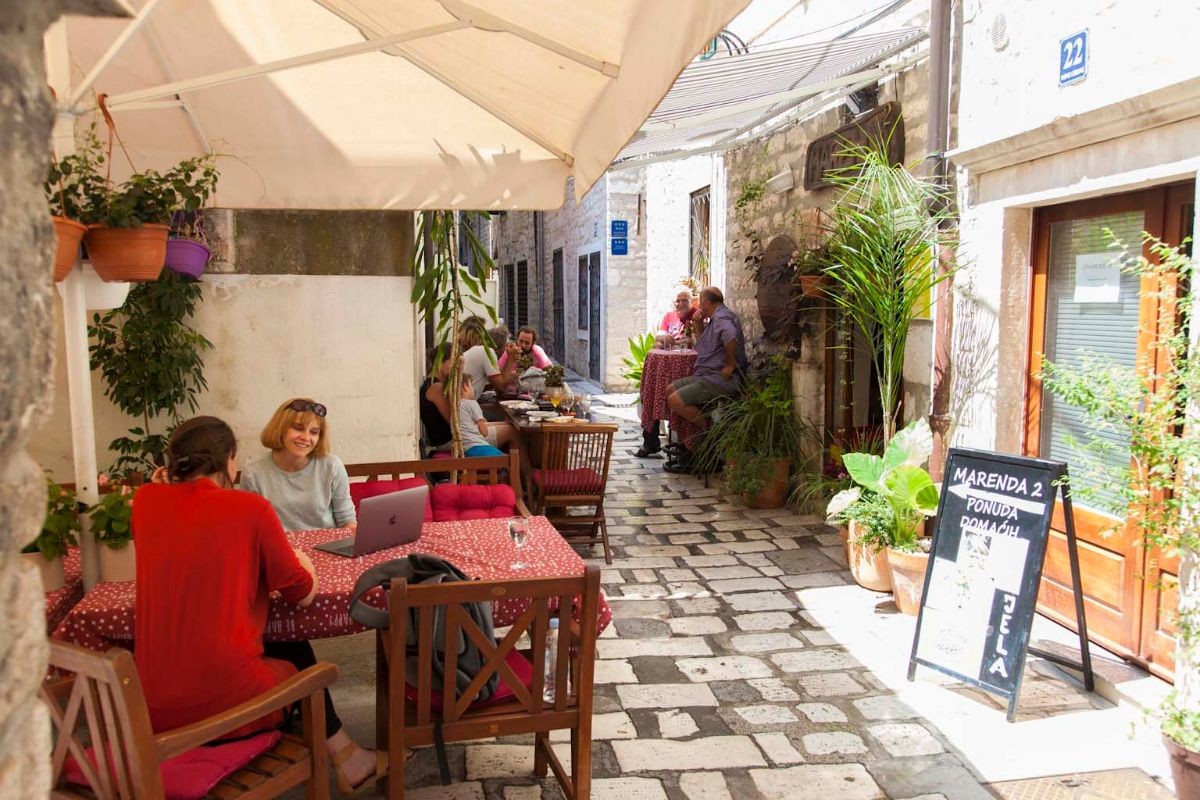 These best Restaurants in Šibenik had an option for everyone. With this list of top-notch restaurants, you will never make a wrong decision about where to eat out.
Now that you know the best places to eat in Šibenik, it is time to find out Šibenik's best accommodation options, and we are here to help! Make sure to see our accommodation offer in Šibenik and contact us for any further information. Adriatic luxury Villas is always at your disposal!
Thank you for reading and bon appetite!