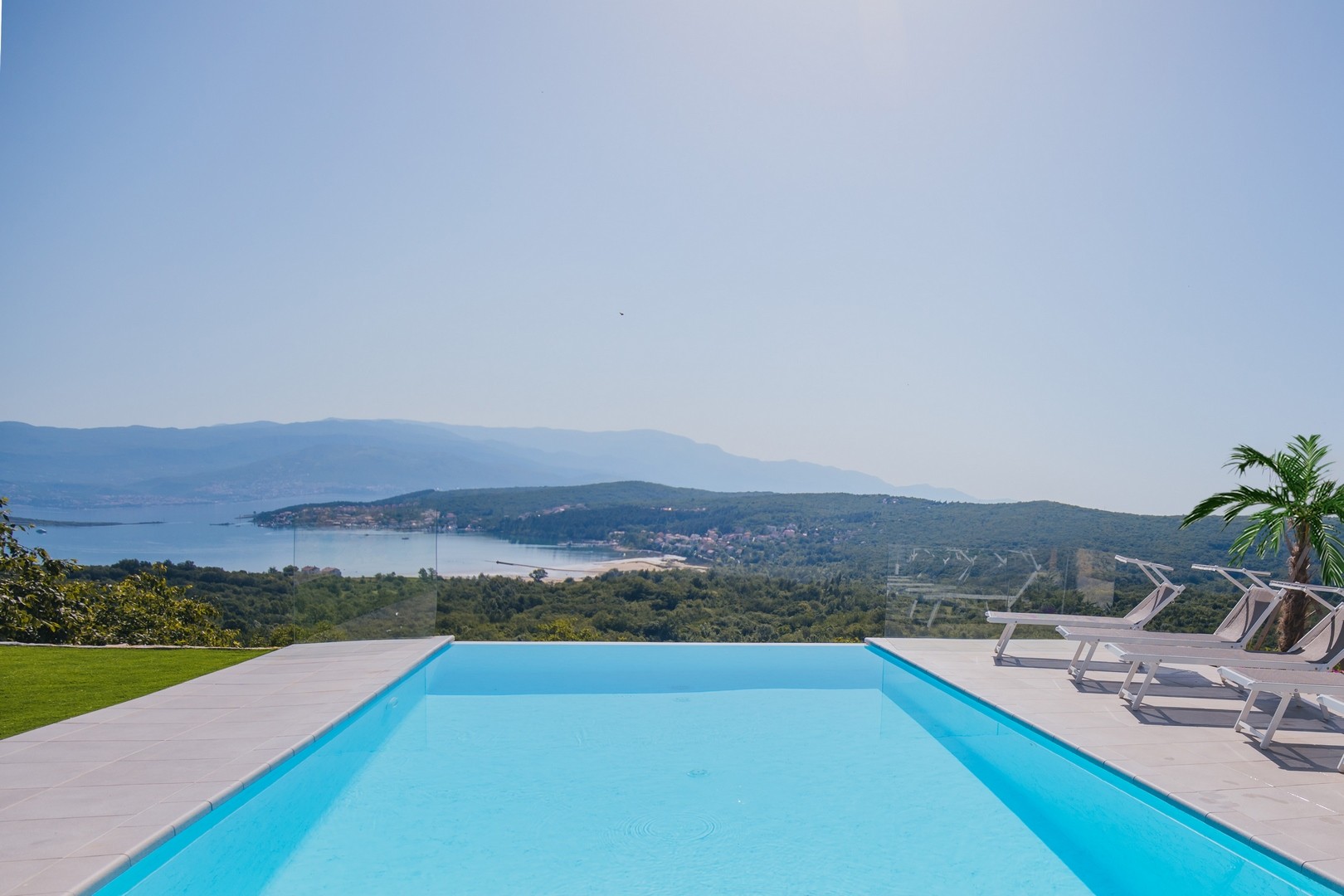 Welcome to the magical world of the island of Krk! Located in the heart of the Adriatic Sea, this beautiful island delights visitors with its diverse offer and breathtaking natural beauty. Get ready for a trip full of interesting discoveries, adventures and luxury!
Experiencing the beauty of the Adriatic Sea and the stunning islands of Croatia surely is an unforgettable adventure, and the island of Krk is one of the most popular destinations for tourists seeking the perfect blend of natural beauty and rich cultural heritage. Located in the northern part of the Adriatic Sea, the island of Krk captivates visitors with its diverse offerings, including spectacular beaches, traditional cuisine, numerous cultural attractions, and a variety of outdoor activities. In this blog, we will explore the main compelling reasons why you should consider visiting the island of Krk, unveiling its multifaceted charm and unique allure. Take this opportunity to learn more about this gem in the Adriatic Sea and get inspired for your next journey.
To ensure the utmost comfort and luxury during your stay, explore our selection of luxury villas on the island of Krk.
Rich Cultural History of Island Krk
The island of Krk boasts a rich cultural history dating back thousands of years. Historical traces and landmarks on the island bear witness to its diverse past. The main town, Krk, which shares its name with the island, features a beautiful old town with cobblestone streets and ancient walls that have stood for centuries, offering a unique journey through time. Visitors can explore the Krk Cathedral, a monumental structure with a history dating back to the 5th century, and the Frankopan Castle, a witness to the island's turbulent history. Moreover, the old town is home to numerous churches and museums that preserve precious artifacts and stories of the island.
In the town of Baška, another significant cultural treasure awaits - the Baška Tablet. This stone slab, dating back to the 11th century, contains the earliest known Glagolitic script in this region and holds immeasurable importance in understanding the history of Croatian script. The island of Krk abounds with churches and monasteries that bear witness to its rich cultural past. The Church of St. Dunat in Punat and the Church of St. Quirinus in Malinska are just a few of the religious landmarks that reveal the island's spiritual heritage. Churches often host classical music concerts and cultural events, providing visitors with an opportunity to experience the musical side of the island.
All these cultural attractions and historical sites make the island of Krk not only a vacation spot but also an open-air museum, where every corner exudes the echoes of times gone by and tells a story about this extraordinary destination. Whether you are a history enthusiast, an art lover, or simply seeking to experience the island's rich heritage, Krk offers plenty of reasons to visit and delve deeper into its cultural history.
Beautiful Beaches on the Island of Krk
The island of Krk boasts some of the most beautiful beaches on the Adriatic. Whether you are looking for sandy or pebble beaches, coves, or tranquil inlets, Krk has it all. One of the most famous and picturesque beaches on the island is Punat Beach, located in the town of Punat. It lures visitors with its natural beauty and crystal-clear waters. The beach is mostly pebbly and is ideal for families with children, with numerous beach bars and restaurants along the shore where you can enjoy refreshing drinks and delicious meals with a stunning sea view.
Another popular beach on the island is Malinska Beach. This sandy beach is located near the town of Malinska and is perfect for relaxing days in the sun. The shallow waters make it ideal for families with small children, and the many beach bars and restaurants offer opportunities for refreshments. Beach activities include beach volleyball and water sports, providing entertainment for all ages.
Of course, we must not forget Baška Beach, often highlighted as one of the most beautiful on the island of Krk and in the entire region. This long sandy beach features crystal-clear waters, making it an ideal destination for swimming and sunbathing. Baška is also popular among water sports enthusiasts, with activities such as windsurfing and jet-skiing.
However, we should also mention the hidden beaches that line the island's coast, offering peace and quiet for those seeking a break from the hustle and bustle of city life. Crystal-clear waters and beautiful sunsets make this island a dream destination for beach lovers. Activities like diving, windsurfing, kayaking, and paddleboarding are also popular on the island, providing unforgettable moments in a natural setting.
Krk's Gastronomy
Croatia is renowned for its delicious cuisine, and the island of Krk is no exception. Here, you can indulge in a variety of local delicacies and specialties. Seaside restaurants offer freshly caught fish and seafood prepared in various ways. To fully savor this culinary experience, be sure to order a seafood platter featuring specialties like sea bass, bream, and calamari, often grilled and served with olive oil and fresh vegetables. You must not miss the opportunity to taste traditional dishes like "janjetina ispod peke" (lamb under the lid), a unique slow-cooked dish that is cooked under a dome-shaped lid for hours, resulting in perfect tenderness and flavor. Krk's renowned prosciutto, known for its distinctive taste, is perfect for enjoying as a light snack with local wine, and the cheeses produced on the island will further enrich your culinary adventure. The island is home to numerous restaurants and taverns serving delectable dishes, such as Konoba Nono, Konoba Marea, Konoba Vinotel, and Konoba Feral. If you are a wine enthusiast, Krk offers excellent wines to complement your gastronomic experiences. The island's vineyards produce various types of wine, including white, red, and dessert wines. Be sure to visit one of the local wineries and enjoy tastings of exceptional wines.
Outdoor Activities on the Island of Krk
The island of Krk offers numerous opportunities for outdoor activities, making it an ideal destination for nature enthusiasts and adventure seekers. Hiking and biking are popular on the island, with numerous trails leading through beautiful landscapes and offering breathtaking panoramic views of the sea and surroundings. Visitors who enjoy hiking can explore trails in the hills, such as the one leading to the peak of Obzova, the highest point on the island of Krk, providing a spectacular view of the coast and nearby islands. Cyclists will also enjoy a variety of routes that allow them to explore scenic landscapes and hidden coves. Additionally, the island offers horseback riding, providing a peaceful and relaxing experience in the natural environment. Riding through the forests and along the coastline of the island offers a serene and unique experience.
If you are more inclined toward water activities, Krk provides many opportunities for diving and exploring the underwater world of the Adriatic. With its crystal-clear waters, numerous underwater caves, and rich marine life, the island of Krk offers incredible experiences for divers of all levels. In addition, you can try activities such as windsurfing, kayaking, paddleboarding, and jet-skiing.
Convenient Geographic Location of the Island Krk
The island of Krk has a convenient geographic location, making it easily accessible to tourists. It is connected to the mainland by a bridge, which makes it exceptionally reachable. You can reach the island by car or bus, and the journey across the bridge offers a spectacular view of the island and the sea. This is especially practical for those traveling by car or those who wish to explore more than one destination during their stay. Furthermore, Krk is close to other attractive locations such as Opatija, Rijeka, and Crikvenica, allowing you to explore more than one beautiful place during your visit. The proximity of Krk to other attractions makes it an ideal starting point for exploring the region. Additionally, Krk has good transportation connections to neighboring islands. During summer, there is a regular ferry line connecting Krk to the island of Cres, the island of Rab, and coastal towns, enabling you to explore different destinations during your stay on the island. We must not forget that Krk has its own international airport, Rijeka Airport, which is linked to numerous European cities, which makes reaching the Island from abroad very easy.
Diverse Accommodation Options on the Island of Krk
The island of Krk offers an exceptionally diverse range of accommodations that will cater to all budgets and preferences, with luxury villas standing out as the pinnacle of comfort and exclusivity.
Luxury villas on the island of Krk provide an incredible vacation experience where comfort and elegance blend seamlessly with the stunning natural surroundings. With amenities such as private pools, wellness facilities, modern kitchens, spacious living areas, and beautiful sea-view terraces, luxury villas offer a perfect experience filled with privacy and exclusivity. Moreover, these villas are often situated in peaceful parts of the island, surrounded by nature, providing the opportunity for a complete escape from everyday stress and a chance to enjoy peace and tranquility.
The island of Krk is a destination that has a lot to offer to all types of travelers, regardless of their interests and desires. This island is one of the most attractive in the Adriatic, whether you are a culture enthusiast, a beach lover, a foodie, an outdoor adventurer, or simply seeking a place to relax. Moreover, the island is home to numerous festivals and cultural events throughout the year, ensuring there is always something exciting to explore.
A visit to the island of Krk means entering a beautiful world that combines a rich cultural history, spectacular beaches, exceptional food, diverse outdoor activities, and an outstanding range of accommodation. Visit the island of Krk and discover why this destination is so special!