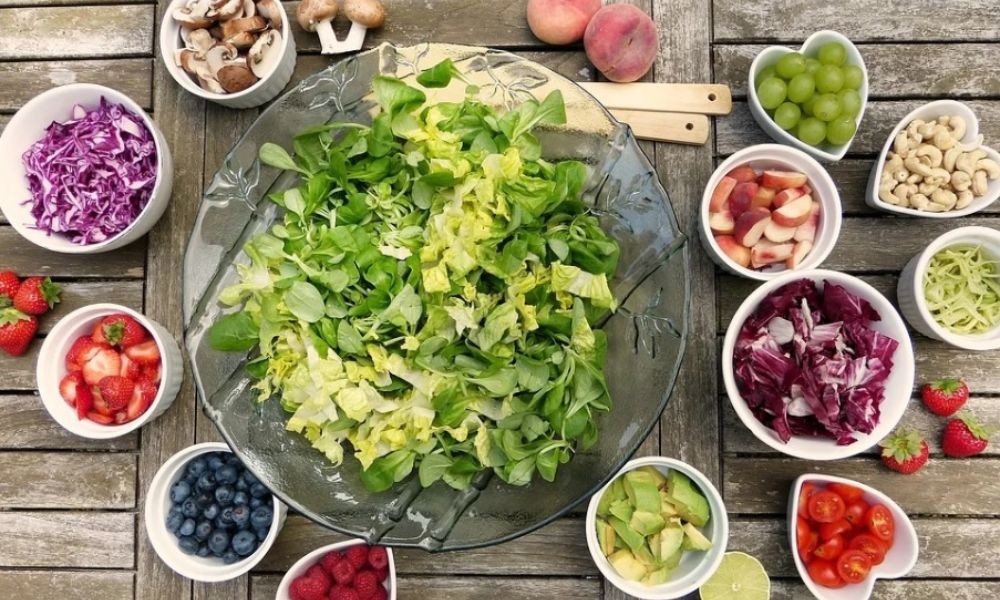 On the lookout for some great vegan restaurants in Dalmatia? You are at the right place. Find out which vegan restaurants are considered the best in Dalmatia and enjoy healthy plant-based meals during your holiday in Croatia.
The vegan/vegetarian lifestyle become extremely popular in recent years as more and more people became aware of the damage done to our planet and the fact the there is just one Earth that has to be nurtured and loved so that next generations can also enjoy all the beauties it has to offer. However, sometimes it can be very hard to follow that lifestyle when you are on a vacation in another country. Croatia's cuisine is mostly Mediterranean with lots of fish and seafood dishes, because it has the beautiful Adriatic Sea. Therefore, it might be a struggle to find purely vegan restaurants, where you open the menu and choose whatever it offers without having to think about whether there are some animal produces being used in its preparation. As always, we come to your rescue! Read our blog and find out which vegan restaurants in Dalmatia will give you the best gastronomic experience.
Art of Raw, The Garden Lounge – Zadar
Art of Raw is the only vegan and raw food restaurant in Dalmatia that found its home in the beautiful The Garden Lounge. Situated right in the city walls of Zadar overlooking the harbor, you will truly experience the majestic art of this restaurant's cuisine.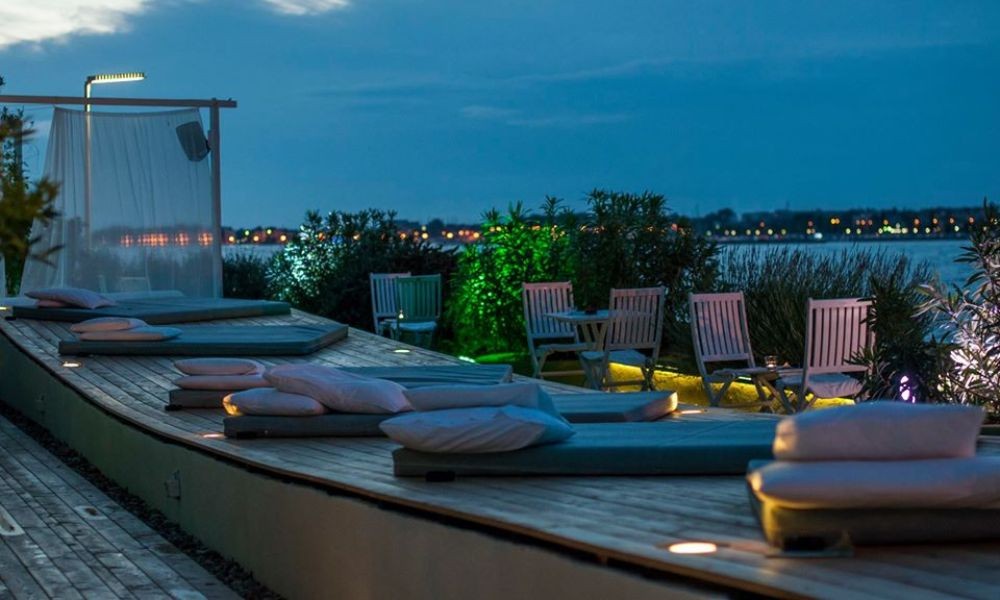 The rich gastronomic offer of Art of Raw consists of a main menu divided into breakfast, savory, sweets and drinks which will satisfy all your cravings. From spaghetti courgetti, stuffed champignons and spring rolls to carrot vanilla cake, vegan tiramisu and vegan ice-cream, Art of Raw covers all the basis so that you will feel full and healthy after enjoying a wonderful meal at this restaurant. Even if you aren't staying in Zadar, going on a one-day trip to Zadar just to go for a meal in Art of Raw is totally worth it, since it is considered to be one of the best vegan restaurants in Croatia. Just make sure that you visit Art of Raw in the summer season, since it has its doors open from the end of May to the 1st October.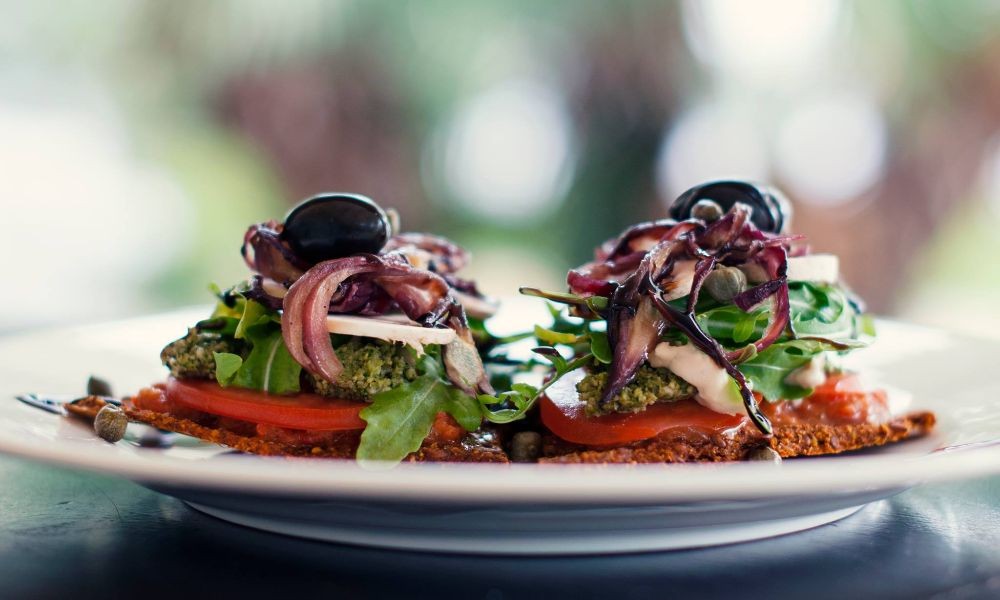 SHE Bio Bistro & Rooftop Bar– Šibenik
SHE Bio Bistro & Bar was already mentioned in one of our blogs on the best restaurants in Šibenik, which you can read by clicking here. Having received praise from some major food critiques such as Gault&Millau, Lonely Planet and TripAdvisor, SHE Bio Bistro & Bar has to be mentioned once again when talking about the best vegan restaurants in Dalmatia not only for its amazing food selection, but also its inspiring philosophy.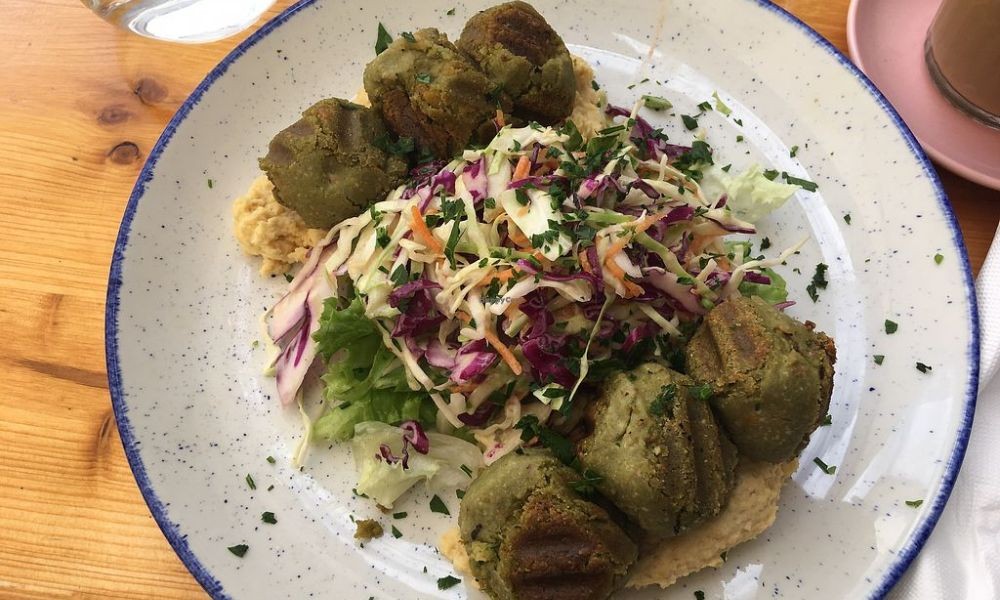 SHE Bio Bistro & Rooftop Bar promotes a conscious type of cuisine by bringing food directly from the field to the table. The restaurant prides itself on using exclusively fresh ingredients which is why the menu is constantly changing. Lovers of healthy cuisine will be delighted with the many vegan options this charming restaurant has to offer, all while enjoying a breathtaking view of the Šibenik archipelago on the rooftop terrace.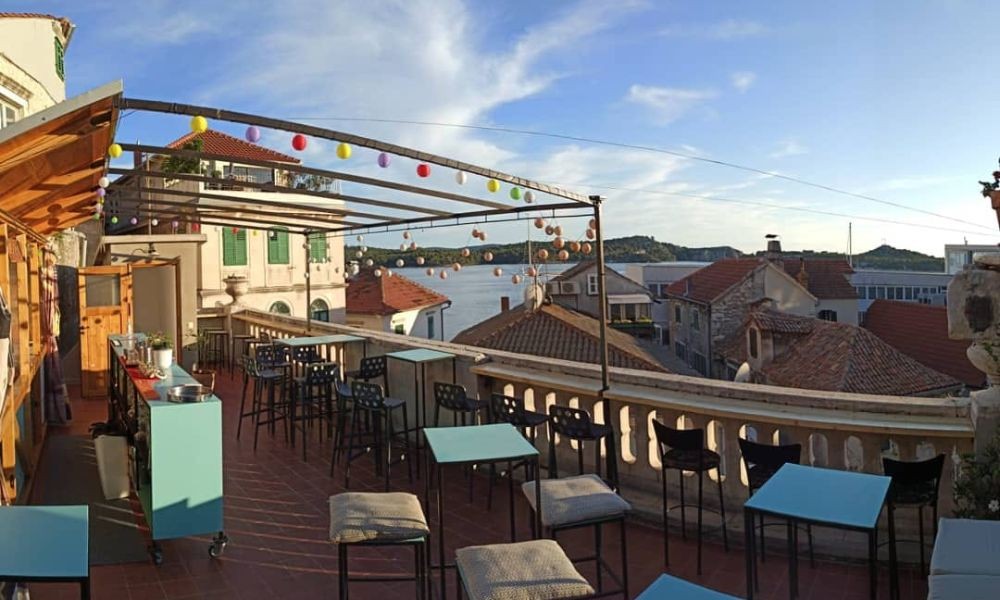 VEG – Split
VEG is a small restaurant in Split that offers plant-based meals. Being situated 2km away from the Diocletian's Palace, VEG is the ideal option to grab a bite while exploring the magnificent city of Split. Avocado burgers, falafel bowls, veggie risotto with seitan, baked burrito, Mediterranean wrap with hummus, lettuce, chickpeas, tomato and vegan tzatziki are just some of the delicious meals which can be found on the VEG menu. And the best part? Most meals are under 10 €! Who said one cannot eat healthy and vegan at an affordable price?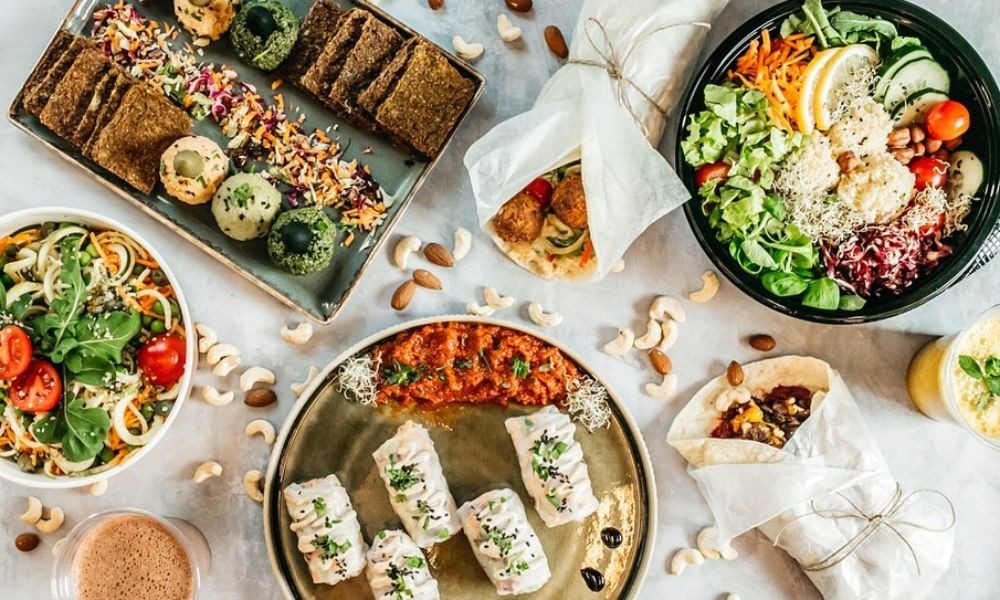 However, we personally believe that VEG's secret weapon is its vegan ice-cream with an olive oil base and no milk nor soy. There is a variety of flavours and each one is flavourful, creamy and refreshing! Based on VEG's rich menu and affordable price, we had to include it in this list of best vegan restaurants in Croatia.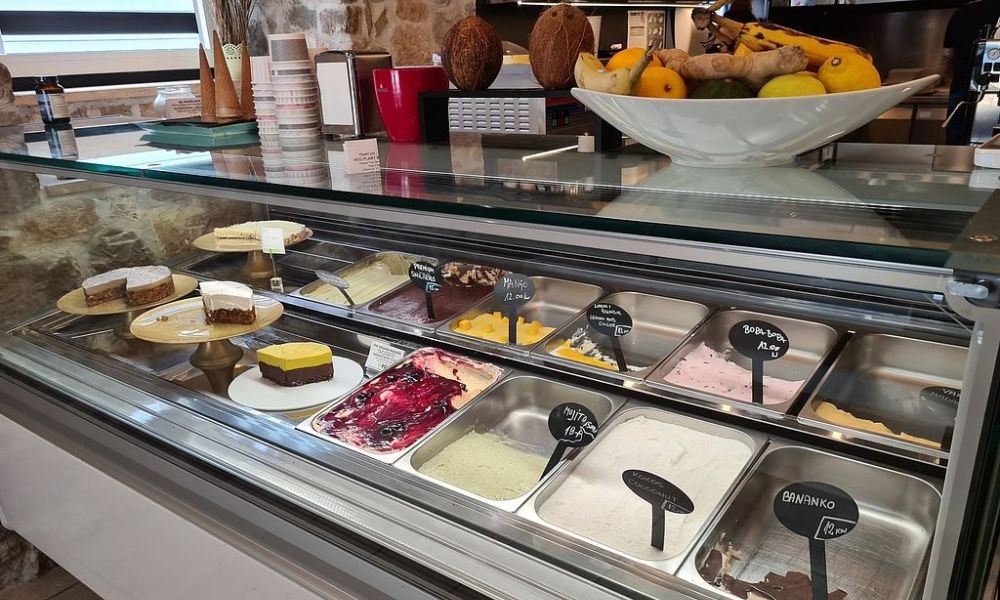 Vege Fast Food – Split
If you happen to walk along the Split Riva and you become hungry and start craving some delicious vegan fast food, visit Vege Fast Food! For an affordable price and in a short amount of time you will get to taste tofu and seitan sandwiches, vegan burritos, soya steaks, vegan burgers, pancakes, fruit salads and much more! Vege Fast Food will basically be the saving grace for any vegan drunk who enjoyed a few beers too much during their vacation in Dalmatia and now needs something to sober them up.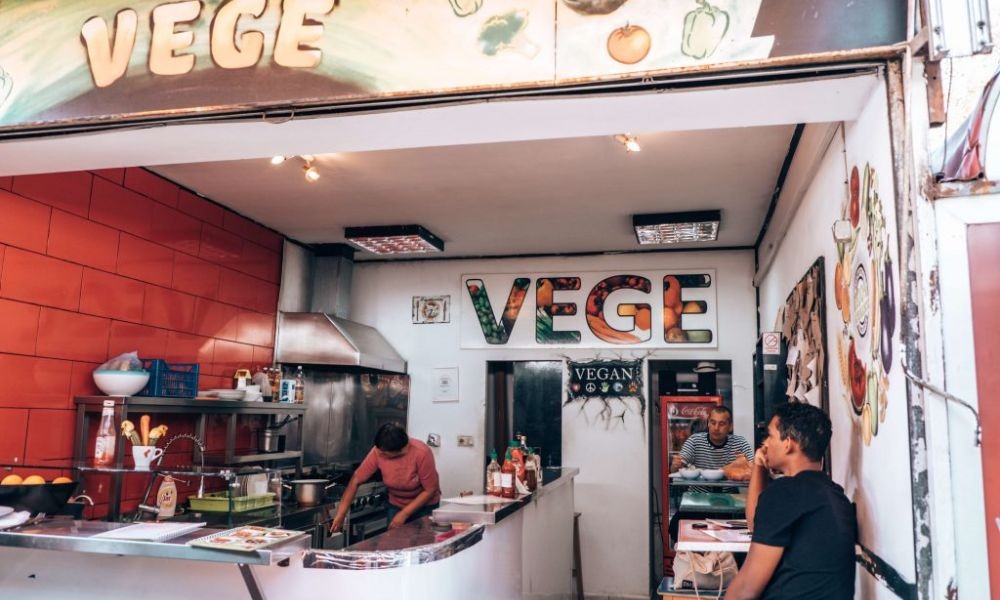 Zdrawo – Split
Don't worry, we haven't forgotten about our readers who have a sweet tooth. Zdrawo calls itself an earth friendly shop which offers delicious raw desserts without gluten, sugar or any food of animal origin. The owner of Zdrawo is the pastry chef Mia Radman who firstly perceived raw desserts as being extremely boring and offering no space for creativity. However, she decided to change that by doing extensive research and coming up with some unique recipes which are rich in nutrition, pleasant to the eye and out-of-this-world delicious. In addition to a whole array of tasty raw cakes and desserts, Zdrawo's offer also includes vegan milk shakes such as an almond or a coconut milkshake. Zdrawo is one of the best vegan restaurants in Dalmatia to satisfy your sweet cravings!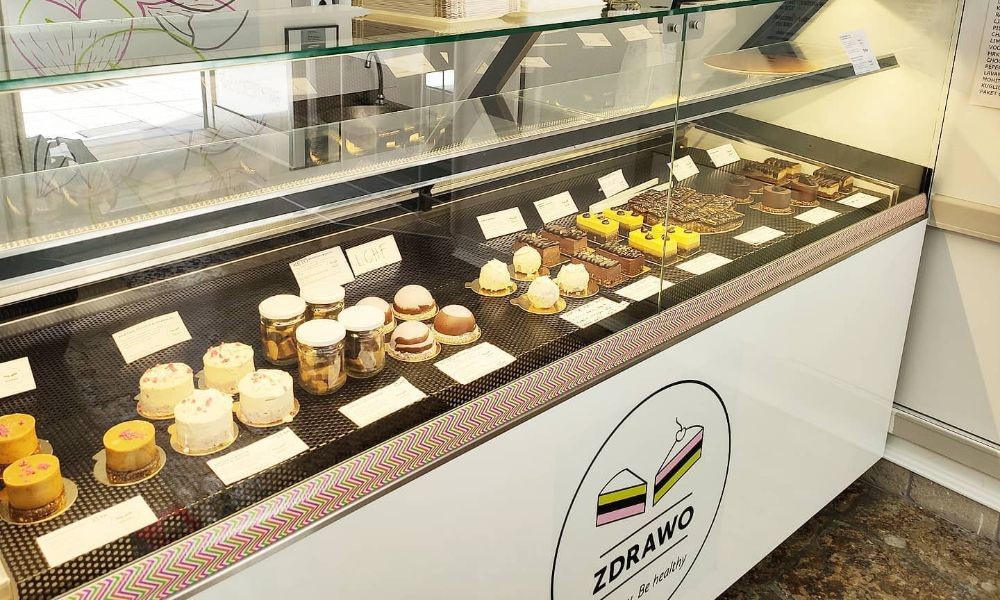 Nishta – Dubrovnik
Tucked in a traditional narrow Dalmatian street of Dubrovnik, Nishta stands out from other restaurants in Dubrovnik with its amazing fully vegan cuisine. Each of the six days, you will find a new daily menu – one day you will eat a delicious moussaka with spelt and ratatouille, the next day you will delight your taste buds with some almond gnocchi, while on the third day you will devour the curry platter with dahl, wholegrain basmati rice and three types of curry. Nishta in Dubrovnik guarantees that you leave with a huge smile on your face, which is why we had to include it in our list of best vegan restaurants in Dalmatia.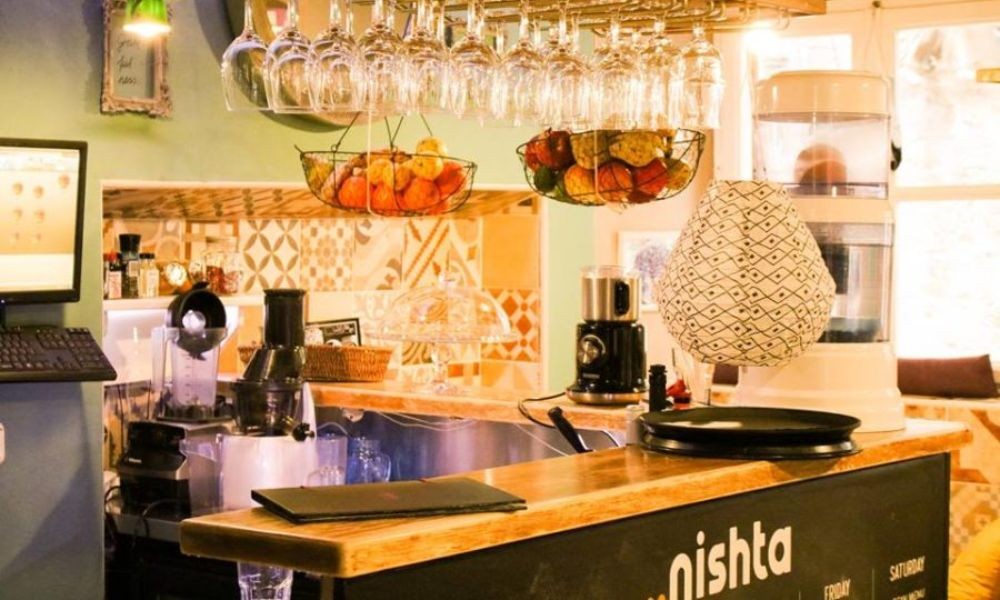 Urban & Veggie – Dubrovnik
We left the best for last – welcome to Urban & Veggie in Dubrovnik, a 300m2 large veggie kingdom with an airy interior design and a gorgeous outdoor terrace on the Gruška Riva. Urban & Veggie offers healthy and exciting dished for vegans, vegetarians and anyone who wants to pass on the meat and enjoy the produce of soil. All the ingredients used for the preparation of dishes are seasonal, GMO-free, organic and locally grown at small family-owned farms in Konavle, which is a stunning Mediterranean valley known as "the granary of Dubrovnik".
The menu of Urban & Veggie features several categories of food. It starts off with some starters such as a nice hummus bowl or some daily soup. The mains consist of some creatively named dishes such as Mac 'n' Tease, a vegan variation of Mac 'n' Cheese, or the Plant Strong Pizza with a sweet potato crust, raw salsa, sunflower seed white cream, cherry tomatoes, olive caviar, arugula, spicy cauliflower florets, pesto cream, zucchini and oregano. For dessert, visitors of Urban & Veggie can choose between baked and raw cake. Urban & Veggie will leave every visitor who crosses its threshold more than satisfied, earning its place on the list of best vegan restaurants in Dalmatia.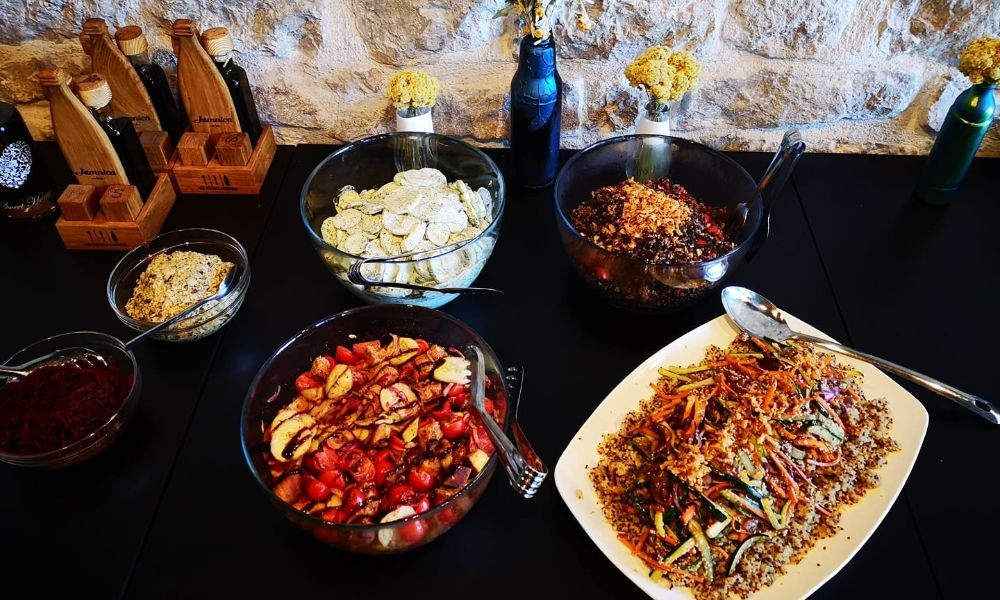 We hope this blog helped you in your quest of finding the best vegan restaurants while enjoying a relaxing holiday in Dalmatia. Now that you know where to go to for a healthy and delicious plant-based meal, you might be interested to know where to find the ideal villa for your vacation. Well, you are at the right place! Check out our assortment of beautiful luxury villas in Croatia and enjoy a dream vacation at the Adriatic Sea!
For any additional information, do not hesitate to contact us. Adriatic Luxury Villas is always at your disposal!
Thank you for reading!