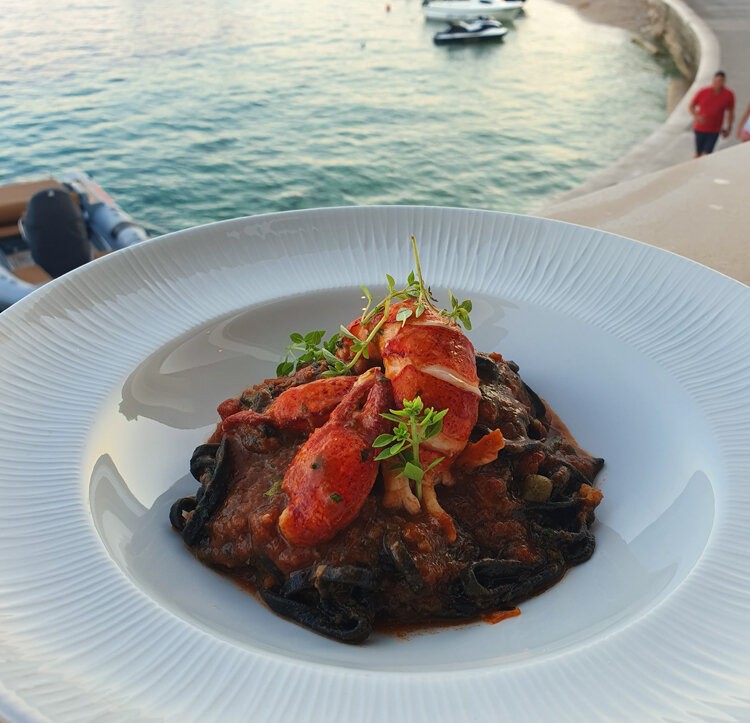 Find in one place all the best restaurants on the island of Brac and embark on an unforgettable gourmet adventure. Instead of wasting time looking for the best restaurant on Brac, follow our tips and try only the best of the gastronomic offer of the island Brac.
If you have come across this article, that means that you are already on Brac or you are seriously considering spending your holiday 2021 on the island of Brac. Apart from being an island of culture and adventure, Brac is an island of exceptional gastronomy and many autochthonous specialties. On this island, groceries from the supermarket are unacceptable, below every standard and there is simply no need for them as everyone on the island of Brac grows their own organic products.
Divine olive oils produced by practically every single local family on the island, freshly caught first-class fish and delicious home-made lamb, locally grown vegetables and some of the most renowned wines of Croatia are just a snippet of the rich gastronomic offer of this charming island. Therefore, a tour of restaurants on Brac is an essential part of every trip to this unique Mediterranean island and Brac will surely not disappoint you in this regard. Don't just walk into the first restaurant you see on the waterfront as soon as you jump off the boat. Leave that to those who did not do their research. Instead, get the inside scoop on which restaurants on Brac are, in our humble opinion, the best for the summer of 2021 and try tastes that you will remember long after your holiday.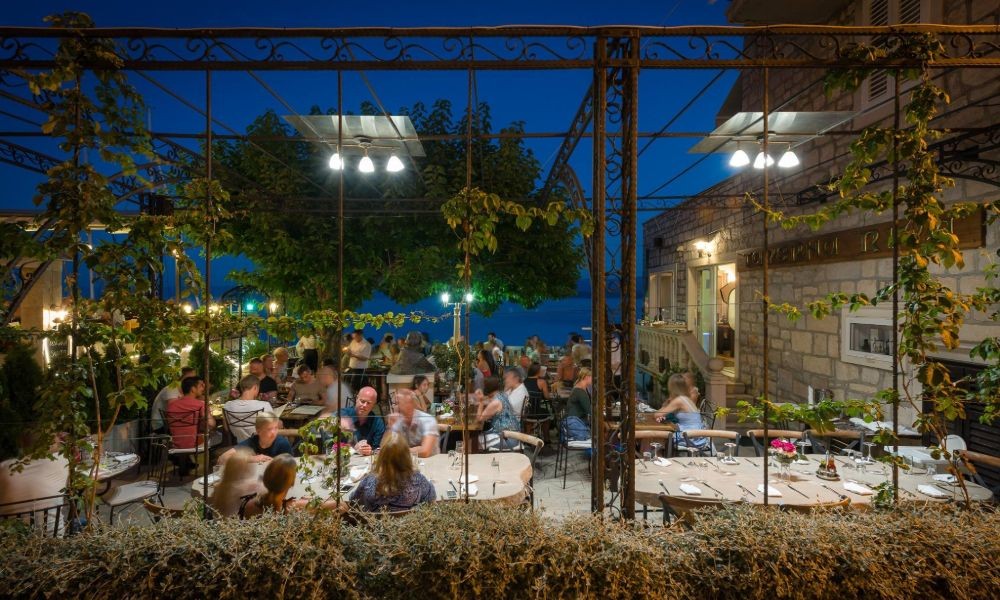 Restaurant Konoba Vinotoka in Supetar
This tavern is located in perhaps the most picturesque environment of all the restaurants found on this list of best restaurants on the island of Brac. Once you leave the summer rush characteristic for the center of Supetar and you slip into one of the traditional Dalmatian streets paved with pebbles, which are endearingly called Kongualne Kale, with large stone steps and lots of beautiful greenery, you will come across the first tables of the Konoba Vinotoka.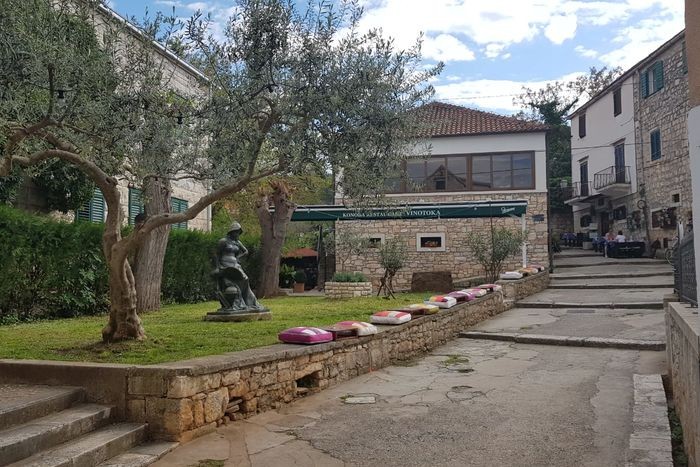 This is a predominately fish restaurants as the family that runs it owns a fishing boat. However, it is important to emphasize that their meat dishes are not something to sneeze at. In addition to the carefully prepared dishes and menus kept to the highest gourmet standard, Konoba Vinotoka also offers its own olive oil, as well as its own red and white wine. Furthermore, this restaurant on Brac always offers some new, original and enchanting desserts that will impress even the most refined palates and most critical gourmets. Simply said, the food in Konoba Vinotoka is divine, the staff extremely friendly and professional and a visit to Konoba Vinotoka a special experience that you will immediately want to repeat the next time you find yourself in Supetar.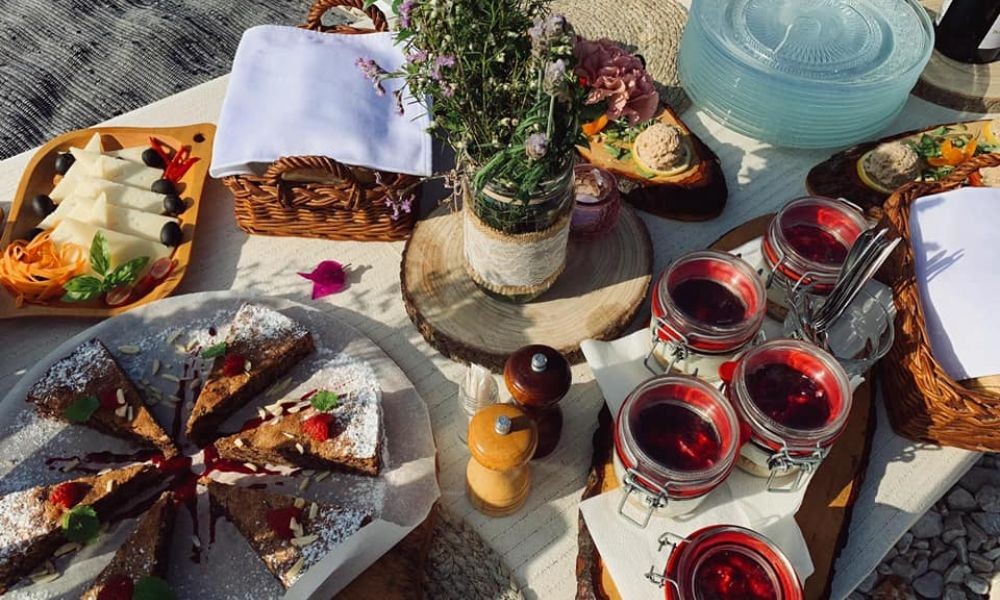 Restaurant Taverna Riva in Bol
In the very center of Croatia's most visited holiday destination, Bol on the island of Brac, the restaurant Taverna Riva has found its place, bringing an incredible combination of traditional and modern cuisine. The marble terrace on the first floor of Taverna Riva, right at the waterfront, offers an unobstructed view of the town of Bol, the Adriatic Sea and the island of Hvar and will definitely not leave you indifferent.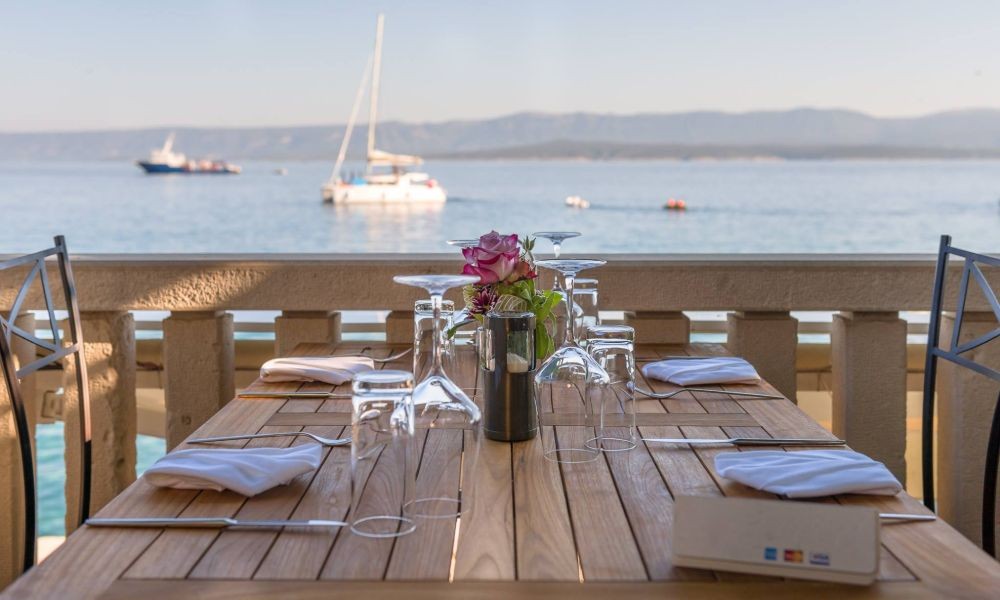 From a varied offer of carpaccio and tartar for lovers of raw fish, over delicious and creamy risottos and pasta with high-quality ingredients, imaginative and rich offer of grilled fish and meat specialties, all the way to vegetarian and gluten-free menus, Taverna Rica will not disappoint you with the quality and presentation of what you get on your plate while the well-balanced flavors of each dish bring the taste of the dish to the next level. Taverna Riva is not by chance on our list of best restaurants in Brac and is extremely popular in the summer months in Bol. People are constantly looking for an extra table. Therefore, do not forget to book your table on time!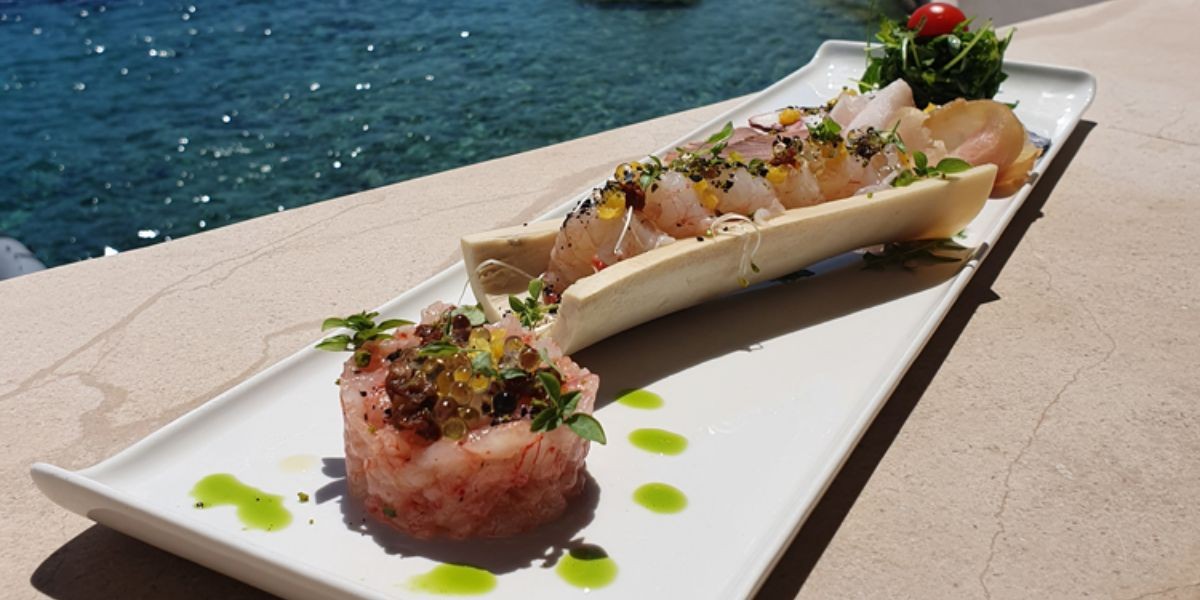 Winery Senjkovic in Dracevica
Winery Senjkovic is a slightly different place than the other ones mentioned on this list of best restaurant on the island of Brac. Namely, it is a family winery that offers seven tasting courses exclusively with prior notice and reservation, because the Senjkovic family wants to provide their guests with an individual, highly personalized approach and be maximally committed hosts. The winery is not the easiest to get to, but if you make the effort, we assure you that the search will pay off. The best stuff is always found off the beaten track, am I right?
Senjkovic is a renowned name of the Croatian wine scene and each food sequence is expertly and carefully paired with the most appropriate wine from their top offer. Furthermore, the whole experience is accompanied by a very interesting education about every bite and drop served in front of you. The hostess Magdalena takes care of the design and preparation of imaginative gastronomic specialties, which make her cuisine extremely unique, while her husband Sasa is in charge of the wines. Storytelling is another specialty of the house, which is why there is a complete story waiting for you at the Senjkovic Winery which will delight all your senses and make you come back every time you visit the island.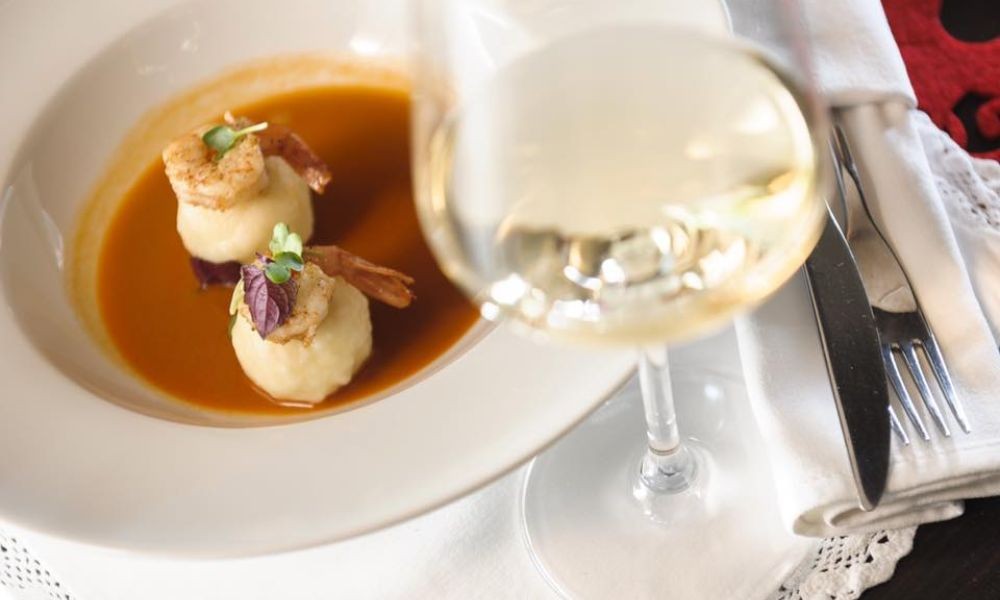 Restaurant Mali Raj in Bol
Another restaurant in the town of Bol found its place on our list of best restaurants on the island of Brac. However, it is located in a completely different part of this popular summer destination, in a pine forest just a hundred meters away from the popular beach and symbol of Dalmatia – Golden Horn Beach (cro: Plaža Zlatni rt). The Restaurant Mali Raj is built completely of the Brac marble and is surrounded by ancient olive trees and vines and will bring you unforgettable moments of relaxation with top gastronomic specialties in lush greenery.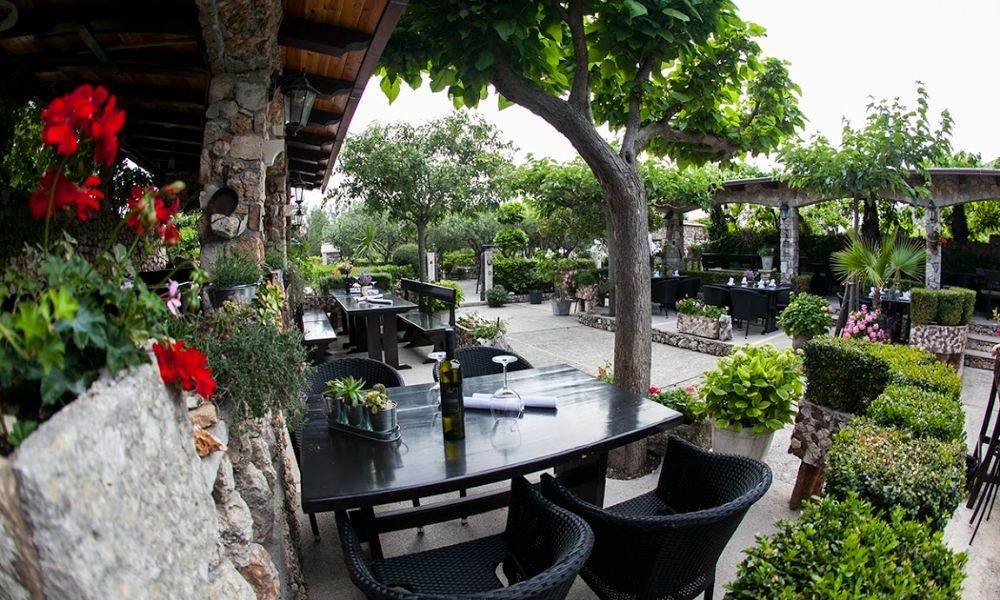 Restaurant Mali Raj offers traditional Dalmatian dishes which are enhanced and adapted to the tastes of the international clientele. Due to its excellent cuisine, top-notch wine selection, beautiful surrounding as close proximity to the Golden Horn Beach, restaurant Mali Raj has established itself as one of the most popular and attractive restaurants in Bol. Therefore, do not forget to announce your arrival and book a table on time!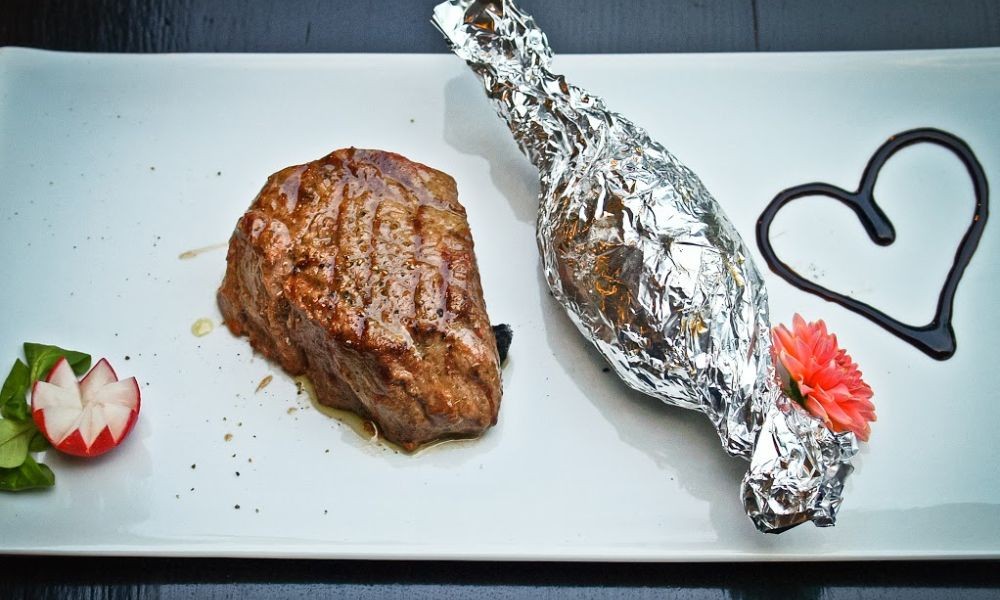 Restaurant Konoba Kopacina in Donji Humac
Restaurant Konoba Kopacina had to be included in the list of best restaurants on the island of Brac as it is a favorit among locals as it is one of the few ones opened all year round. Konoba Kopacina is located in the inland of the island of Brac, and its terrace offers a mesmerizing view of the surrounding green hills.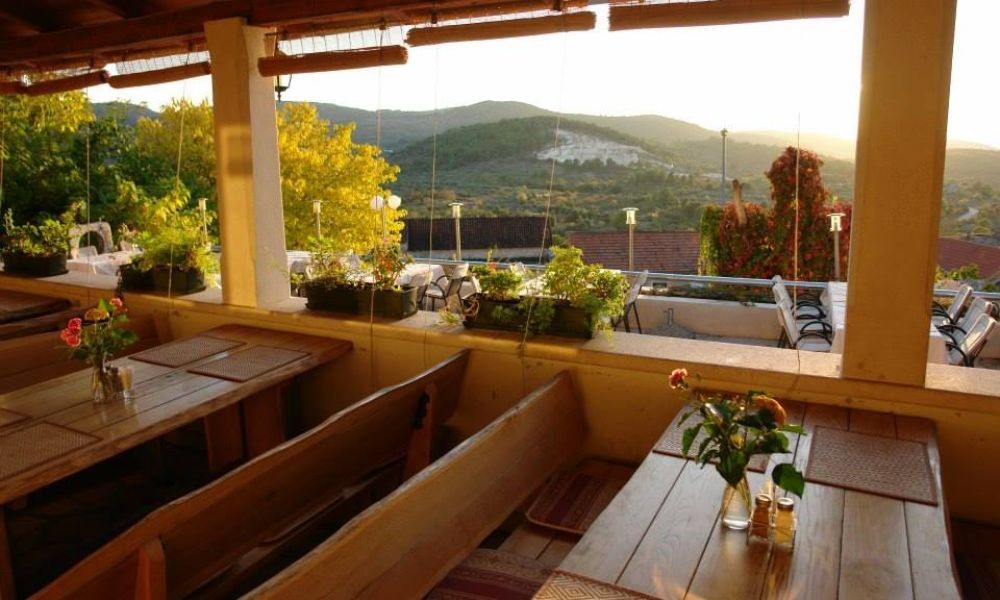 The crème-de-la-crème on their menu is without a doubt the Brac lamb, which is prepared in various ways. In addition to grilled lamb and spit roasted lamb, in this restaurant you can also try it in the form of Bracki Vitalac which is one of the most famous specialties that the Brac cuisine is extremely proud of, and which is on the list of protected intangible cultural assets of the Republic of Croatia. Each dish is served with a home-made loaf of bread baked in a bread oven. We recommend ending your culinary endeavor at Konoba Kopacina with Hrapaćuša, a traditional Brac cake made of walnuts, honey and lemon.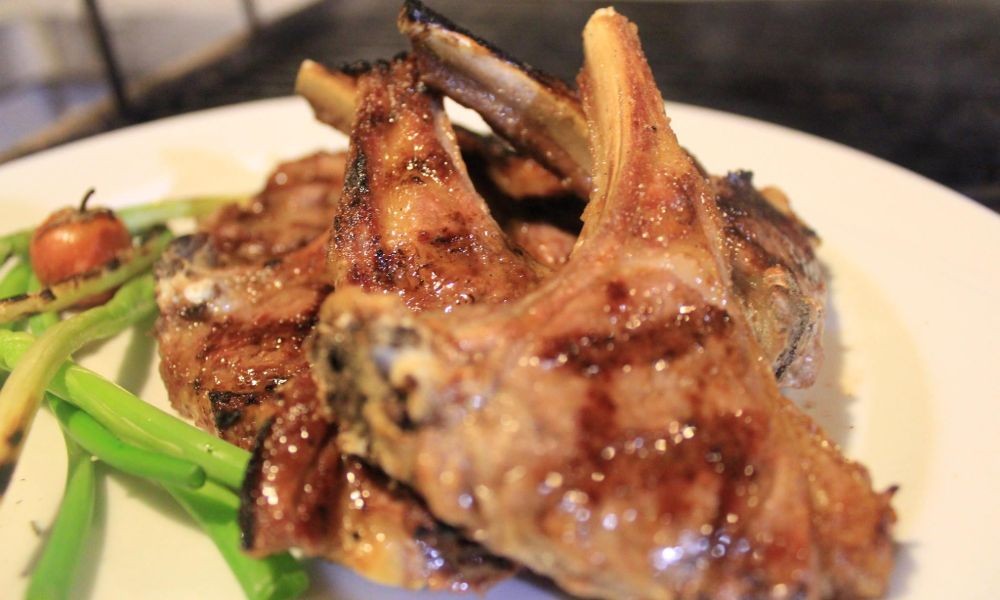 We have tried to include all types of restaurants in this list, ranging in cuisine type (fish or meat dishes) and price range (high-end restaurants and more affordable options). In spite of the variety of restaurants, they all share one common feature – they are the type of restaurant that every guests will want to return to as they perfectly complement a holiday on the island of Brac. Fortunately, Brac is full of such restaurants, which year after year attract regulars who are just waiting to once again experience the deliciousness of the island of Brac.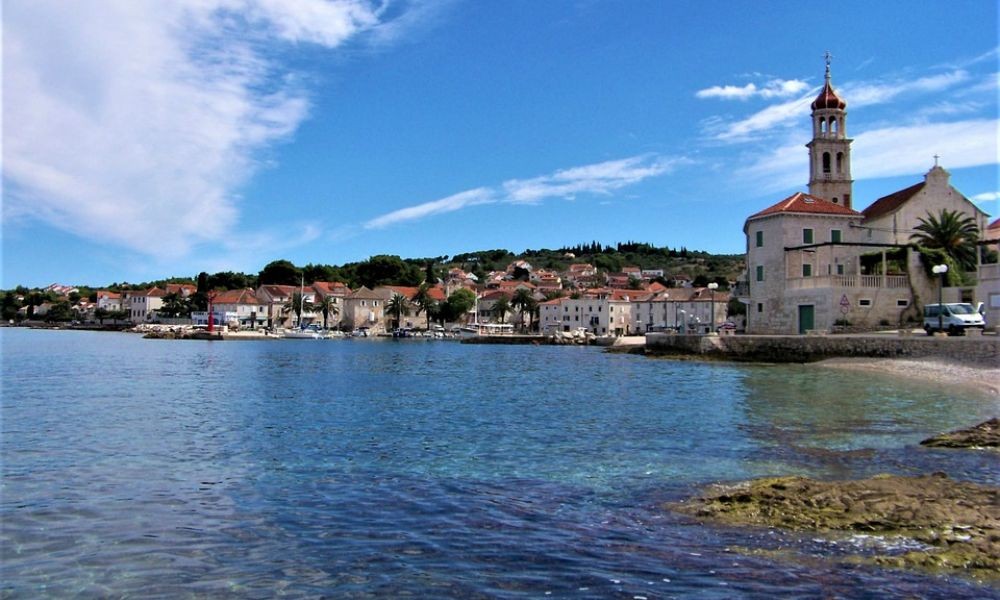 We hope that we have helped you get acquainted with the Brac gastro-scene. Now the next choice you have to make is finding the most beautiful holiday home with a private swimming pool on the island of Brac and we can help you with that as well! Check out our offer of beautiful luxury villas on the island of Brac and spend a holiday full of luxury and superb tastes. If you have any questions, feel free to contact us via our contact form.
Thank you for reading and bon appetite!