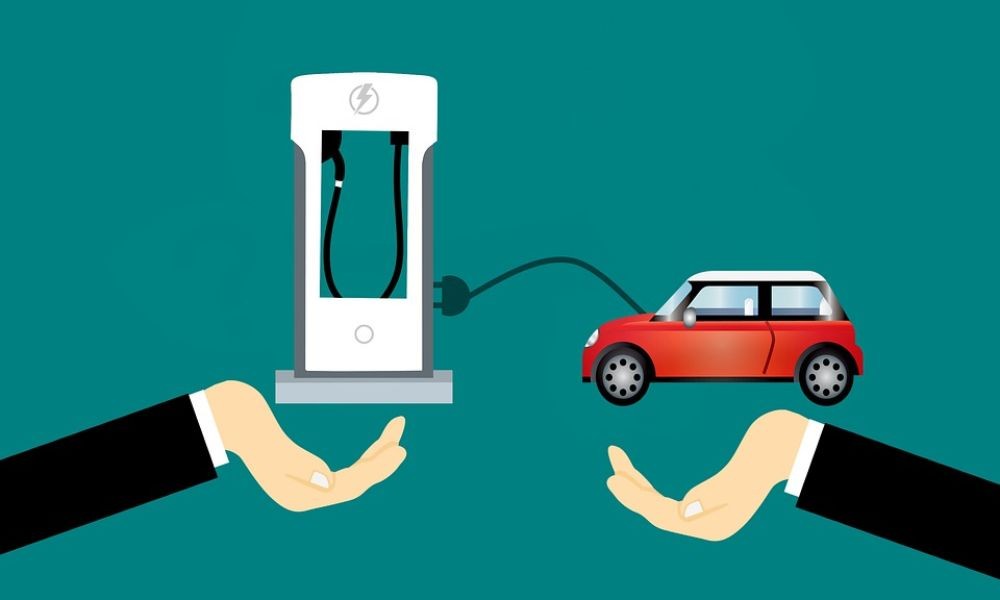 Holiday with an electric car in Croatia is becoming more and more popular and more and more tourists value a green holiday, but unfortunately it can sometimes be difficult to find a charging station abroad so that you are not left stranded by the road. Read this blog and find out where you can charge your electric car in Dalmatia.
Are you travelling on vacation to Croatia by an electric vehicle or would you like to rent an electric vehicle during your stay in Croatia? If that is the case, the first question that arises is where you can charge your electric car in Croatia, how many charging stations there are and how all of this works. Getting stuck somewhere with an electric car, especially abroad, is not just inconvenient, it can also be dangerous. In order to prevent this from happening to you during your vacation in Croatia, we would like to show you in this blog where you can find charging stations in Dalmatia and how you can find them on your own.
Europe is becoming more and more electric in terms of vehicles and so is Croatia, although it has to be said that the expansion of the charging stations is still in progress and that there are not as many charging stations in Croatia as in other European countries, so you should get well informed beforehand where exactly there are charging stations in Dalmatia and in Croatia, so that nothing stands in the way of your relaxing holiday in Dalmatia and that your electric vehicle has enough battery to undertake all the exciting day trips.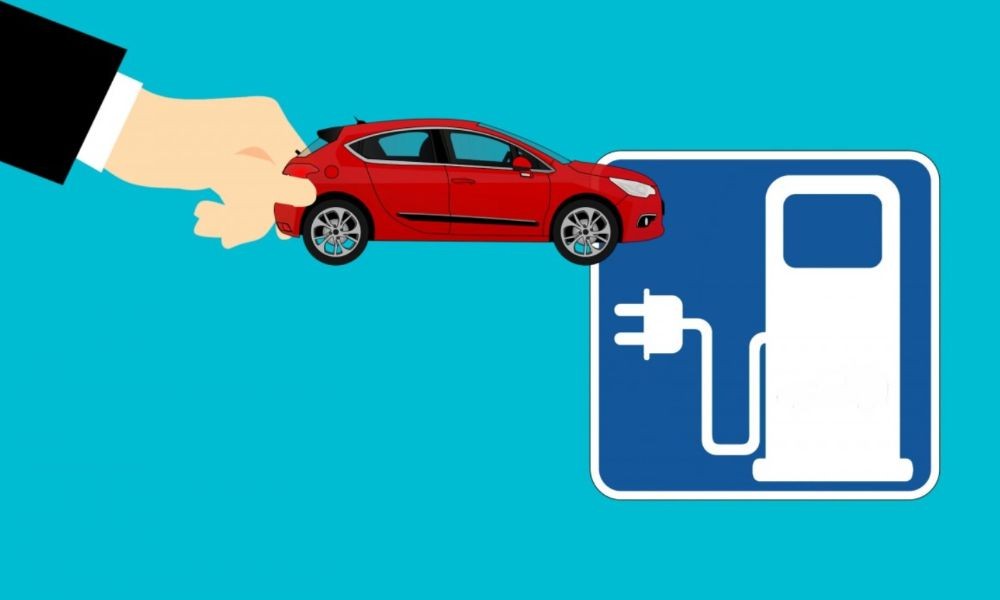 So far, there are around 1,300 charging stations at 448 locations in Croatia. Most of them are located in the city centre in public parking lots, at petrol stations, in the parking lots of supermarkets or shopping centres, near public buildings and of course along the A1 highway. In Croatia, the charging stations are owned by the Croatian Telecom and the Croatian national energy company HEP and, as in most European countries, the electric power has to paid for or will have to be paid for in the near future. The parking spaces at the charging stations, however, are free.
Charging Stations for Electric Cars in Zadar Region
If you spend your vacation in Zadar or the Zadar region, you will find them at many locations. In Zadar itself, there are charging stations in the old town, at the Jazine port and on the Obala kneza Branimira promenade. You will also find them on the island of Ugljan in the town of Preko, on the island of Pag, the island of Pasman and in the towns of Petrcane, Biograd na Moru, Vodice, Starigrad near the Paklenica National Park and Sukosan. Southbound, you can also charge your electric vehicle in Sibenik, Brodarica or on the island of Murter.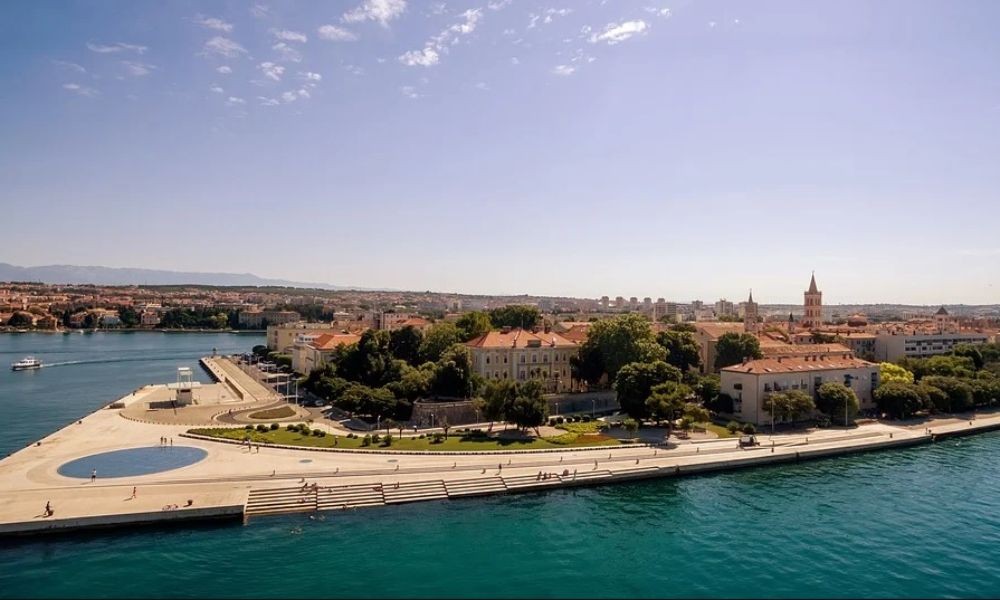 Charging Stations for Electric Cars in Split Region
Split is the second largest city in Croatia and is pretty well equipped with charging stations for electric vehicles. They are distributed all over the city, from the centre, over some districts to the outskirts of Split. There is also a public charging station at the Split Airport. In addition, there are several ones in the surrounding towns of Trogir, Kastel, Solin and Makarska, as well as on the island of Brac, the island of Vis, the island of Korcula and the island of Hvar. Heading south, you will find charging stations in Ploce, on the island of Mljet and in some villages on the Peljesac peninsula.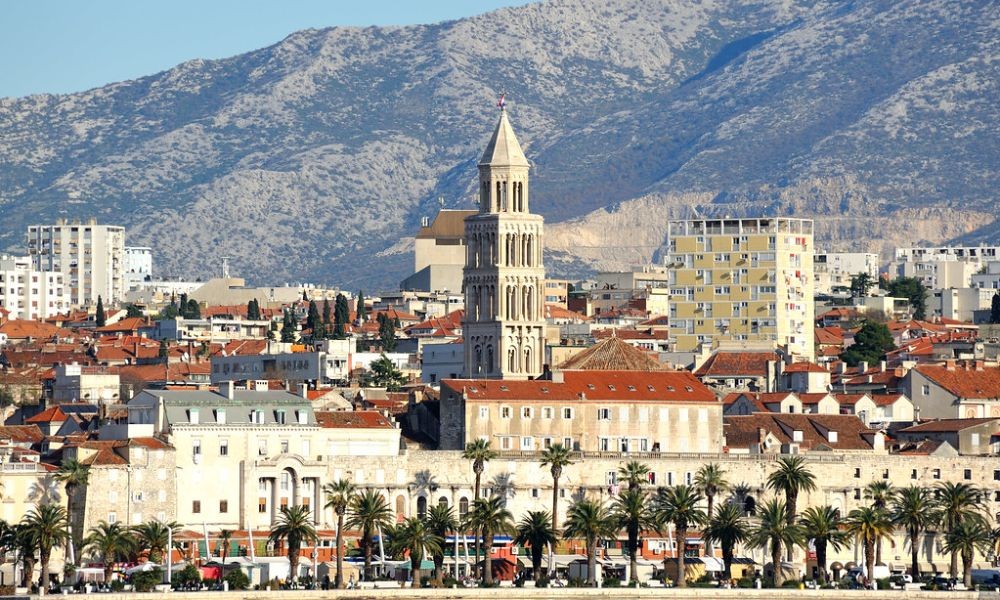 Charging Stations for Electric Cars in Dubrovnik Region
Dubrovnik in the very south of the Croatian Adriatic Sea is also equipped with a few charging stations for electric vehicles. They are located all over the city, in the old town and in the outskirts of Dubrovnik. You can also find them at the Dubrovnik Airport. Some of the charging stations are located in public parking lots or belong to a hotel. There are also more charging stations in the villages of Poljice and Komolac north of Dubrovnik.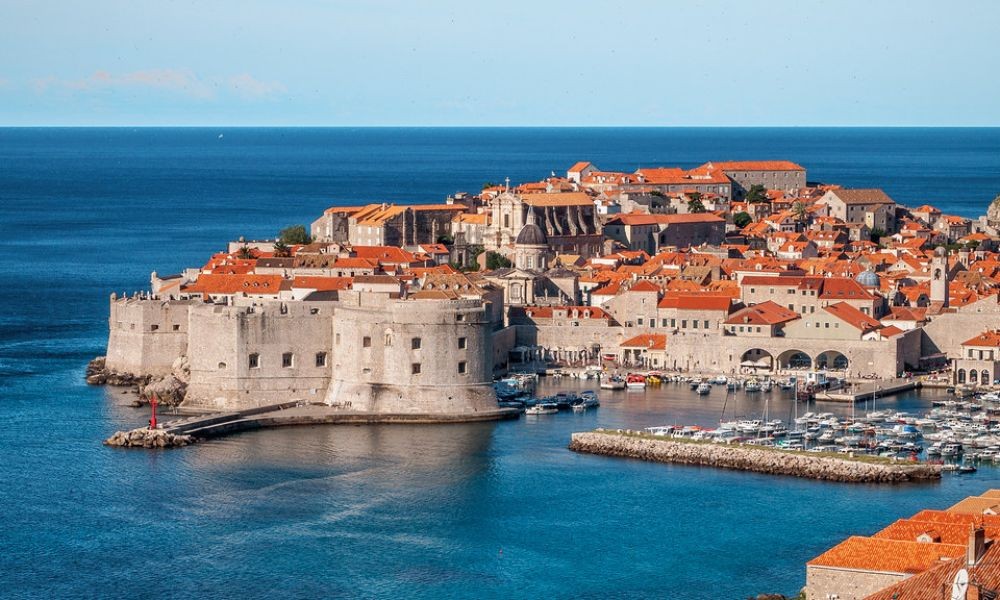 How to Find Further Charging Stations for Electric Cars in Dalmatia?
Of course, we won't list every single charging station for you in this blog, but we would like to show you how you can find a charging station yourself, as well as whether they are operating and in function. While scouring the Internet for charging stations, you will come across a few websites and maps that will give you information about the exact location. It should be noted that you should use several maps, as not every operator is listed on every map and the maps are constantly updated as there are always new charging stations in Croatia.
Click here and find out where the Croatian Telecom charging stations are located throughout Croatia and get a quick overview of the type of charging station its availability.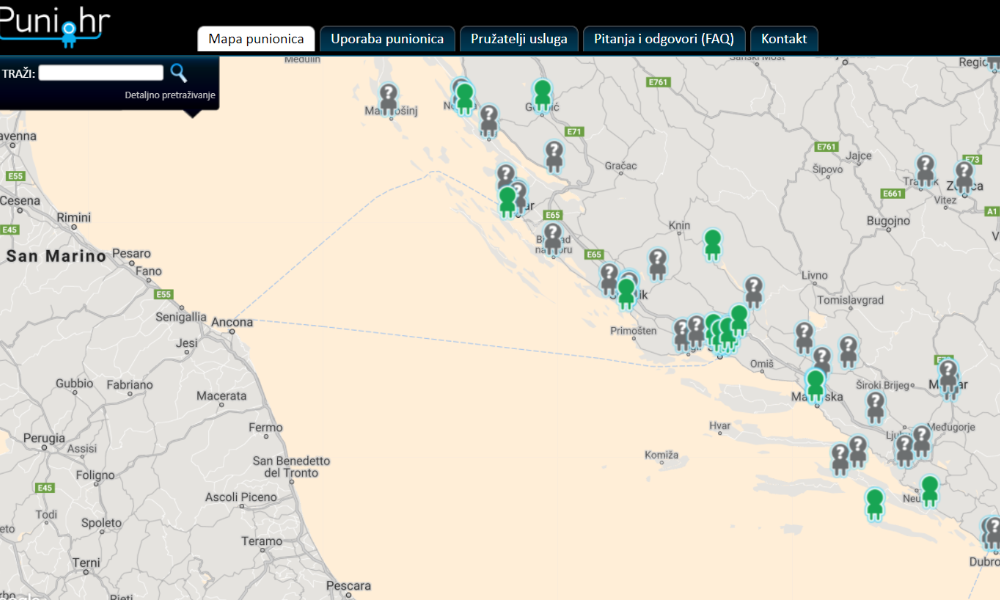 Find out here where the charging stations of the Croatian energy company HEP are located. You will be shown the exact address, the number of charging stations at one location and of course the availability and wattage.
This link will lead you to a global map of all charging stations throughout Europe and other continents. This website shows you the operator, the availability and even the price with one click. There is also a filter that allows you to specify the type of plug at the station, in order to quickly and specifically find a suitable charging station for your vehicle.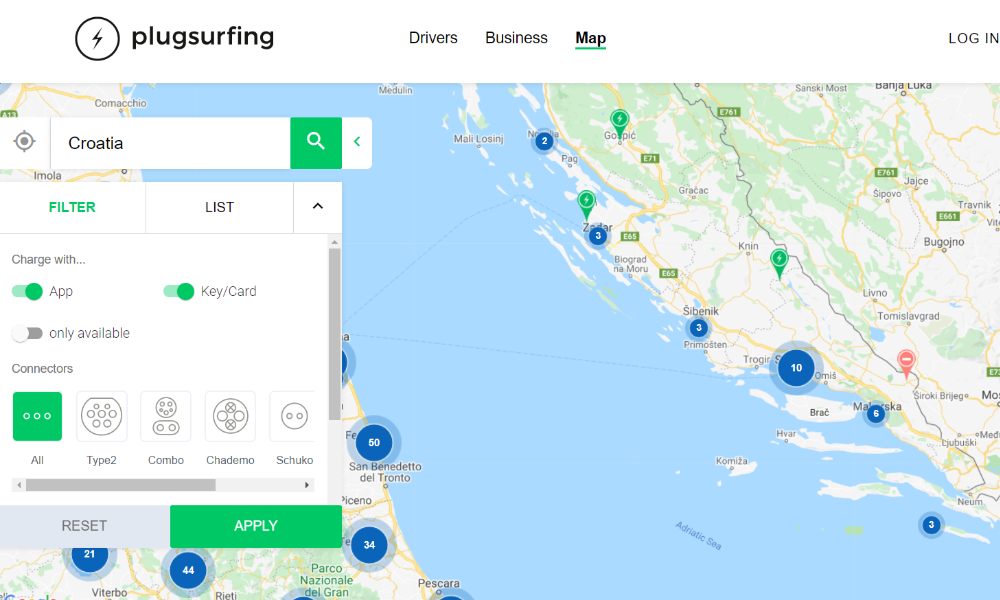 Luxurious Holiday Home with a Private Pool & Charging Station – Villa Atria Near Pula
It is a great advantage if your accommodation in Croatia has its own charging station, because in this case you are always on the safe side and have one less thing to worry about during your stay in Croatia. More and more luxurious holiday homes with a private pool along the Adriatic Sea are being equipped with charging stations, including the wonderful Villa Atria in Istria. This villa with a heated pool can accommodate up to 10 guests in its 4 cosy bedrooms. While you are charging your electric vehicle in the private parking lot, you can enjoy the unique ambience of Villa Atria and let your soul stray away by the large private pool.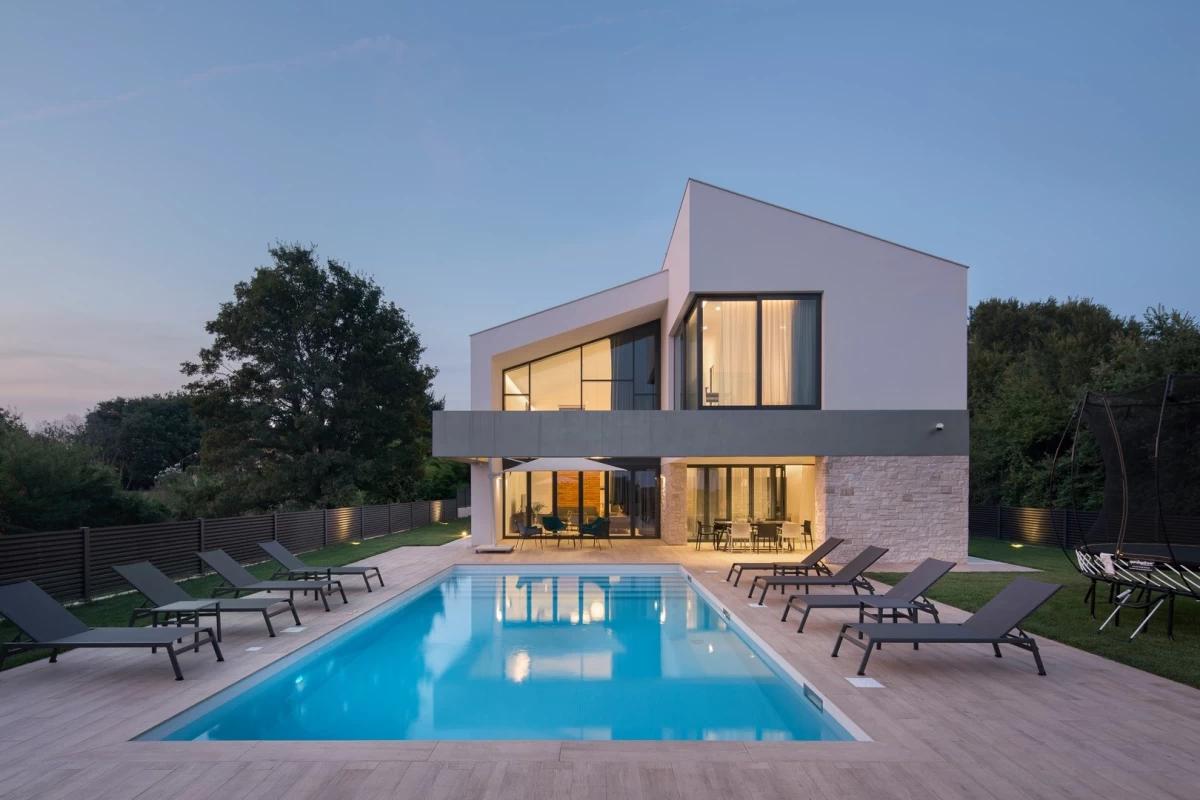 We have now reached the end of our blog and hope that it will help you make your vacation in Dalmatia green and carefree. You have now secured everything needed by your electric car and if the only thing missing from your luxurious vacation in Croatia is the perfect accommodation, take a look at our unique range of luxurious holiday homes with a pool in Croatia and find all kinds of villas that will give your vacation that certain something.
You have further questions? Do not hesitate to contact us, we are at your disposal at any time.
Thanks for reading and have a safe trip! 😊