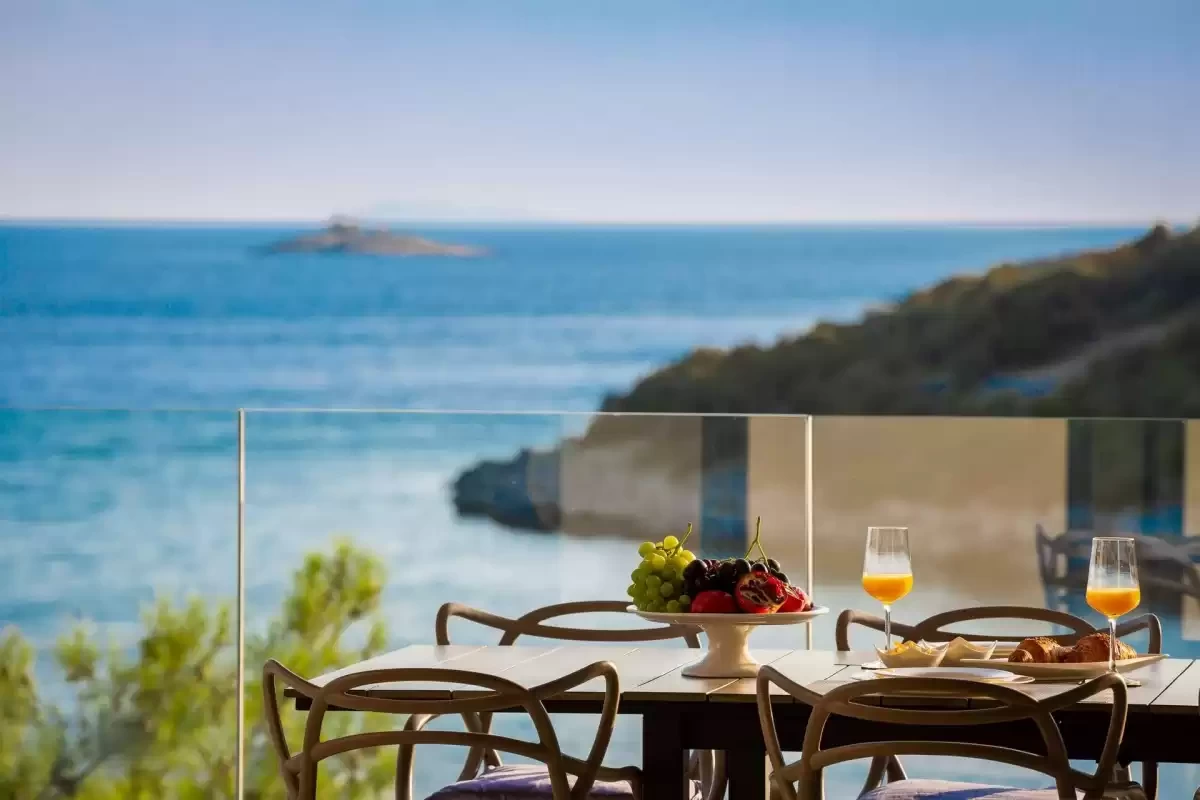 If you have chosen Croatia for your next vacation, you already know what to expect - crystal clear Adriatic Sea, secluded beaches, numerous natural wonders, delicious local specialties, lovely coastal towns full of cultural heritage, enchanting sunsets and many viewpoints from which you can observe the real beauty of this amazing country.
Well, what else can we say except 'Welcome to Croatia' - a country that will charm you at first with its natural beauty!
But, what if we tell you that you can admire the amazing scenery from the comfort of your accommodation? Waking up in the fresh mediterranean air, enjoying a cup of your favorite hot beverage on the terrace of the luxury villa and observing the scenery of untouched nature and blue shimmering sea. Sounds too good to be true? Well, think again, because Adriatic Luxury Villas offers you some of the most amazing hidden gems in Croatia.
Explore our offer of top-quality luxury villas with private pools and various facilities that will sweep you off your feet with the stunning view.
Villa Panoramica near Labin
The first villa that will impress you with its mesmerizing view of the blue sea and scattered islands as well as the spectacular sunset is Villa Panoramica that is situated in a small istrian village. The name says it all - this villa offers you an enchanting panoramic view that can be observed from every corner of this spacious villa. It is the first thing you see when waking up in the morning or relaxing in a heated infinity pool after a long day of exploring the Istrian peninsula. Except for a private pool and a truly captivating view, this villa offers you a sauna, a jacuzzi, a gym as well as a modern version of a traditional tavern in which you can spend some quality time with your loved ones.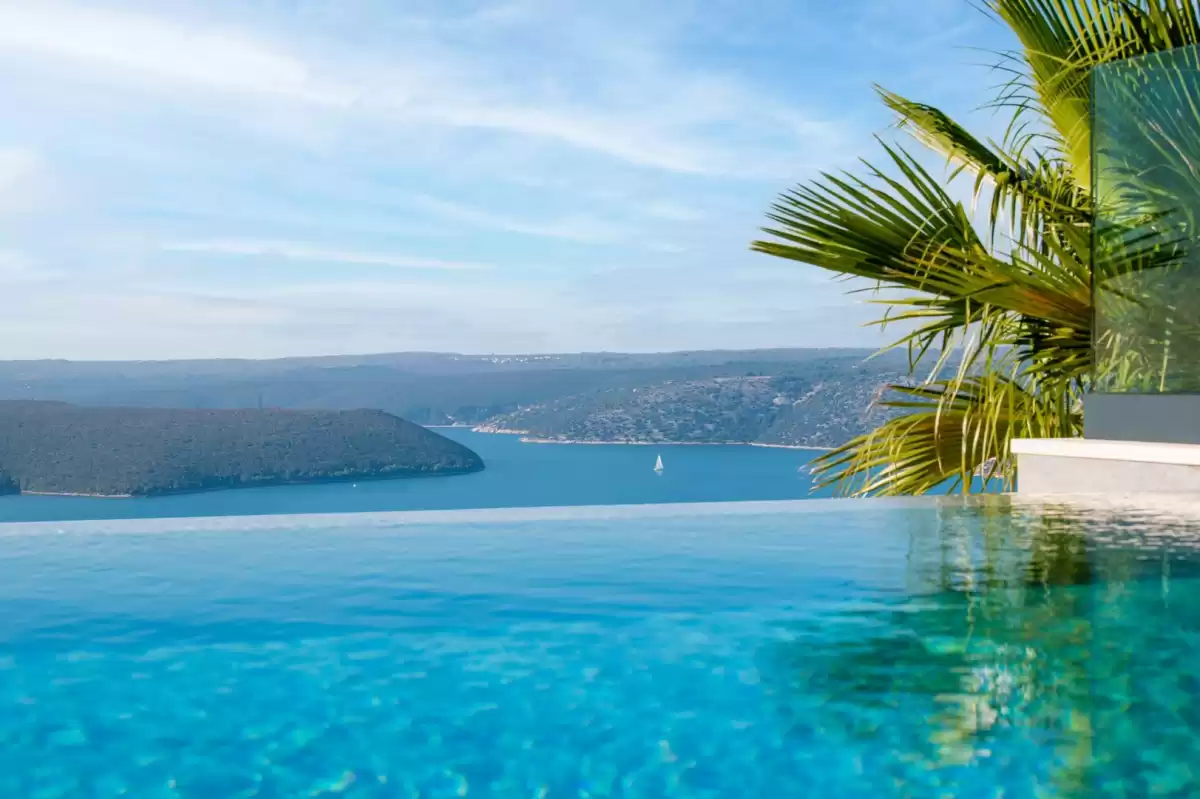 Villa Saint Anthony near Split
Take a look at the traditional stone Villa Saint Anthony situated on a hill with a mesmerizing panoramic view of the island of Brač and deep blue sea. This stone beauty will definitely impress you with its lovely wooden shutters and true dalmatian charm. Relax completely under the starry sky in a 44m2 swimming pool or jacuzzi with an unforgettable view. Private sauna as well as a traditional Dalmatian tavern are also at your disposal, so you can completely enjoy your uninterrupted stay. The only thing that may disrupt your stay is the chirping of birds since you are surrounded by mediterranean trees, but we are sure you won't complain about that!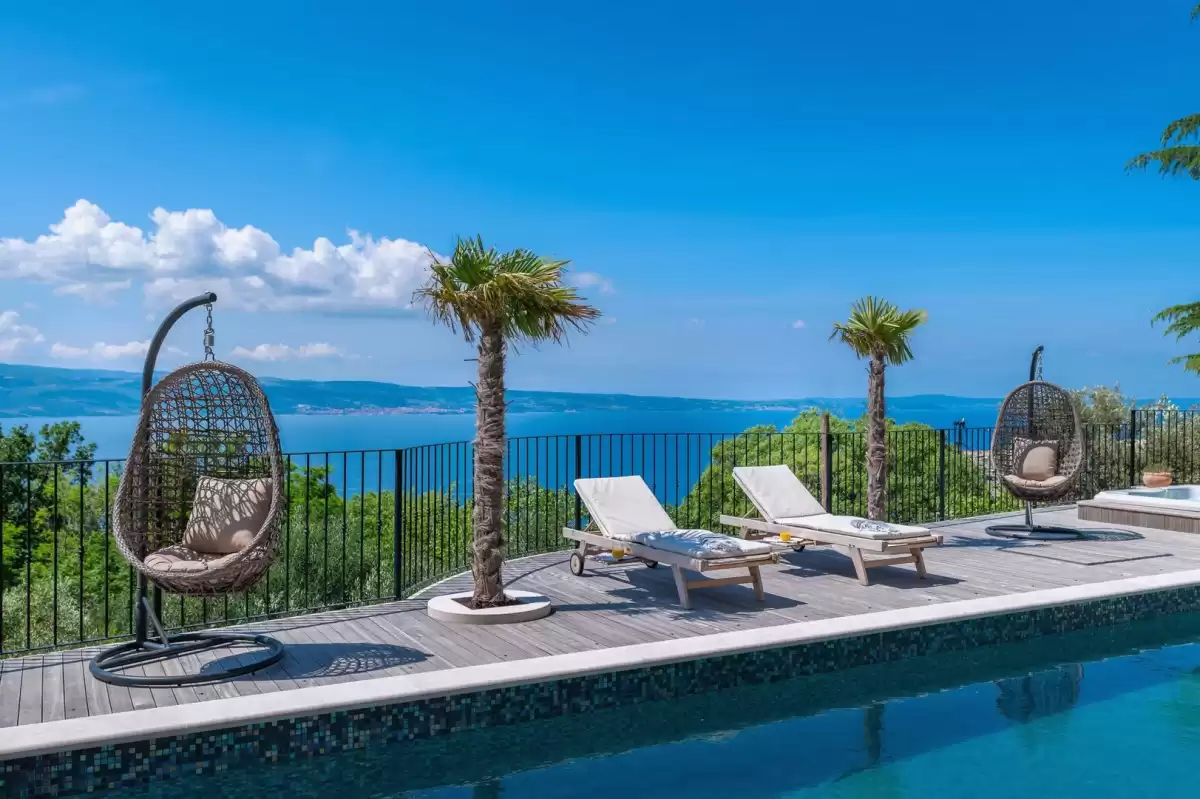 Villa Diamond on the island of Korčula
This architectural work of art is located on a secluded area on the island of Korčula which provides you the must-needed dose of privacy. Except for its impressive design and stylish interior, this villa will captivate you with its wonderful view overlooking the Pelješac peninsula. Observe the mighty Sv. Ilija mountain, a true rocky giant, and the shimmering Adriatic Sea while relaxing in a turquoise infinity pool or spacious terrace of the luxurious Villa Diamond. As the name suggests, this villa is a true hidden gem surrounded by Mediterranean greenery which offers you privacy and the highest level of luxury as well as an unforgettable view.
Villa Lipa Dora on the island of Brač
Another island that will amaze you with its stunning natural attractions and pristine beaches is the island of Brač which also boasts the highest peak of all Adriatic islands, Vidova gora, so you can imagine the view, right? Well, the delightful stone Villa Lipa Dora will surely charm you with its traditional design as well as the incredible sea view. Observe the other Dalmatian islands from the pool and enjoy the marvelous sunset from the privacy of this lovely mediterranean oasis.
Villa Esperia near Šibenik
Is there a better way to spend your vacation than by admiring the horizon and the shimmering blue of the Adriatic Sea every day? Well, the astonishing Villa Esperia has found its place in Rogoznica, just a few meters from the sea. The breathtaking view of the soothing sea and marvelous sunsets will be at your disposal at any time if you book this villa for your next holiday. The impressive design of the villa as well as numerous facilities such as an infinity pool, a sauna and a private gym will raise the comfort of your vacation to a new level of luxury. Do not worry if you cannot find an available period for this villa, because its equally stunning sister villas, Villa Marvella and Villa Valiosa, are also available for booking!
Villa Florio near Šibenik
OK, let's stop a bit more in the Šibenik region! Head a bit higher and experience elegance and full privacy in the wonderful Villa Florio that will impress you with its traditional look which also consists of modern elements. But, that's not all because this villa also provides a truly appealing view that will not leave you indifferent. Not only will you observe the blue sea and nearby islands, but you will also be able to admire the calming greenery of untouched nature and enjoy the relaxing chirping of birds from the comfort of this villa. Villa Florio is an ideal choice if you seek privacy and serenity, and it also enables you to completely recharge yourself!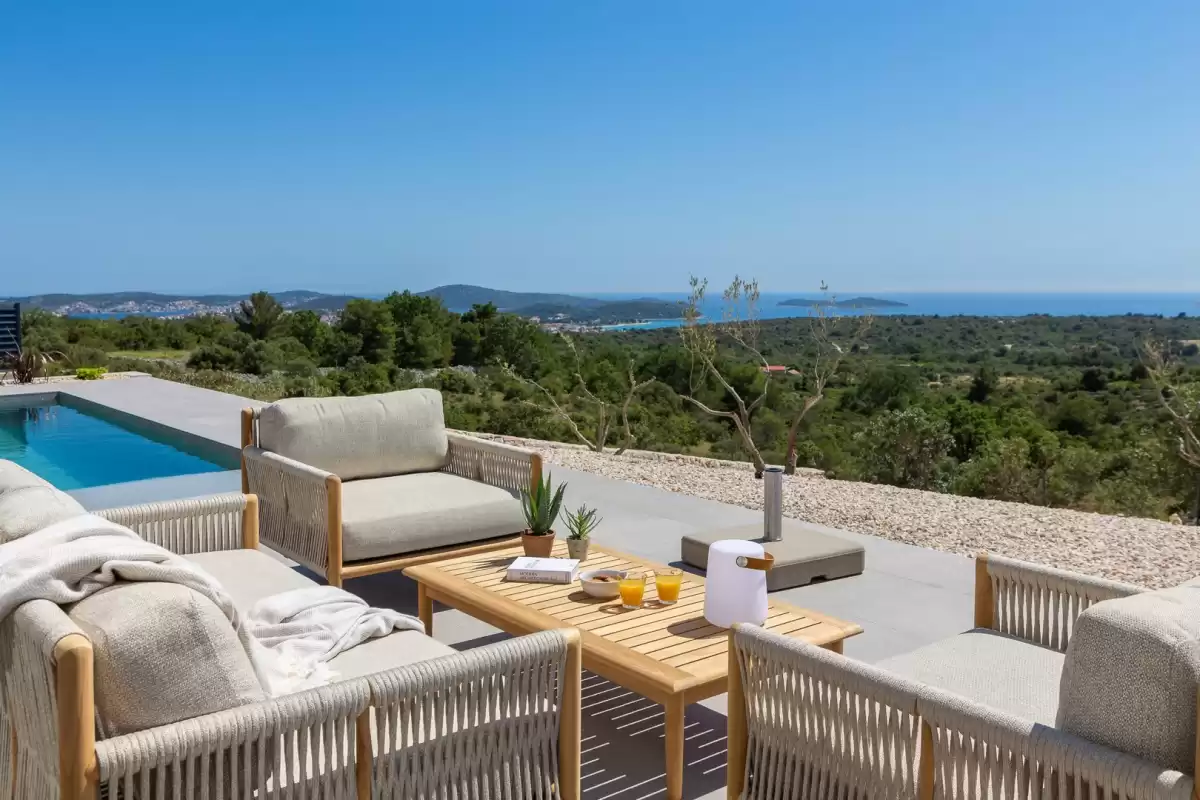 Villa Casa Mills near Opatija
Don't worry, the villas in the northern part of the Adriatic have a stunning view, too! Located below the Učka mountain, Villa Casa Mills offers you an incredible view of the Kvarner Bay as well as the biggest Croatian islands. Experience dining in a luxurious dining room surrounded by glass walls and overlooking the sea, islands and dense pine forest. Due to its excellent location, this villa is also the perfect starting point for exploring magical Istria and delightful Kvarner. Rich greenery, fresh mediterranean air, private pool, sauna and even a gym await you in this lovely villa with a spectacular view.
Villa Žižanj near Zadar
Last but not least, this is undoubtedly the best option if you want to escape reality and get in touch with nature. This dalmatian oasis of peace and quiet is located on an uninhabited island near Zadar and offers you a stunning view as well as crystal-clear sea just a few meters from you. Villa Žižanj will sweep you off your feet with a private pool next to the sea, traditional grill and the breathtaking sunsets that you can observe on a daily basis. This villa certainly provides the best view of the Zadar archipelago, so you shouldn't miss it!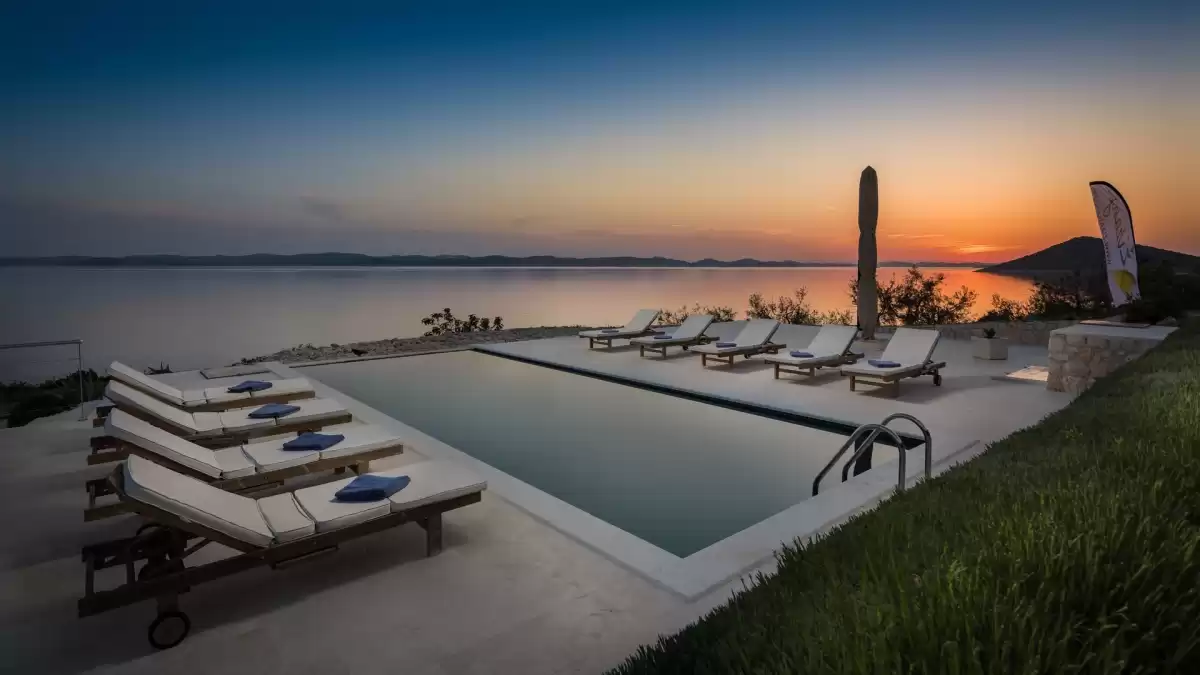 One thing cannot be ignored - Croatia really has numerous incredible villas with even more incredible views. So, why wait any longer? Explore our rich offer of top luxury villas with private pools and stunning views which will ensure that your next vacation is truly unforgettable!