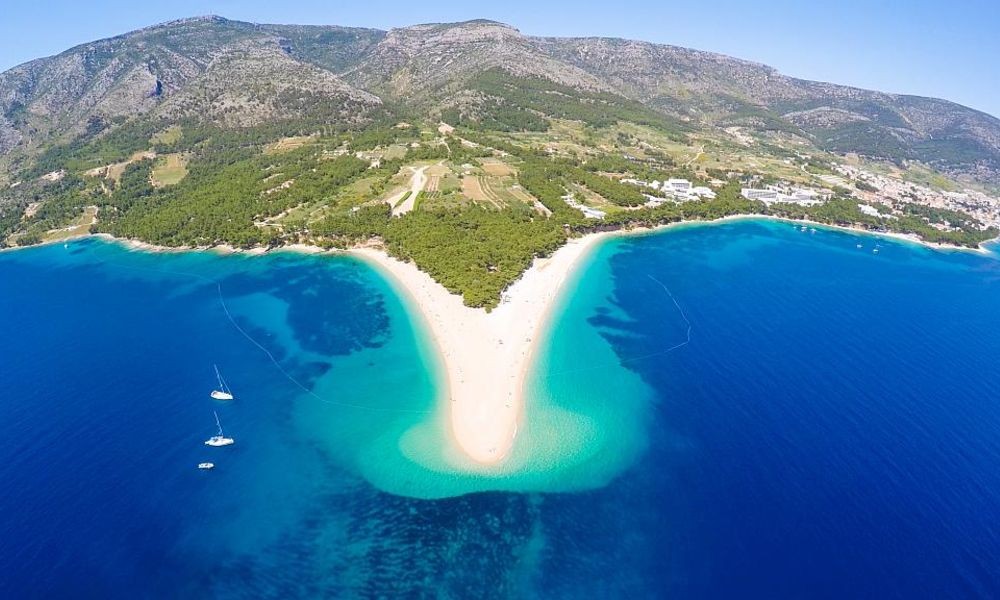 Explore in one place all the most beautiful beaches on the island of Brac that you should not miss visiting.
The island of Brac is the third largest island in Croatia and offers many beautiful beaches along its coast among which everyone can find something for themselves. Whether you are into tiny white pebbles for a playful family vacation, untamed rocks to relax away from prying eyes, long paved beaches for the most original sea jumps or even fine sand and extensive shoal for picigin competition, which are rare in Croatia, you are in the right place because the island of Brac has it all. If you are reading this, then you must be thinking about spending your 2021 summer holiday on Brac Island in Croatia or you are already there. In the blog we prepared on our website, you can find beautiful villas on this island, which are very near some of the beaches on the following list.
Brac Island is very easily reachable by a 50-minute ferry ride or you can get there even faster with a speed boat ride from Split or Makarska.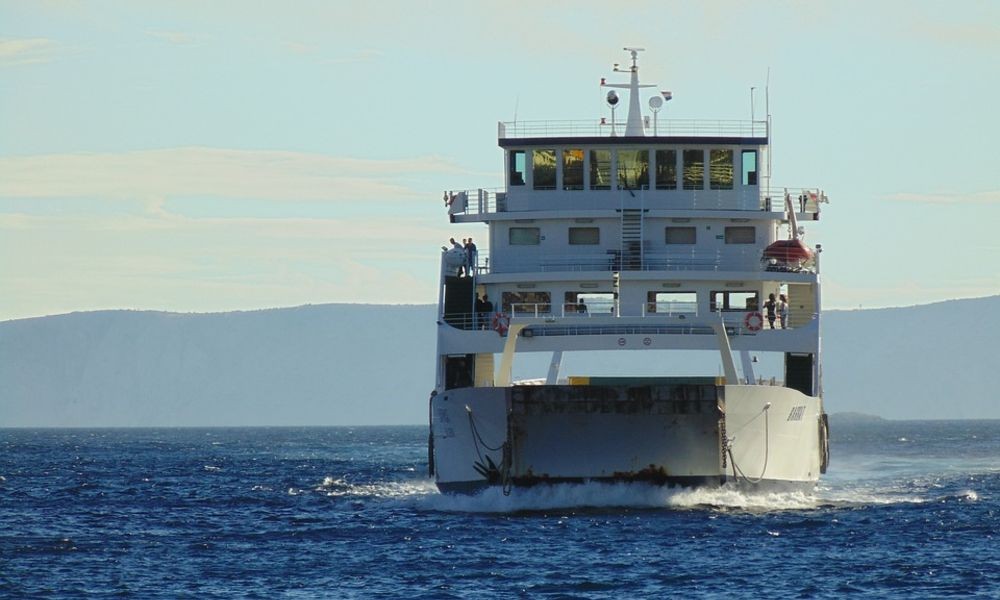 Read about the best and the most beautiful beaches on Brac Island that you should not skip if you have chosen to spend your vacation on this unique island.
Golden Horn Beach (Zlatni rat), Bol
The Golden Horn Beach (Zlatni rat) is an infallible part of every list of the most beautiful beaches in Croatia and even in Europe, which not even we could possibly exclude from our list of the most beautiful beaches on the island of Brac. This beach and its attractive shape are one of the most common postcards from Croatia and an obligatory highlight of any travel itinerary in Croatia.
It is important to emphasize that this beach, which is known as Zlatni Rat in Croatia, is not a sandy beach, for which it is often mistaken. Even though it does leave such an impression in many photos from a bird's eye view, Golden Horn (Zlatni rat) is actually a beach of the finest pure white pebble you may have seen in your life. These little pebbles are so comfortable to lie on, it's no surprise that people all over the world come to Bol to spend their vacations on this beach. This beach is a great choice for hot days because a light breeze is always present here, which makes the beach perfect for a refreshment even when you are not in the sea. The island of Brac, and especially the near town Bol, is a popular destination for extreme sports enthusiasts and there are several windsurf and kitesurf schools on the nearby beaches, so that you can also enjoy their performance.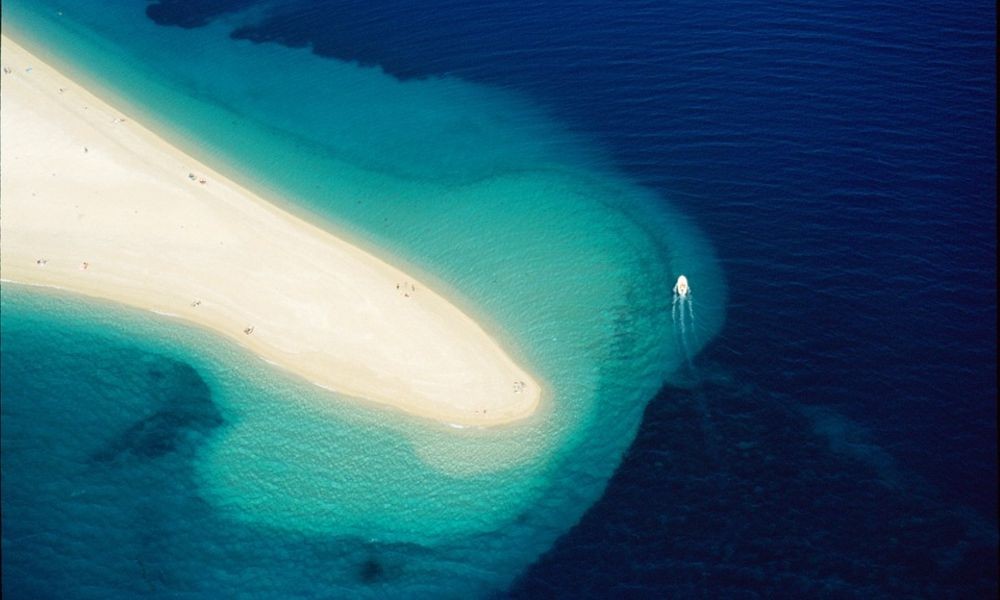 The peak of this 500 m long beach is very much affected by sea currents which cause its peak to sometimes turn to the left or to the right. This might be the reason why you have heard that Golden Horn changes its shape. Golden Horn (Zlatni rat) is a very popular and famous beach and you can find a lot of facilities there, whether for children (aquapark, trampolines, pedal boats, etc.), for adults (the best beach bars with after beach parties, restaurants, massages, etc.), or for those looking for adrenaline (water skiing, wakeboarding, jet-skiing, riding on bananas and many others). A beautiful stone promenade, which also offers many facilities hidden in the pine trees that surround it, leads to the beautiful beach from the near centre of Bol.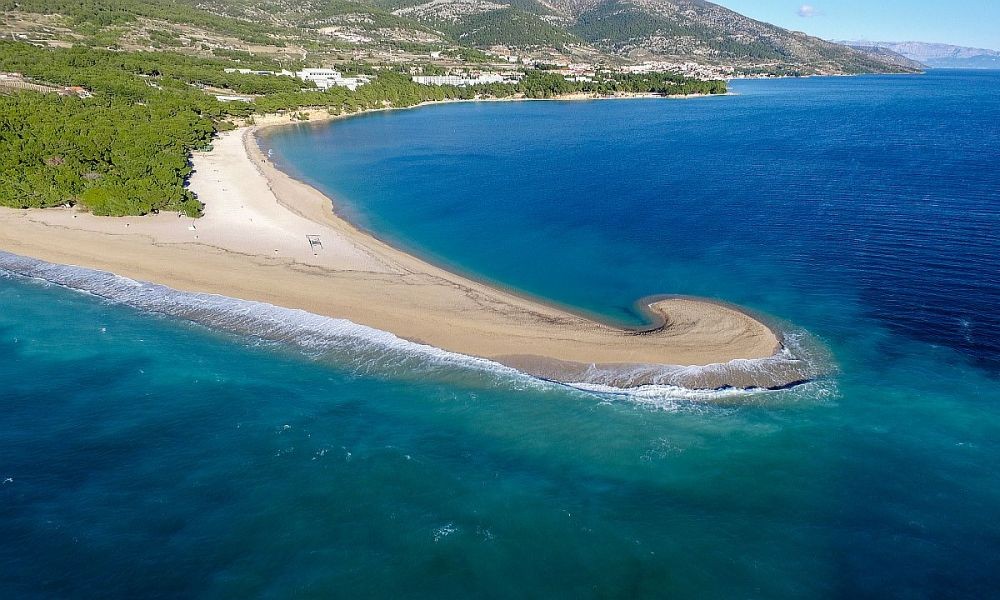 Beach Murvica, Murvica
Murvica beach, which is located in a small village of the same name, is just a few kilometres west of Golden Horn (Zlatni rat) and it is blessed with all the natural features that Golden Horn possesses itself. In fact, along the entire coast from Golden Horn Beach (Zlatni rat) to Murvica, there are beautiful small beaches with the same perfect tiny pebbles, but they are predetermined for nudist swimmers. Therefore, if you are not one of them, just continue to Murvica. This part of the coast of the island of Brac, which overlooks the island of Hvar, is considered to be the most beautiful part of the island with the best and the most beautiful beaches. However, unlike Bol and Golden Horn Beach (Zlatni rat), it is not so known nor famous and offers more privacy. This means that all those who do not prefer big crowds, but are still looking for breathtaking locations will find their zen here.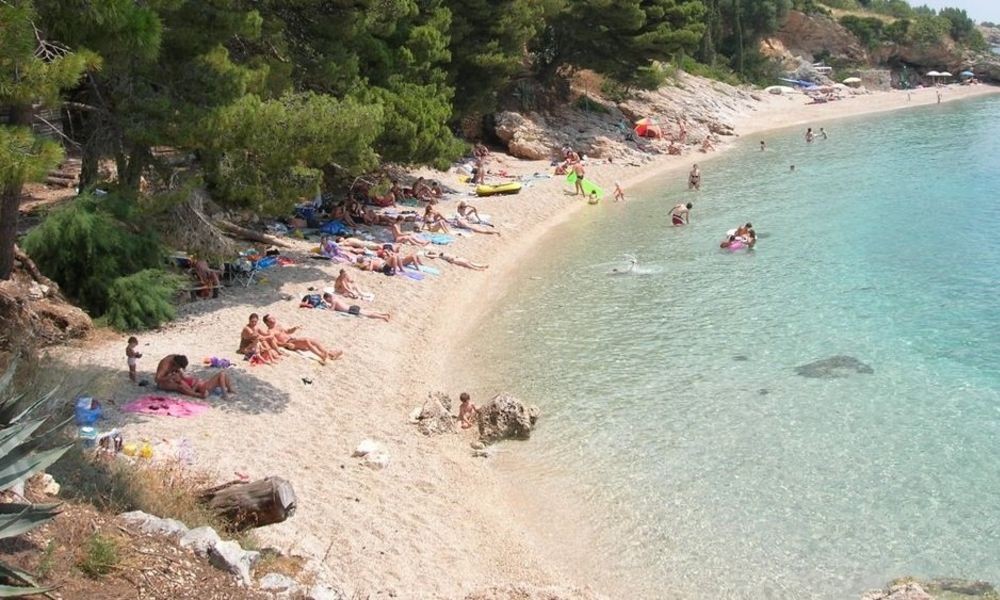 The southern slopes of the island of Brac are extremely suitable for growing wine variety, of which the most famous one is known under the name Plavac Mali in Croatia and as Zinfandel and Primitivo in the rest of the world. As you are coming from the road to the beach, you will pass through a really small botanical garden full of fragrant specimens of Mediterranean flora that are absolutely worth admiring. This garden is full of rich vineyards, elegant cypresses trees, tall pines, mighty agaves, all the way to spices such as capers and oregano. In the middle of this paradise garden, you will find a charming lounge bar where you can refresh yourself and have a snack in the shade of tall pine trees with the relaxing sounds of nearby crickets, which are melodically competing with each other. With crystal clear sea and breathtaking views of the Hvar Island, Murvica Beach has earned a high position on our list of the most beautiful beaches on Brac Island.
Martinica Beach, Bol
Martinica Beach is located on the east side of the town Bol and is sheltered by the cliffs where the Dominican monastery is located, fitting perfectly into this picturesque landscape. Unlike the Golden Horn Beach, this beach, despite its immense beauty, is not so famous among tourists visiting the island of Brac. However, it is a favourite among the locals who do not wish to fight over a free towel space from the early morning. Right next to the monastery you can find a restaurant/bar where you can go searching for some shade, but other than that, this beautiful beach of Brac Island does not offer too many facilities, so make sure to prepare beforehand. The same refreshing breeze from the Golden Horn (Zlatni rat) will find you here, but in a somewhat more intimate environment that Bol offers.
Lovrecina Beach, Postira
On the other side of the island of Brac, a few kilometres east of Postira village with a sandy beach that attracts many swimmers, Lovrecina bay is situated. It seems that the old Romans also enjoyed Lovrecina Beach because an important archaeological site with ruins of Roman villas and their outbuildings was found here. Due to its sandy beach, which is the one and only on the island of Brac, Lovrecina Bay is popular among families with children, but also with recreationists who want to try their hand at the popular summer game in Croatia - picigin. That is why the beach is always full of children who build their sandcastles and the shoal is packed with women and man who tirelessly throw themselves chasing a tiny ball. Above the beach, there is a restaurant and cafe where you can refresh yourself, as well as a beach volleyball court for all those who prefer an active holiday.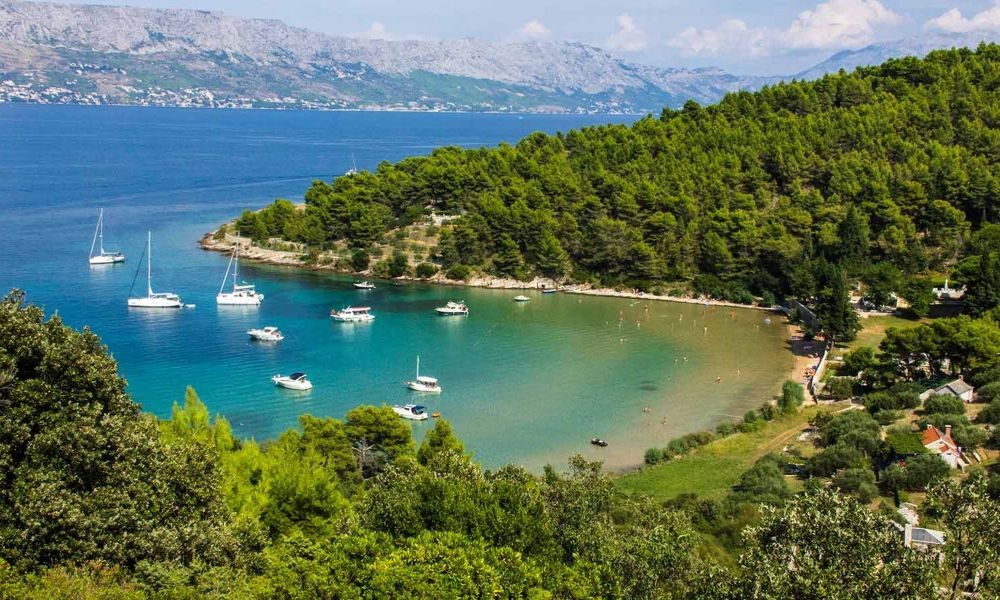 Beach Acapulco, Supetar
Don't be surprised that a beach on the Brac Island has such a name because this is not an isolated case. Acapulco is not the only beach that the people of the island of Brac named after some world- popular summer resort - there is also Miami Beach, as well as a beach called Bay Watch.
Acapulco beach is probably the fastest and easiest to find of all on our list of the most beautiful beaches on the island of Brac. You will run into it on your left as soon as you jump off the ferry arriving from Split to Supetar on the island of Brac. Acapulco is a pebble beach that attracts sun-chasers of all categories. The breakwater that divides Acapulco into two bays gives this beach a specific shape that has become an unavoidable motif of almost every postcard from Supetar town. On the beach, you will find a very nice beach bar, where you can cool off with an amazing view of the contrast between the snow-white pebbles and the incredibly blue crystal clear Adriatic Sea. Acapulco Beach is also home to the popular Voi'sa music festival held every year in August.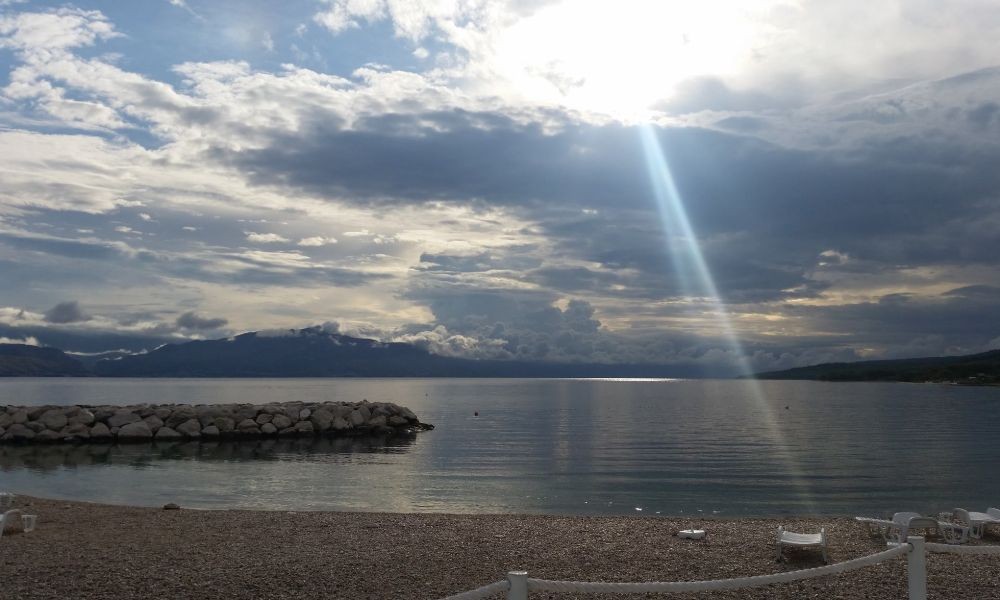 Punta Beaches, Pucisca
In this section, we are not talking about a single beach, but a series of small beaches located on the east coast of the bay in Pucisca village. Apart from a couple of summer houses, this part of Pucisca is not so populated because it is located a little further from the centre. It is adorned with the exceptional beauty of the dense pine forest that descends almost to the sea line. That bare part of the cliffs by the sea were paved by locals where it was possible to enter the sea easily, creating in that way several isolated charming beaches, which delight every visitor. Rejuvenating scents of the pine trees, which will help you hide from the sun while you are soaking your feet in the sea on this beaches, as well as the remarkable view of the centre of Pucisca with bright stone houses will not leave anyone indifferent.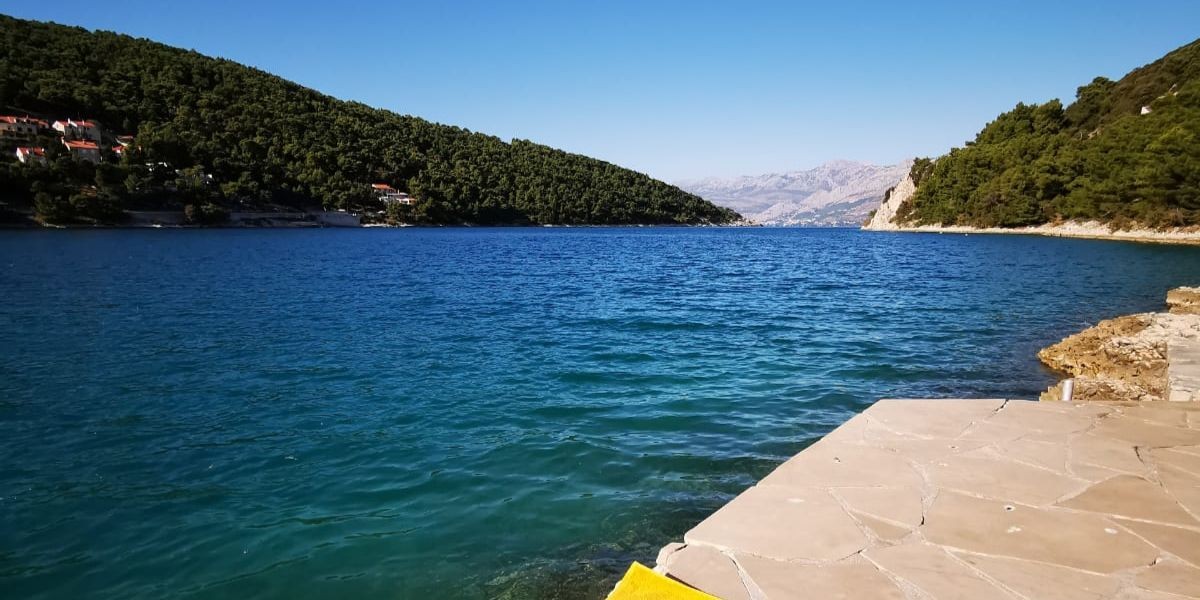 The island of Brac is not a small island and it is unlikely that you will have the time to explore all of its beaches. By highlighting those beaches and bays that are, in our opinion, the most worthy of paying a visit to, we hope that we have helped you make an informed decision and make better use of the time you have during your trip to the island of Brac.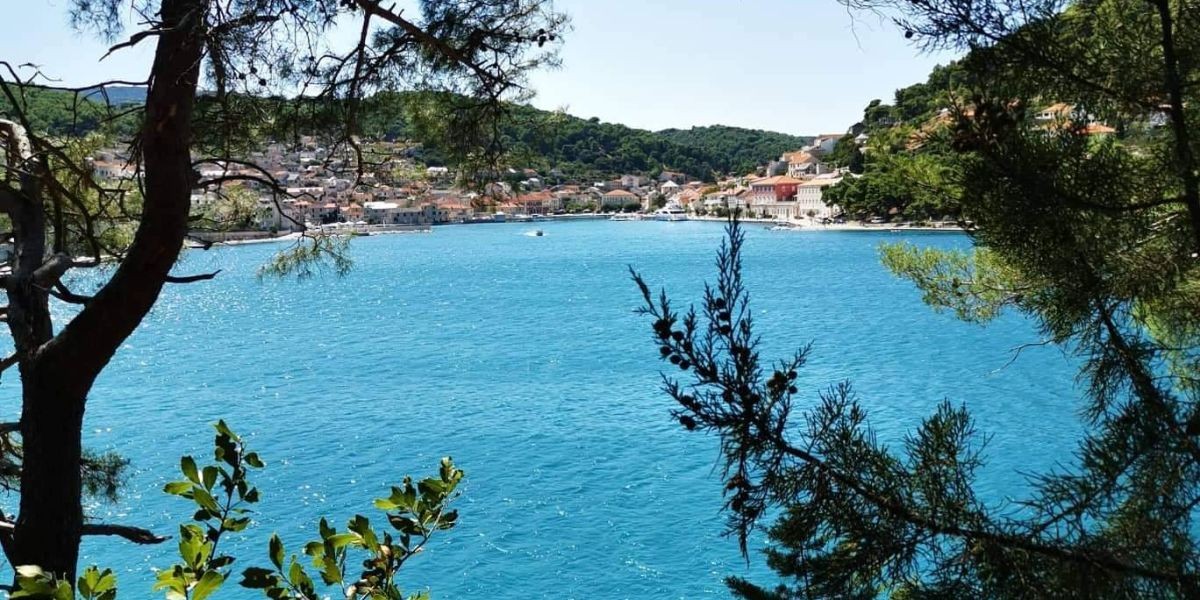 If you are interested in the island of Brac in Croatia and are looking for accommodation, on our website you can find a diverse offer of luxury villas on the Island Brac for the season of 2021.
Thank you for reading our article! For all questions we are at your disposal and you can contact us at any time.