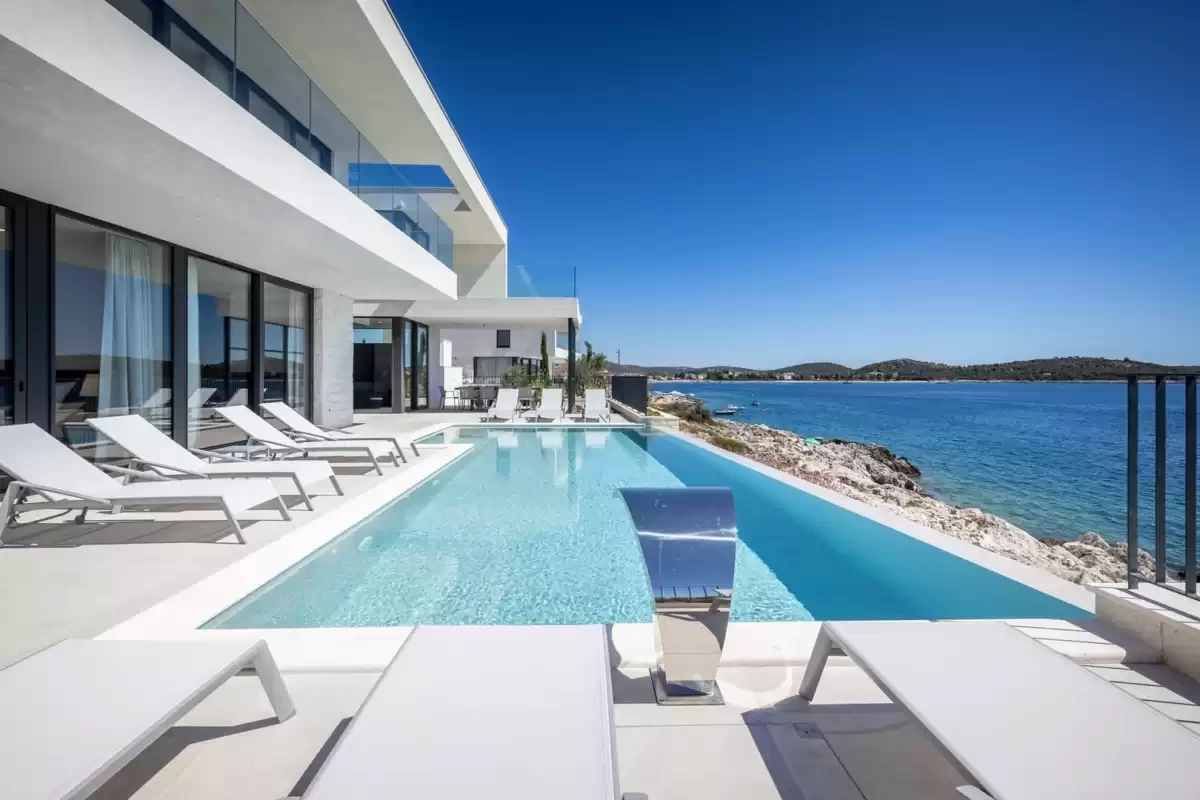 The best way to enjoy a holiday is with family and friends, isn't it? Usually there is a larger number of guests and suddenly you google "rent a villa in Croatia for 10 people". Luckily, you will come across a lot of search results and in this blog, we bring you the top picks of villas for 10 people in Croatia.
In fact, you will come across many results with such a search query, because in Croatia there are actually many villas in which 10 people can make themselves comfortable. Sit back and enjoy our blog showcasing the best villas for 10 people in Croatia.
Our Top Selection of Villas with Pool in Croatia for 10 People
Along the entire Croatian coast, hosts have made sure that you have villas at your disposal where you can experience your dream vacation with your family and friends. Particular care has been taken to ensure that there are enough bathrooms in such villas so that your holiday can be relaxed, without waiting endlessly for using the shower. In such villas, enough bedrooms have also been provided and usually the spaces for gathering are large and open, so that you can all spend your time here comfortably.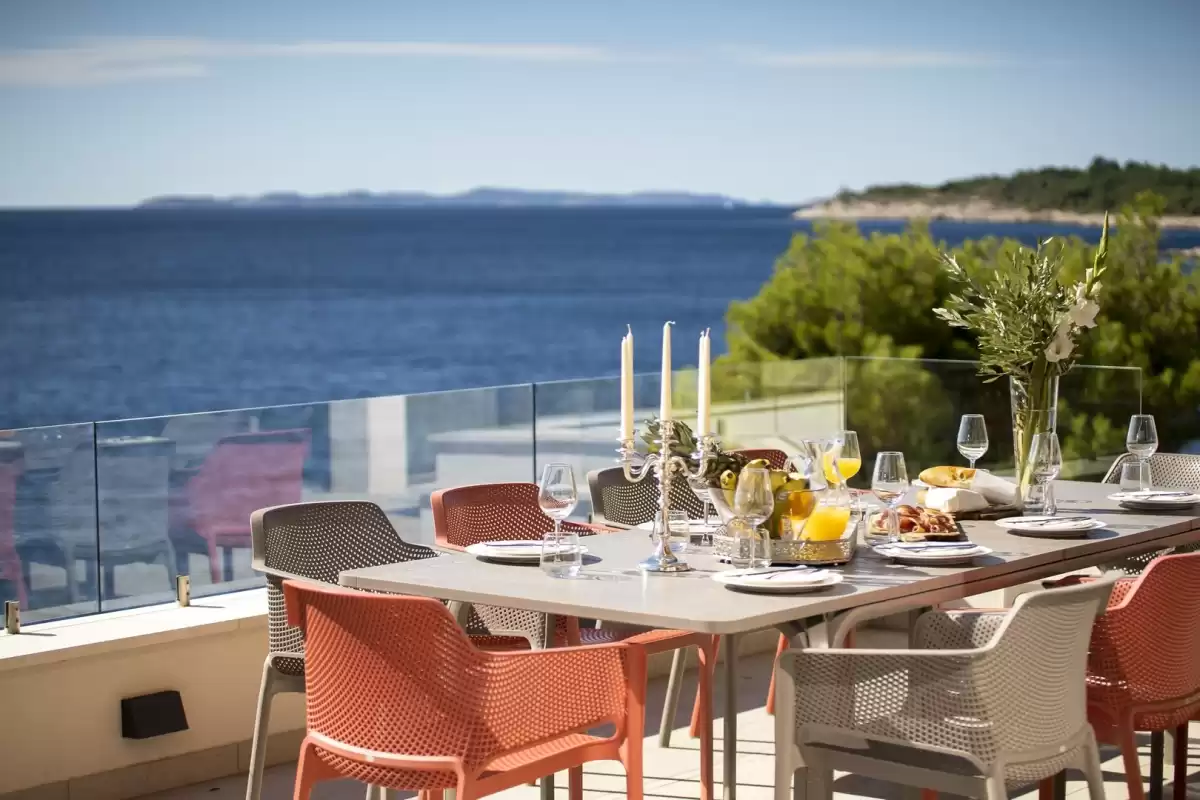 Entertainment and activities have also been thought of in the design of these villas. Some of these villas offer large sports fields, playgrounds and much more. But enough of the descriptions… Let's take a look at the best villas for 10 people with private pools in Croatia now!
Villa Maluja – In the charming village of Debeljak
Experience one of the most spectacular sunsets with your friends and family in the charming village of Debeljak near Zadar in the stunning Villa Maluja. In Villa Maluja, 10 guests can make themselves comfortable in five spacious and attractive bedrooms. Three of the bedrooms are furnished with a large double bed and the other two with two comfortable single beds each. The interior of the villa exudes elegance and warmth through the addition of stylish wooden elements.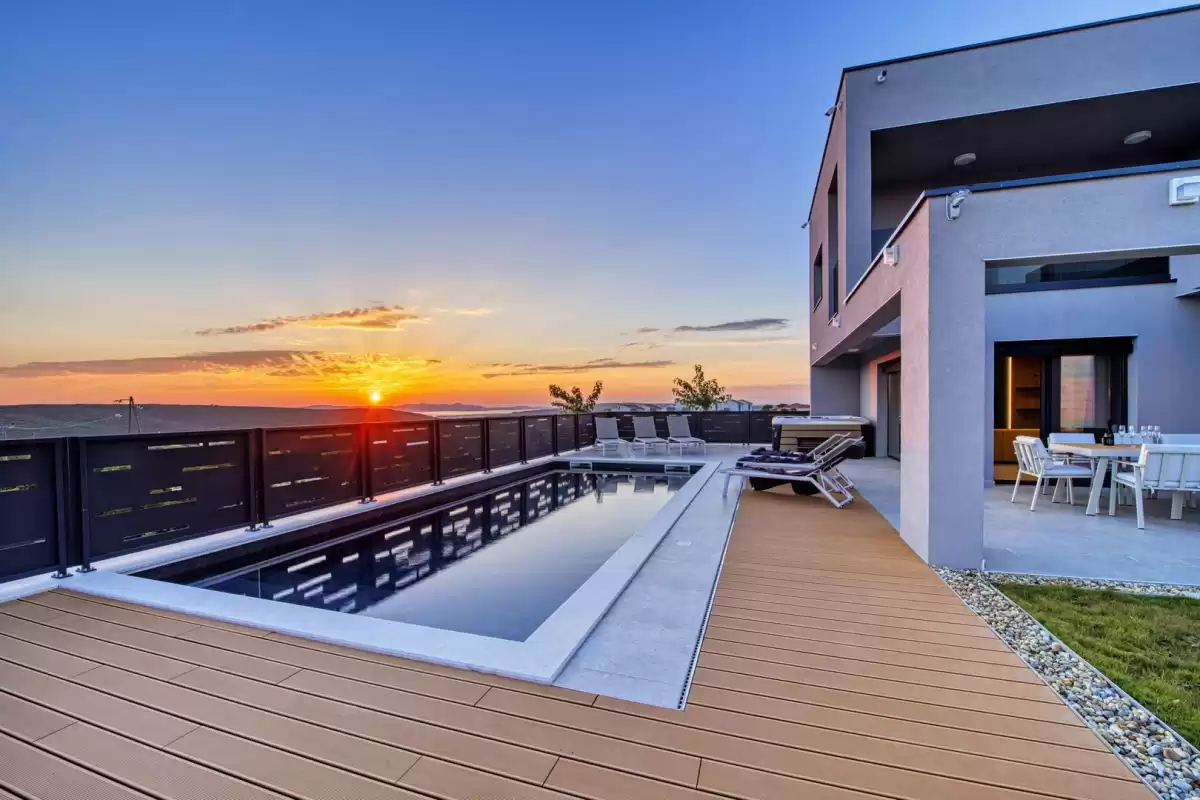 The highlight is the amazing tavern and the basement of the villa which serves as the entertainment area. Here you can have fun hours on end gaming on the available game console. A football and billiards table are also available here, as well as an elegant bar. Outside the villa you will find a 36m2 heated hydromassage pool and a whirlpool. The little ones have also been thought of here, as they can have fun here on the villa's playground.
Villa Sara – Luxury near Poreč
In the picturesque place Kaštelir near Poreč lies the gorgeous Villa Sara, promising to fulfil your desires for a dream vacation. Elegant and spacious, Villa Sara features five bright bedrooms, each with an en-suite bathroom. The modern kitchen, living and dining room are in a common open-plan space offering a magnificent panoramic view through the large balcony doors, as well as a view of the beautiful outdoor area of the villa.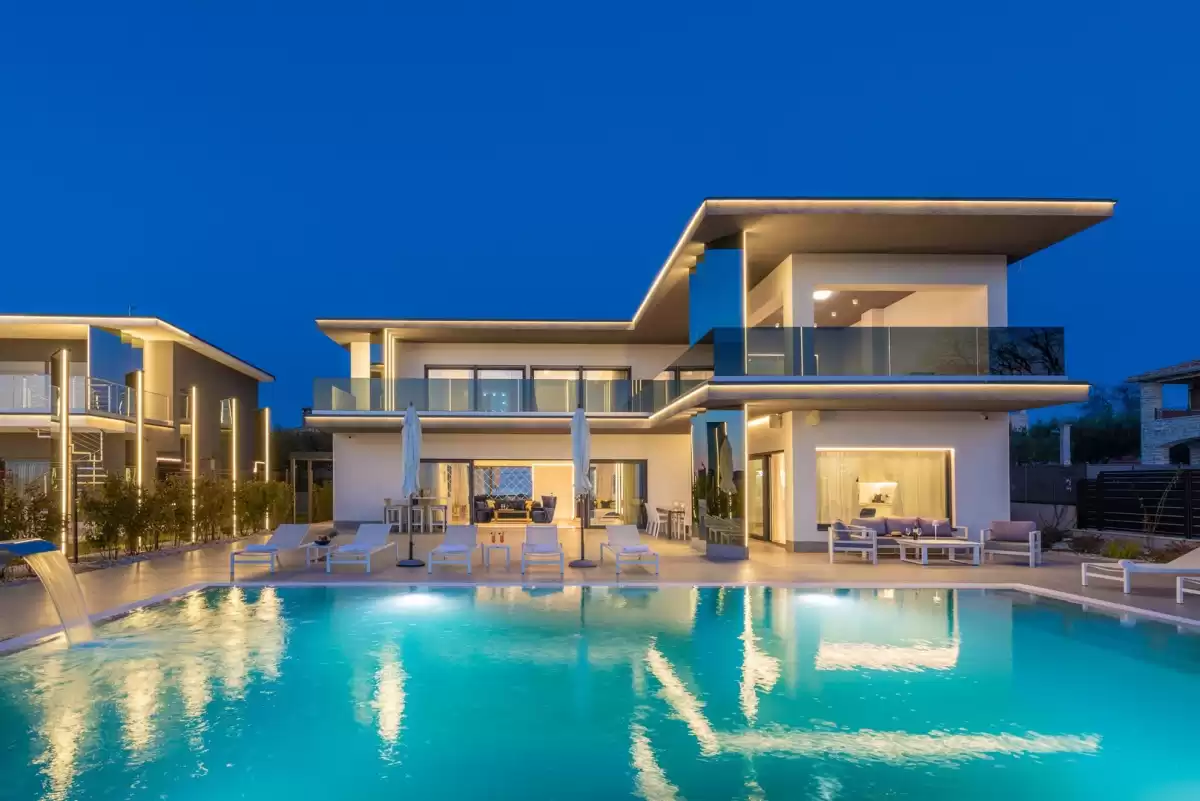 The 66m2 infinity pool is stunning to say the least. Here is enough space for all guests of the villa, so you can fully relax and enjoy your vacation. As you can see, nothing stands in the way of a great holiday for ten guests in the spectacular Villa Sara. So don't hesitate to indulge in your dream vacation!
Villa Uvala – Exceptional Villa on Hvar
Villa Uvala on the sunny island of Hvar is truly something special and different. Here you have everything you need for an exceptionally great holiday. You can make yourself comfortable in five modern and bright bedrooms with their own bathrooms. The open and very modern interior charms and creates a homely feeling. If you want to be active during your vacation, you can do so in Villa Uvala's private gym. Afterwards, you can relax and unwind in the sauna and jacuzzi.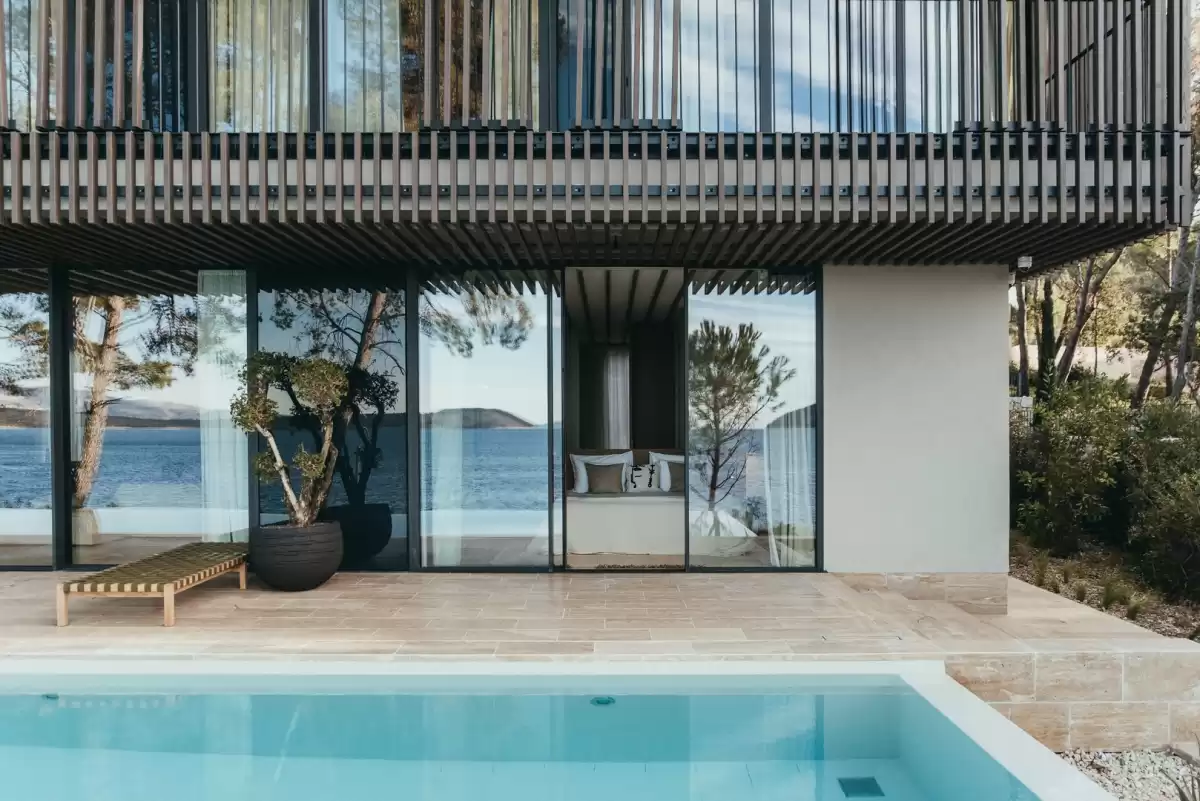 As the villa is located directly on the beach, you will enjoy a breath-taking view of the Maslina Bay. It is best enjoyed from the 50m2 infinity pool. Since this villa is part of the wonderful Maslina Resort, here you can not only enjoy a magnificent sea view, but also a beautiful view of the lush greenery.
Villa Darina – Relaxed Holiday with Great Activities
The offer of the fascinating Villa Darina near Šibenik is quite rich and diverse. There is enough space for 9+2 people in four spacious and comfortable bedrooms and five equally spacious bathrooms. The open-plan ground floor consists of a fully equipped kitchen, living and dining room. Even more impressive is the generous entertainment room with huge glass sliding doors that lead to the exterior of the villa. Here you have a comfortable lounge area at your disposal, as well as a pool table.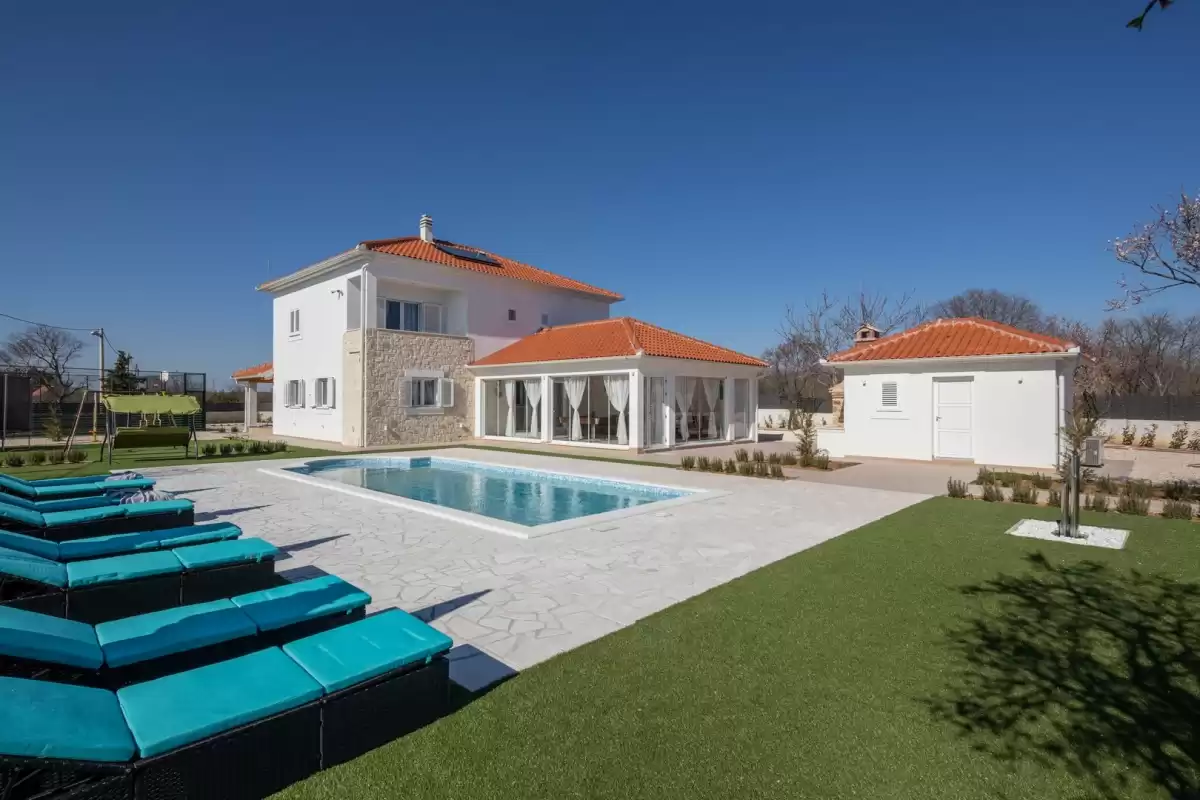 The absolute highlight of this villa is the outdoor area. You can refresh yourself in the 38m2 pool surrounded by loungers. On the great tennis court and basketball court, you can be active during your vacation and have fun with your whole group. The charming mini golf course promises never ending entertainment as well as the large and well-equipped playground for the youngest guests.
Villa Maza – Unique Experience on the Island of Pašman
On the stunning island of Pašman you can find the exceptionally rustic Villa Maza. In this villa, the rustic style has been preserved down to the smallest detail creating an exceptionally charming interior. Thus, 10 guests can look forward to a wonderful vacation experience in a stunning Dalmatian setting. In any case, Villa Maza offers more than enough space, as it features five bedrooms and even seven bathrooms altogether. Upstairs you can work out in the private gym with a stunning view of the glistening sea.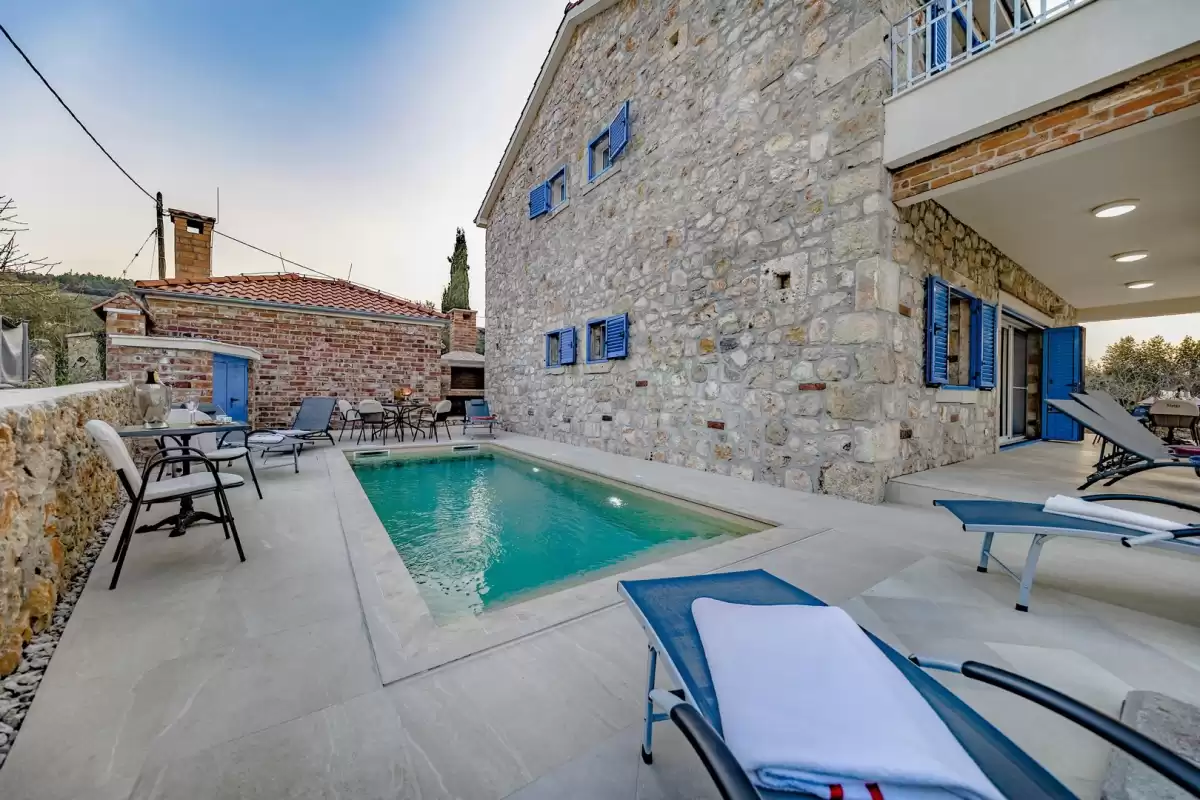 In the outdoor area of the villa, lies the 21m2 pool surrounded by loungers so you can bask in the sun all day long. The tavern outside, which is completely furnished in Dalmatian style, offers you the possibility to spend pleasant evenings together with your nearest and dearest.
Villa SeaBreeze – The SeaBreeze on Vir
If you wish to experience the relaxed island lifestyle, then Villa SeaBreeze on the island of Vir in Croatia is the right place for you! Here, 10 guests can comfortably spend their holidays in five bedrooms with 5 bathrooms available, two of them en-suite. A mixture of modern and rustic elements adorns the interior of Villa SeaBreeze from which you can enjoy stunning sea views. Especially from the 22m2 infinity pool surrounded by tropical greenery.
The highlight is the fully equipped outdoor summer kitchen with barbecue, which allows you to enjoy preparing meals in the fresh air. There is even a private beach here offering you the best of the best of Vir.
Villa Malibu Eclipse – A Dream on the Island of Vir
The idyllic island lifestyle continues at Villa Malibu Eclipse on the island of Vir near Zadar. This delightful villa can accommodate up to 10 guests in its four bedrooms. In the Villa Malibu Eclipse, it is very noticeable that everything is ultra-modern down to the smallest detail. The fascinating lounge area with pool table and darts, overlooking the outdoor area and pool offers the perfect opportunity for gathering and entertaining. A wellness paradise with jacuzzi and sauna awaits you on the second floor of the villa.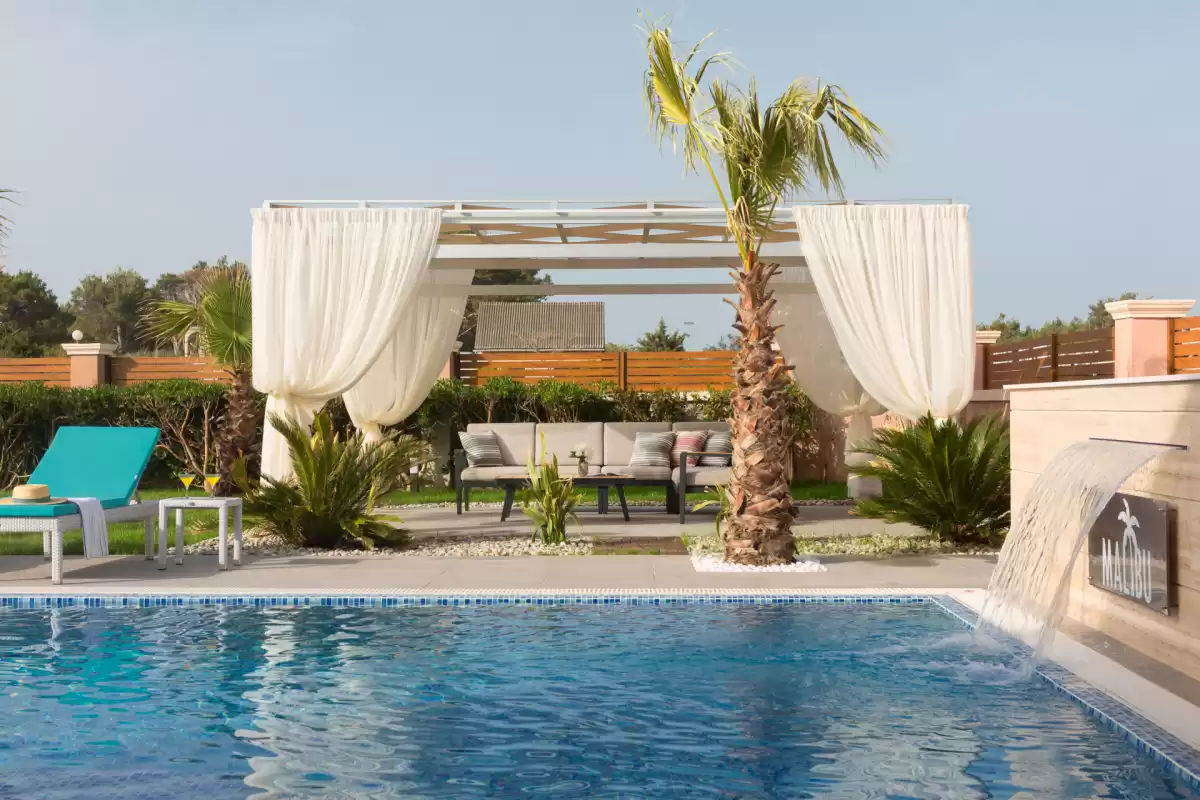 In the exterior of the villa lies a beautiful 75m2 pool with an integrated jacuzzi and a small waterfall. The fully equipped outdoor kitchen allows you to prepare delicious meals in the fresh air. As you can see, Villa Malibu Eclipse is equipped with great facilities making it ideal for larger groups and joint family vacations.
Villa Royal 1 – Royal Experience around Split
Don't miss the royal view from the terrace and the infinity pool of Villa Royal 1! In the beautiful settlement of Podstrana near Split lies the luxurious Villa Royal 1. Located on a slightly elevated position, the villa offers an unsurpassable view of the stunning seascape sprawling before it.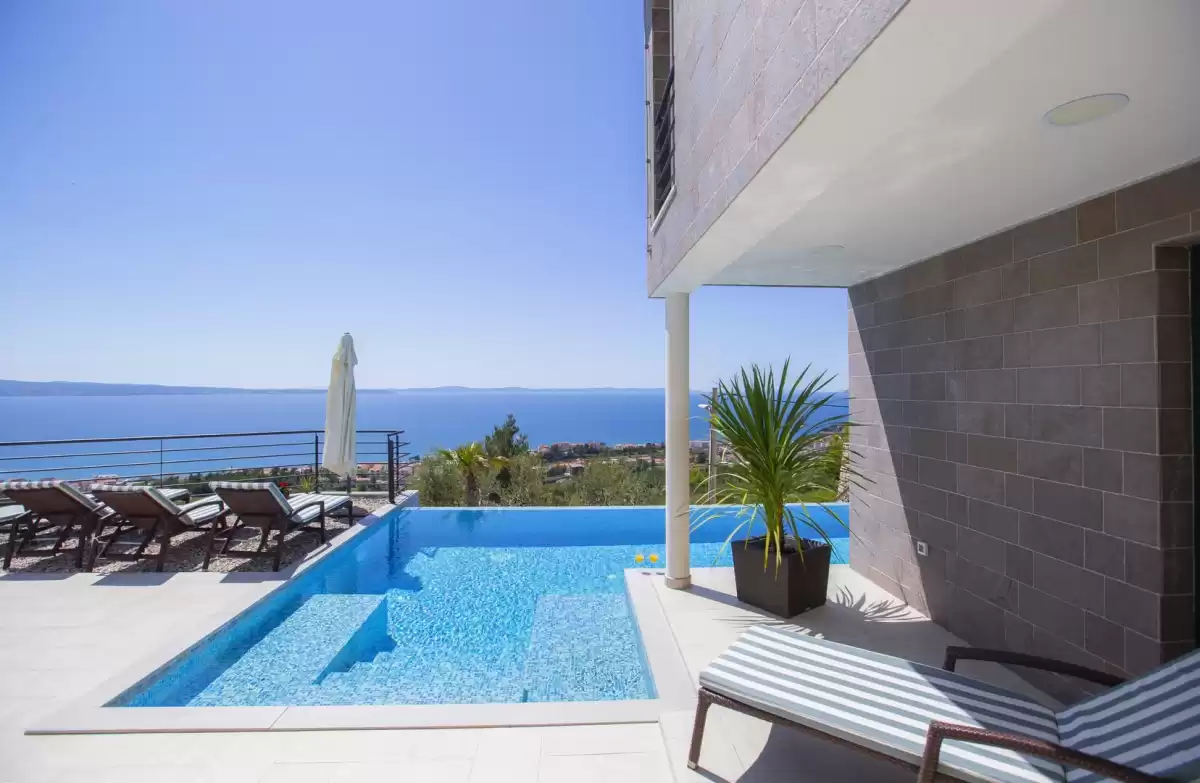 The guests feel right at home in the beautiful bedrooms of the Villa Royal 1 whose interior is modern and elegantly furnished. Large glass windows provide a captivating view of the sparkling Adriatic Sea from the dining area and the kitchen.
Villa Rosemary – Beachfront
Villa Rosemary in the coastal Dalmatian town of Privlaka near Zadar is ideal for larger holiday groups of up to 10 people. This villa features four bedrooms with four en-suite modern bathrooms. Inside you will find modern and cosy furnishings.
Lying directly on the beach, you can enjoy a fascinating sea view. Furthermore, there is a heated pool available outside of the villa, as well as an outdoor grill and garden furniture. Spend cosy and pleasant evenings with your friends or family outdoors with a view of the Adriatic Sea and the beautiful sandy beach.
Villa Prima – Rustic Beauty in Barban
If you are a fan of the rustic style, then the charming rustic villa Prima in Istria is a vacation destination you will not regret! Villa Prima for 10 people is located in the small romantic place Rojnići, near Barban. Completely made of stone, this villa stays true to the typical Istrian rustic style but also features modern elements in its interior which is inviting and utterly cosy, exuding the warmth of a true home.
The 32m2 pool offers enough space for all guests of the villa. On the loungers around the pool, you can completely relax and enjoy the enchanting Istrian nature. Garden furniture is also available, so that you can take advantage of every opportunity to enjoy nature and fresh air outside.
Villa Natura 1 – Elegance on Vacation
Another classic and stunning villa awaits you in beautiful Kvarner near the famous town of Opatija. 10 guests can make themselves comfortable in five spacious and bright bedrooms. Thanks to the 6 bathrooms, you won't have to wait in line to take a refreshing shower. Guests can pamper themselves here in the private wellness area of Villa Natura 1., which offers a wonderful view of the outdoor area with pool and the sea through huge glass windows, and is equipped with a jacuzzi, sauna and fitness area.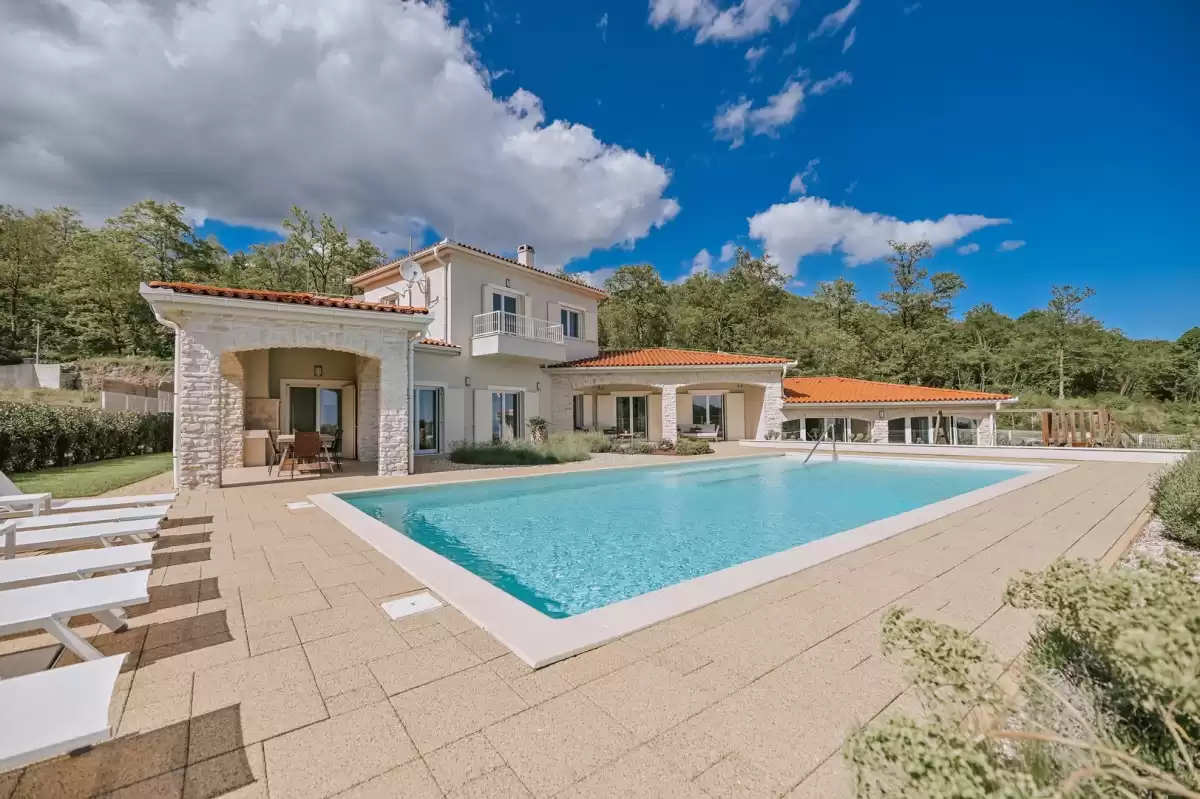 The beautiful heated pool can serve you for relaxation as well as the loungers surrounding it. Under the covered BBQ area, you can prepare al fresco meals for your friends and family and then enjoy them outside. Don't wait and book your dream accommodation in beautiful Kvarner!
Villa Bašić – Privacy and Great Leisure Opportunities
The spacious villa Bašić with a large outdoor area is located in the charming village of Debeljak, near Zadar. This villa is great for larger groups as there are plenty of outdoor activities on offer. Here you have fun on the private tennis court and a playground with trampoline and swings.
Since the villa is on an isolated location, you can enjoy complete privacy here and refresh yourself in the 32m2 private pool. You are also welcome to work up a sweat in the private fitness area while afterwards you can unwind and detox in the sauna.
Villa O – Dream Vacation in Vodice
The grand Villa O lies in beautiful coastal town called Vodice, which is known for its exciting nightlife as well as for its stunning beaches. Here 10 guests can fulfil their dreams of a perfect vacation by the sea. The spacious villa offers enough space in its four bright and comfortable bedrooms and six bathrooms, all beautifully decorated in a modern style. The comfortable living is excellent for gathering and entertaining.
The 36m2 pool located in the outdoor area will take your breath away. Around the private pool there is a lounge area where you can spend nice evenings outdoors. In the garden behind the villa there is a basketball court, trampoline and badminton court. As you can see, Vila O offers you practically everything you need for a fun holiday with your friends and family.
Villa Gloss – Glamor in Šibenik
Glamorous Villa Gloss in Primošten will meet all your needs for a luxurious vacation. The interior of the villa boasts glamor and modernity. Two of the bathrooms contain beautiful bathtubs which can be used for taking long hot bubble baths. The stunning entertainment room features a pool table and football table promising hours of fun.
The glistening glamour of Villa Gloss continues in the outdoor area in the form of the 21m2 infinity pool with hydromassage jets, terraced courtyard and absolutely stunning outdoor dining area providing an unsurpassable view of the horizon.
Villa Esperia – Luxury Villa right on the Beach
In Villa Esperia in Rogoznica, near Šibenik, you can experience a truly luxurious and modern vacation. The magnificent Villa Esperia offers enough space for 10 people in its five spacious and bright bedrooms. In the private fitness area, you can continue your training during your dream vacation.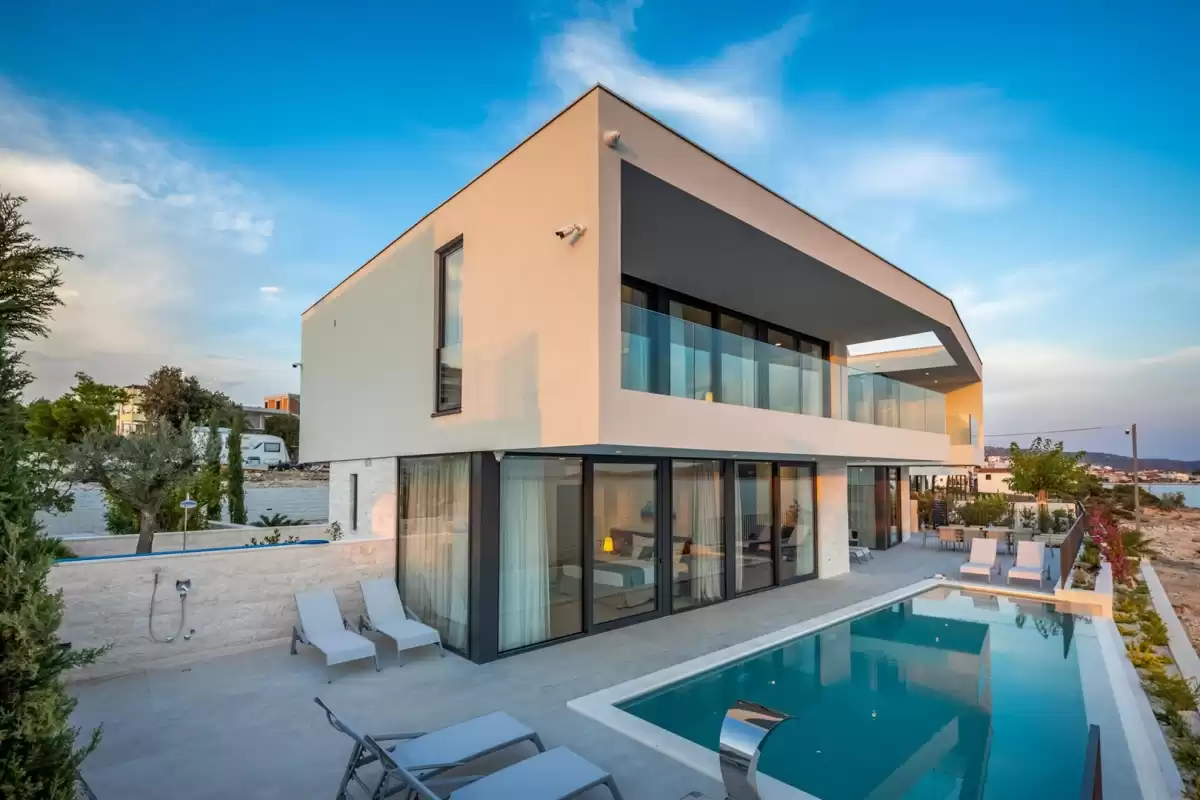 The 45m2 heated hydromassage salt water infinity pool offers a mesmerizing view of the sea, where the pool water merges with the sea, giving you a feeling of infinity. Just like its sister villas, Villa Marvella and Villa Valiosa, Villa Esperia is located directly on the beach. Thus, you can wake up every morning with a view of the sparkling Adriatic Sea. Don't miss out on your dream vacation in this grand villa!
As you can see at the end of this blog, you don't have to worry about not finding villas for a larger holiday group of 10 people, as the Croatian coast is adorned with so many of them. Trust us, nothing stands in the way of your holiday with all your friends and family!
In our wide range of villas with private pools in Croatia there are of course villas providing room for smaller as well as for much larger groups. So, sit back, relax and browse our varied offer of villas with pool. We are certain you will find your ideal holiday accommodation!
If you have any further questions, we are here for you!
Thanks for taking the time to read our blog!