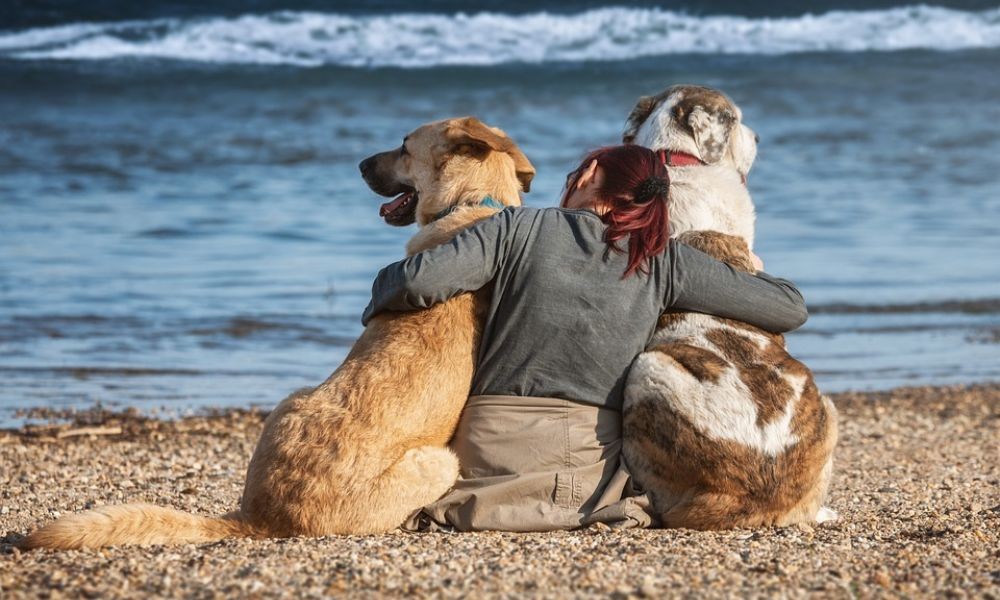 Bring your pet with you on your amazing holiday in Croatia and enjoy an amazing beach day by visiting some of Croatia's best pet-friendly beaches.
Croatia has a very indented coast with many bays and hidden beaches, which is why finding a dog-friendly beach is not a difficult task at all. In reality, most of the beaches in Croatia permit dogs, unless explicitly stated otherwise. This means that any beach that doesn't have a "no dogs allowed" sign is technically pet-friendly. However, for longer beach days, it might be a good idea to go to "official" dog-friendly beaches that will have all the amenities that your dog might need while playing in the Adriatic Sea. Therefore, if you decided to travel this year with you pets to Croatia, keep reading our blog and discover the best pet-friendly beaches in Croatia.
Podvorska Beach in Crikvenica
Podvorska Beach is a literal doggy heaven in the Kvarner region in the beautiful city of Crikvenica. It is considered to be the best dog-friendly beach in Croatia having received praise even by the New York Post. And for good reason! It is a 170m long pebbly beach that distinguishes itself from other dog-friendly beaches with its dog bar Monty's Beach Bar where your furry babies can enjoy a cold dog beer, a tasty dog pizza, a refreshing dog ice-cream and a variety of other desserts such as cookies for dogs and owners. Furthermore, Podvorska Beach has all the necessary infrastructure for your pets such as a handy dog shower. Podvorska Beach is without a doubt the best of all the pet-friendly beaches in Croatia where your little furry friend will enjoy each second!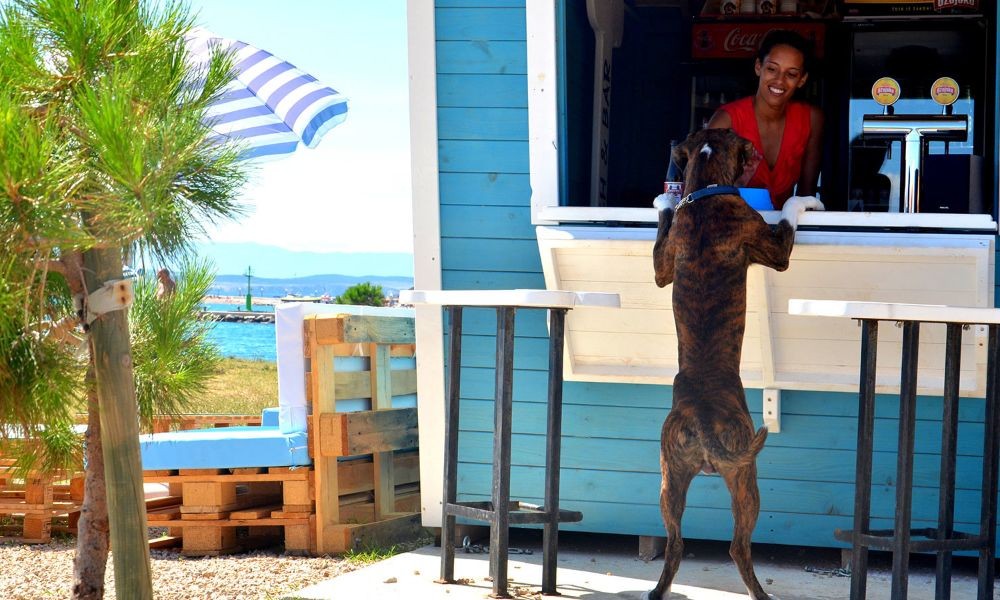 Beach Punta Kolova in Opatija
The gorgeous city of Opatija in the Kvarner Bay is an extremely popular holiday destination in Croatia due to its immense beauty for which it was nicknamed The Pearl of the Adriatic Sea. Since Opatija features numerous gorgeous family friendly villas which allow dogs and other pets, it comes as no surprise that Opatija also has a dog beach which is worth mentioning in this blog post. We are talking about the beautiful beach Punta Kolova which is between Opatija and Icici and extremely easy to reach by going along the Lungomare promenade. On the Punta Kolova beach, your fur baby can cool off from the long walk along the Lungomare promenade and play for a bit in the sea, before resuming its walk back to your beautiful dog friendly luxury villa in Croatia.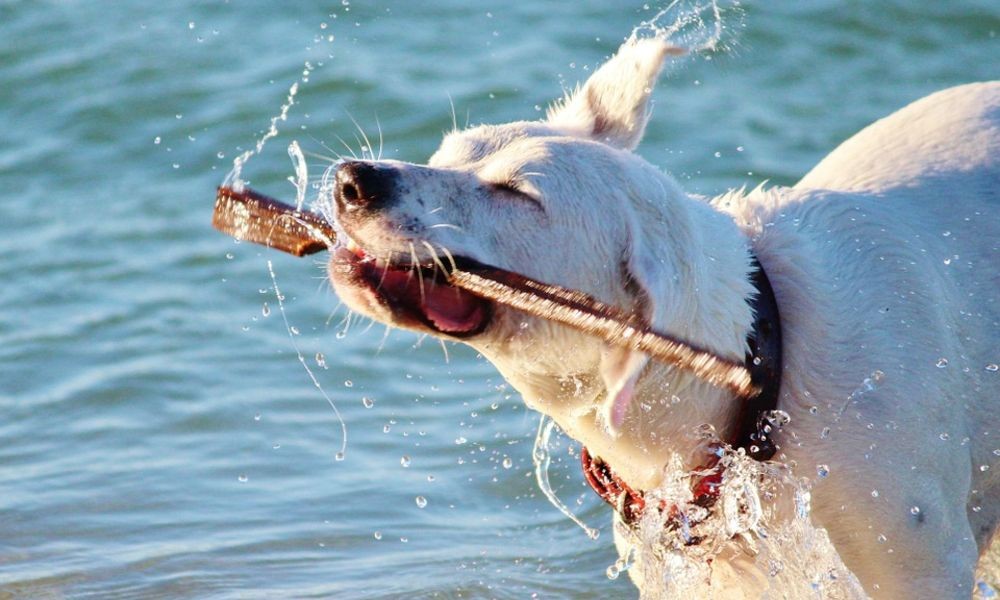 Zaton Holiday Resort near Zadar
Zaton Holiday Resort in the vicinity of Zadar is a widely popular and highly accomplished resort in Croatia that boasts numerous prestigious national and international awards. Its project Zaton – nature we grow with teaches visitors of Zaton Holiday Resort about the flora and fauna that thrives there with the aim to raise awareness about the importance of nature preservation. Therefore, it comes as no surprise that Zaton Holiday Resort sectioned off a part of its beach so that your pet can enjoy some sea fun as well. Take you four-legged friend to Zaton Holiday Resort, which is less than a 20-minute car ride away from Zadar, where it can enjoy some fun on the pet-friendly beach.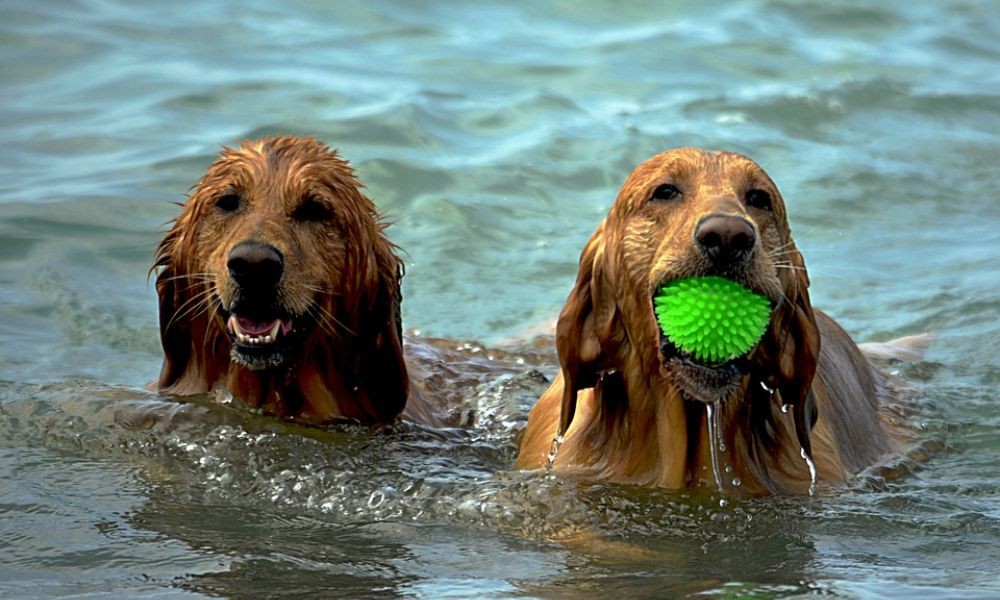 Dog-friendly Beach in Privlaka near Zadar
Being a highly visited destination in Croatia where some of the most gorgeous villas in Dalmatia are located, it comes as no surprise that Privlaka has its own dog-friendly beach so that its visitors can have the best possible experience during their holiday in Croatia. Therefore, rent your dream pet-friendly villa in the Zadar region for full privacy and enjoy some summer fun with your furry family member.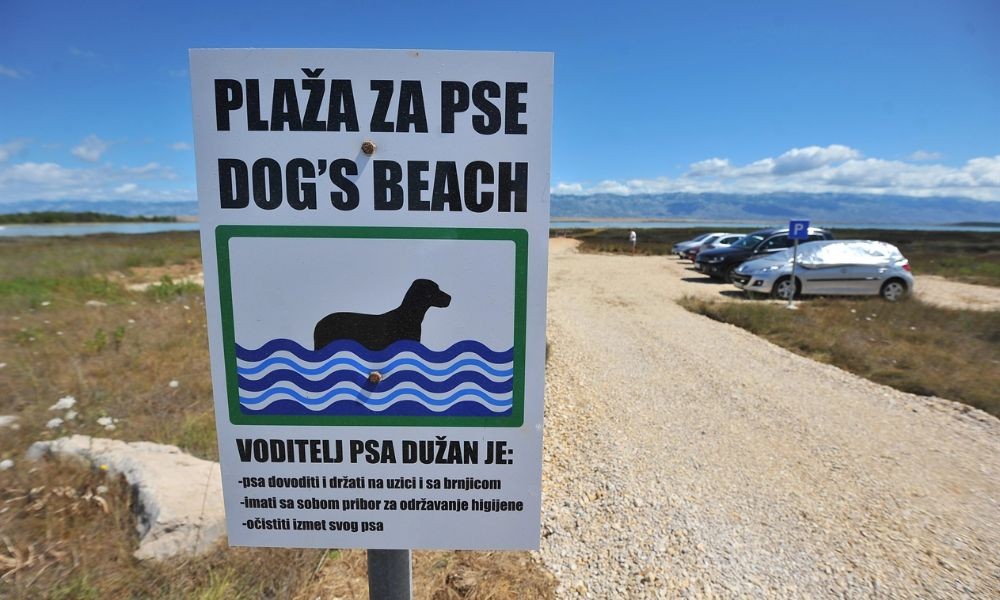 Foša Pet-friendly Beach in Zadar
If you find the dog-friendly beaches in Zaton Holiday Resort and Privlaka a bit far, there is a small pet-friendly beach in the center of Zadar Old Town. It is considerably smaller than the beaches in Croatia mentioned thus far. However, it will be an ideal choice for a quick swim for your pet after an exhausting walk through Zadar's ancient streets. And who knows? Your pet might find a best friend in Zadar, since on the way to the beach there is a small ship on which a poodle with a bow is basking in the sun every year and became a widely beloved tourist attraction of Zadar.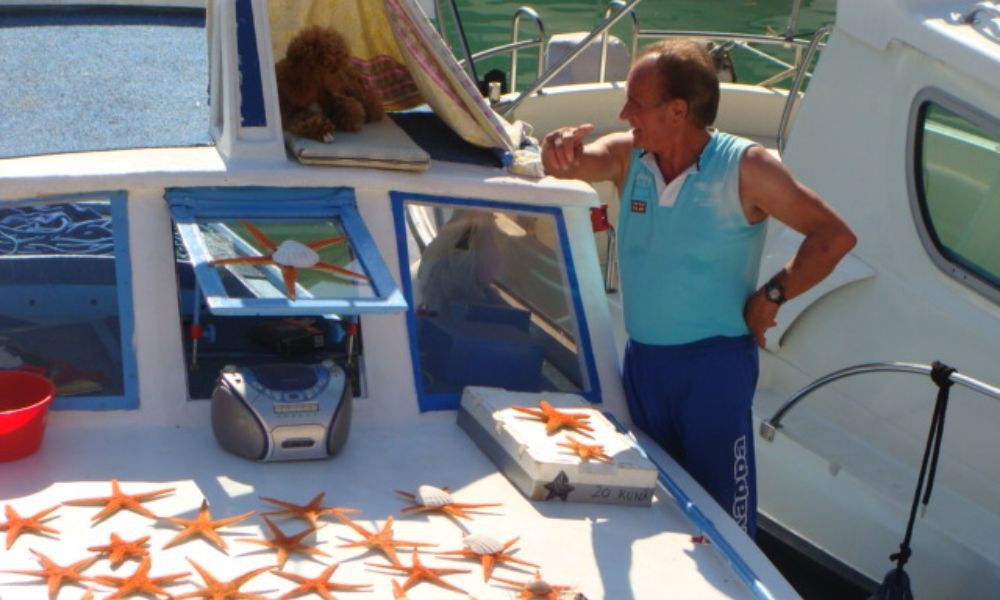 Beach Stara škola near Šibenik
Beach Stara škola is an official dog beach located in the center of the amazing Dalmatian town Vodice, which is 15km away from the historic city of Šibenik. The beach made of fine pebbles is a hotspot for families as it features crystal-clear water and a great location. Therefore, complete your family vacation in Croatia by bringing your dogs to the stunning Beach Stara škola and see your pets wiggle their tails in complete happiness. However, even though there are many restaurants and bars on the beach, there are no showers or drinkable water. So, make sure to pack everything your pet will need while having fun on this pet-friendly beach. And don't forget to reward your dogs with some dog cookies for being good on the beach!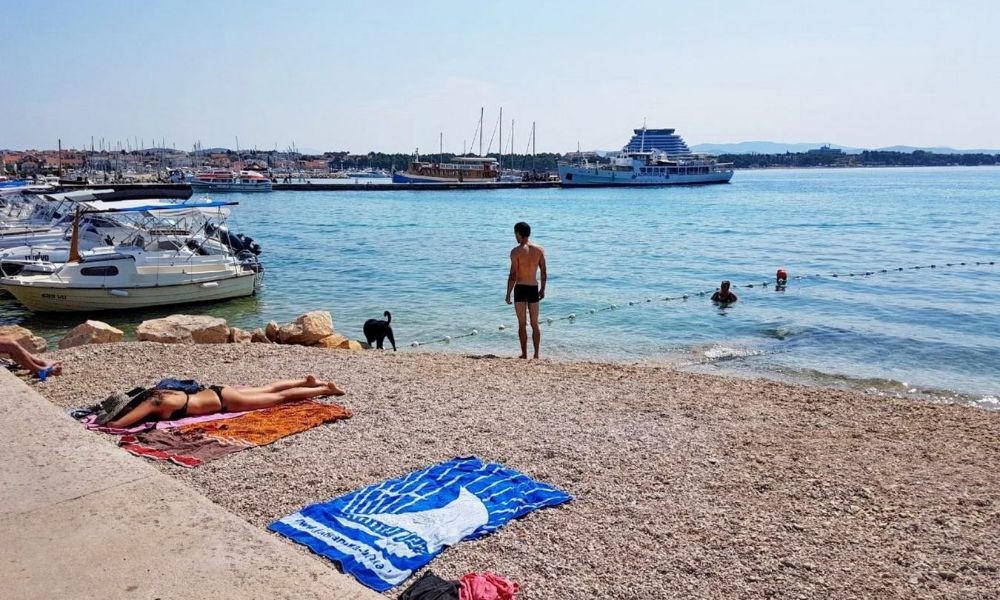 Vartalac Beach on the Island of Vis
If you have decided to spend your luxury holiday in Croatia with your dogs on an island, we recommend renting a luxury villa on the Island Vis. In addition to having gorgeous sights of untouched Mediterranean nature, hidden beaches with crystal clear sea and welcoming locals, Island Vis is proud of having the Beach Vartalac which is one of the rare official dog beaches in Croatia. Beach Vartalac is a lovely pebble beach on the outskirts of the town of Komiza on the southern shore of Komiza Bay. Enjoy the island lifestyle of Dalmatia with your dogs on the island of Vis and reward your fur friend with an unforgettable day at the beach.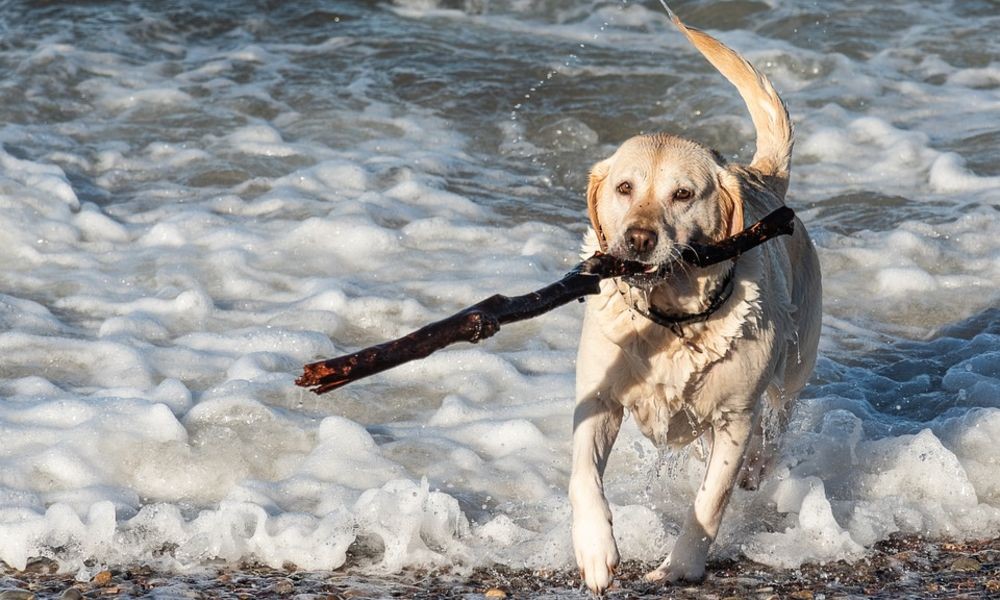 Duilovo Beach in Split
Last year, Split joined the pet-friendly beach gang by opening its own dog-friendly one – Beach Duilovo. It is a 40m long pebbly beach which has absolutely everything your dog might need on its beach day. There are showers, changing rooms, water, specific places for waste disposal and even tents where your dog and you can get some shade once the sun becomes too strong. Beach Duilovo in Split does not, however, have bars nor shops in its vicinity, so it might be a good idea to bring a mini cooler stacked with food and refreshing beverages for yourself and your little doggy.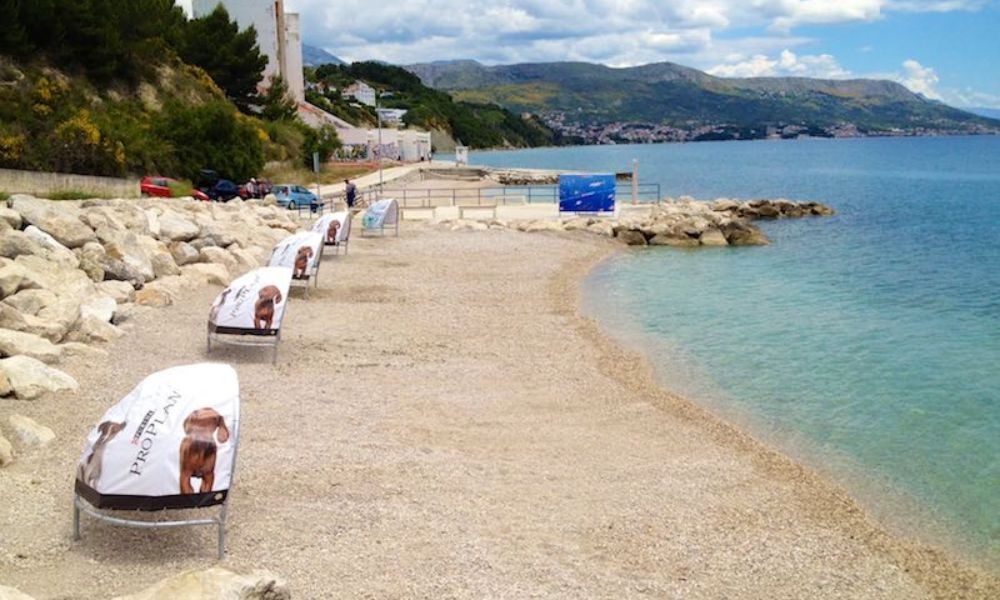 Danče Beach in Dubrovnik
If you decided to visit the beautiful medieval walled city of Dubrovnik with your furry friend, you made the right decision. Not only will the two of you experience the beauties of Dubrovnik together, you will have a lot of fun on the Danče Beach which is only 5 minutes away from the Old Town. This pet-friendly beach is one of the oldest beaches in Dubrovnik which has deep crystal-clear water and several large rocks from where you can jump into the refreshing Adriatic Sea. The most ideal time to visit Danče Beach is in the morning when the beach is deserted, and your furry friend and you have the beach completely to yourself for maximum privacy.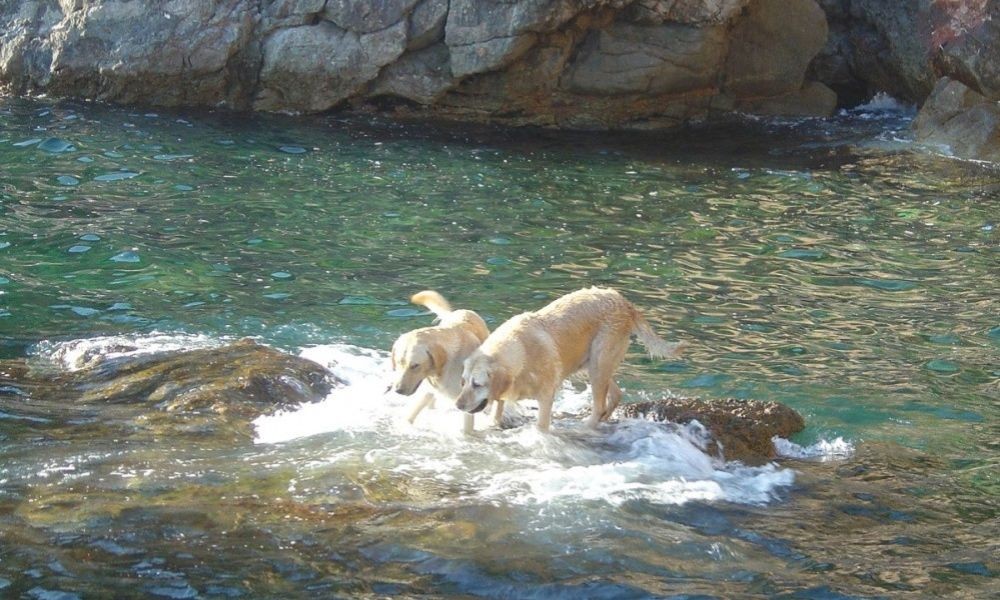 Things to Know When Travelling With Your Pet to Croatia
Travelling with your beloved pets is the perfect recipe for a fulfilled vacation in Dalmatian, but there are some things to consider before you go on your adventure; namely, that you meet Croatia's travel regulation for pets.
When traveling with your pet to Croatia, your pet must:
- have a pet passport and health certificate
- get microchipped
- get vaccinated for rabies
Once your pet meets all the requirements, the two of you are ready for your awesome holiday in Dalmatia!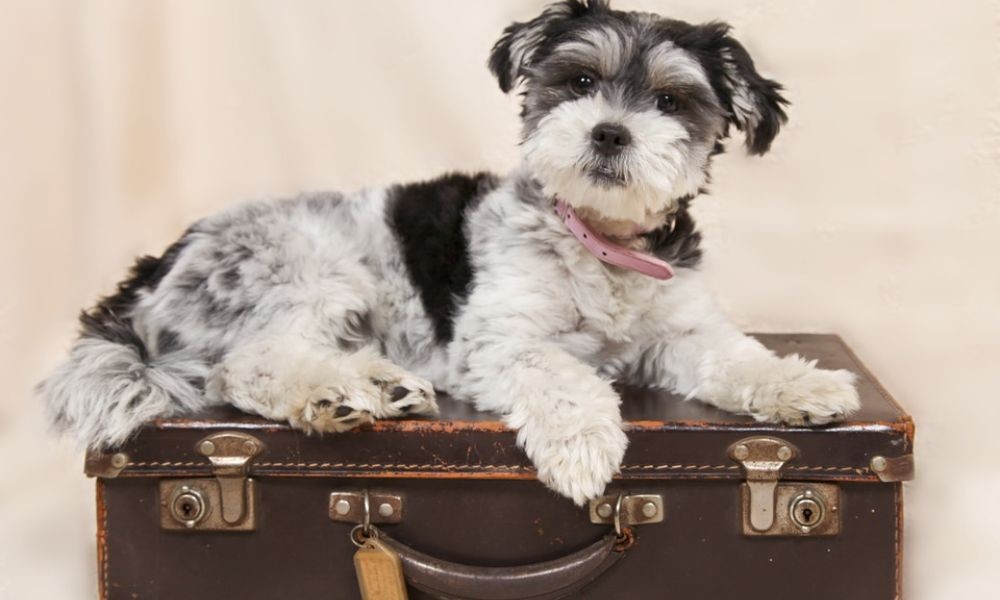 Hopefully, this blog helped you plan your vacation a bit better if you decided to travel with your furry baby and informed you which dog-friendly beaches to visit for an amazing holiday experience. If you are looking for a pet-friendly villa in Croatia, we can help you with that as well! We already introduced some of our best pet-friendly villas in Croatia in a blog on which you can learn more about by clicking here. However, those are just some of our broad selection of luxurious villas which will make your vacation in Croatia an unforgettable experience whose memories you will cherish forever!
For any questions, Adriatic Luxury Villas is always at your disposal.
Thank you for reading!