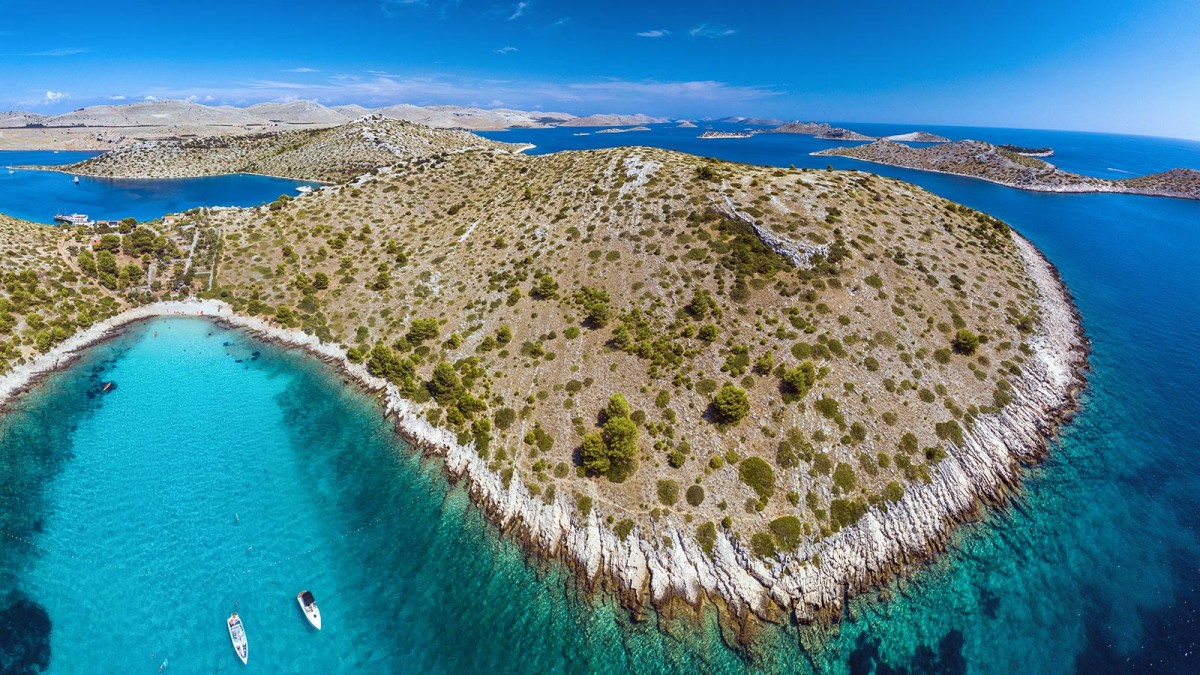 The eight National Parks of Croatia will amaze you with astonishing landscapes and unforgettable natural beauty. Plitvice Lakes, Krka waterfalls, Brijuni Islands and more are waiting for you
From the vibrant capital Zagreb and other lively cities to small intimate villages, from turquoise water on the beaches to lush hilltops and mountain peaks, Croatia is a country with infinite options for your vacation. Still, nothing takes your breath away like its incredible natural wonders perfectly showcased in no less than eight National Parks. You want to know about all those one of a kind hidden spots you definitely won't regret discovering and exploring? Let us take you through the National Parks in Croatia!
Plitvice Lakes National Park
Plitvice Lakes National Park is the most famous and most significant in Croatia, listed under UNESCO World Heritage List. One of the most valued nature sanctuaries of Croatia is formed of 92 breathtaking waterfalls, 16 emerald lakes, and a vast pine forest surrounding it. The distinctive emerald colour of the lakes is due to the bacteria and the limestone they are made of. Just when you think you've seen it all, the wooden pathways around the lakes will lead you to another undiscovered scenery.
Getting to Plitvice is easiest from the capital Zagreb or from the city Zadar in the Dalmatia region. The park and the whole protected area can be visited in one day, and if haven´t had enough of the incredibly beautiful scenery, you can always come back for more. During your fantastic trip through the park, you will be surrounded by diverse, lush vegetation. While walking on the wooden pathways through the mesmerizing lakes, you will be enchanted by the sound of waterfalls. This is an experience you shouldn't miss while visiting Croatia, so make sure to put it on your bucket list and visit these Plitvice Lakes, National Park.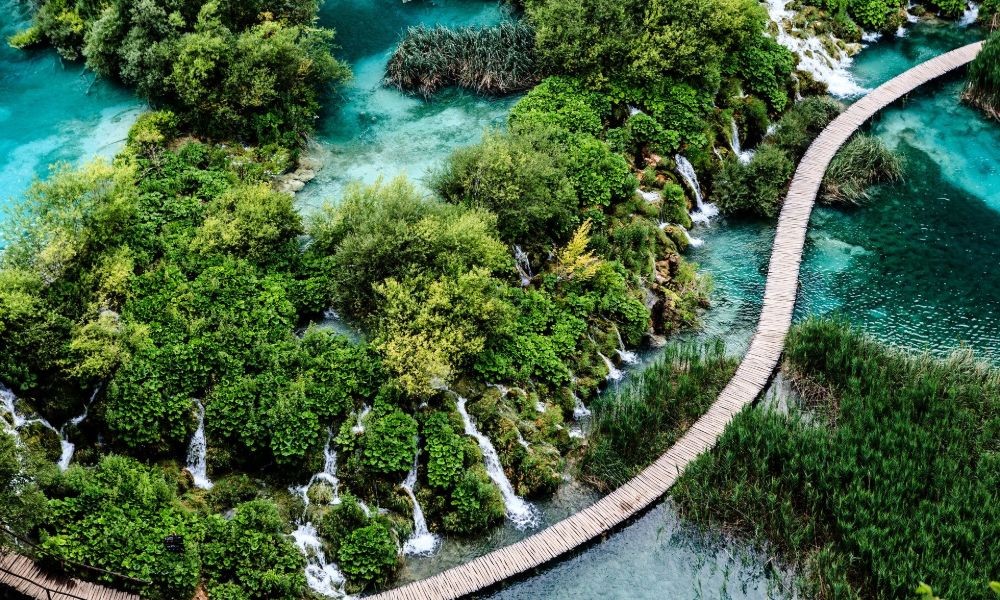 Krka National Park
The Krka National Park is around 10 minutes away from Šibenik, in the northern part of the Dalmatia region. Similar to Plitvice Lakes, it will blow you away with its beautiful waterfall cascades and emerald green lake colour. What's even more exciting and different to Plitvice lakes, is that you can take a swim in the sea that will definitely be refreshing during summer. Krka National Park is another perfect daily trip option that you will enjoy with your friends and family, with whom you can admire around eight hundred plant species and about three hundred animal ones.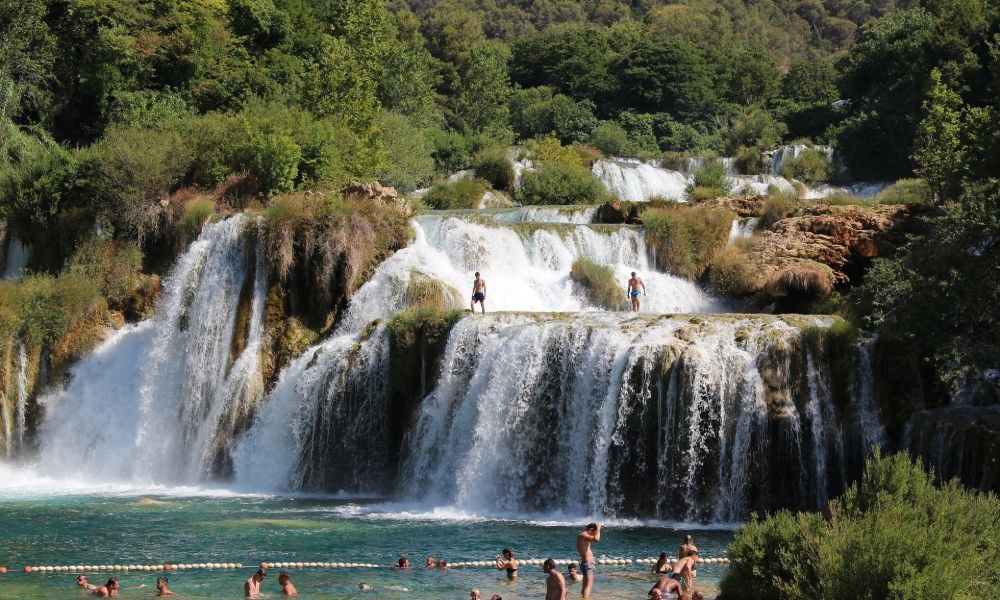 Mljet National Park
Nestled between Korčula and Dubrovnik in the southern Dalmatia region, Mljet National Park is a hidden gem yet to be discovered. Often overlooked by other more popular destinations, Mljet island is probably one of the most beautiful islands in Croatia featuring a National park. The area of the National park includes small islets, cliffs, forests, and two deep bays connected by a thin channel forming a lake shape. The park is ideal for kayaking, swimming, and diving activities. Those who are less adventurous can observe the magnificent biodiversity of the park.
It is most convenient to take a ferry from Dubrovnik to reach Mljet National Park, but there are many alternative options from Korčula island, Makarska and Pelješac peninsula.
Brijuni National Park
Formed by 14 astounding islands, Brijuni National Park is overlooking the southern coast around Pula on the peninsula of Istria. The majority of the islands form a protected area that can't be visited, besides the islands of Veliki Brijuni and Mali Brijuni that are open for public visits. During the former Yugoslavia federation, this place was the summer residence of its leader Josip Broz Tito. The beautiful park is home to numerous animals such as zebras, camels, and even elephants that were gifts of appreciation for Tito from renowned former world leaders, politicians, and diplomats.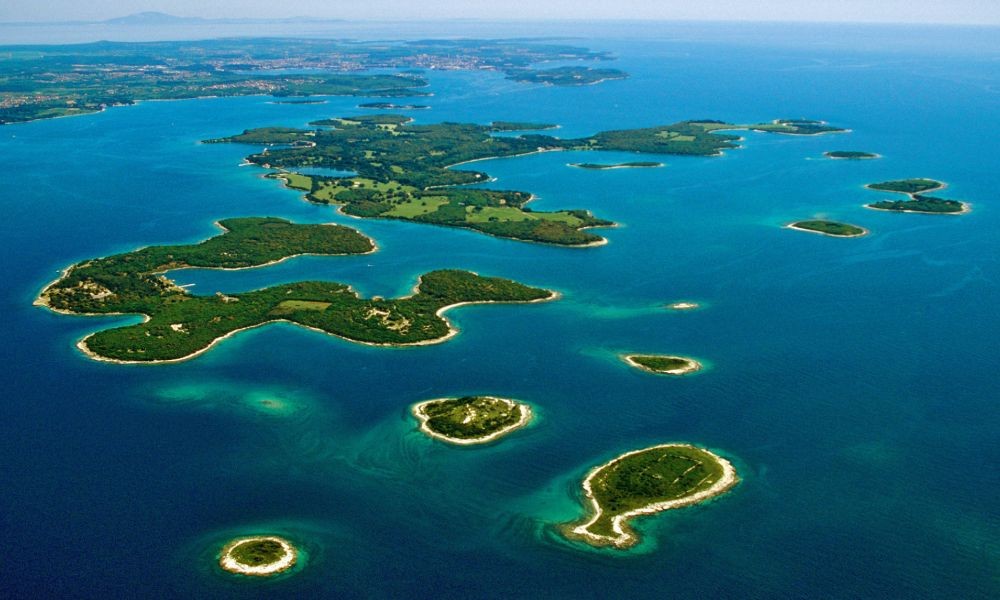 Aside from the exotic safari, Brijuni National Park prides itself on great archaeological heritage, such as remains of Roman Villas and more than 200 dinosaur footprints. The park is best to be discovered by cycling or sightseeing. Golf lovers can even swing their golf club in the field.
To get to Brijuni National Park, you take a boat from Fažana, a small fishing place Pula. If one day of Brijuni islands isn't enough, there are plenty of accommodation options close to the National park.
Kornati National Park
Kornati National Park consists of 89 islands, islets, and an incredible reef that makes it one of the most exciting sailing destinations in Croatia, if not the best. The mesmerizing National park is located in the northern part of Dalmatia region, right between Šibenik and Zadar. Diving is another must-do activity at the Kornati due to its incredible underwater sea life diversity featuring 160 species of fish, as well as crustaceans, turtles, sponges, and even dolphins. Hiking won't disappoint you either: you will come across rodents and lizards, and those with a great eye will be lucky enough to see a falcon. But, in the end, it's the scenery and the viewpoints that will make your visit to this National park amazing.
Velebit National Park
The most recent Croatian National Park is located in the northern part of the Velebit Mountain range. It has an altitude from 518 to 1676 meters and immense biodiversity. The lush greenery of pine forests will reveal extraordinary wildlife like owls, ibexes, and big predators like bears and lynxes. Nature enthusiasts will experience the amazing flora of the park best by cycling or hiking. The real hidden gem is the Velebit Botanical Garden, where more than 300 plant species can be found. The best months to visit the Velebit National park are June and July when nature is blooming. All in all, expect amazing hilltop scenes followed by singing birds and exciting wildlife. You won't regret visiting Velebit National park.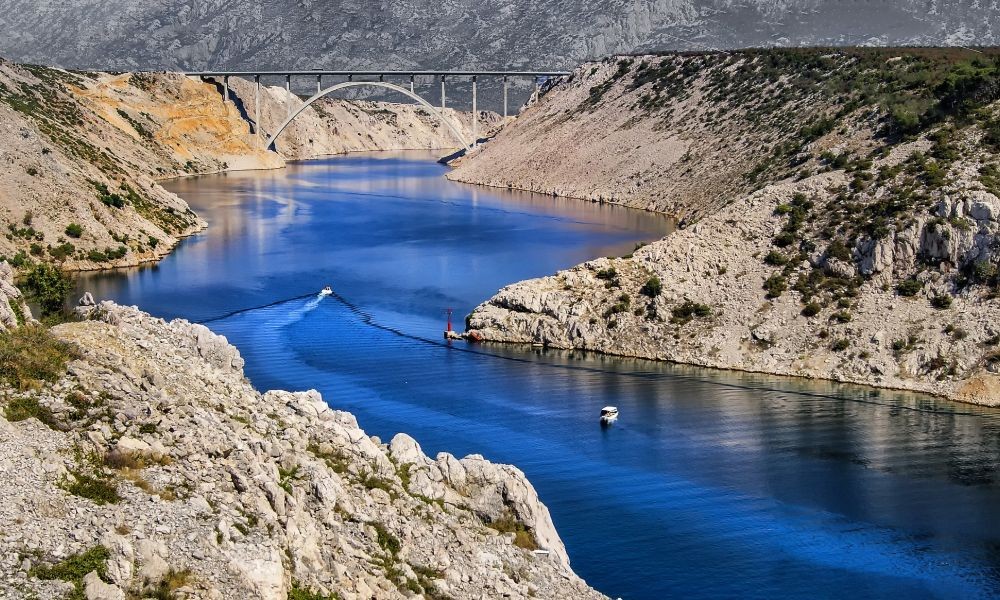 Paklenica National Park
The southern part of the Velebit mountain range is home to Paklenica National park. Amazing cliffs and rocky peaks of this National park are a perfect treat for climbing enthusiasts and alpinists. The park has two canyons, Velika Paklenica and Mala Paklenica (Big and small Paklenica) and fantastic wildlife and biodiversity. Although it is a bit difficult to reach, Paklenica National park has numerous hiking trails from easy to difficult and lots of impressive caves, so it's perfect for all outdoor activities.
Reaching Paklenica National Park is easiest by a bus from Zadar to Starigrad Paklenica.
Risnjak National Park
Hidden in the forested and mountainous region of Gorski Kotar, is the Croatian National Park Risnjak. The probably least known National park spreads over a vast territory, varying from 290 meters of altitude to its peak of 1528 meters. Hiking lovers will enjoy the fantastic views, along with the park's impressive wildlife and plant species. The park has its perks year-round, whether it's covered in snow during winter or offers pleasant 20°C during summer. Extra tip: make sure to visit the spring of the river Kupa, which will amaze you with its crystal clear water.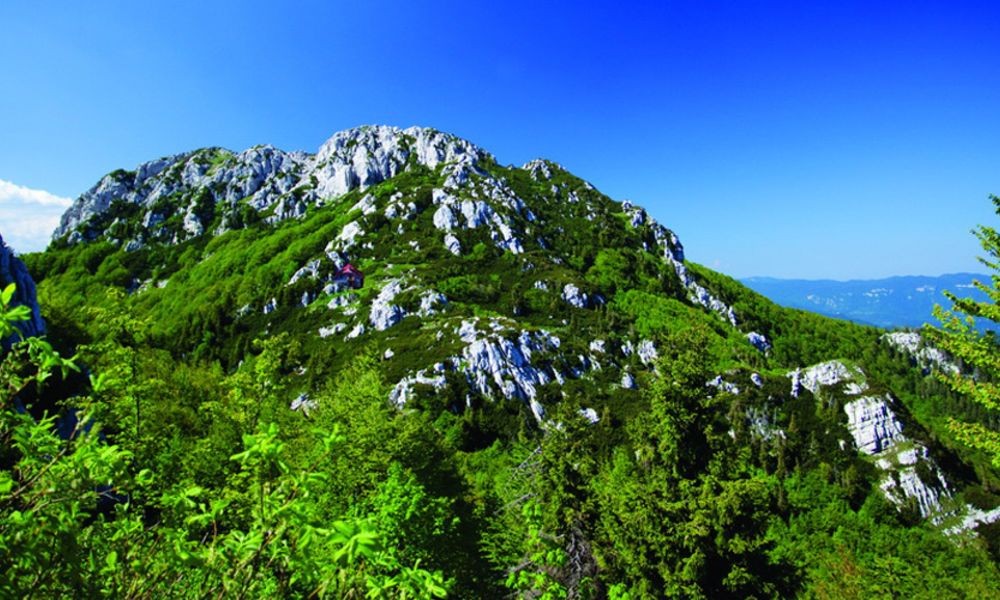 Eight National Parks for eight unforgettable experiences during your vacation in Croatia! With lots of outdoor and extreme activities, incredible natural wonders and unique hidden gems, the National Parks in Croatia have to be visited.
For the best and most convenient accommodation options, contact us at Adriatic Luxury Villas, we will gladly be of help.
We are always at your disposal!