It's time to relax and rejuvenate your mind and body on your next vacation. Experience ultimate relaxation in one of our luxurious Spa Villas on the Adriatic!
In a world where the pace of life seems to quicken with each passing day, we are all seeking for a tranquil oasis where we can escape everyday-life and purely relax. Located along the idyllic Adriatic coast, Croatia attracts travelers with its striking beauty and rich cultural heritage. But what truly makes Croatia special is the number of Spa villas, where the concept of relaxation takes on an entirely new dimension.
In this blog, we will explore why Spa Villas in Croatia are the perfect choice for travelers looking for an unwinding and relaxing vacation, surrounded by natural beauty and a breathtaking seaside. Whether you're a wellness enthusiast, a nature lover, or simply someone craving a break from daily stress, our Spa Villas in Croatia offer an experience like no other.
What Are Spa Villas?
What differentiates Spa Villas from the rest of our luxury villas are, of course, their spa facilities. Spa Villas include facilities such as a private sauna, a whirlpool and a private gym. Some Spa Villas even have private massage rooms, allowing guests to enjoy personalized treatments without leaving their accommodations. What also matters is the location of these villas, since they are mostly situated in picturesque locations, away from the hustle and bustle of the city, which offers guests the opportunity to purely relax, connect with nature and enjoy outdoor activities like hiking, biking, or simply unwinding in beautiful surroundings.
Now, let's embark on a journey through our Top 8 Luxury Spa Villas in Croatia, where luxury seamlessly intertwines with wellness, promising an unforgettable escape into the world of relaxation and rejuvenation.
1. Villa Johanna on the Island of Brač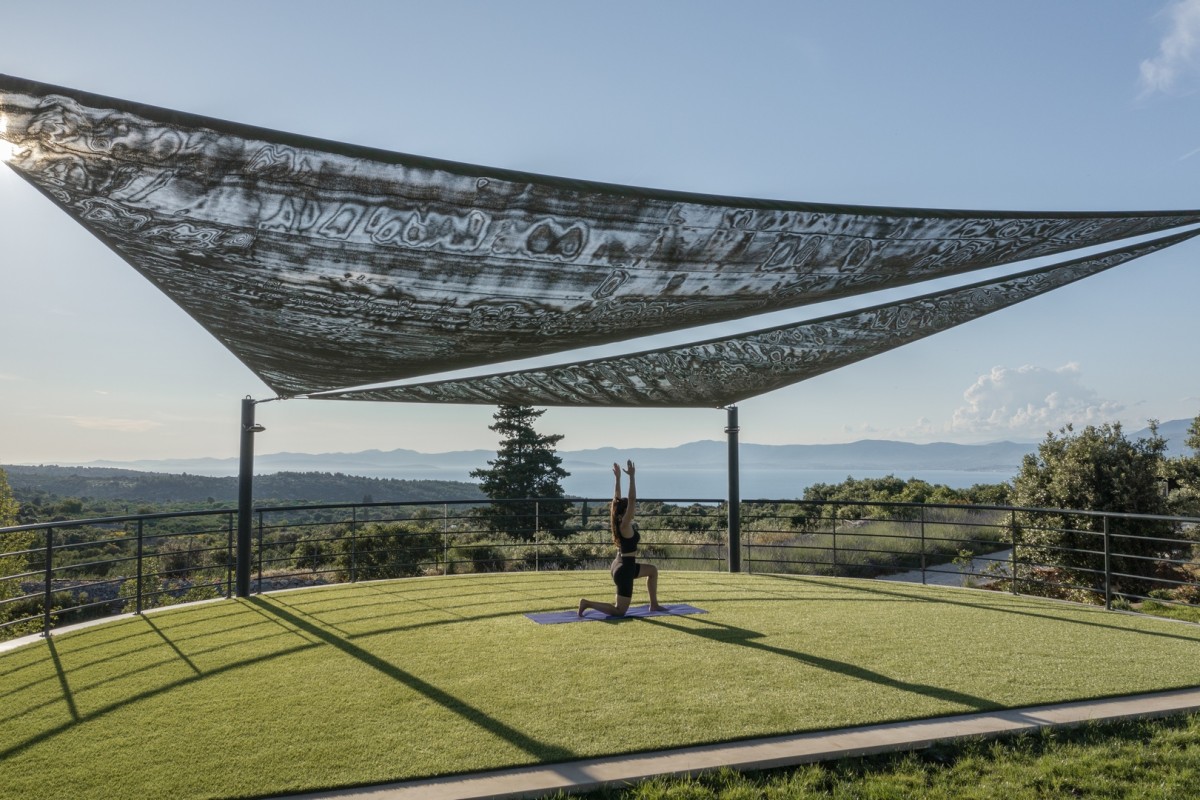 When talking about Spa Villas, it would be a mistake not to mention the unique Villa Johanna on the magnificent island of Brač, which can accommodate up to 12 guests on its generous 700m² living space. What truly makes Villa Johanna special are its remarkable spa facilities designed to pamper each and every guest. The villa has a private indoor sauna and a well-equipped gym, perfect for unwinding and staying active. For those seeking pure indulgence, the massage and meditation tower of the villa provides an oasis of serenity where you can focus solely on self-care and pampering. As if that's not enough, Villa Johanna also features a private wine and olive oil cellar where guests can sample local delicacies. Your journey to ultimate relaxation awaits at Villa Johanna, where wellness and luxury converge to create an unforgettable retreat on the picturesque island of Brač.
2. Villa Zara near Zadar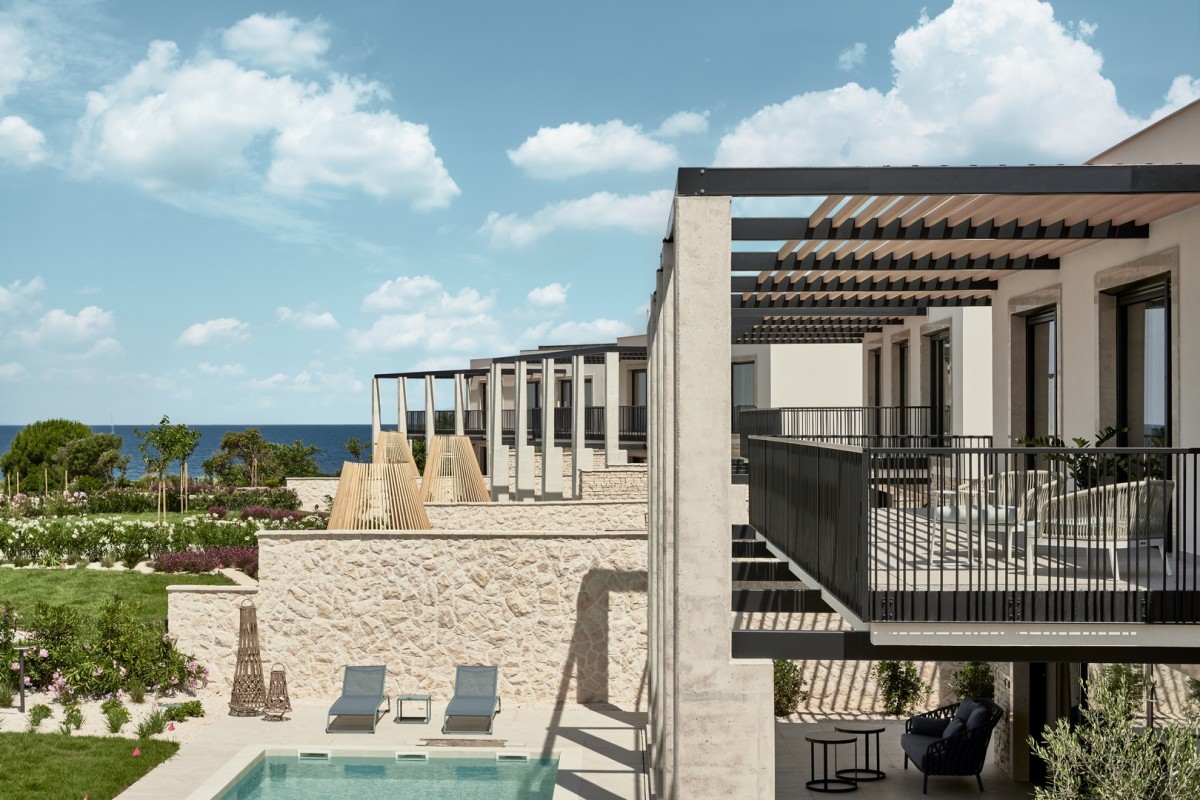 Discover the magic of Villa Zara, where modern design meets the allure of the Mediterranean. This enchanting retreat, located amidst olive trees and fragrant lavender, promises an unforgettable Spa vacation. Villa Zara offers 195m² of living space on two floors, accommodating up to six guests in 3 contemporary bedrooms. Thoughtful amenities like en suite bathrooms stocked with toiletries, robes, slippers, and beach bags, will take your relaxing holiday to a whole new level. Belonging to a hotel resort, Villa Zara offers you various services, including spa treatments, massages and access to sauna, gym and much more. Discover the essence of relaxation at Villa Zara, where comfort awaits your arrival.
3. Villa CaMa near Zadar
Situated in the picturesque village of Posedarje, less than 30 km from historic Zadar, the beautiful Villa CaMa offers an idyllic beachfront retreat with a stunning sea view. This spacious 790 m² villa can accommodate up to 10 guests in four bedrooms. The entire ground floor of the villa is dedicated to entertainment and wellness, containing a sauna, a massage area, table tennis, table football, video games, and a treadmill. Meanwhile, the outdoor area includes a 35 m² infinity pool with a waterfall, sunbeds, a jacuzzi, and a private beach, which are perfect conditions for a relaxing Spa vacation.
4. Villa Krolo & Wine near Split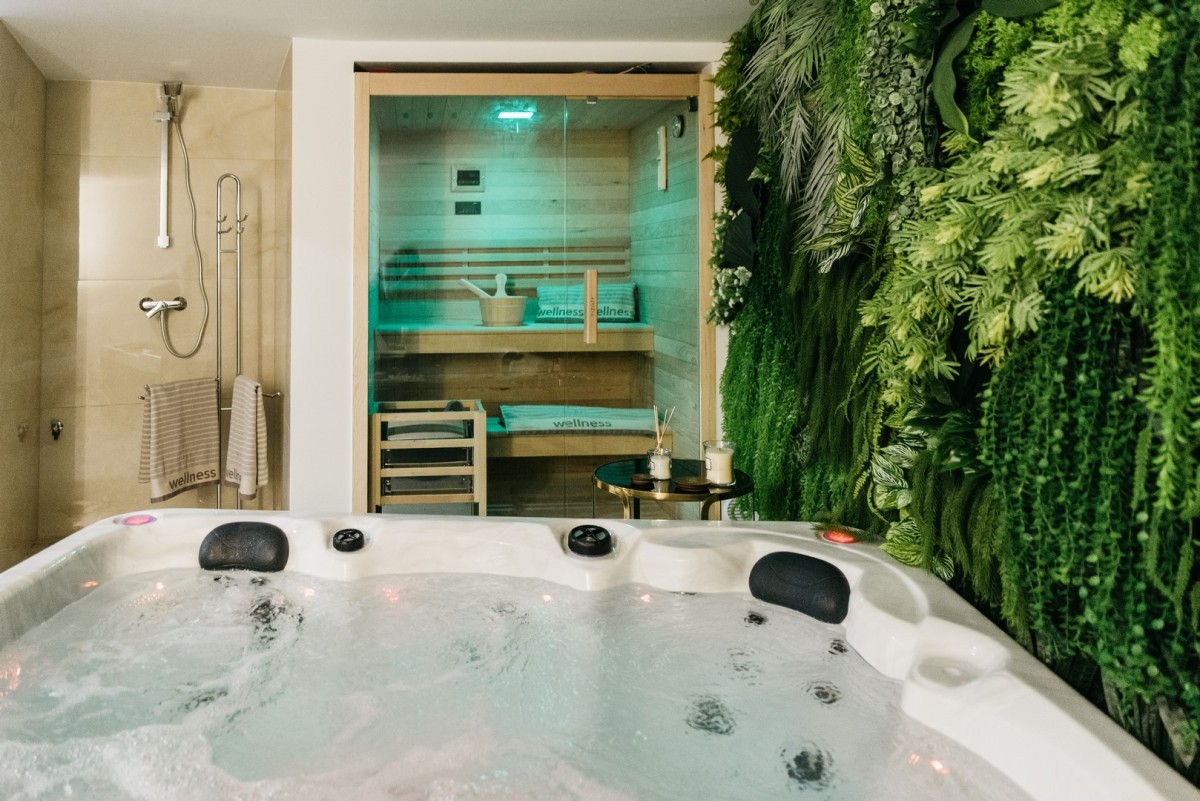 Villa Krolo & Wine is a splendid retreat, which intertwines tradition with modern design. Set in the Dalmatian hinterland, this villa offers an idyllic accommodation for a spa holiday amidst untouched Mediterranean greenery. The 290 m² interior can accommodate up to 10 guests in four spacious bedrooms. Guests can unwind in the private wellness area, which includes a sauna, jacuzzi and gym. Villa Krolo & Wine represents a tranquil spa getaway where guests can carefully relax and enjoy the beauty of the Dalmatian countryside.
5. Villa Jerini Estate on the Island of Krk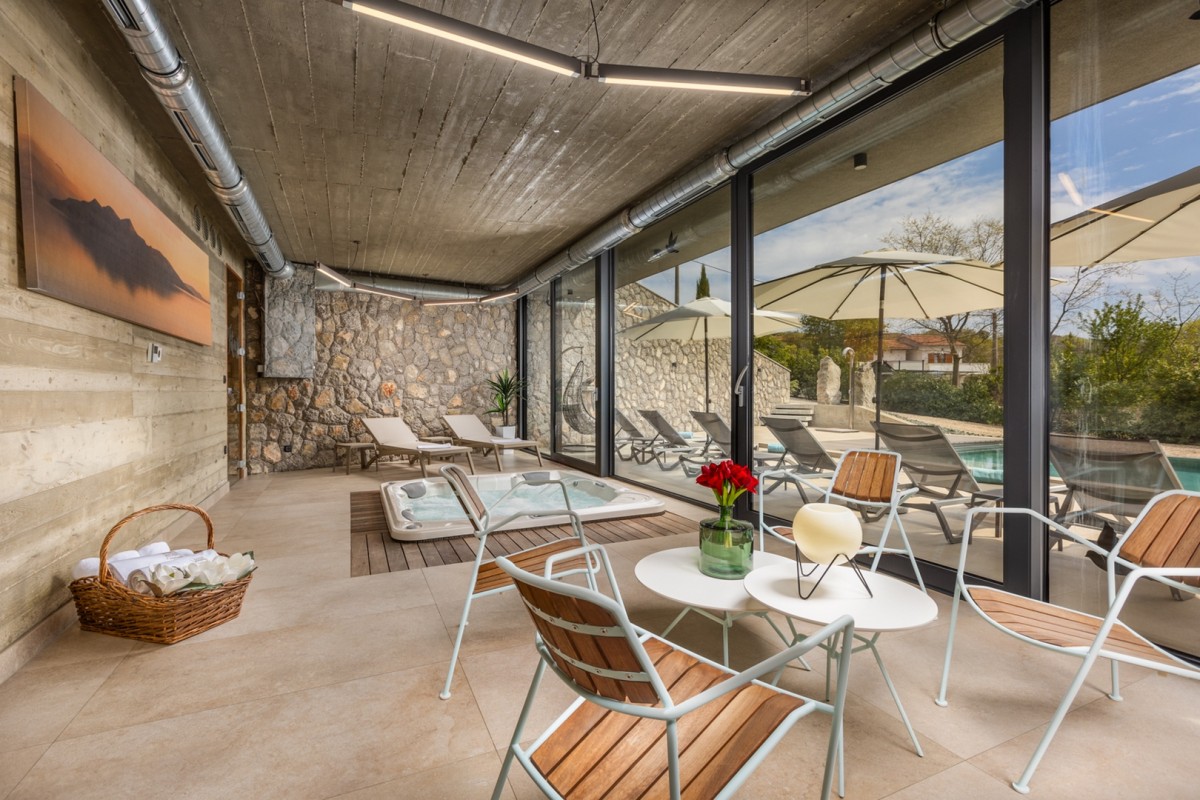 The captivating Villa Jerini Estate on the enchanting island of Krk offers an idyllic escape for those seeking relaxation. Consisting of two stone villas, this estate can accommodate up to 12 guests and embodies rustic charm and rich family heritage, dating back over 200 years. Villa Jerini Estate boasts with a heavenly wellness area that includes a sauna, jacuzzi, gym, and a comfortable sitting area with a view of the private heated swimming pool. If you are looking for a villa where you can relax and pamper yourself in complete privacy, Villa Jerini Estate is the perfect accommodation for you!
6. Villa Lu Dubrovnik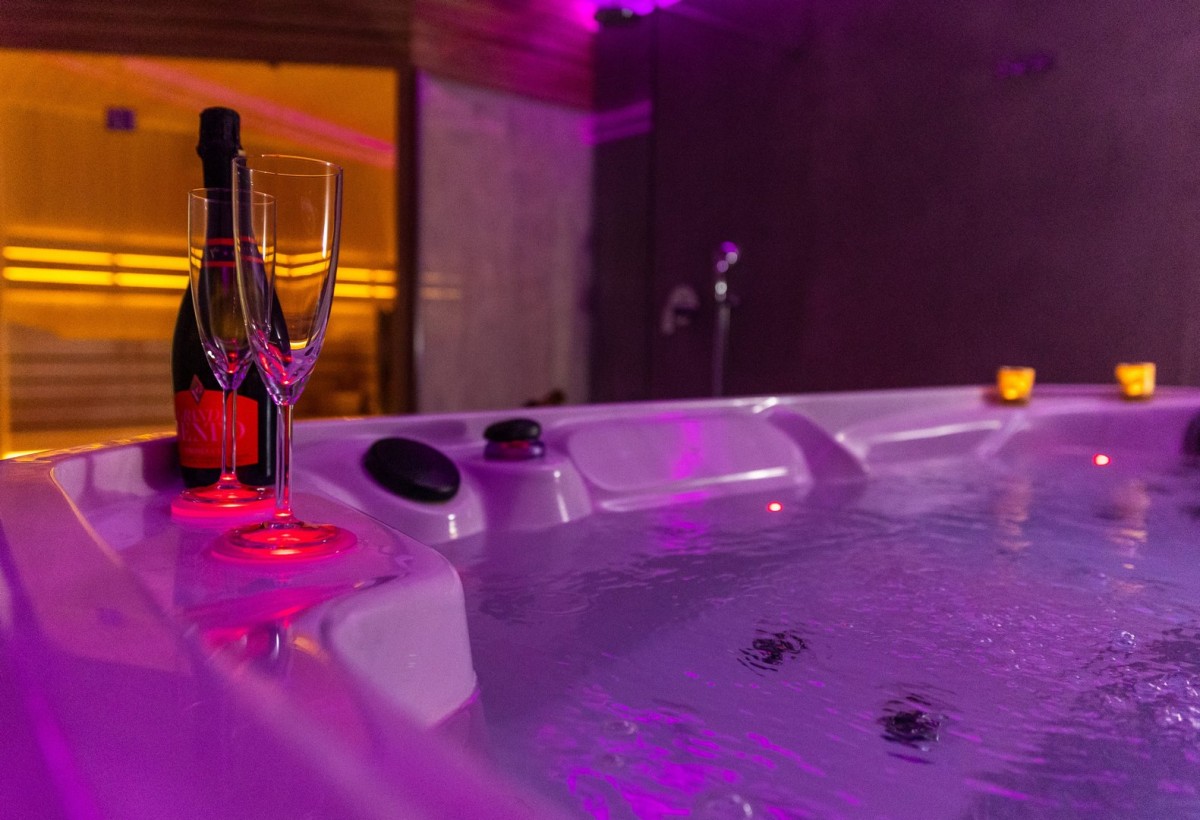 Make an escape from everyday life to the luxurious Villa Lu Dubrovnik and treat yourself to a peaceful and relaxing holiday in, you guessed it, Dubrovnik. This luxury villa can accommodate 10 guests and offers a range of amenities that will provide you with the perfect spa holiday, including a sauna, jacuzzi, gym, and a private heated hydromassage pool. With captivating views of the sea, Villa Lu Dubrovnik is the ideal destination for recharging your batteries.
7. Villa Palazzo Vimbula in Dubrovnik
Embark on a Spa holiday at Villa Palazzo Vimbula in Dubrovnik, which can accommodate up to 8 guests and offers a beautiful indoor wellness area, which consists a private sauna, jacuzzi, and a well-equipped gym. Furthermore, the location of this villa affords breathtaking views of the Adriatic Sea, as well as the Mediterranean landscape, which provides the ideal scenery for a relaxing getaway in full privacy.
8. Villa Cypress Hill in Istria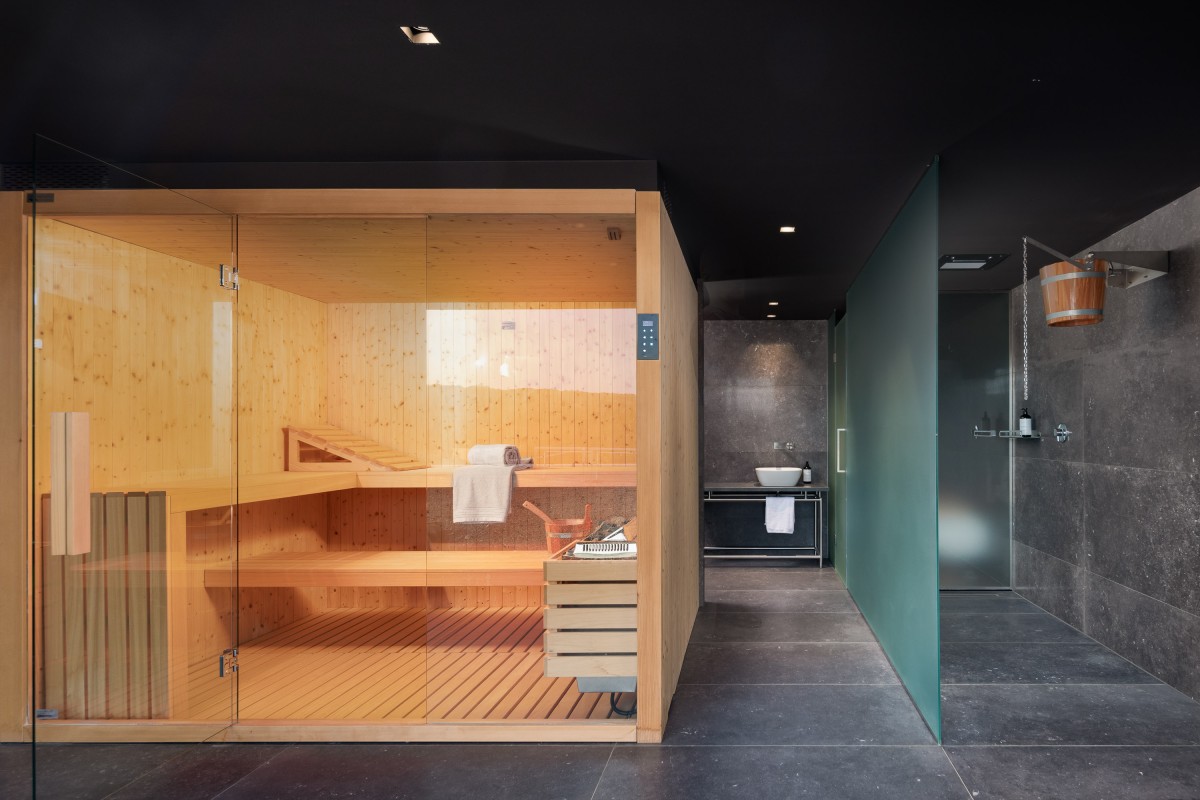 Lose yourself in ultimate luxury and relax at Villa Cypress Hill near the enchanting town of Motovun. This exquisite villa offers a harmonious blend of Mediterranean peace and opulence, ensuring your vacation to be nothing less than exceptional. Immerse yourself in this oasis of relaxation with a private heated pool, sauna, and outdoor jacuzzi, creating a spa experience like no other. But that's not all - for unlimited entertainment, this villa also has a multifunctional sports field and a private tennis court to meet all of your needs. At Villa Cypress Hill, luxury and natural beauty are combined to provide you an exceptional spa-infused experience that will leave you wanting more.
These Spa Villas in Croatia promise a vacation unlike any other, combining the tranquillity of nature and the highest levels of luxury and wellbeing.
So, if you're seeking for a vacation that will recharge your body and soul, consider booking a stay at one of the many exceptional Spa Villas in our offer.
If you need assistance in finding the perfect villa for your Spa holiday, you can contact us at any time!