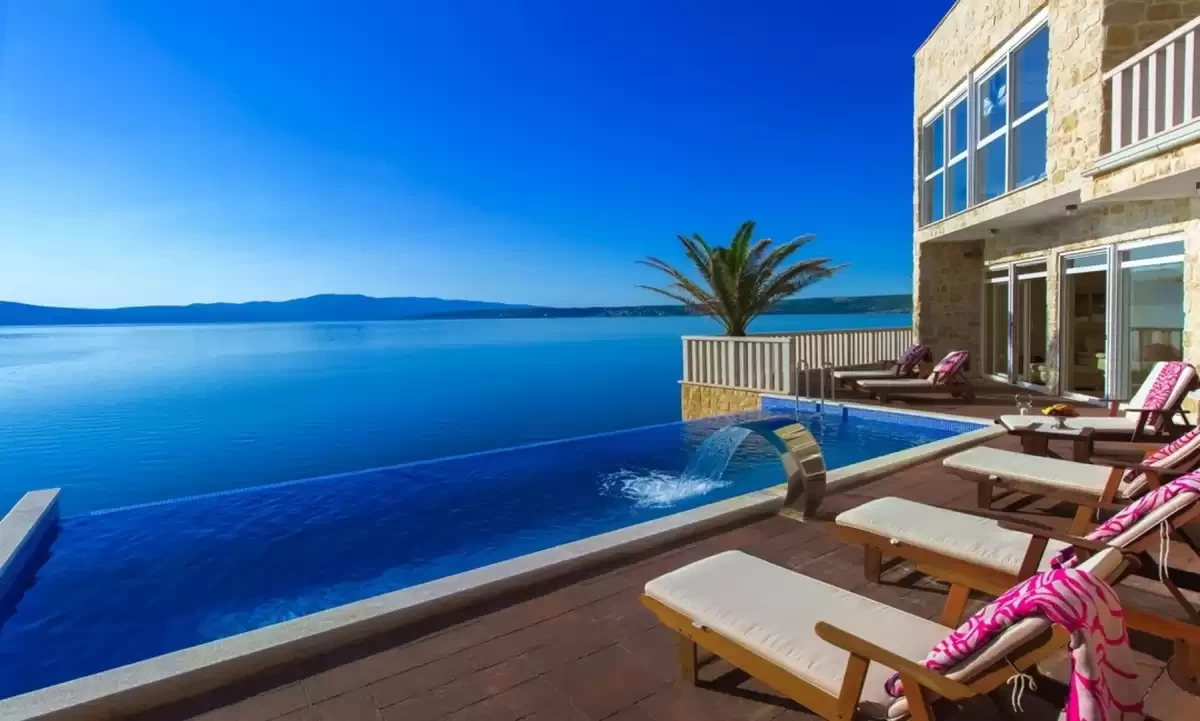 Is there a more beautiful view of the sea than from an infinity pool? Here the sea and the pool water melt together and you experience a truly majestic feeling. Not to mention the amazing Instagram and Facebook pictures that can be taken here.
What would a holiday in a luxury villa be without a pool? The sweet touch of luxury would be missing, wouldn't it? Your dream vacation will be brought to another level in a luxurious villa with a stunning infinity pool. In this particular type of pool, the end of the pool is lowered to give the impression that the water is disappearing into nothingness or infinity.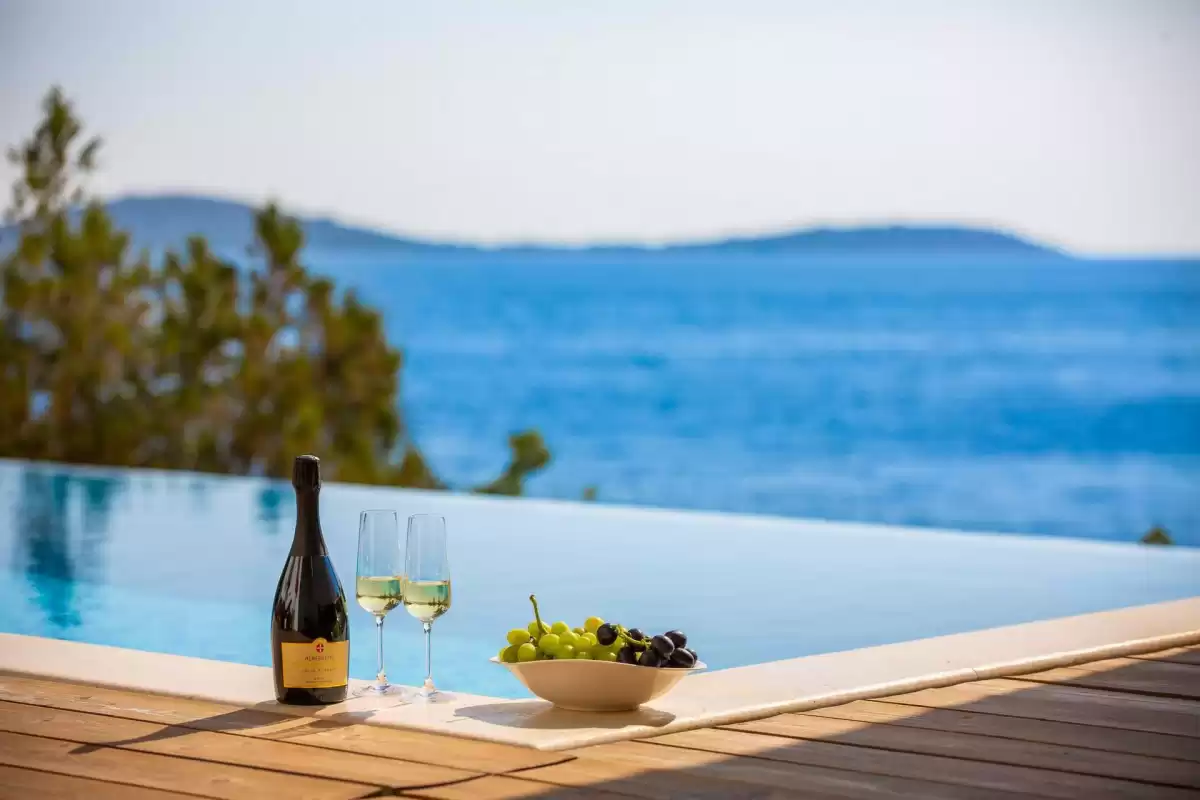 If you are lucky enough that the infinity pool of your holiday villa also offers a sea view, blurring the line between the water in the pool and the sea literally, swimming and refreshing yourself in the pool will be a truly special experience. Along the Croatian coast there are countless villas with private infinity pools that fit this exact description. In this blog we will present you villas with unique infinity pools in Croatia.
Our Selection of the Best Villas with Infinity Pool for your Dream Vacation
Indeed, some of the hosts in Croatia have made an effort to make their villas even more unique and breathtaking by adding an infinity pool. Now we are presenting you a short selection of our stunning villas with infinity pool, in which you can experience your dream vacation. Such infinity pools are very attractive especially for young people, but of course also for all other social network fans, because you can take wonderful snapshots while vacationing!
Villa Extravaganza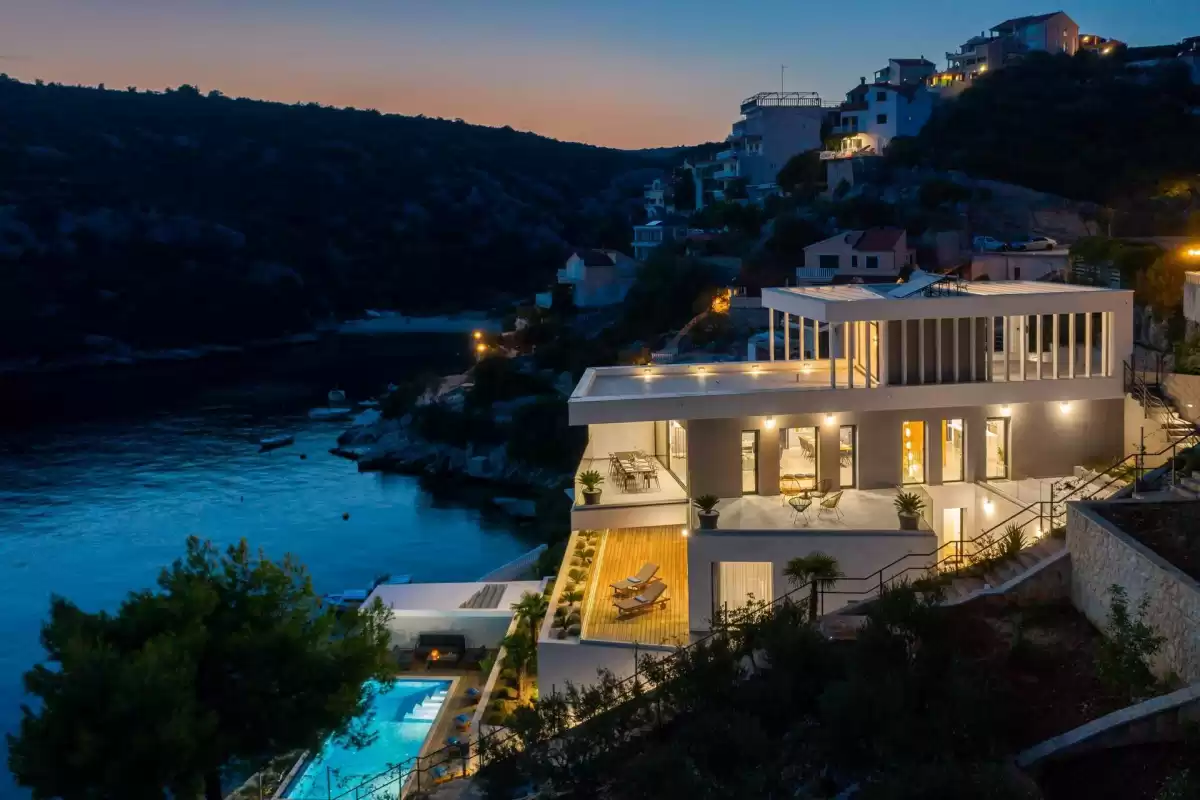 We begin our selection with the extravagant Villa Extravaganza, as the name itself suggests. This modern and thoroughly glamorous villa can comfortably accommodate 8 people. Villa Extravaganza lies in the idyllic port village of Vinišiće near Split. Located right on the beach, this villa offers you a captivating sea view.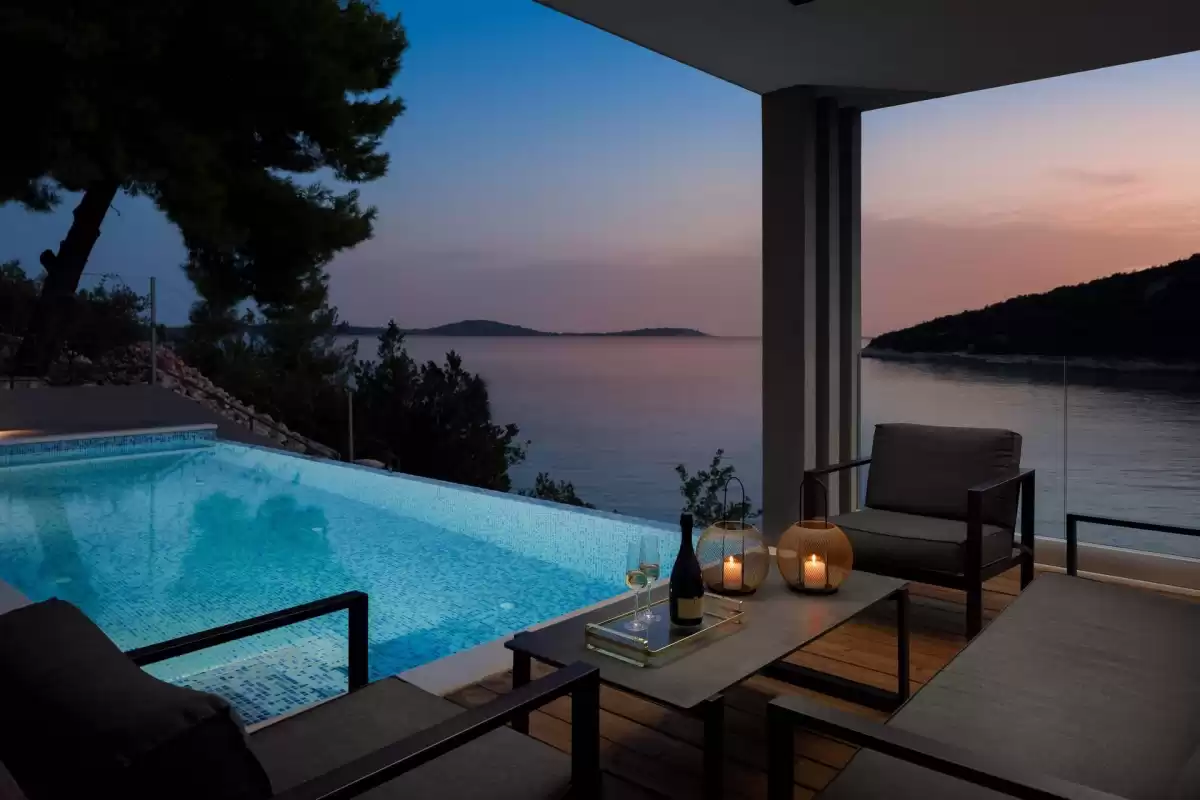 The 36m2 hydromassage infinity pool is, of course, gorgeous. Faced towards the sea, you will surely enjoy the breath-taking seascape from this infinity pool. Nothing stands in the way of a dream holiday with an infinity pool, sauna and even a fitness area in the modern Villa Extravaganza.
Villa Mila
Villa Mila on the island of Brač, exudes glamour and pure luxury. There is enough space for 12 people in 6 spacious bedrooms. This beautiful villa was built from the well-known Brač stone same as the Diocletian's Palace in Split and White House in Chicago. Villa Mila is located on the seafront offering a beautiful private beach and a stunning 39m2 infinity pool surrounded by loungers. From here, you can enjoy a mesmerizing panoramic view of the sea and the lush surroundings.
The offer of Villa Mila includes a private fitness area, sauna, kayak, snorkelling equipment, SUP board and bicycles. Don't miss out on a dream holiday full of luxury and activity!
Villa Opus
The spectacular 5-star Villa Opus with a private beach on the island of Korčula offers you a magnificent panoramic sea view, best enjoyed from the 32m2 infinity pool! The turquoise Adriatic merges with the pool water creating an illusion of an endless, heavenly seascape.
In this ultra-modern furnished and equipped villa, 8 guests can enjoy complete privacy. A private fitness area and a sauna are available. You can also book additional services, such as private boat charter, BMW i3 electric car, private chef, massage therapist and yoga teacher. Don't miss out on the amazing vacationing opportunity!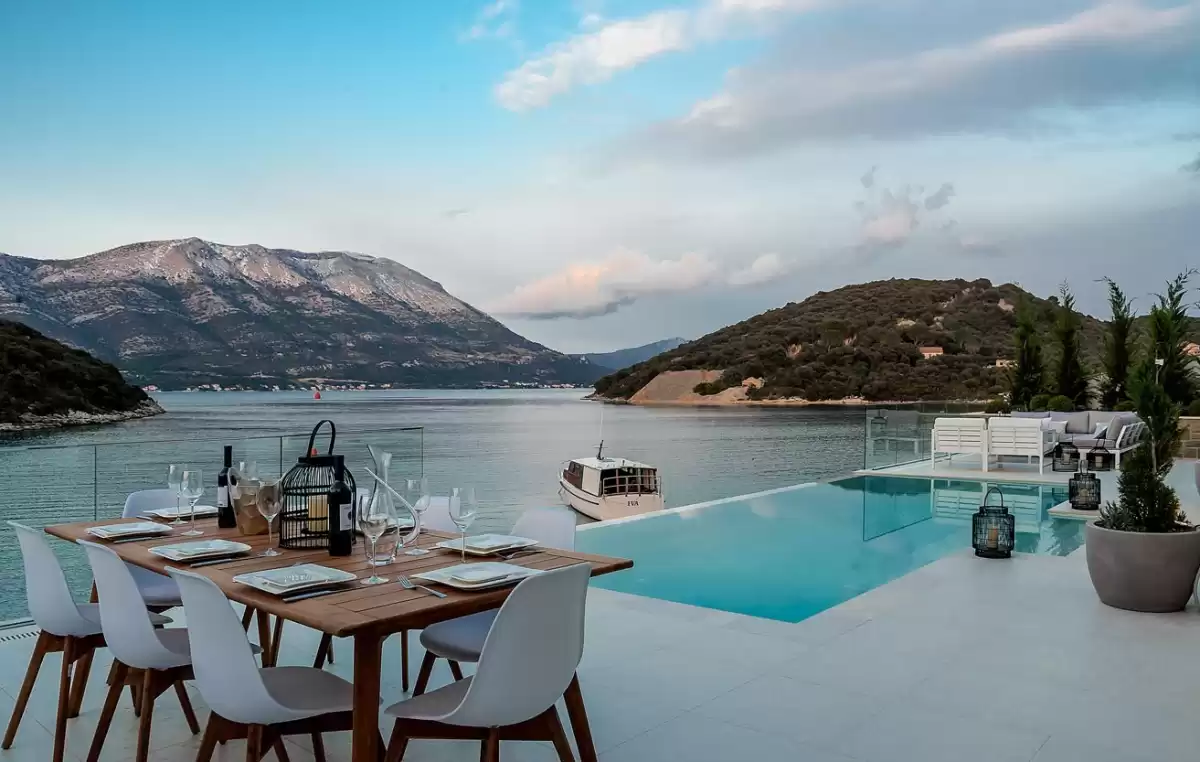 Villa Royal 1
In Villa Royal 1 in Podstrana near Split, you will find everything you need and more for a luxurious, relaxed vacation. There is enough space for 10 people. The contemporary and elegant villa features a 40m2 infinity pool in its outdoor area, which offers a magnificent view of the surrounding landscape and the sparkling Adriatic Sea. You can relax on the loungers that surround the infinity pool. Since the villa lies on a somewhat elevated location, you can enjoy a perfect overview of the surroundings here, which will make you feel like royalty.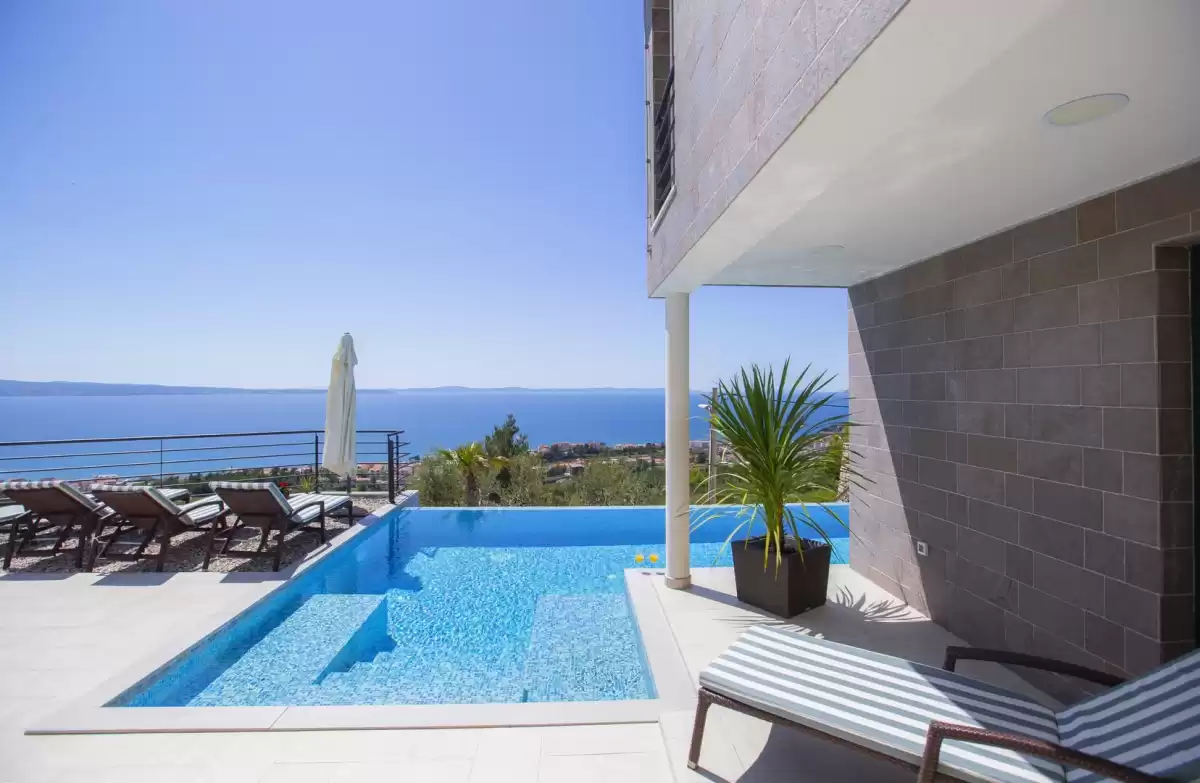 Villa Bellevue
In the small village of Bast near Baška Voda lies the majestic Villa Bellevue. "Bellevue" (beautiful view) is what you will have the opportunity to enjoy from the gorgeous infinity pool of this villa. The 22 m2 infinity pool appears as a gateway to the majestic Adriatic seascape.
This beautiful luxury villa can accommodate up to 8 people in four airy bedrooms, each quipped with a double bed. A fitness area with a treadmill and other equipment is also at your disposal at Villa Bellevue. Immediately after a strenuous workout, you can relax in Villa Bellevue's jacuzzi.
Villa Gabrijela
Gorgeous and luxurious villas with breath-taking infinity pools are something you will find in Istria as well. Such is the attractive Villa Gabrijela, located in Poreč, on the west coast of the Istrian peninsula in the picturesque, small town of Kaštelir. Here, 10 guests can make themselves comfortable in five spacious, immaculately furnished bedrooms.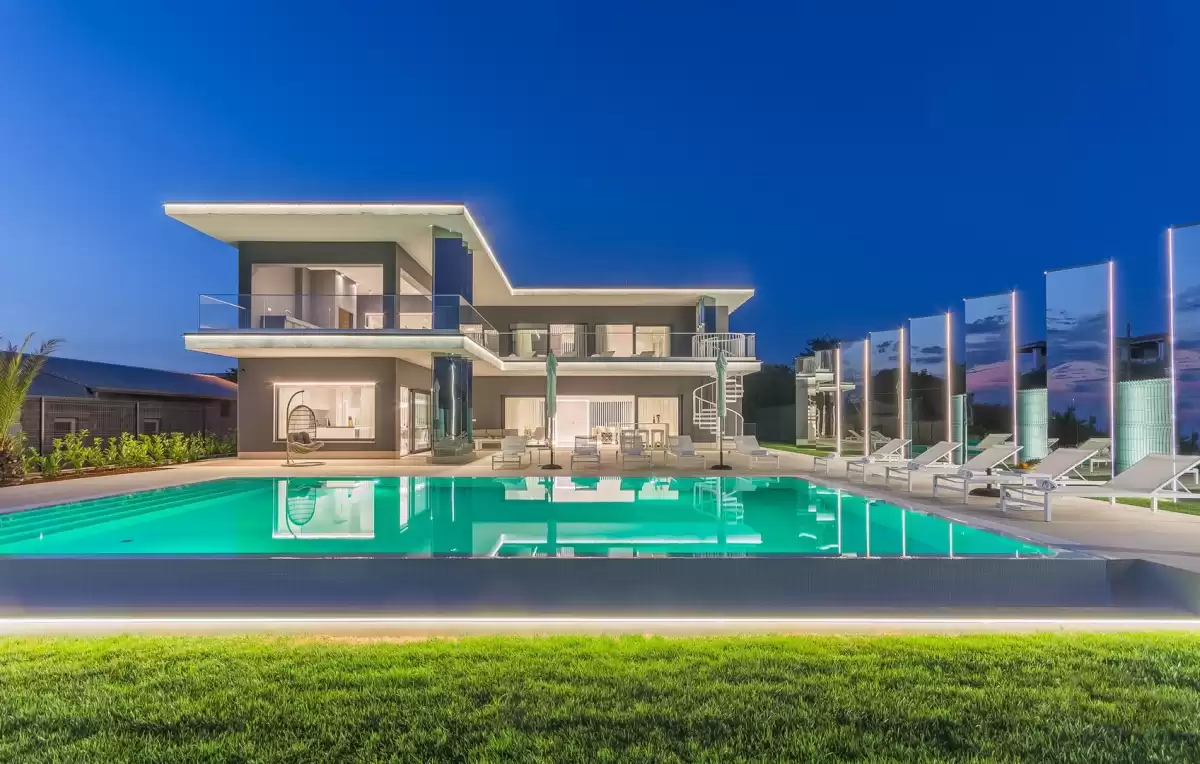 This stunning villa is ideally located amidst lush greenery and offers a wonderful panoramic view of the unique Istrian landscape and a captivating view of the sparkling Adriatic Sea sprawling in the distance. This view is best enjoyed from the generous 72m2 infinity pool. Here you will experience a feeling of endless beauty!
Villa Uvala
Sunny island of Hvar is home to the extraordinary Villa Uvala. Here 10 guests can settle down comfortably and experience an unforgettable vacation in the picturesque town of Stari Grad in the magnificent Maslina Resort, of which Villa Uvala is a part. Surrounded by the lush greenery of olive trees and pine trees, you have everything here to enjoy a phenomenal vacationing experience.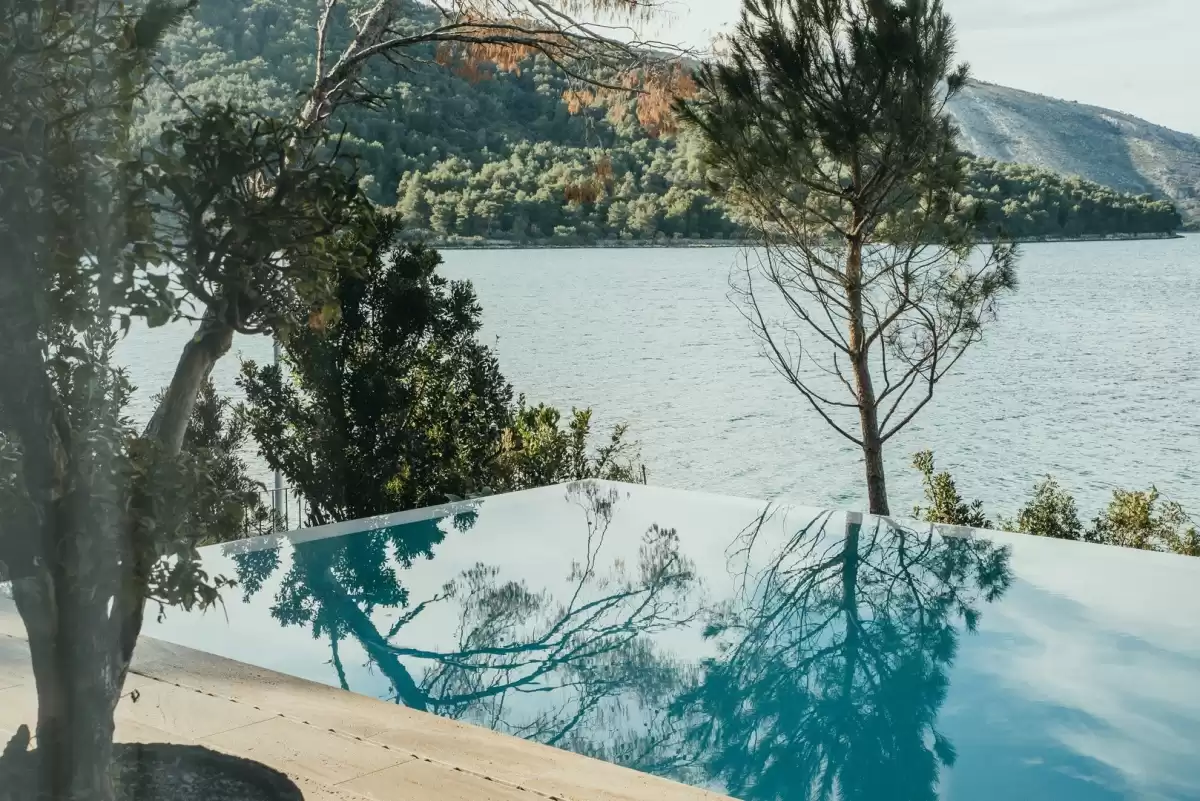 Modern and minimalistic, Villa Uvala (eng. bay) offers a 50m2 infinity pool in its beautiful outdoor area. Lying directly on the sea, the villa offers an impressive view of the Maslina Bay. Furthermore, in this villa you can be active in the private gym as well as completely relaxed in the sauna or jacuzzi.
Villa CaMa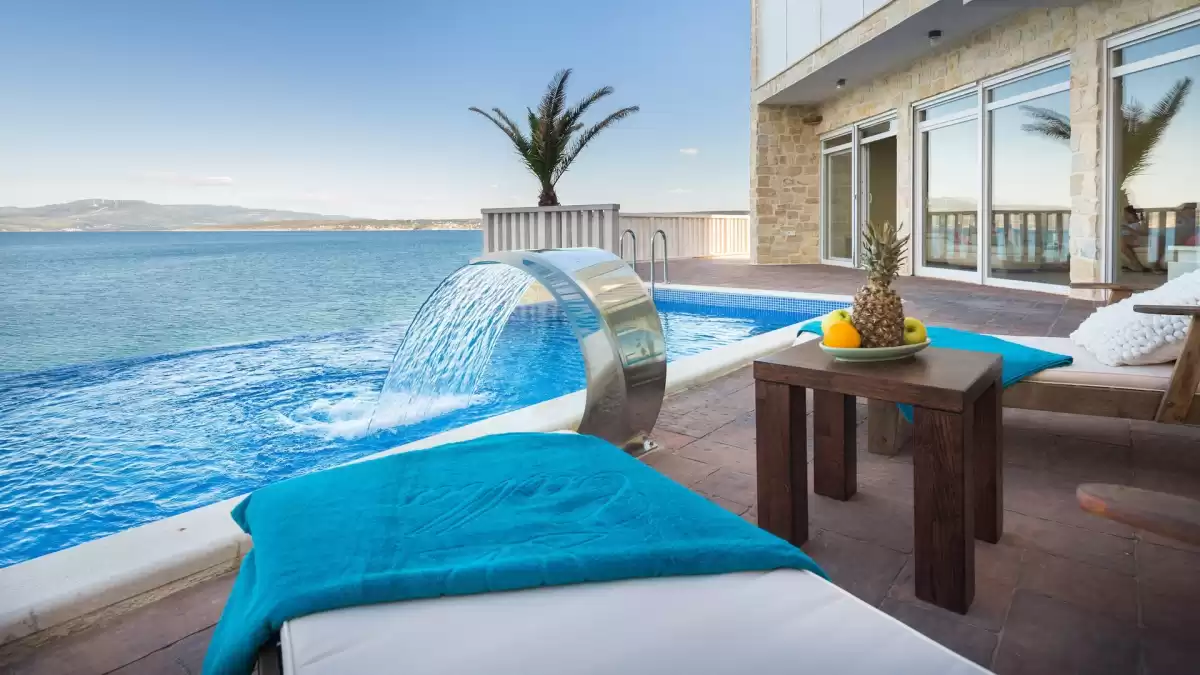 Located in Posedarje, not far from the historic city of Zadar, Villa CaMa offers one of the most spectacular sea views on the Adriatic. This phenomenal sea view is best enjoyed from the impressive 35m2 infinity pool. Even a small waterfall is built into this infinity pool! Around the pool there are comfortable loungers on which you can relax and bask in the warm Dalmatian sun.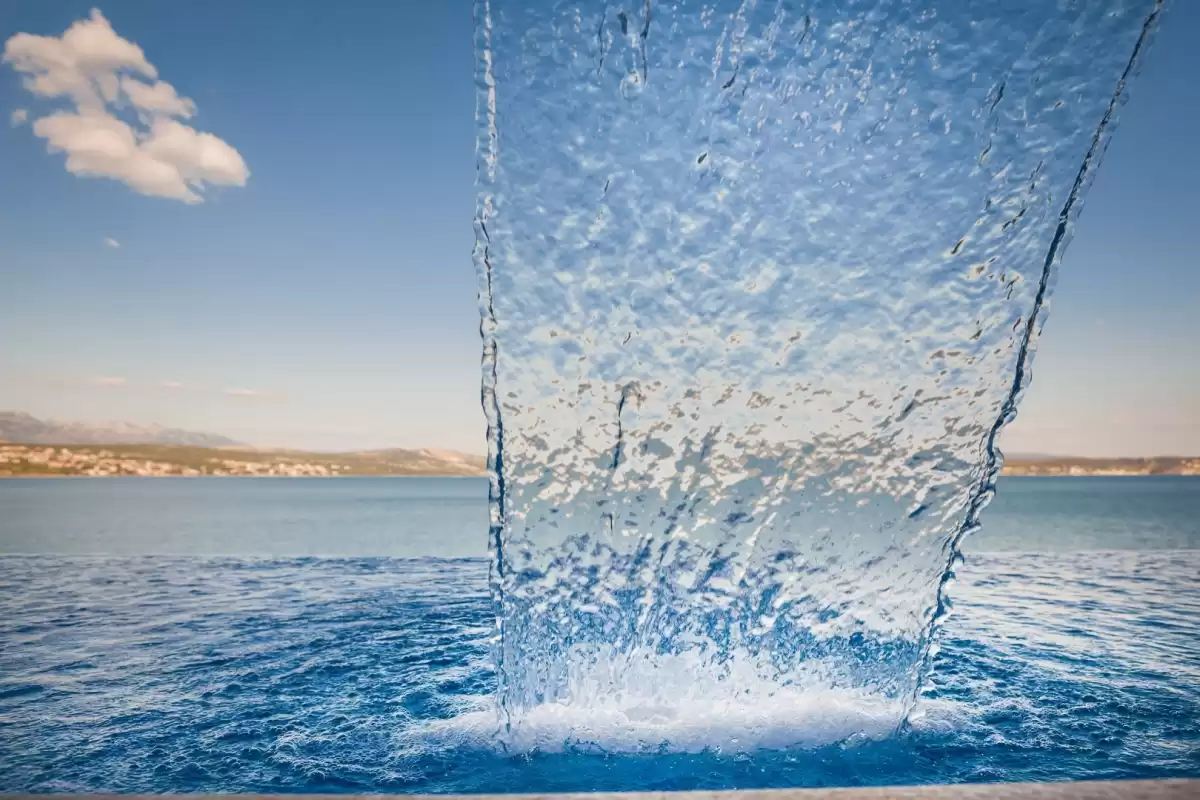 Villa CaMa offers enough space for 10 guests in four bright and modern bedrooms, which offer stunning sea views through large glass windows. Also at Villa CaMa, guests can stay active in the private gym and afterwards relax in the jacuzzi and sauna.
Villa SeaBreeze
Villa SeaBreeze lies on the gorgeous island of Vis. There is enough space for 10 people in five spacious and airy bedrooms. You can also experience the relaxed lifestyle of the island in the 22m2 infinity pool. Surrounded by almost tropical greenery, the infinity pool offers you a heavenly view of the open Adriatic Sea.
Since this villa is located directly on the sea, you will have access to the private beach where you can enjoy complete privacy. The interior of Villa SeaBreeze exudes elegance through its eclectic mixture of modern and rustic elements. In any case, you will surely enjoy an indescribable dream holiday so do not hesitate to book your stay and enjoy a bit of a sea breeze with a luxury twist!
Villa Luce di Mare
Villa Luce di Mare on the sunny island of Hvar features a marvellous infinity pool as well as a smaller shallow pool, directly connected to the infinity pool. Taking am invigorating swim in the stunning pool and taking in the view of the sparkling Adriatic Sea will be an unforgettable experience!
Inside the Villa Luce di Mare you will find a modern and comfortable ambience. The bright and spacious bedrooms offer enough space for six guests. Due to the seafront location of the villa, you will have direct access to a beautiful pebble beach.
Villa Jerini
The Croatian islands also offer a wide range of luxurious villas with exceptional infinity pools. On the island of Krk lies the beautiful Villa Jerini, in which six people can make themselves comfortable. The 50m2 infinity pool with a small waterfall is enclosed, as is the whole property, providing its guests complete privacy. Surrounded by lush greenery, this rustic beauty offers a true haven of tranquillity.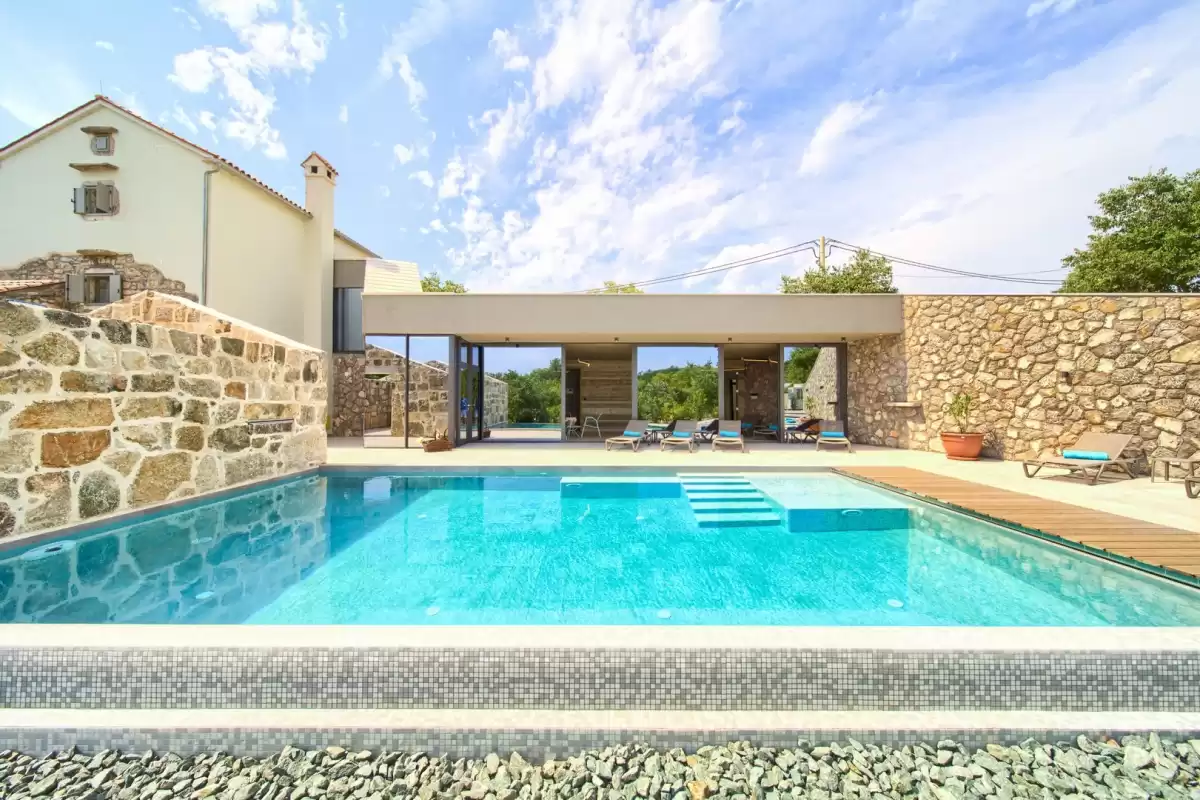 You can also stay active in this villa's private gym and then relax in the jacuzzi or sauna. Don't miss the opportunity to spend a harmonious vacation in this mesmerizing oasis!
Villa Gloss
Near the picturesque town of Primošten, in the small village of Bilo, lies the glamorous Villa Gloss. This modern and attractive villa is located right next to a beautiful rocky beach, giving you unsurpassed views of the clear Adriatic Sea. Here, a magnificent view can be enjoyed from the lovely infinity pool whose clear water melts together with the se in an extraordinary way.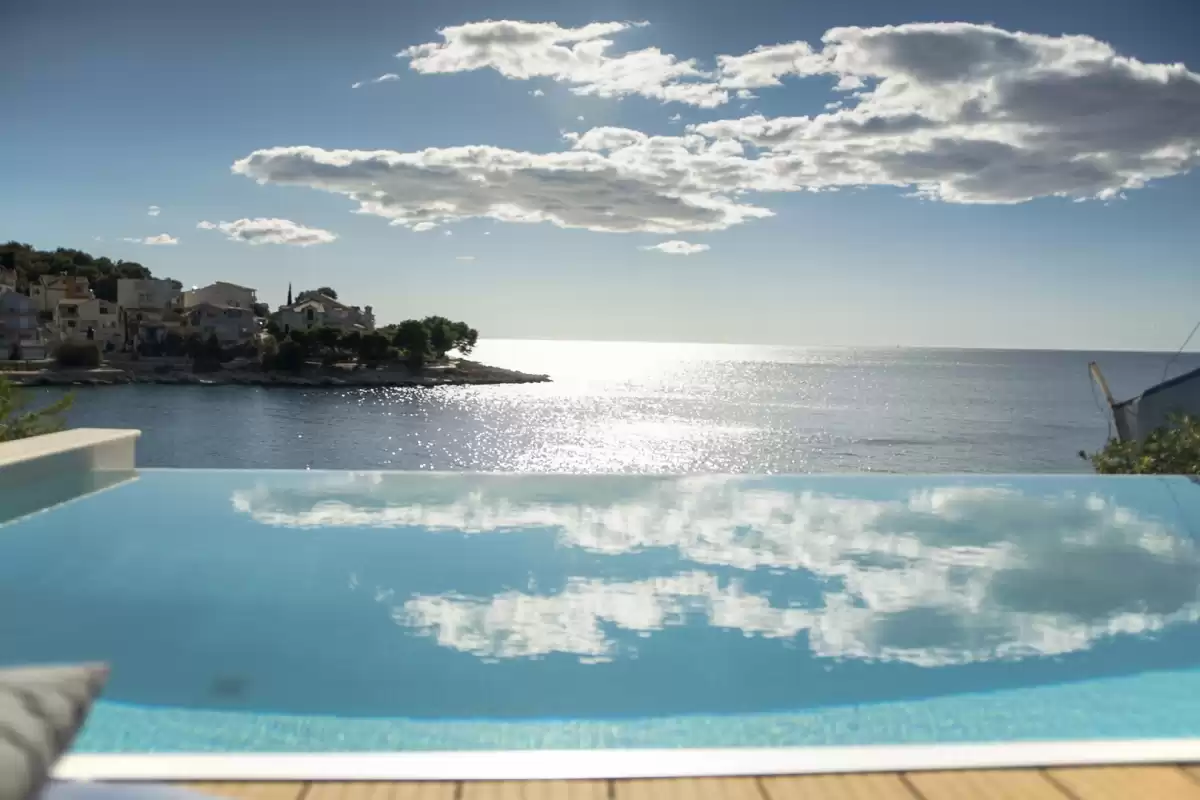 There is plenty of room for 10 guests in four spacious and modern bedrooms of this elegant villa. Enjoy a luxury vacation with friends and family at Villa Gloss!
Villa Livingstone 2
You can also treat yourself to a luxurious and relacing holiday in Croatia full in Villa Livingstone 2 near Split. There is enough space for 9 people in four bright and beautiful bedrooms. The incredible 100m2 infinity pool whose water effortlessly merges with the sparkling Adriatic Sea. Take a dive in its heavenly endless waters.
Among other things, this villa gives you access to the private beach. In addition to the wonderful infinity pool, a sauna and a jacuzzi tub are at your disposal.
Villa Mey's Place
Romantic Villa Mey's Place is located in the village of Lozica, just 5 km from the fascinating and attractive city of Dubrovnik. This luxurious accommodation offers enough space for 7 guests in four spacious and bright bedrooms.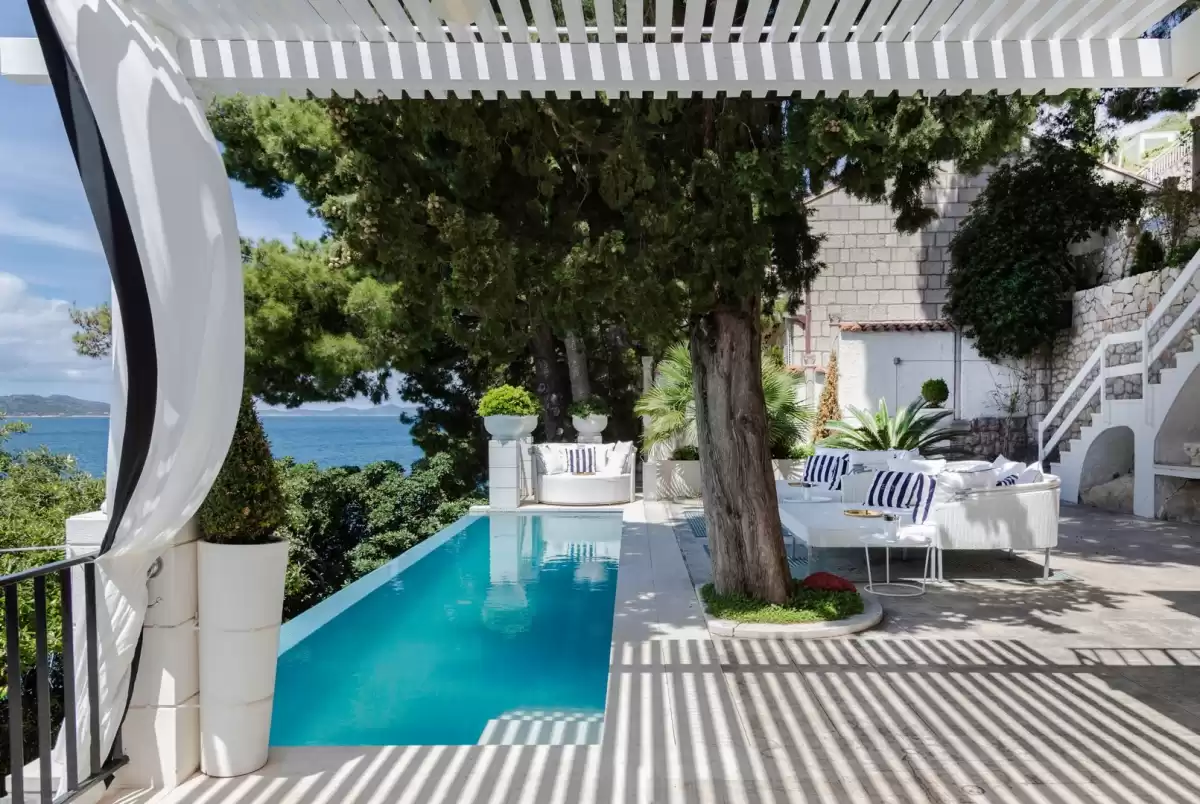 This villa is a seafront oasis of peace and harmony with a 18m2 infinity pool, offering you a wonderful view of the open Adriatic Sea. Villa Mey's Place also provides you with access to a gorgeous private beach. Endless tranquillity and privacy are the keywords for this villa!
Now we have introduced you to the infinite beauty of villas with infinity pools along the coast of Croatia. So don't miss out on an endlessly dreamy holiday and the opportunity to take the most beautiful photos ever!
These are just some of our spectacular villas with infinity pools, so feel free to browse our full range of villas.
We're here to help you finding your dream villa with infinity pool!
Thank you for reading!