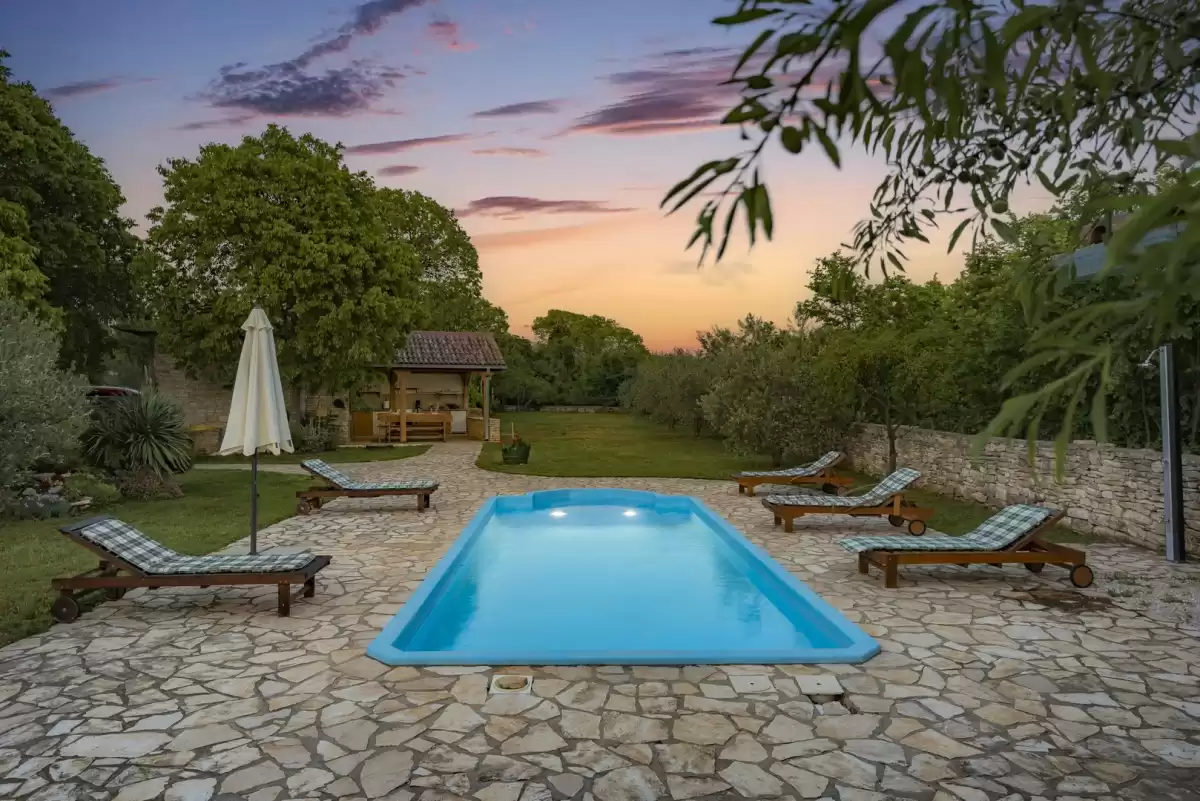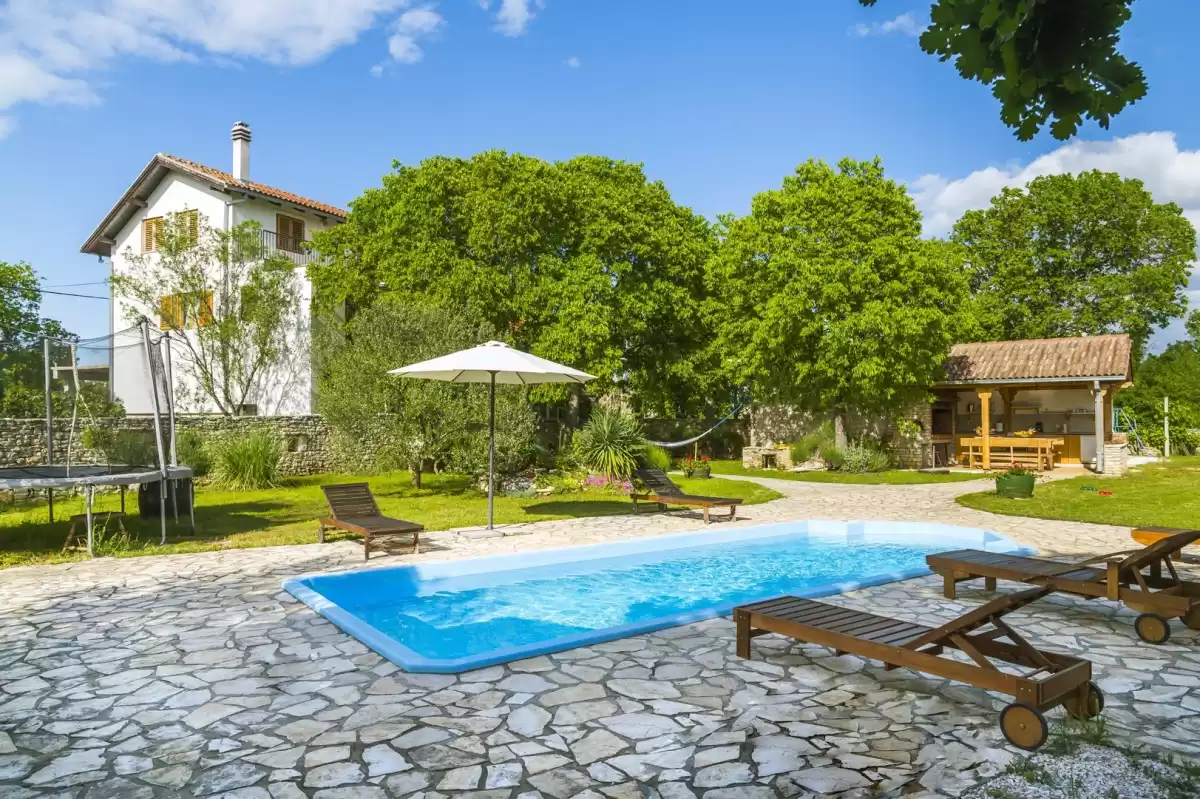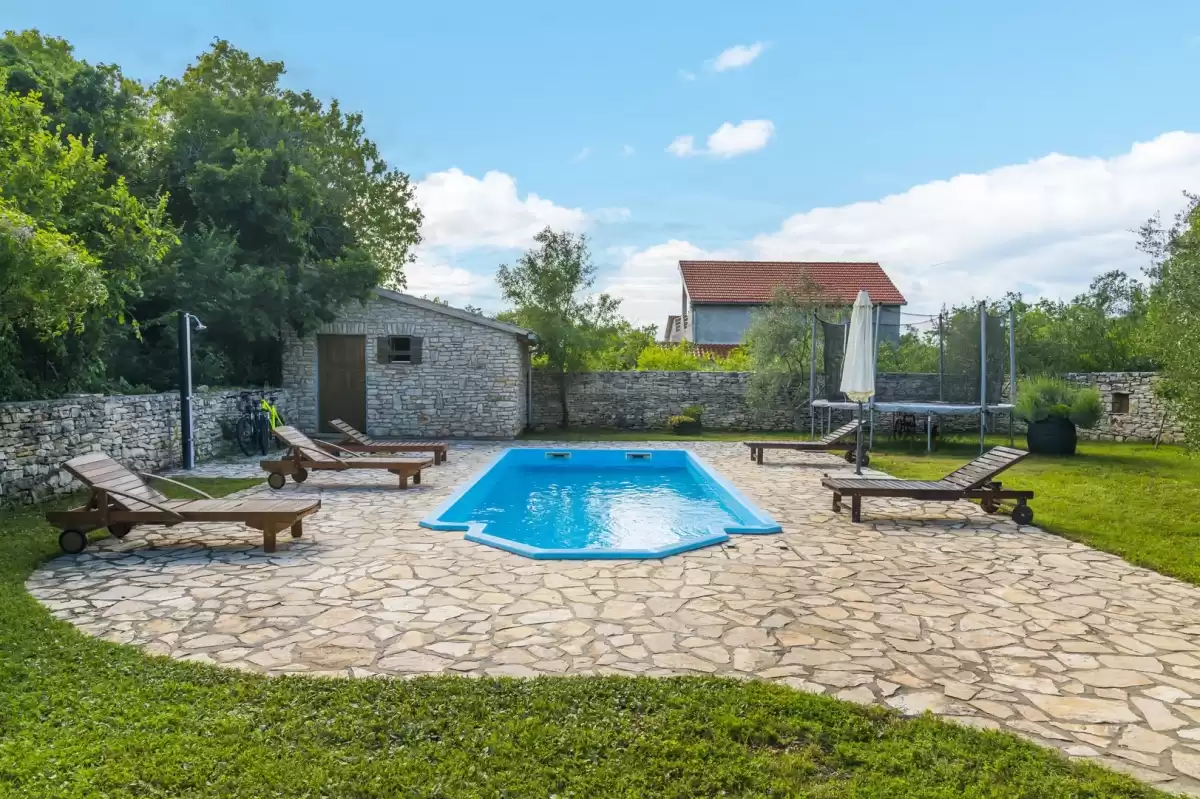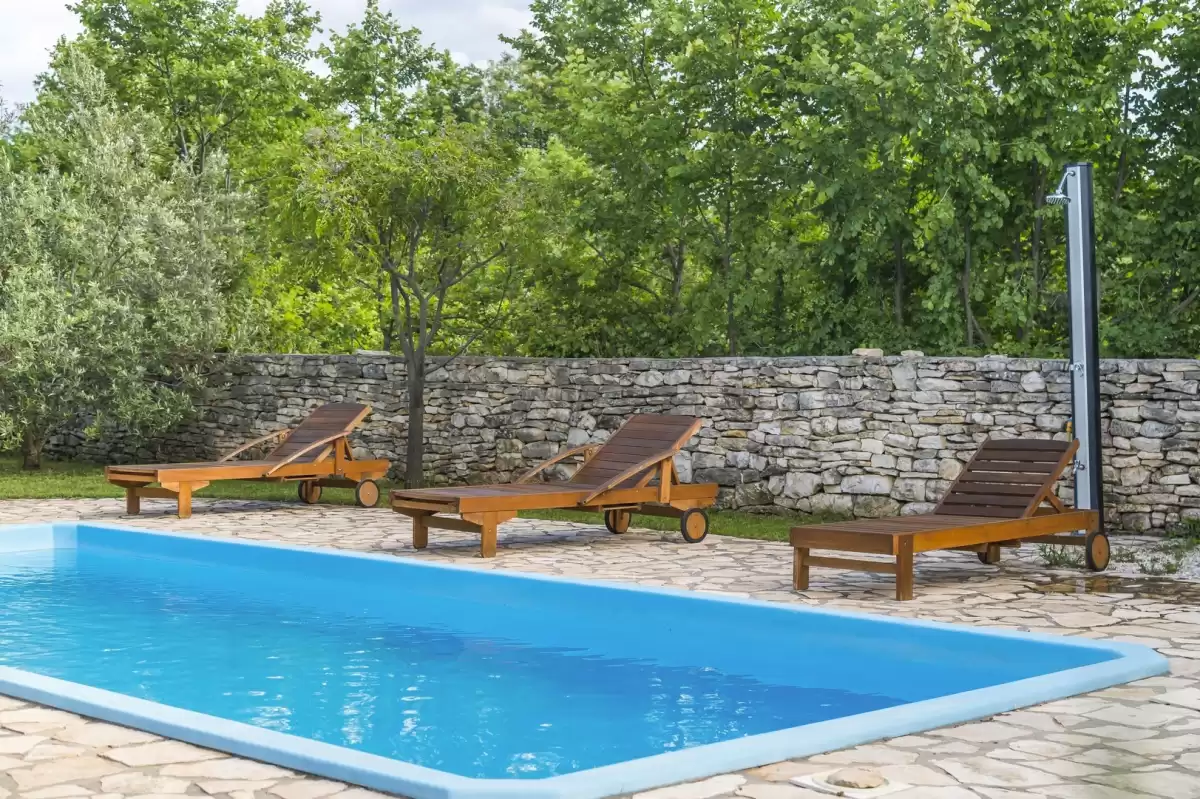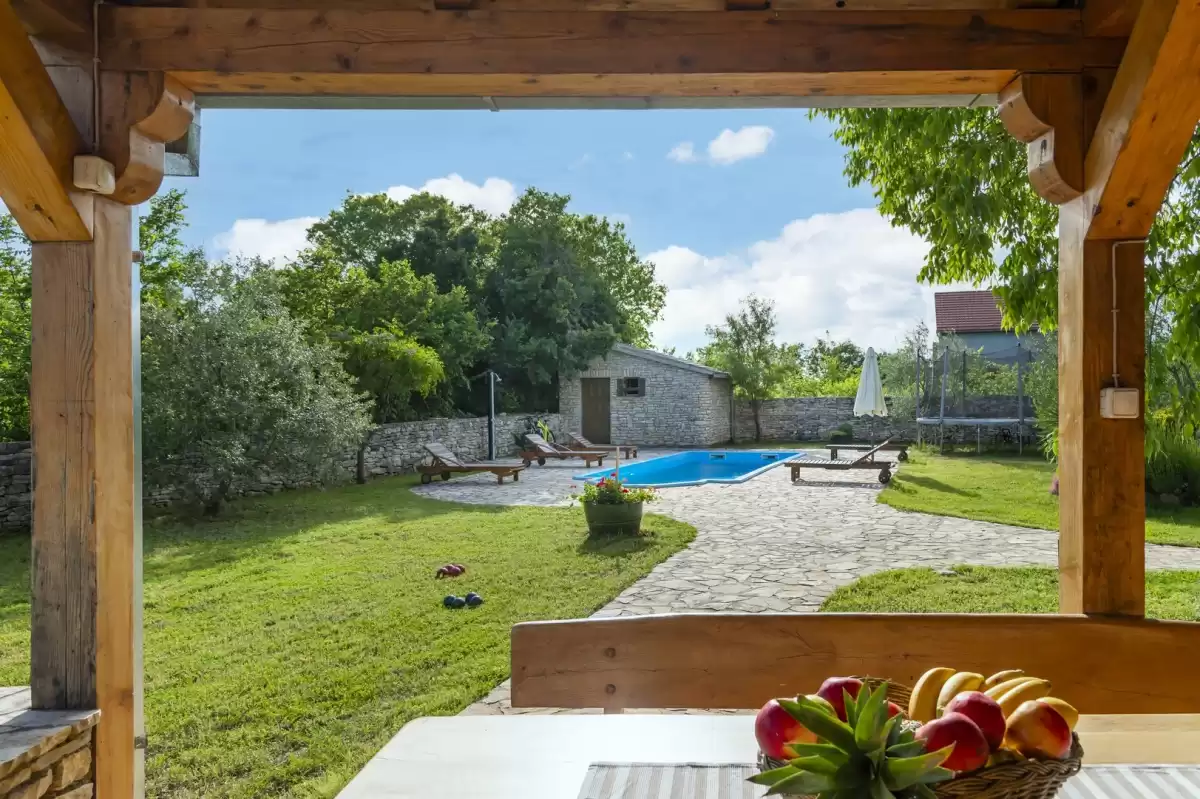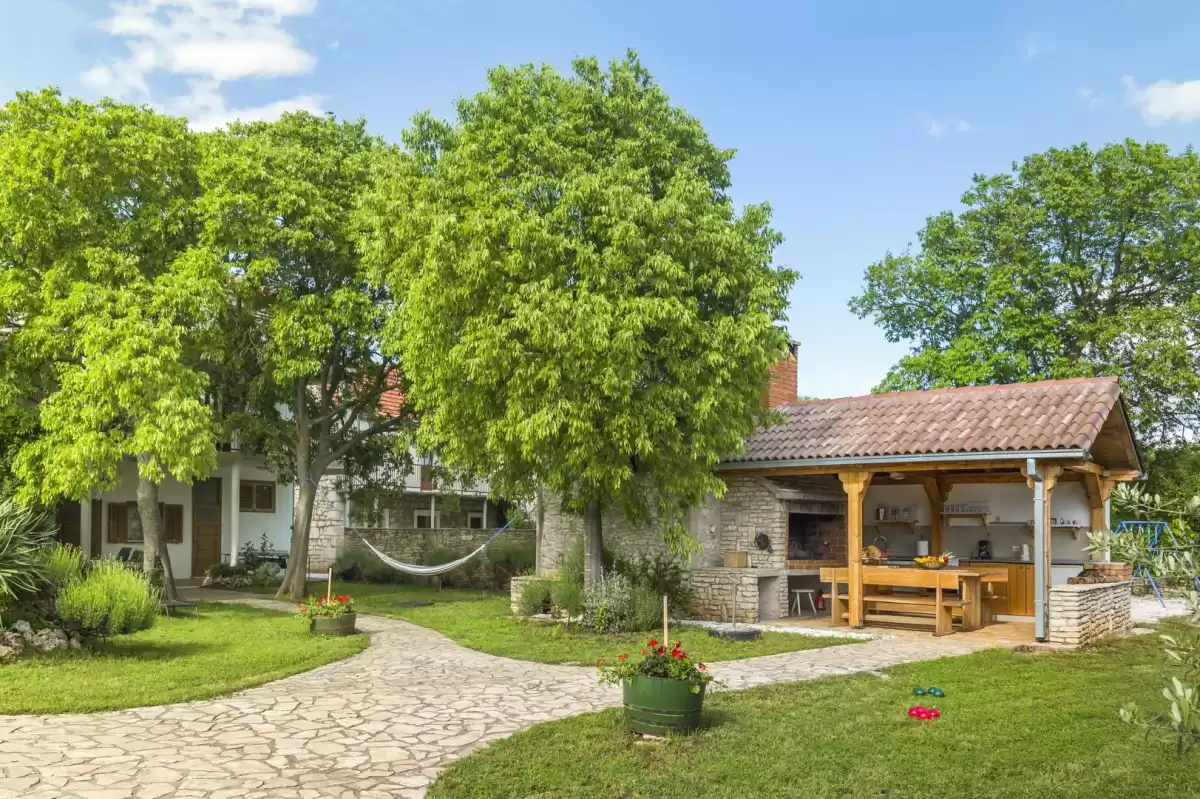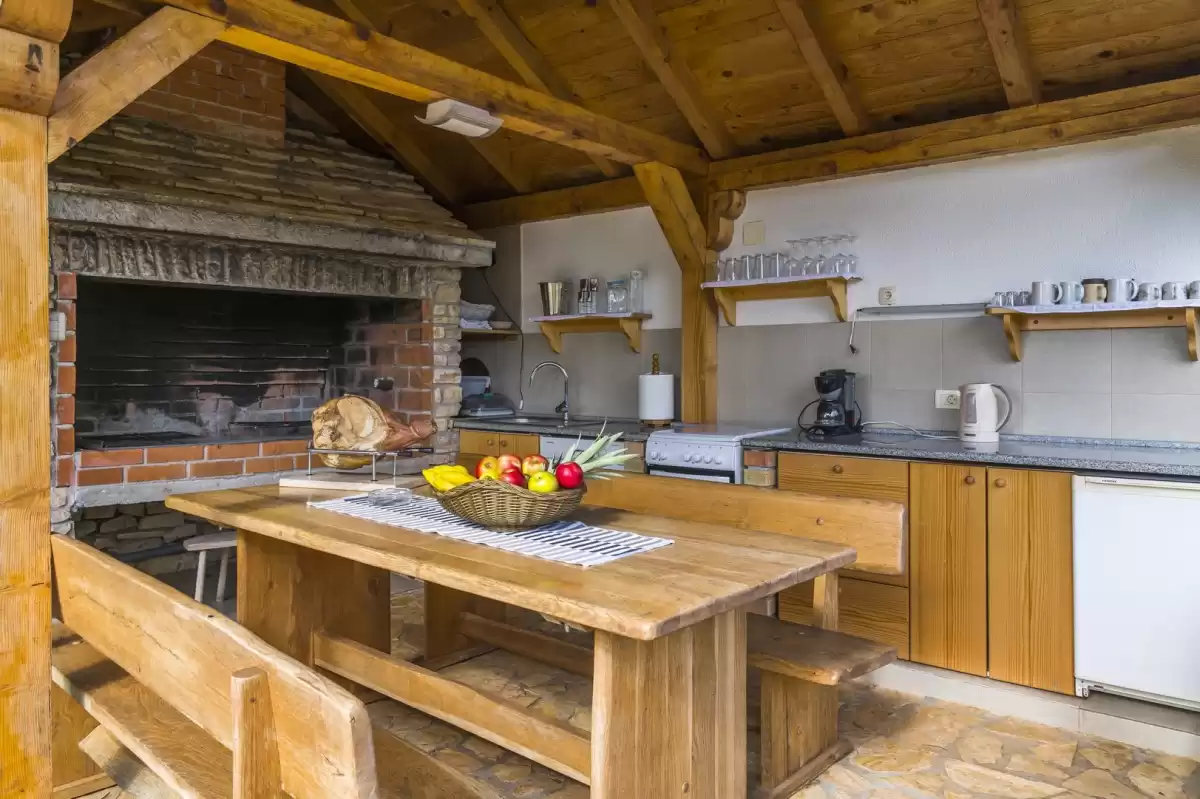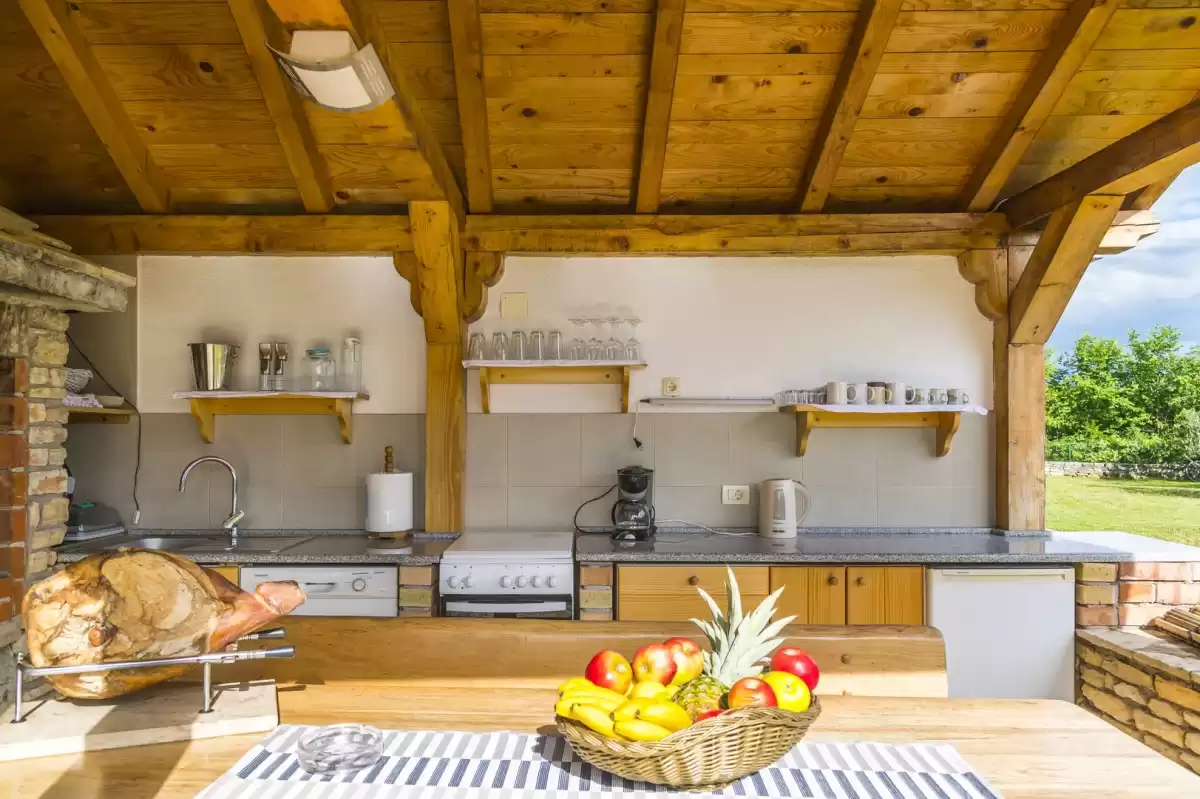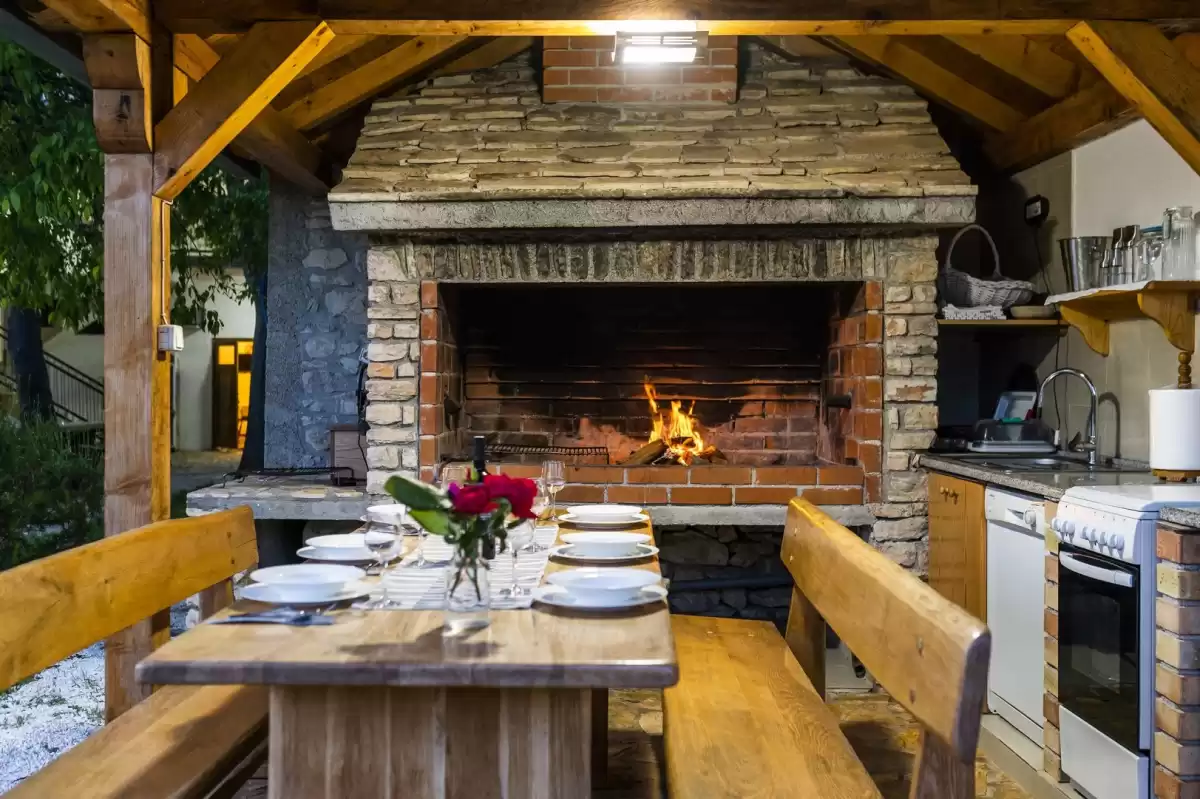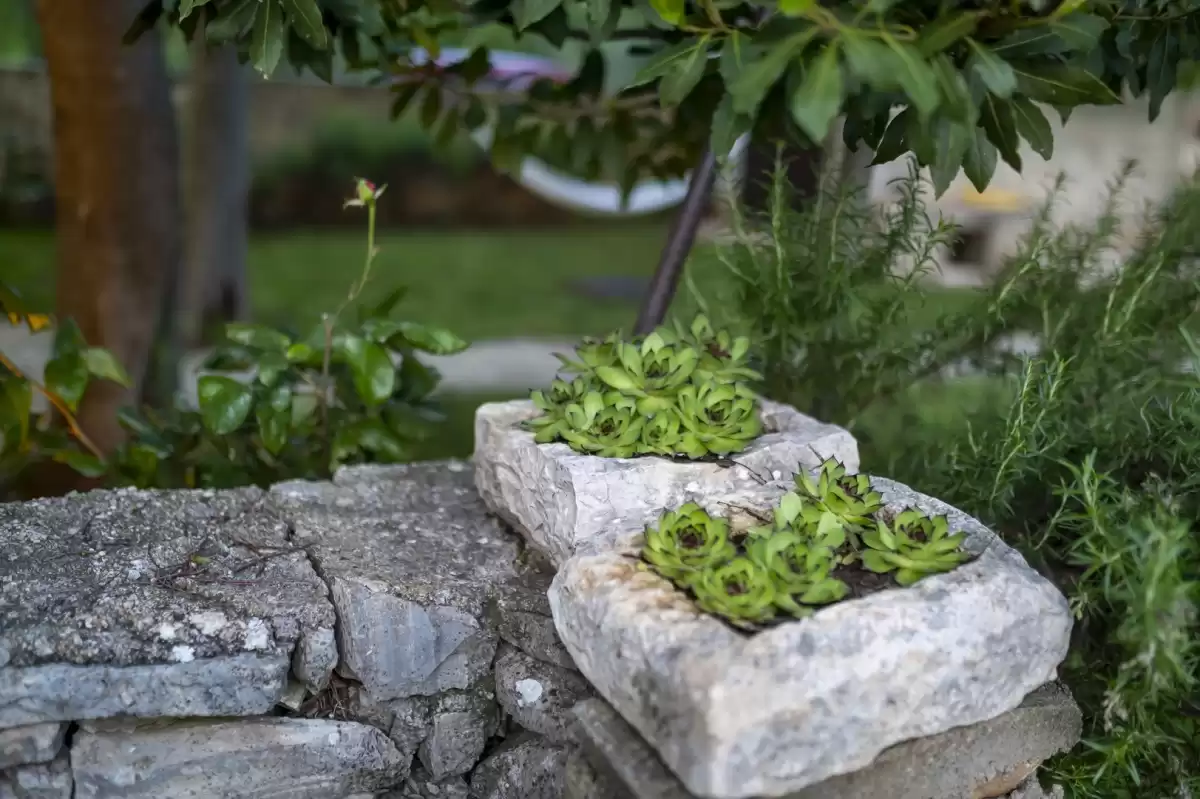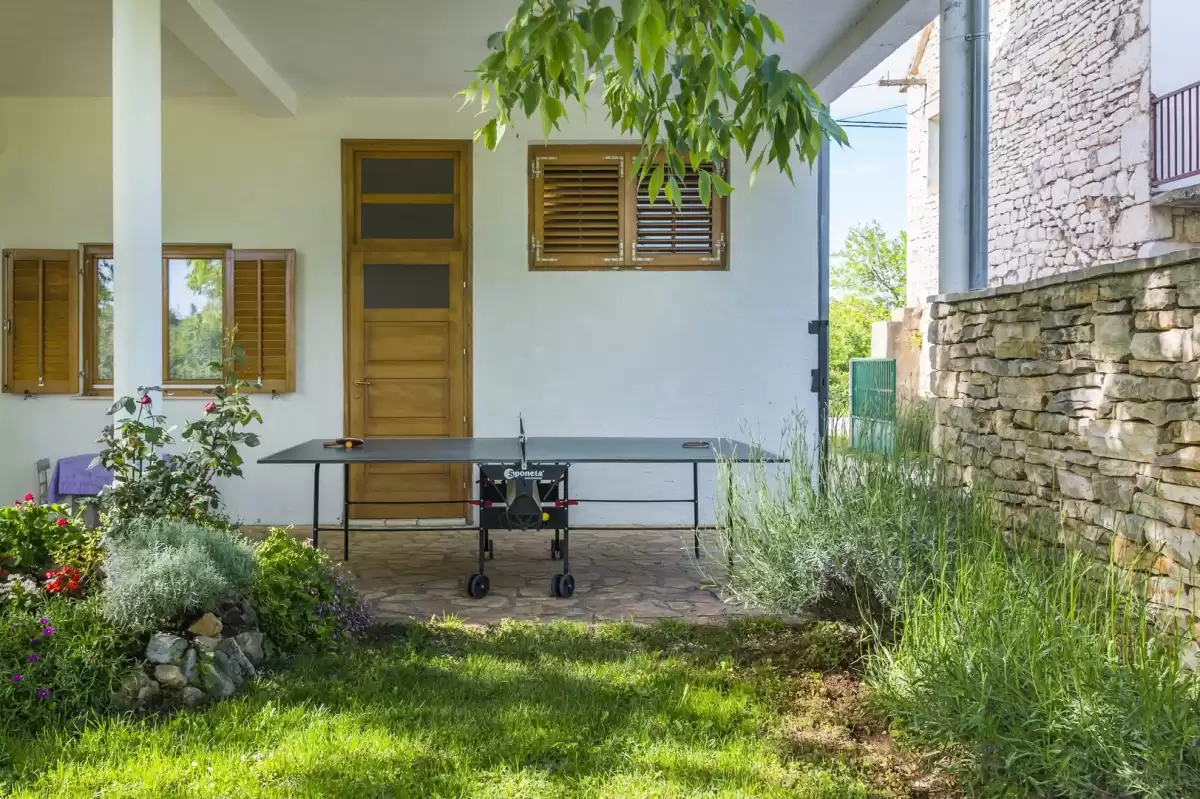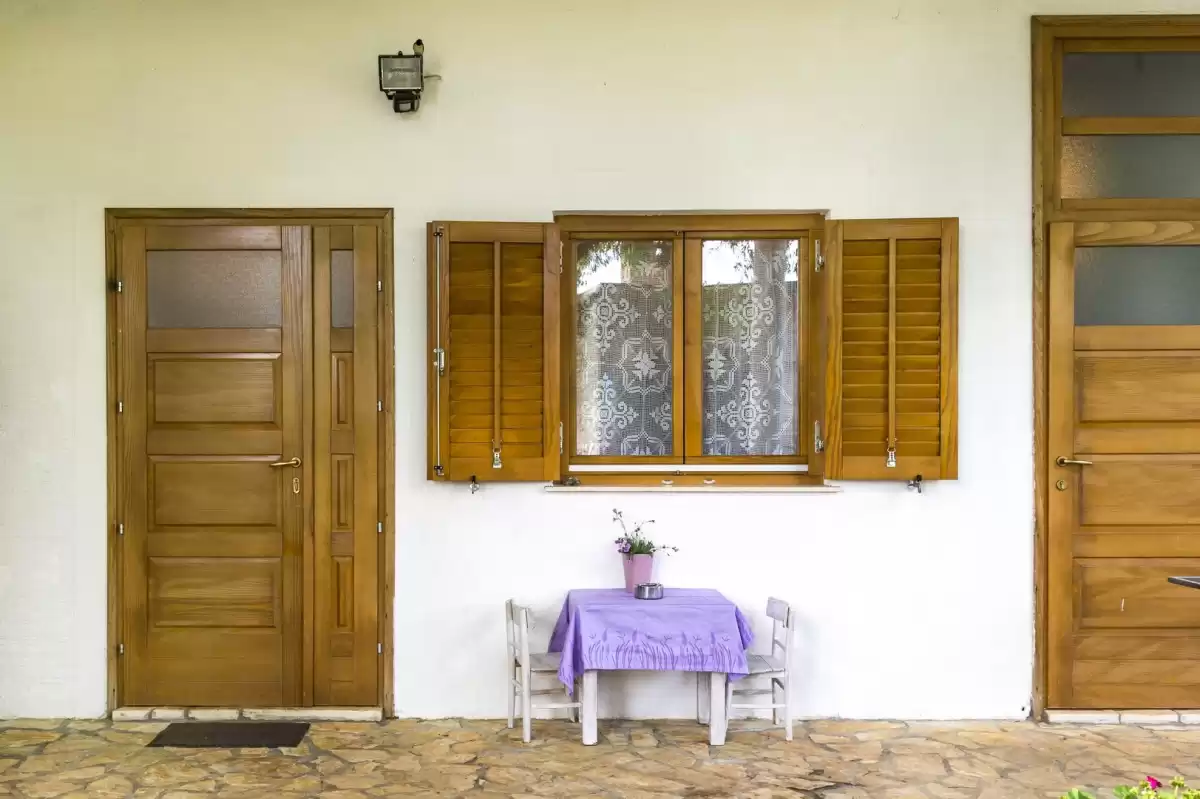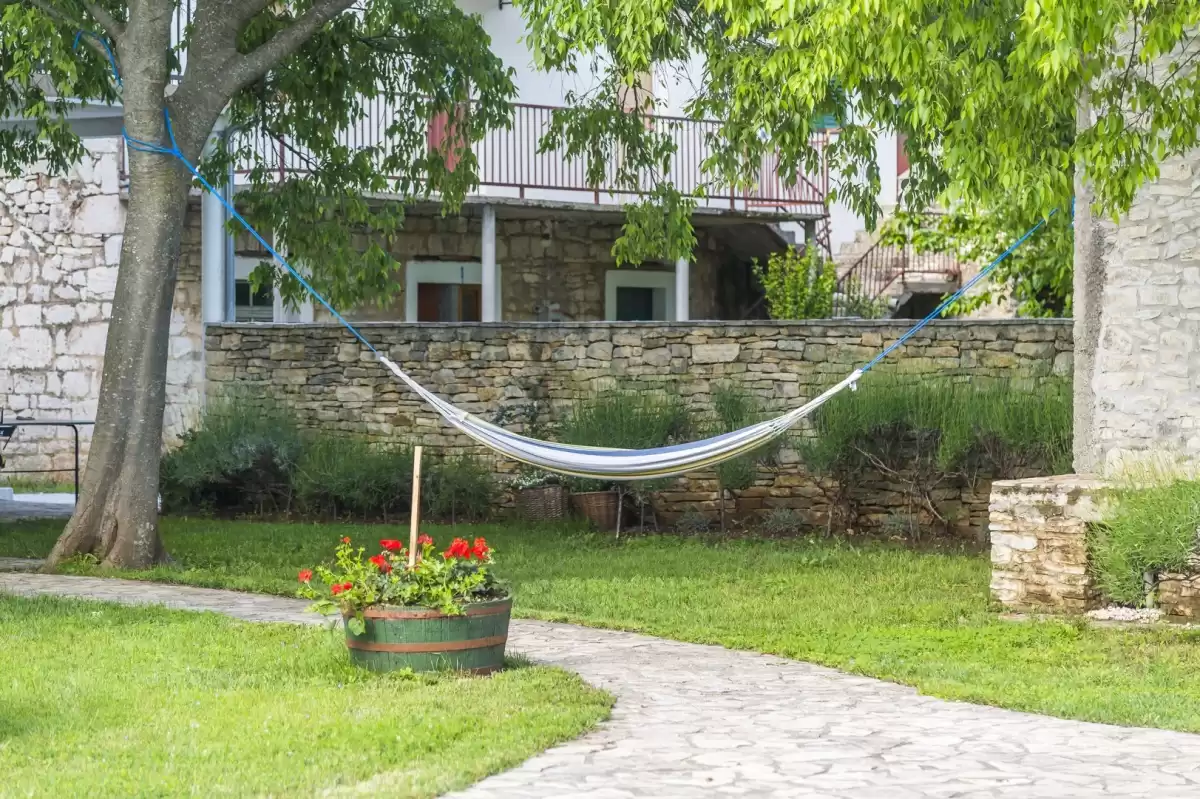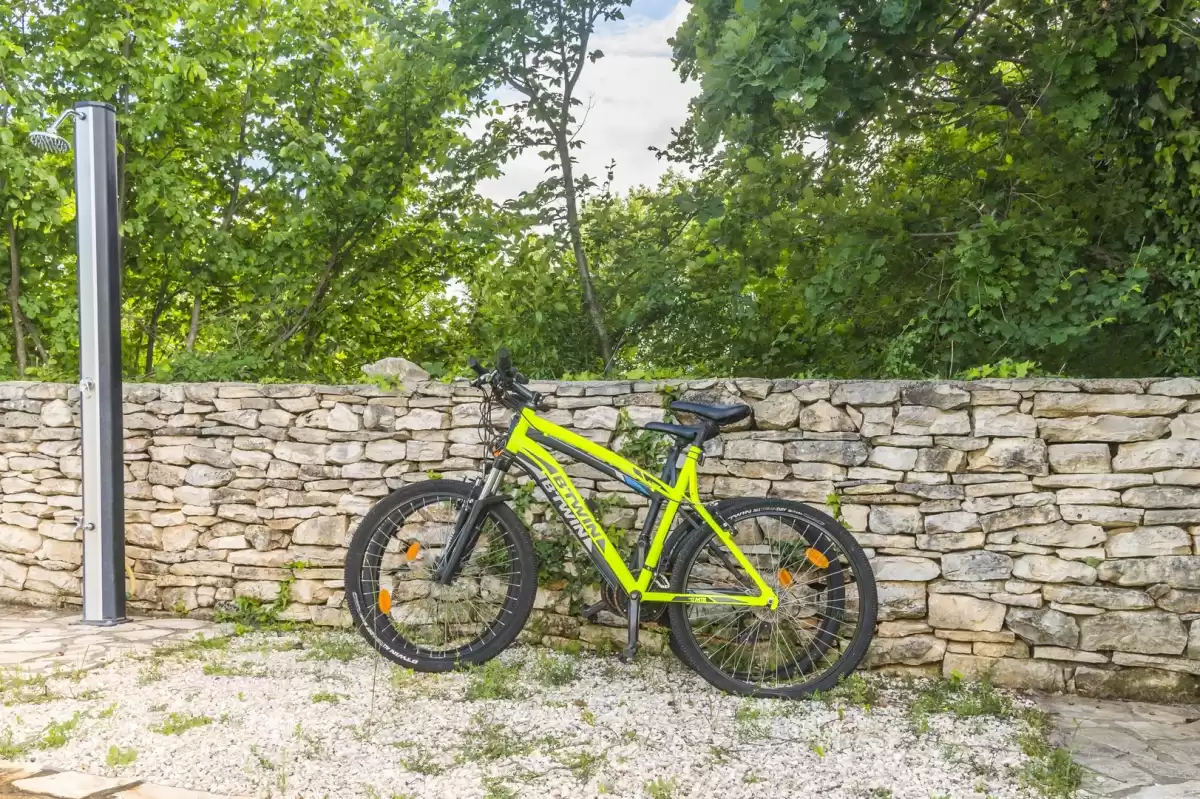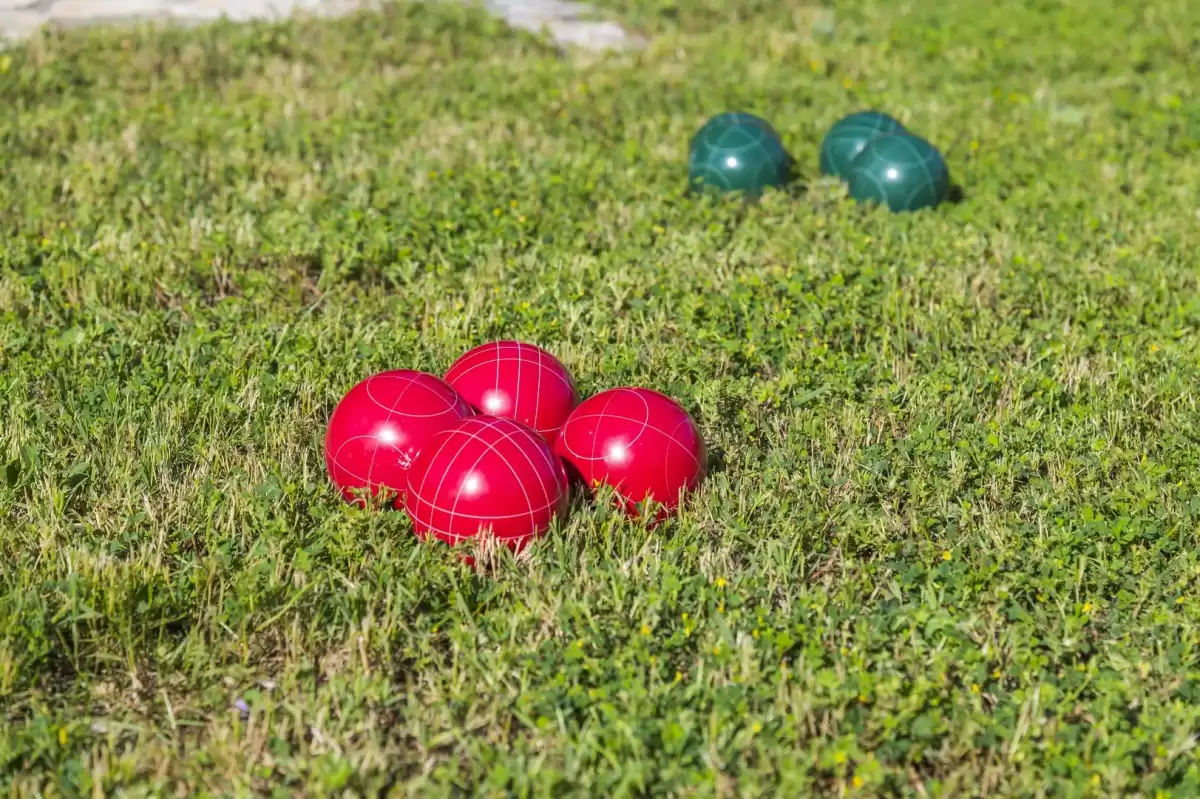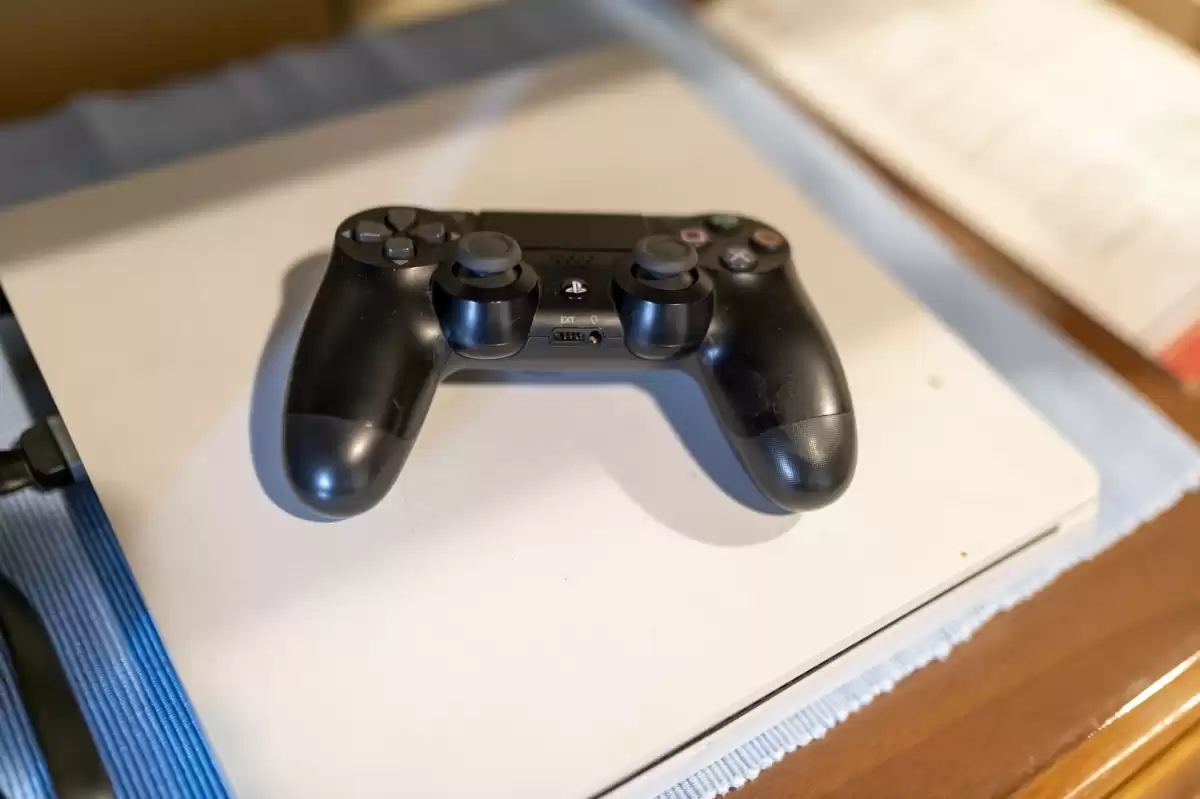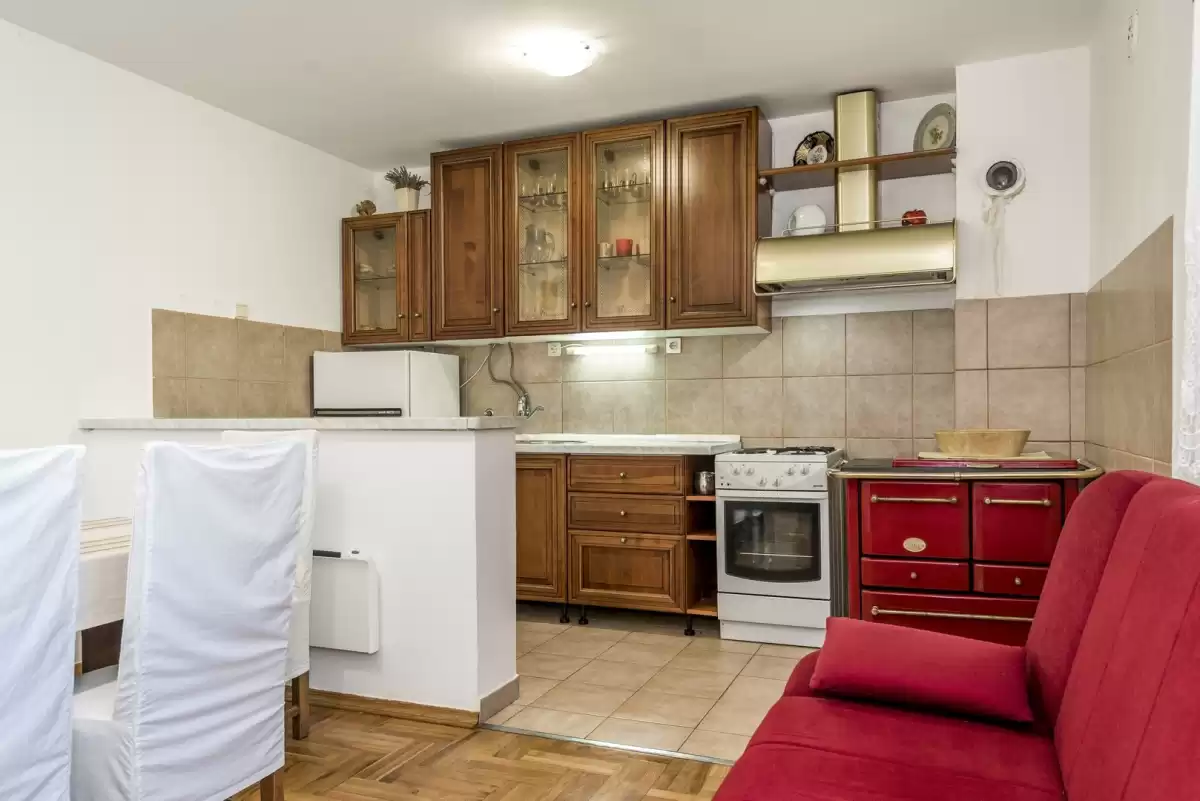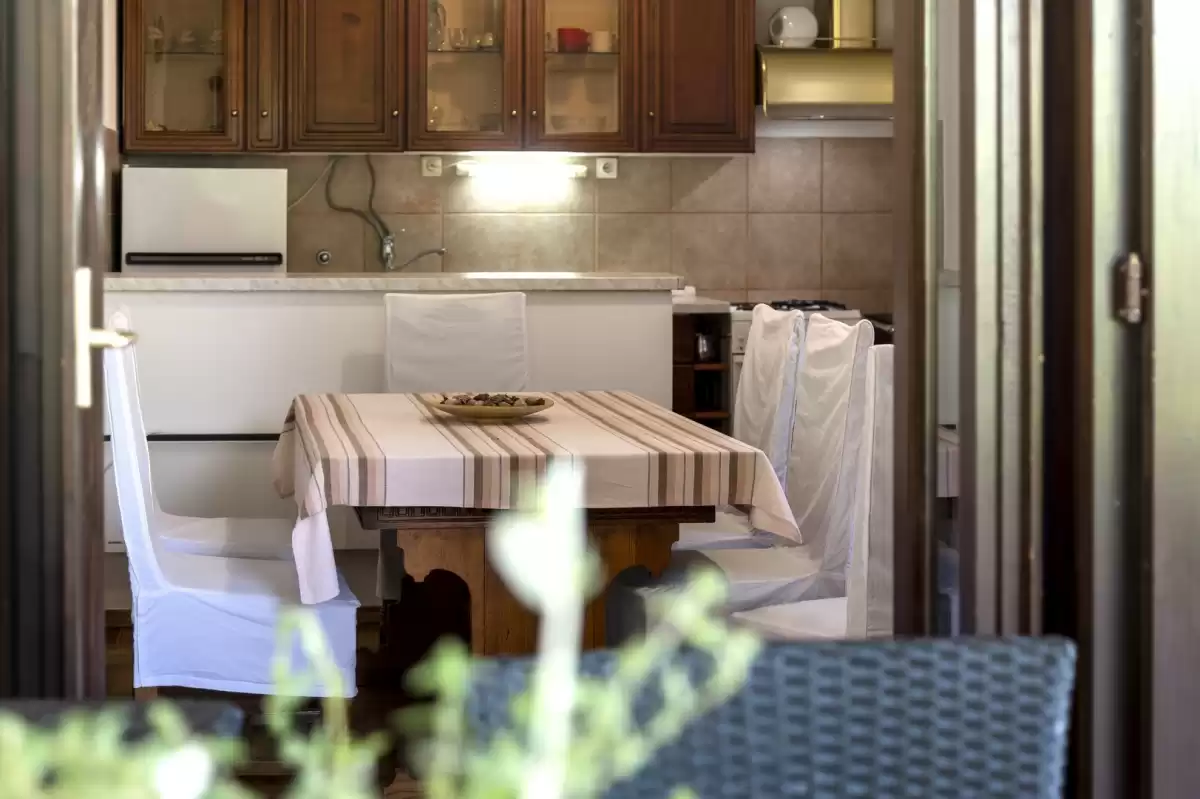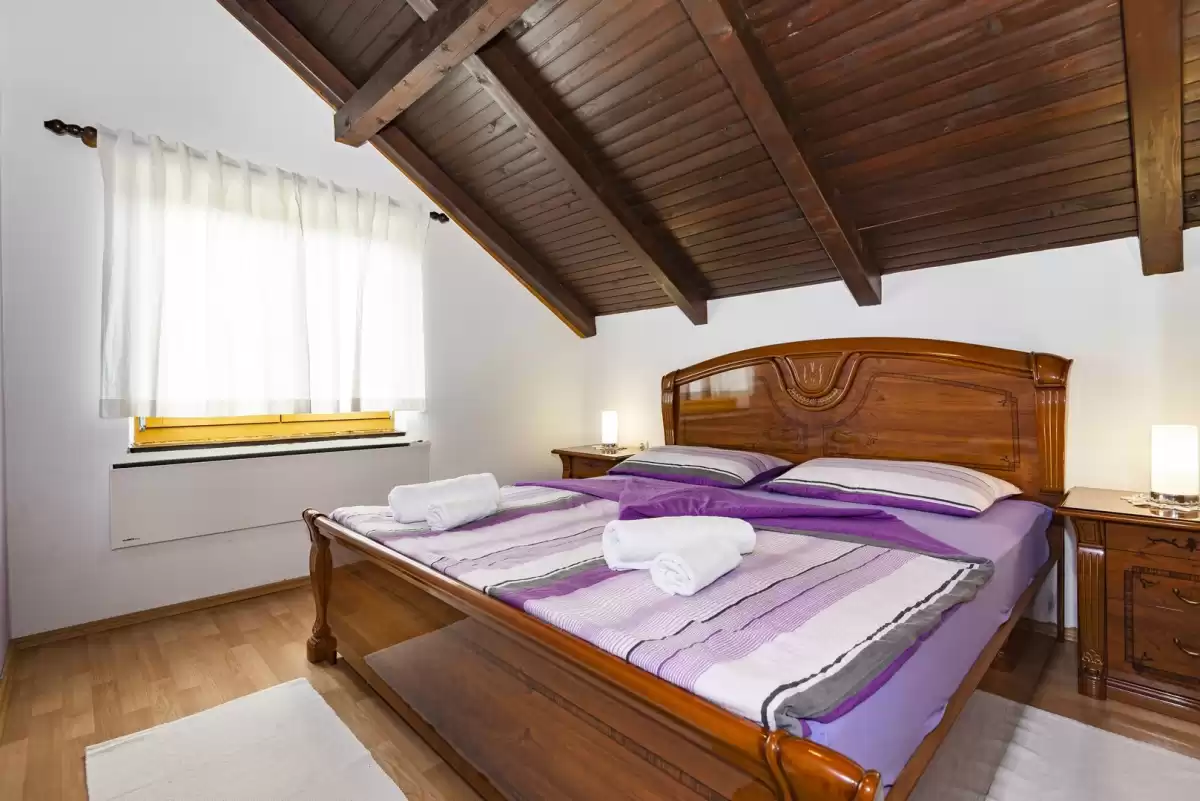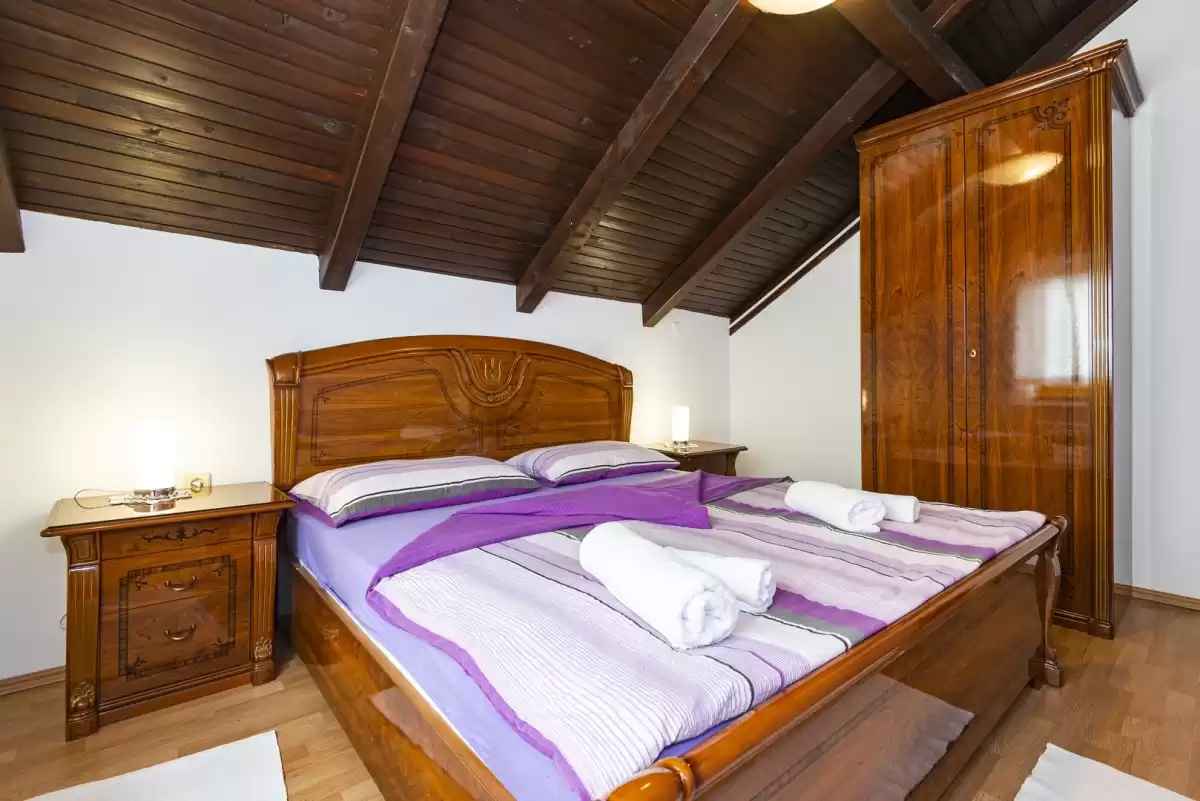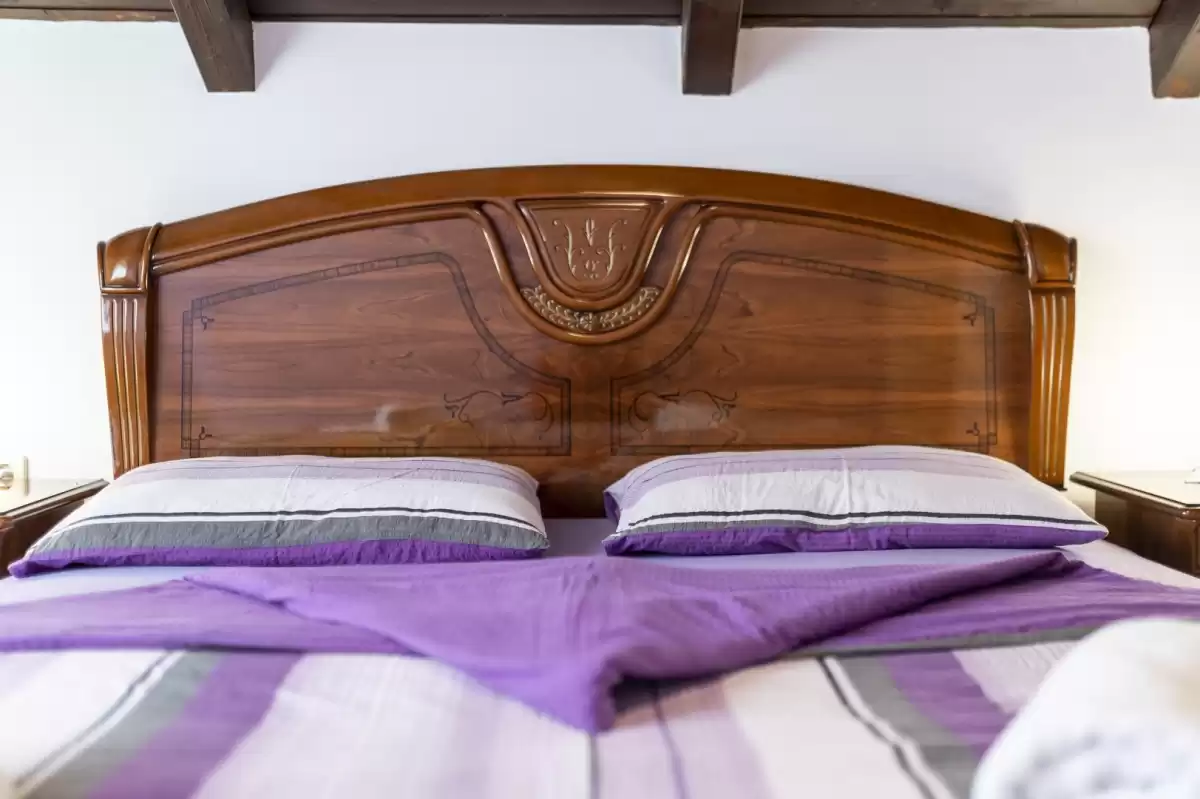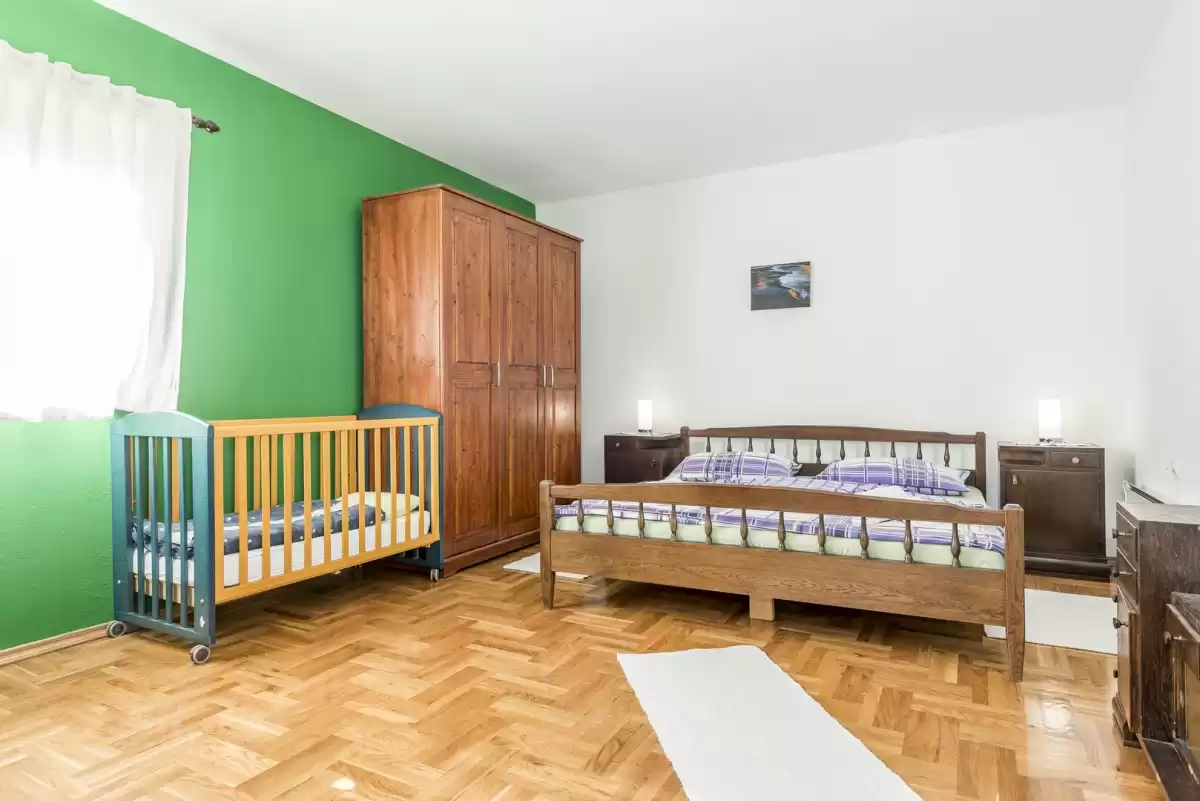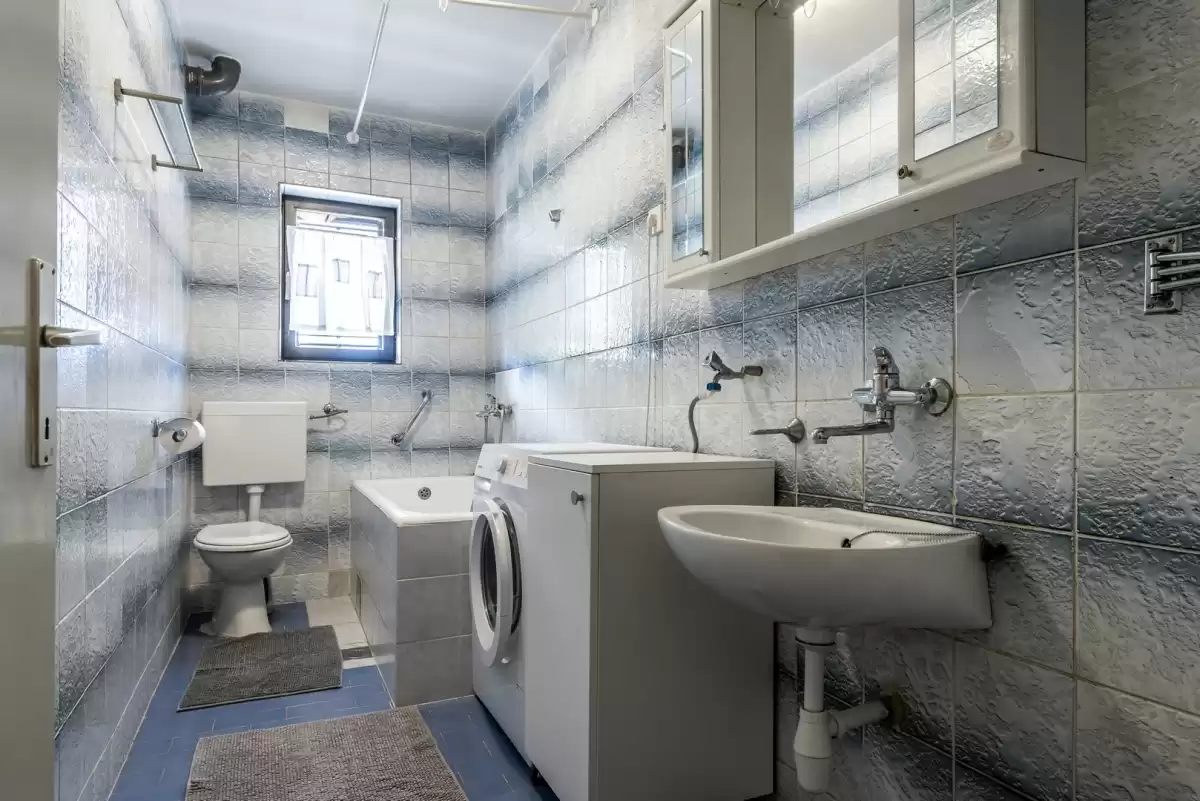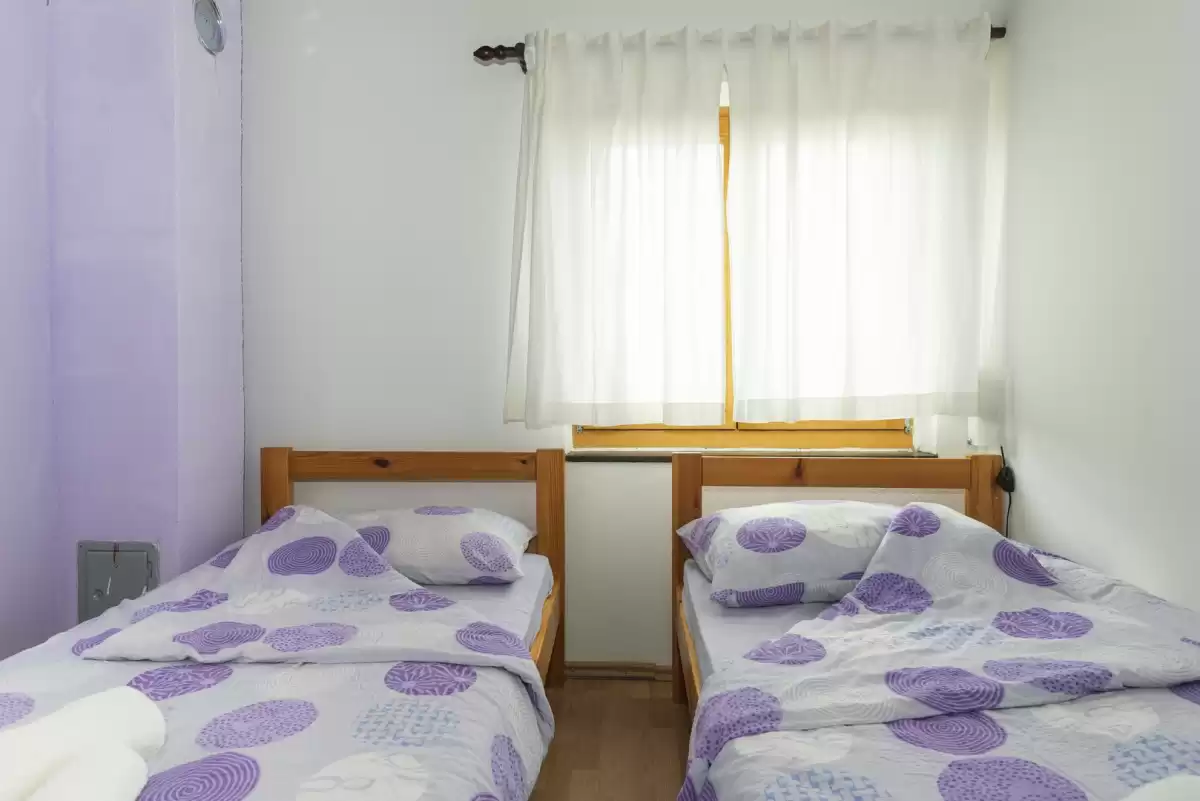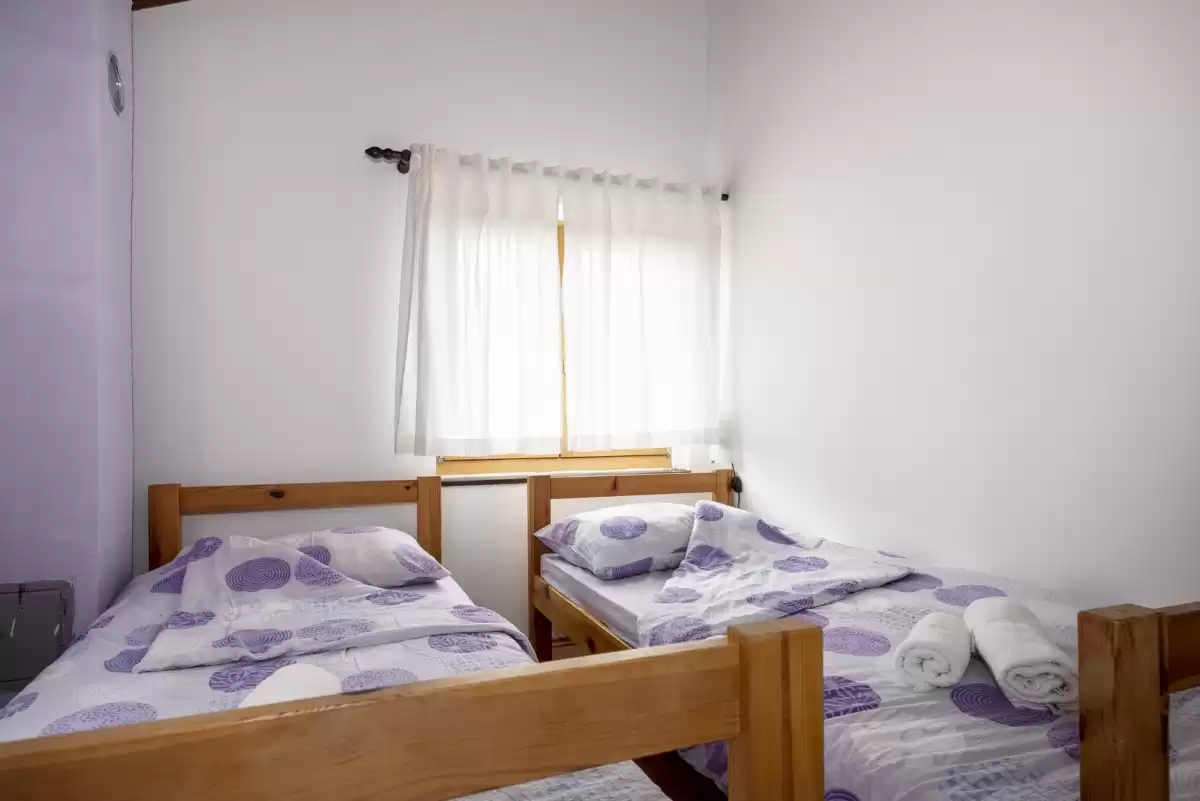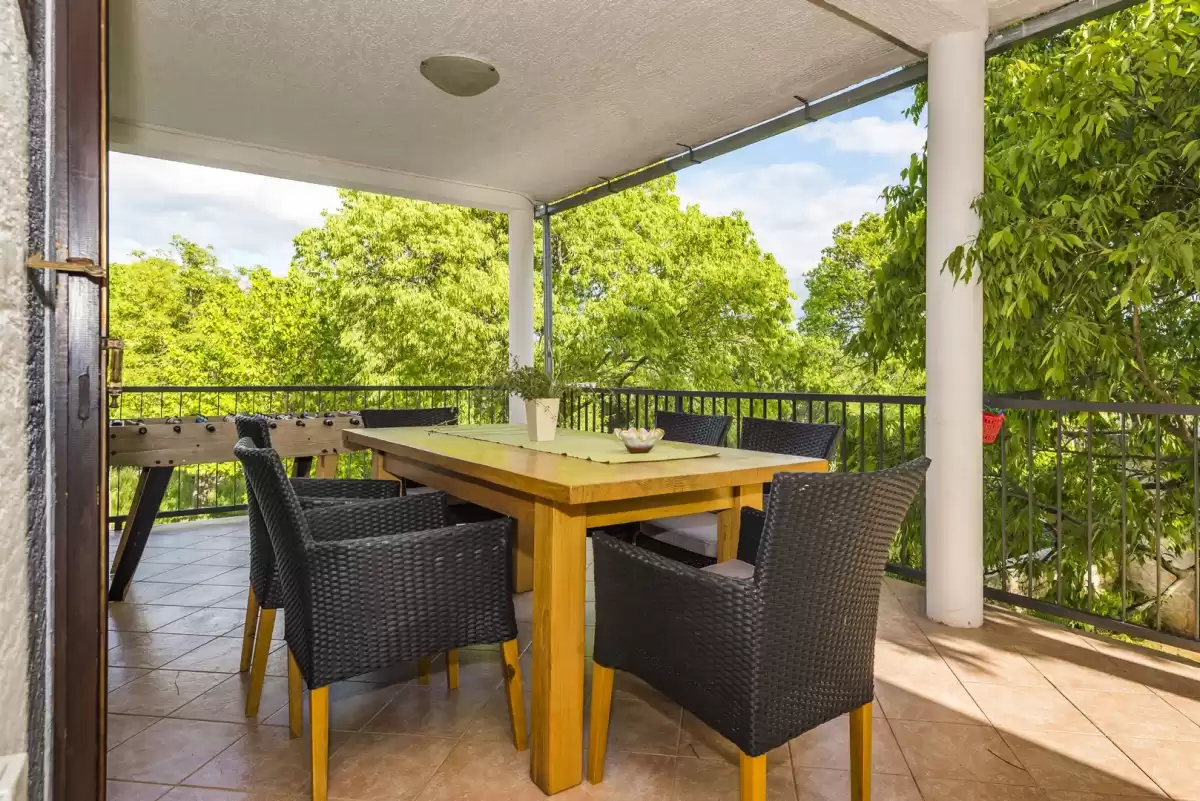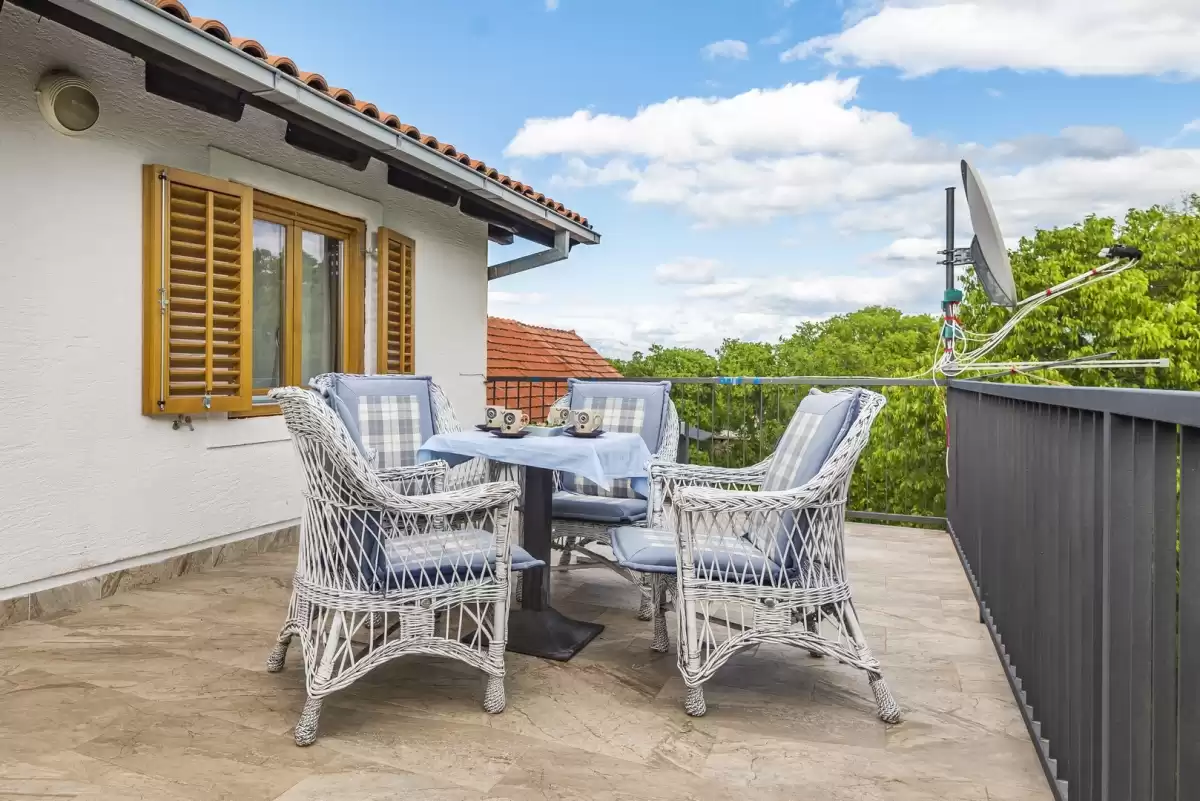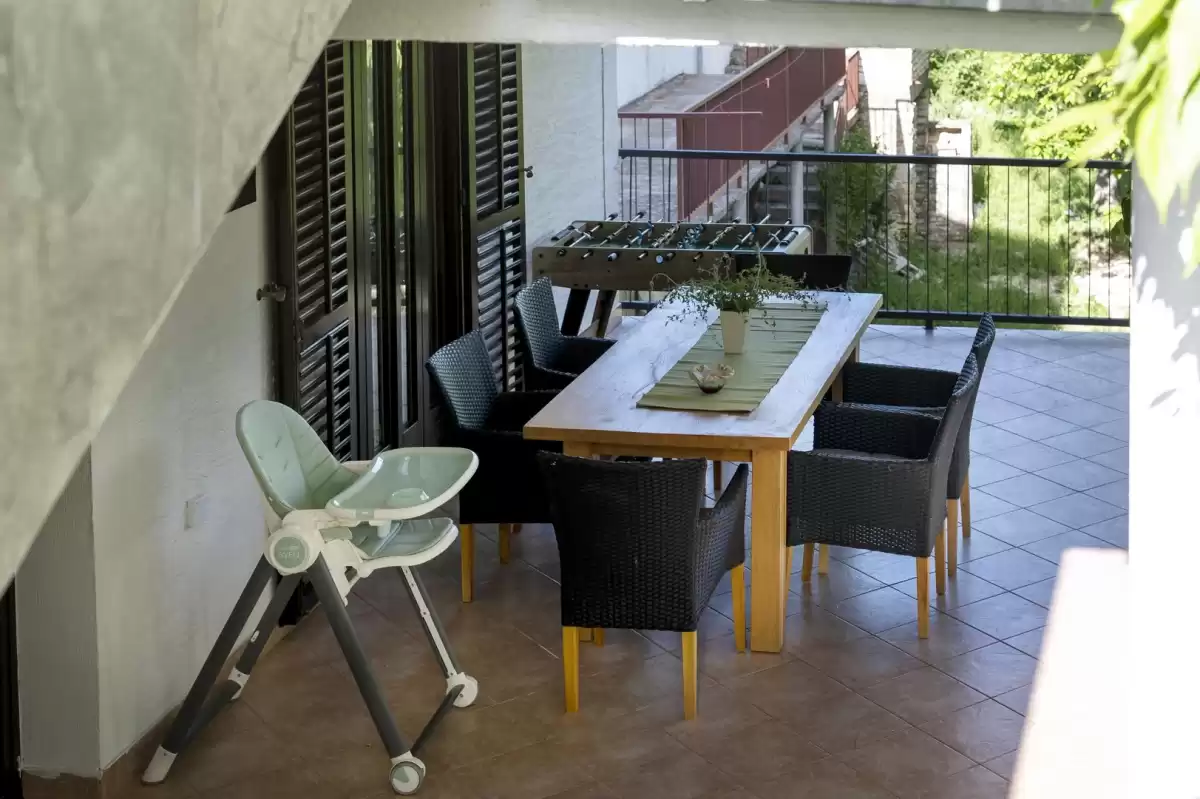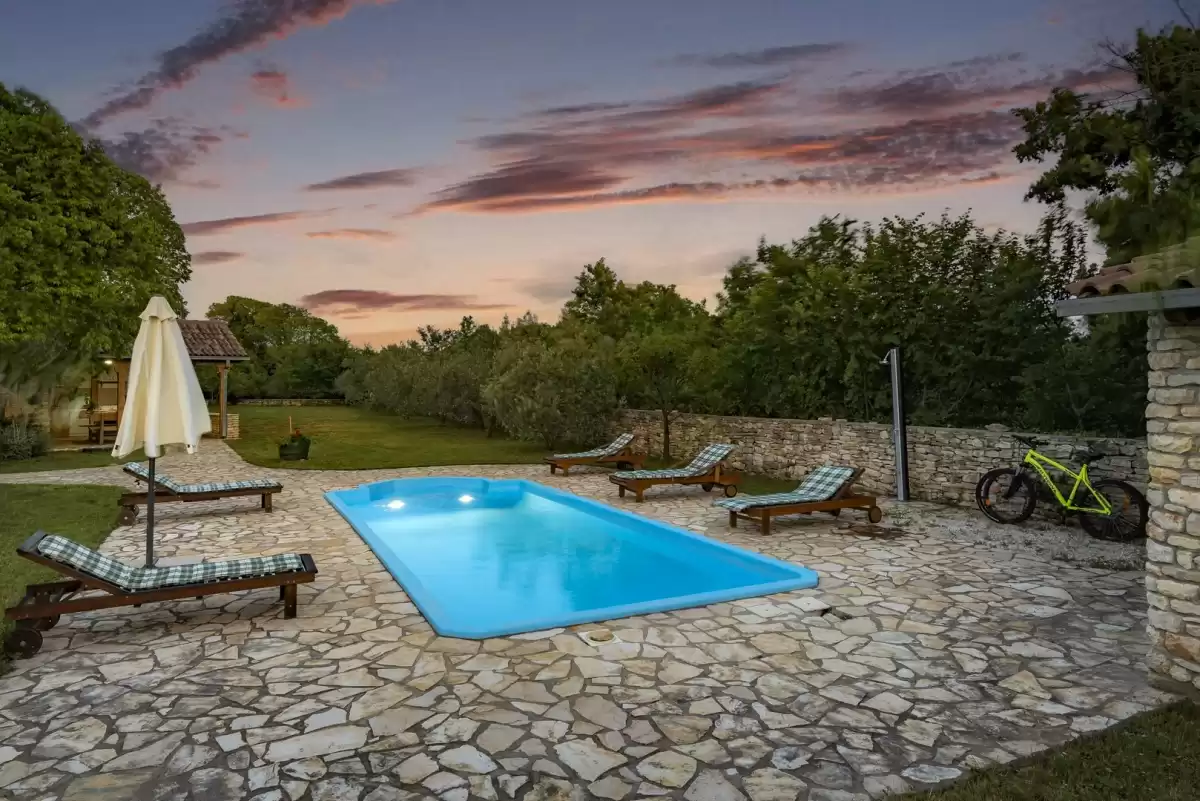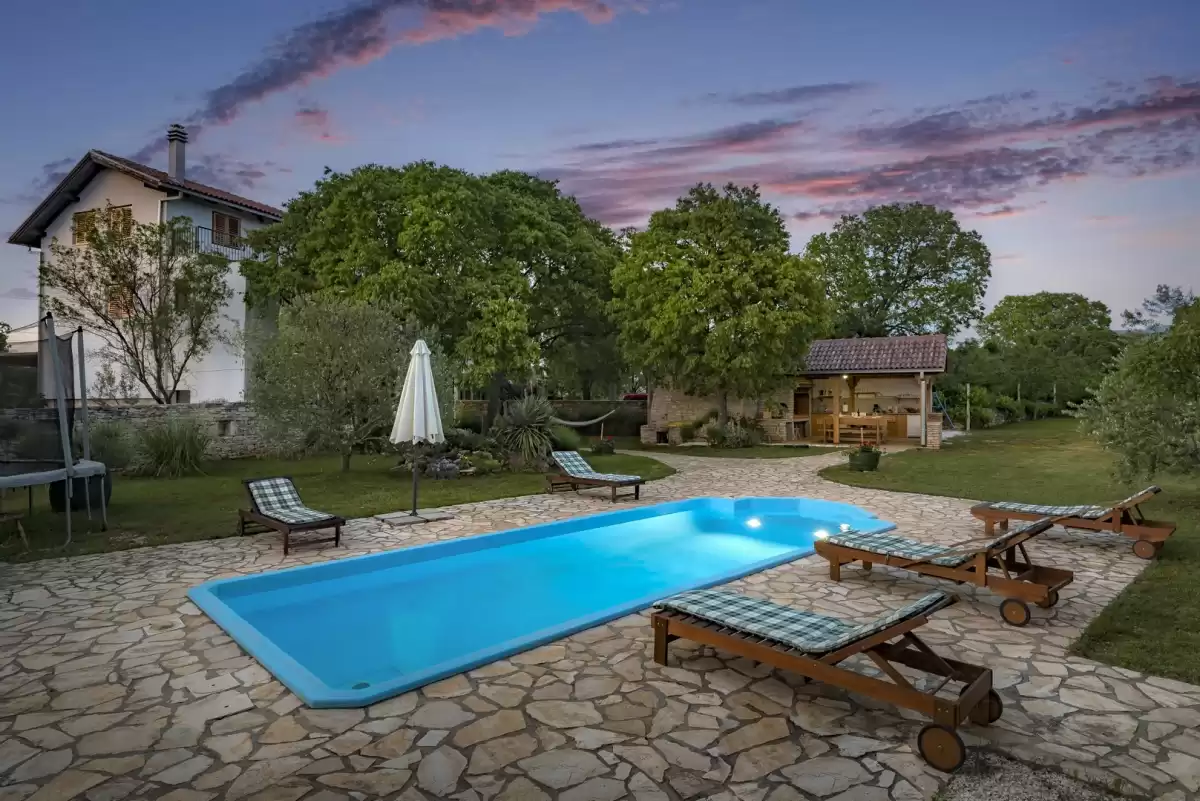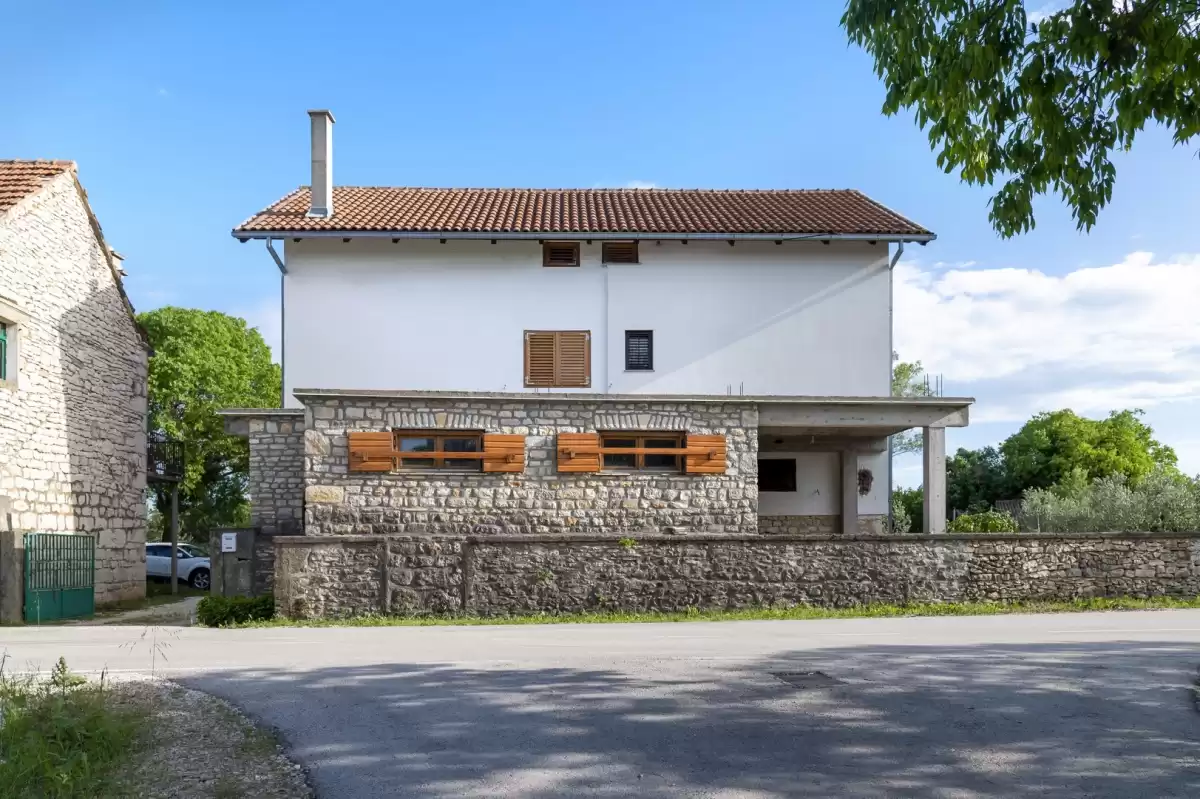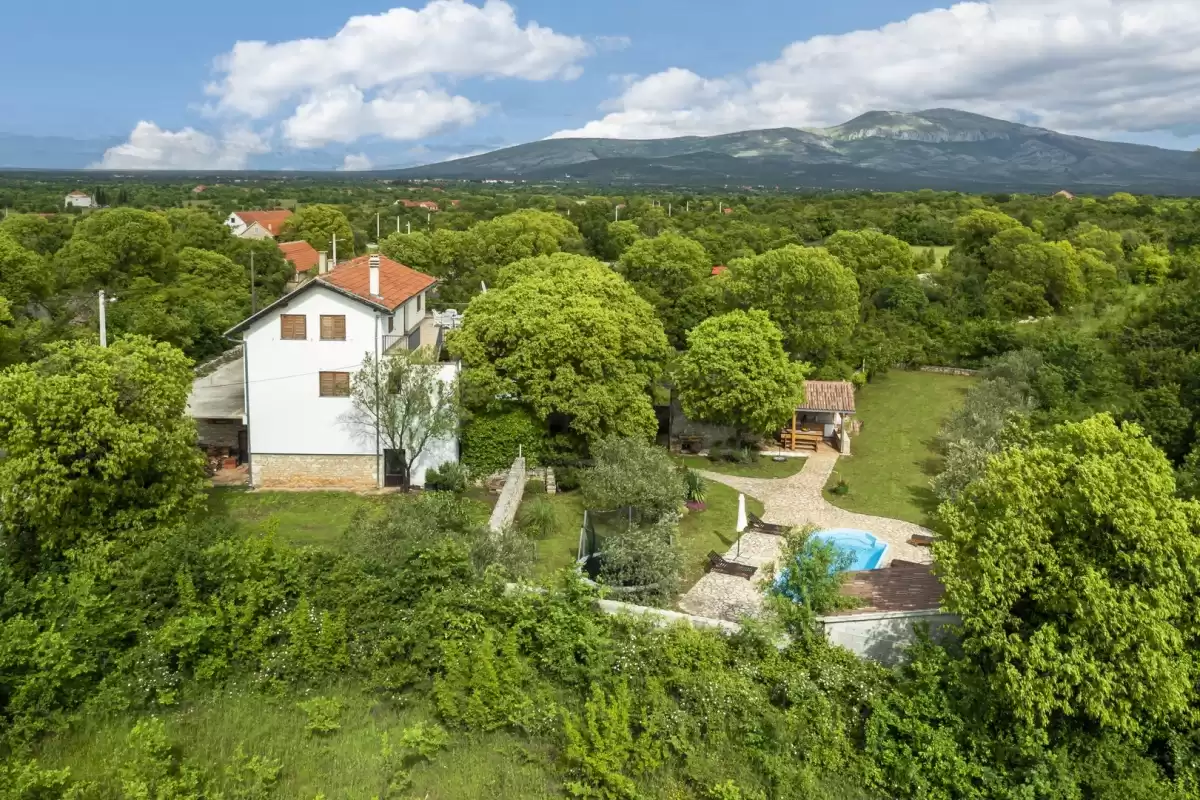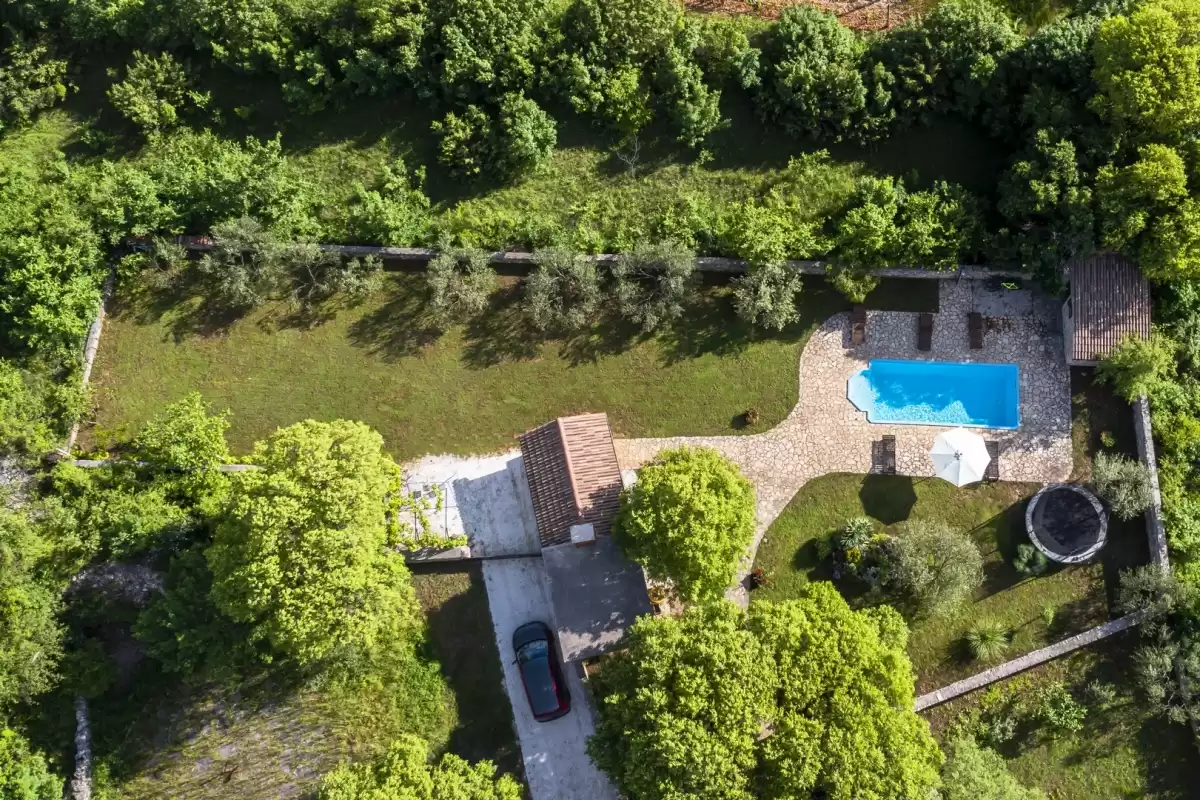 Villa Daja
Sibenik, Dalmatia
Enjoy a relaxing holiday in the Dalmatian Zagora in the small town of Oklaj. The rustic Villa Daja offers you everything for a restful and relaxing holiday. Wake up every morning to an incredible panoramic view of the lush, Mediterranean nature of the Dalmatian Zagora and enjoy the incredible outdoor space with a private pool!
Villa Daja Interior
On a total area of 144m2, this villa offers enough space for 10 guests in four comfortable bedrooms, three of which have a double bed and one has two single beds. In the two living rooms there are two more sofa beds available for guests. On the first floor of the villa are two of the bedrooms, a bathroom with a bathtub, and the living room in an open plan space with the fully equipped kitchen and dining area. From here, guests also have access to the terrace, where you will find a large wooden table with chairs. On this terrace you can enjoy natural shade and a view of the outside area. The second floor of the villa offers two more bedrooms, a bathroom with shower. Also on this floor is the living room with kitchen and dining room in an open plan space. You also have access to a large balcony, which is beautifully sunny. Garden furniture is also available here for you to enjoy your morning coffee. The entire interior is decorated in light tones with wooden elements. Thus, you can enjoy a cozy and homely atmosphere here.
Villa Daja Exterior
The real highlight of Villa Daja awaits you in the outdoor area. The completely fenced outdoor area is dominated by a 28m2 pool. After cooling off in the pool, you can make yourself comfortable on the surrounding loungers and fill up on vitamin D. In the spacious outdoor area you will also find a fully equipped, covered summer kitchen with an outdoor grill and a large dining table. Here you can enjoy delicious meals with all your friends and family. For the young guests there is also a trampoline and a swing. You are also guaranteed 5 parking spaces.
Villa Daja Surroundings
Rustic Villa Daja is located near the village of Oklaj in the Dalmatian Zagora. Only 15 km away from the historic town of Knin, where you can see beautiful sights. In Knin you can visit the Knin Fortress, thanks to which the town of Knin was recaptured during the Croatian War of Independence. Also visit the town of Drniš, which is not far away. Approximately 45 minutes drive away is the historic town of Šibenik. In Šibenik there are some sights, such as the Cathedral of St. James. Countless beautiful pebble beaches await you in the surroundings of Šibenik. A must visit is the Krka Waterfalls National Park. Don't hesitate any longer and fulfill yourself a relaxing holiday in the Dalmatian Zagora by booking Villa Daja!
LOCATION
DETAILS
Features
Indoor area: 144 m2
Total plot area: 1300 m2
Max. guests: 10
Pool: 28 m2
General
Parking
Aircondition
Heating
Internet
Completely fenced
Barbecue
Distances
Sea: 45 km
Restaurant: 20 km
Bar: 4 km
Pharmacy: 4 km
Hospital: 25 km
Shop: 4 km
Supermarket: 25 km
ATM: 4 km
Bedrooms
Bedroom 1: Double bed: 1
Bedroom 2: Double bed: 1
Bedroom 3: Double bed: 1
Bedroom 4: Single bed: 2
Baby cot
Bed linen
Bathrooms
Bathroom 1: washbasin, toilet, shower
Bathroom 2: washbasin, toilet, bathtub
Washing machine
Hair dryer
Iron
Towels
Kitchen
Stove
Oven
Refrigerator
Microwave
Kettle
Toaster
Dishwasher
Coffee machine
Dishes
High chair
Wine fridge
Mixer
Blender
Living room
Sofa
TV
Smart TV
Sofa bed
Entertainment
Table tennis
Table football
Game console
Bicycles
PRICES
From
To
Min

. stay

Daily

price

16.09.2023.
23.12.2023.
5
193 €
24.12.2023.
02.01.2024.
2
305 €
30.03.2024.
31.05.2024.
5
212 €
01.06.2024.
14.06.2024.
5
217 €
15.06.2024.
28.06.2024.
5
275 €
29.06.2024.
12.07.2024.
7
373 €
13.07.2024.
16.08.2024.
7
404 €
17.08.2024.
23.08.2024.
5
373 €
24.08.2024.
06.09.2024.
5
275 €
07.09.2024.
13.09.2024.
5
217 €
14.09.2024.
21.12.2024.
5
193 €
Security deposit for younger groups is 1000 €.
Swimming pool is not available in period 01.10.-01.05.
REVIEWS
Rinata Deibele
The villa is located near the nature reserve of the Krika National Park, about 45 minutes from Sybenik. A dream for all nature lovers and families with children. There are plenty of fig trees to "nibble" on off the beaten track, which you can explore on foot or by bike as you go along. Great stone walls, olive groves and vineyards invite you to dream. The people there are all very helpful, they don't know English, but with "hands and feet" and with the help of many Germans of Croatian descent, we were able to communicate very well. Unfortunately, we only really realised the hospitality of the locals at the end of our holiday, so next time we will try to get closer to them. The nearest restaurant is in Drnis or Knin. But I would bet that you will find someone in the population who could provide you with barbecue facilities in the beautiful gardens. We'll find out about it on our next holiday. The villa itself has two apartments with sleeping capacity for 10 people. We were there with our children, parents, my niece and our son's girlfriend. The pool is clean and the owner cleans it regularly with a robot. There is the possibility to really "come down". For families, it needs nothing more than a pool, a trampoline, a swing and plenty of space to let off steam. Parents can also find time for themselves. And without stress. The outdoor kitchen with a huge table offers space for 10 people and was and central meeting point for breakfast, lunch snack and dinner. In Sybenik we got lots of fish, prawns, shrimps and squid and cooked them on the in-house wooden grill, a feast! The outdoor fridge is also really great, with plenty of space for drinks and food. A supermarket with friendly staff, often German-speaking, is located in Oklay, 4 km from the villa. There you can find delicious vegetables, lots of alcohol (best beer in Croatia Karolovasko), great bread and cakes as well as daily groceries. The rooms are well equipped, a washing machine, fridges and freezers on each floor. Overall a nice property with lots of space and peace and parking. From time to time, one or the other scorpion drops by...:-). As with spiders, it's better to take them out than kill them! The owner and his wife are very warm and helpful, cold-pressed olive oil from their own olive groves can be bought from them. We will certainly visit again next year, then with a bike, to get to know the area and the people even more. From Wegscheid near Passau, it is a 7-hour drive. If you get the toll from Austria online for using the tunnels and leave earlier in the evening, you will get through everywhere without any traffic jams. If you go via Zagreb, you wouldn't have to leave the motorway, no border controls and it's great going. From our location in Croatia, we didn't have a single construction site for about 450 km! We will certainly be back at the start next year. Let's go to Croatia, you won't regret it. And maybe we'll see you for a beer or two...:-)
Sabine
Het huis voldoet helemaal aan de beschrijving. Zalige tuin! Een zonnig terras rondom het zwembad met ligstoelen. Het grote schaduwrijke terras onder de bomen met grote eettafel, pingpongtafel en hangmat is een absolute meerwaarde. In de grote ijskast die daar staat kan je makkelijk veel drank koel houden. Maar het geweldigste is toch de buitenkeuken: volledig geïnstalleerd en heel heel goed uitgerust met reuze-BBQ, aan de gezellige tafel kan je prima met 8 zitten. De woning bestaat uit 2 afzonderlijke apartementen die je kan bereiken via de buitentrap. In een van de appartementen staat een wasmachine, in het andere heeft de ijskast een grote diepvriesruimte En dus ook nog eens 2 extra terassen! In het huis is voldoende bergruimte. Het huis was heel proper bij aankomst. Bed- en bedlinnen werden na een week ververst door Branko en zijn lieve vrouw die beide heel begaan zijn met hun gasten en je kan hen makkelijk bereiken. Het was een geweldig verblijf!